Weighing in at just 1.56kg / 3lb 7oz this is one of the lightest tents we have reviewed. Fabrics and poles were not skimped on in order to save on weight with 20, 30 and 40 denier nylon fabrics being used for the body, fly and floor respectively. The single DAC NSL ridge pole has a large support hoop at the front and back and everything is connected via a single hubbed pole frame so set up is fairly efficient. Built into the tent itself are two horizontal supports which maximize the front door awning and the gear closets' internal volumes by extending the tent outwards. Given that the pole structure is minimal by design it's still fairly rigid and can stand up to wind and weather, again keeping the overall weight down.
The quality of materials used in the Lightning 2 UL Tent is evident right down to the fasteners and tent pegs. Sierra Designs has been innovative in the use of materials in order to keep weight to a minimum but has been cognizant of not letting this dictate the overall design. Form follows function after all.
A 360° view of the Lightning 2 UL Tent starting with the front aspect followed by the side and back.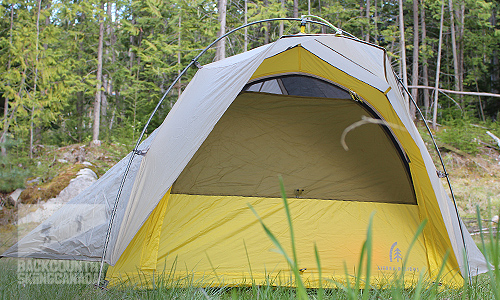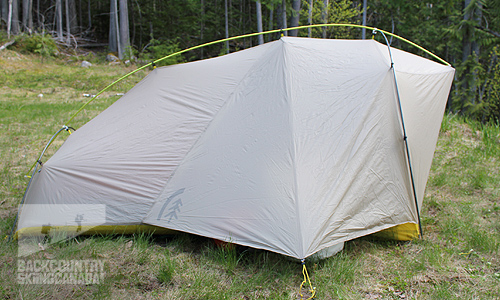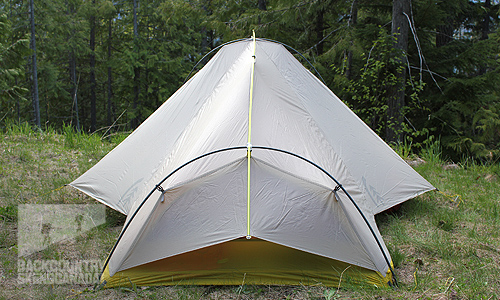 Interior space is more than ample with a generous 108cm peak height.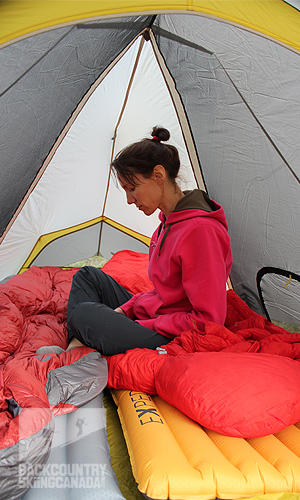 Materials:
Industry standard
Floor: 40D Nylon Ripstop, 3000mm PU
Body: 20D Nylon Ultralight Mesh
Fly: 30D Nylon Ripstop, Sil/1500mm PU
Poles: DAC Feather light NSL
Fasteners are small, lightweight and easy to use.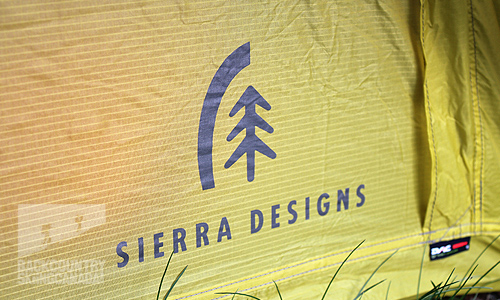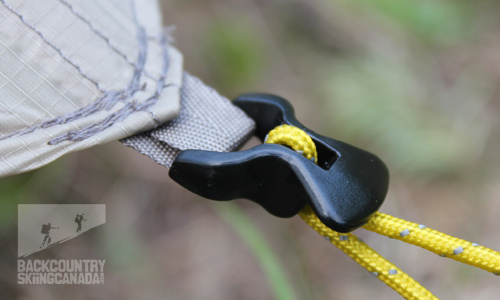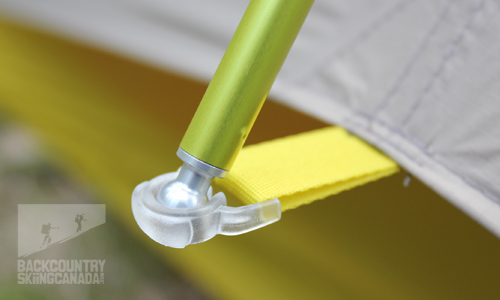 Features:
- Hybrid double/single wall design reduces weight and provides quick setup, even in the rain
- Freestanding design can be pitched anywhere—no matter how impenetrable the surface
- Single hubbed shockcorded pole frame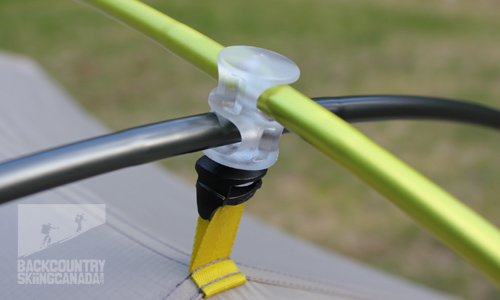 - Large foot vent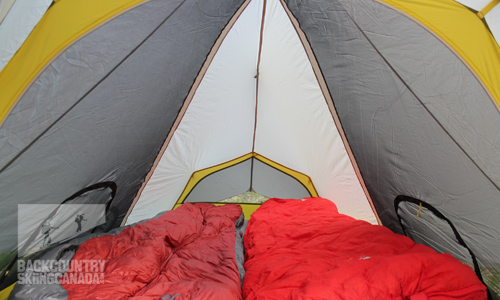 - 15 inch integrated awning provides shade and moves the drip line away from the door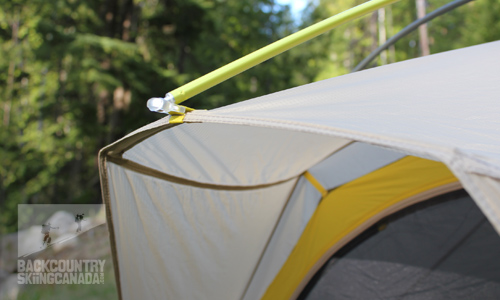 - Single door that saves weight; it's extra wide and large enough for 2 people to sit side by side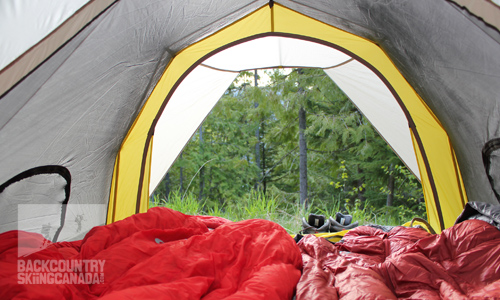 - Gear closets store gear where it should be—away from the door with internal access provided by zippered gear windows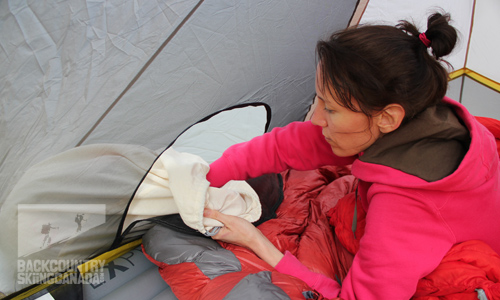 - Two interior mesh pockets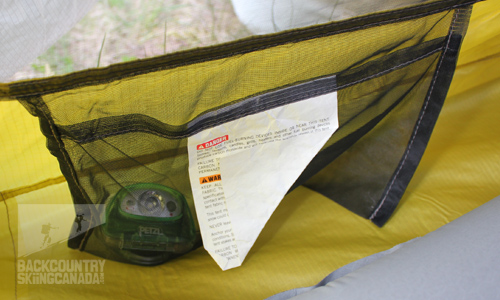 Verdict:
As you can see below, the pros of the Sierra Designs Lightning 2 UL Tent are heavily favoured over the the minimal cons, which I had a hard time trying to find with this otherwise flawless tent. As with the Sierra Designs DriDown Cal 6 Sleeping Bag, the Sierra Designs Eleanor Sleeping Bag and the newly released Sierra Designs Mobile Mummy 800 2-Season Bag this tent is an innovative solution and a nice change from traditional thinking. I found that the single ridge pole design keeps things light while still providing good stability to wind gusts and pelting rain. The large mandatory venting door with built in awning provides big access and I loved that there's no gear clutter to contend with when entering and exiting the tent. All of our gear is stored neatly away on either side of the tent in the gear closets which are created out of the fly and accessible from inside the tent as needed via the zippered access windows. In my testing I found the large interior space made things super-livable for multi day trips and is a best in class for this weight category.
The quality is top notch and the price more than fair for what you get. The Sierra Designs Lightning 2 UL Tent is stylish with friendly colours and heaps of features you'll come to love. Having used the Marmot Pulsar 2P Tent for a few years now it was nice to shave some weight and gain a few inches of interior and gear storage space. I highly recommend you check out this tent if you are in the market for a two person tent. If you're already sold, are looking to buy then simply follow the links below.
If you are interested in other tent reviews click on over to our tent review page here.
Happy camper inside the Sierra Designs Lightning 2 UL Tent, likely because the tent weight is easily shared thanks to the innovative tent bag system.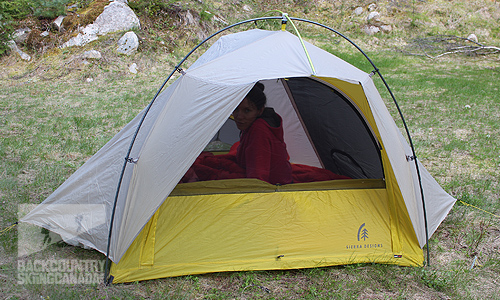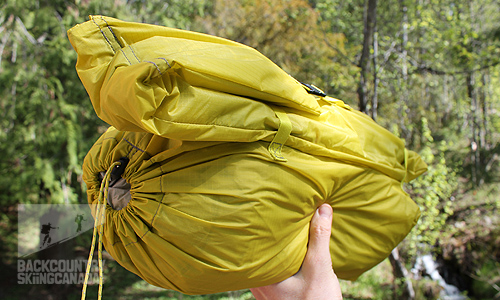 SPECS:
Price: $359.95 US
Weight: 1.56kg / 3lb 7oz
Capacity: 2 Person
Interior Area: 2.78 square metres / 29.9 square feet
Gear Storage Area: 0.38 + 0.38 m2 / 4.1 + 4.1 ft2
Peak height: 108cm / 42.5"
Colour: Yellow & White
Packed dimensions: 50.8 x 15cm
Tent Storage Bag: 40.6cm / 16" length, 15cm / 6" diameter
Pole Storage Bag: 50.8cm / 20" length, 5cm / 1.96" width
Tent Stake Storage Bag: 29.9cm / 8" length, 5cm / 1.96" width
PROS:
- Storage bag is split into tent and pole/peg bags so you can easily split the load amongst your group.
- Bathtub construction
- Venting door and rear window are mandatory.
- Two large gear storage areas out of the way of the single entrance and accessible by the zippered access through the tent screen.
- Thick, supportive DAC NSL poles
- Light and small fasteners are easy to use.
- 15" awning over front door to keep rain from dripping on you as you enter and exit the tent.
- Stable for a single ridge pole design thanks to the hubbed pole system.
- Free standing dry pitch tent since the fly and tent body are one.
- Great liveability with light and bright tent body fabric colours.
- Cross bars built into the tent body provide more interior space.
CONS:
- Floor has a taped seam running across it's length and it may wear over time.
- It would be nice to access your gear form outside the tent with out having to remove the tent peg.
Rating: 9.5/10
Interior Space 2/2
Design 2/2
Features 1.5/2
Weight 2/2
Quality / Price 2/2

This is only our opinion. Do you disagree? Did we miss something? Are we totally out to lunch? Join the discussion in the forums here, and let us know what you think. People like/dislike gear for different reasons so chime in and we'll get a well-rounded evaluation.
Back to the rest of the reviews.
---