Backcountry skiing is an inherently dangerous activity that requires experience and knowledge to travel safely. Any of the routes on this site may be dangerous depending on conditions. You are responsible for your own safety in the backcounty—the team behind backcountryskiingcanada.com disclaim any responsibility for any injury resulting from people travelling on routes described on this site. To read our Terms of Use and get all the details, read HERE.

View Coast Mountain Lodging in a larger map
---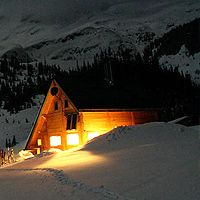 BURNIE GLACIER CHALET
Phone: 250.847.3351
Location: Coast Mountains
Access: Heli or ski in winter, hike in summer
Seasons: Winter (Dec - May), Summer (July - Sept)
Accommodation: 11 (double, triple, quad)
Amenities: dyring area, electricity, equipment rental, maps, satellite, radio or cell service, sauna, wood heat
What's different about Burnie Glacier Chalet? Being the most northwest of all lodges in B.C., big stable snow packs are the norm from December to May. But we are also the easiest to reach: fly into Smithers and forget about rental cars and long drives – the heli base is just across town. The terrain appeals to stronger skiers with many demanding, glaciated lines, rugged peaks and excellent tree skiing for stormy days. Introductory courses, advanced avalanche training and professional courses are offered. Plus, there's solar electricity, a wood fired sauna, wonderful food and IFMGA Mountain Guide Christoph Dietzfelbinger to lead the way.
---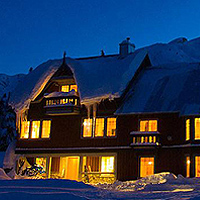 CALLAGHAN COUNTRY WILDERNESS
Phone: 1.877.938.0616
E-mail: info@callaghancountry.com
Web site: www.callaghancountry.com
Location: Coast Mountains
Access: Heli, ski, snowmobile, snow coach in winter
Seasons: Winter (Nov - May), Summer (June - Oct)
Accommodation: 24 (standard and superior rooms, solitude suite)
Amenities: gear drying room, dining room, lounge area, electricity, indoor plumbing, equipment rentals, running water, cell service, wood and propane heat, propane lighting, 42km of XC trails
Callaghan Country is a wilderness adventure playground in BC's southern Coast Mountains – only 1.5 hours from Vancouver and 25 minutes from Whistler - with ski touring, groomed XC trails (classic track and skate), snowshoeing, and tobogganing in the winter months and world class hiking, climbing, biking and horseback riding during the summer months. Stay at Callaghan Lodge (1,370 metres, 4,500 ft), an easy-access inn boasting spectacular scenery, epic snow, comfortable lodging, delicious meals and friendly hospitality. Come for a day, a night, or stay all week! Nightly all inclusive packages available.
"The overnight lodge is surrounded on three sides by glaciated summits and offers everything from high alpine bowls and glacier skiing to glades, pillow drops and gently rolling terrain. The closest runs drop 750m on North facing slopes that terminate less than a half-kilometer from the lodge. Look beyond weekend packages. There is easily enough terrain here to keep a keen group of skiers busy for a week." ~ John Baldwin "Exploring the Coast Mountains on Skis"

Have a read over our review of Callaghan Country and the Journeyman Lodge, complete with photos and a nifty video, click it here.
---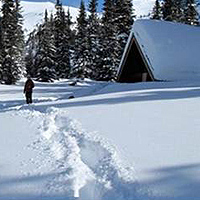 TYAX ADVENTURES - ELDORADO CABIN
Phone: 250-238-0177 1-888-892-9288
Location: Chilcotin Mountains
Access: Heli or snowmobile/ski combination in winter. Hike, bike, horse in summer
Seasons: Winter (Dec - Apr), Summer (Jul - Oct)
Accommodation: 6 beds plus 3 in loft, all with foamies
Amenities: Wood heat, propane cooking and lights, solar powered lights, wood-fired sauna, dry rack, sat phone rental, outhouse.
Located at 6300' Eldorado Cabin has great skiing right out the back door. Located on the east edge of the coast snow zone the area receives an abundance of snow and sunshine. This is a cozy Cabin with basic amenities for your private group. After a hard day's ski-touring you can relax your muscles in our wood-fired sauna, perfect for winding down. There are options for accessing the cabin - you can ski in and out, snowmobile into the park boundary and ski in from there, or charter a heli flight with our partner Blackcomb Aviation from Lillooet with additional bump from Tyax Adventures base ranch.
---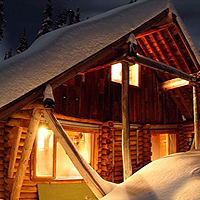 WHITECAP ALPINE
Phone: 888.863.9757
Location: Chilcotin Mountains
Access: Heli in winter, hike in summer
Seasons: Winter (Dec - Apr), Summer (Jul - Sept)
Accommodation: 17 (double, loft, semi-private)
Amenities: dyring area, electricity, indoor toilets, equipment rentals, running water, showers, sauna, satellite phone service, internet, wood heat
We are a mountain adventure company dedicated to providing distinctive backcountry skiing and snowboarding trips in the South Chilcotin Mountains of British Columbia. Our goal is for you to explore these mountains and discover the excellent and challenging skiing here. With emphasis on service and safety we can guide you through this exceptional terrain with its perfect alpine bowls, mountain summits with long glacial descents, and fantastic deep powder glades right outside the door.