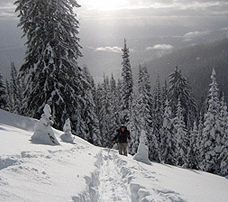 Members of local Search and Rescue (SAR) groups have been very helpful in developing and reviewing the West Kootenay Touring Guide (some of which appear here on this site) and we are thankful for their time and knowledge. Though mostly made up of volunteers, SAR members work and train hard, and have saved many lives in the backcountry over the years.
For everyone, promoting your own backcountry skiing safety (as well as that of others) takes time and energy. Make sure to keep an eye on yourself, and other "rescuers" in your group and trust in the Responsible Person (RP) mentioned in your preplan.
Some ideas Search and Rescue would like you to keep in mind:
If anyone in a group feels unsafe, ill or too tired to continue, then the group should reassess.
Rely on your Avalanche Safety training, and self-rescue in avalanche scenarios.
Following tracks doesn't mean it's safe. If someone is injured, trust your first aid training/kit.

Remember if you

are lost, find a safe place and mark out your spot in the snow, dig in and stay put. It is harder for a rescue to find you if you're moving around, and you'll waste energy.
A
void slopes that are:
Greater than 30 degrees

Above terrain traps

Obvious avalanche paths

Wind loaded
Know who to call for help:
Near the ski areas, Ski Patrol may be able to help 7:30 a.m. - 4:00 p.m.

Around Kootenay Pass, there should always be someone at the green Highways building at the top of the Salmo Creston Pass.

If your group is lost or has a non-medical emergency* (see below) then the RCMP will initiate Search and Rescue (SAR).

If you have a medical emergency, BCAS (ambulance) will get someone to you or get you out with the help of the local SAR group.

1 may work, but when called from a satellite phone it will connect as an international number in Ottawa. This slows down the rescue while they contact the right people.91

A medical emergency is any injury or condition where the person's life is in immediate danger (i.e. heart attack, unconscious, deadly bleeding). It is typically NOT a broken leg or arm.
---
Backcountry skiing is an inherently dangerous activity that requires experience and knowledge to travel safely. Any of the routes on this site may be dangerous depending on conditions. You are responsible for your own safety in the backcounty—the team behind backcountryskiingcanada.com disclaim any responsibility for any injury resulting from people travelling on routes described on this site. To read our Terms of Use and get all the details, read HERE.
---