EQUIPMENT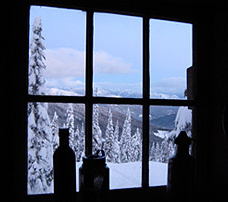 Whether you are planning on going on a three-hour tour (like Gilligan) or a multiple day tour, you should be prepared to deal with an emergency that might force you to stay out in the backcountry snow overnight. The backcountry skiing equipment different people bring depends on the person packing but there is certain ski touring equipment which should always be brought along. Another item—which we can't really refer to as "gear"—is knowledge. There's little use to a compass or transceiver (for example) if you have no idea how to use them. In general, prepare for the worst but hope for the best.
Here's a list of the must haves:
Transceiver

Shovel

Avalanche Probe

Emergency shelter

Skins

Map & compass

Water

Food

Whistle

Down jacket

First aid kit

Eyewear

Sun protection

Headlamp

Gear repair kit

Extra clothing

Cell, satellite phone or radio
We have created a printable PDF of our gear checklist that you can tape on your fridge and in your car (there are two on a single sheet) to help ensure that you don't forget any important items on that big ski touring adventure or day trip. Grab it here and remember backcountry skiing is a high-risk activity and you are responsible for making your own decisions on how to best equip yourself. Everyone's needs are different and different conditions demand different equipment.
---
Backcountry skiing is an inherently dangerous activity that requires experience and knowledge to travel safely. Any of the routes on this site may be dangerous depending on conditions. You are responsible for your own safety in the backcounty—the team behind backcountryskiingcanada.com disclaim any responsibility for any injury resulting from people travelling on routes described on this site. To read our Terms of Use and get all the details, read HERE.
---