Sierra Designs Eleanor 24 Sleeping Bag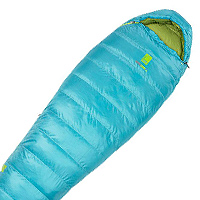 Lighter, warmer, more compressible, more durable, no petroleum products. The advantages of down over similar synthetic materials are evident. Simply re-read the list above. The main disadvantage, however, can be a big one; when wet, down looses its loft which means you lose your warm covering.
I understand why someone would opt for a synthetic sleeping bag. Besides being cheaper, a synthetic bag gives you the peace of mind that when it rains for hours and everything is getting wet, your bag should maintain a good portion of its warmth. Synthetic bags, however, are generally heavier and less compressible as well as debatably less durable than down bags.
In response to the down versus synthetic quandary, Sierra Designs invented DriDown and added this technology to the majority of their sleeping bags (more about DriDown later). The subject of this review, the Eleanor 20, is a DriDown woman's specific mummy sleeping bag rated to -7ºC. It is constructed with an ergonomically correct footbox and hood, a 60 inch, right side zipper and a draft collar. Read on to learn more about this new technology.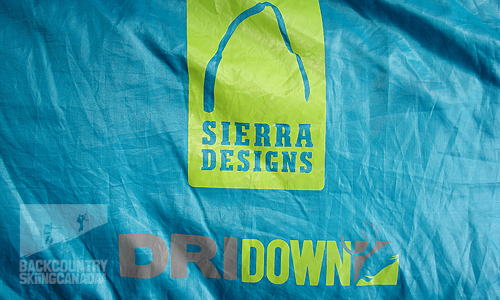 What is DriDown:
Sierra Designs gained a lot of attention in 2012 with the introduction of DriDown technology. DriDown products are made by treating each down plume to give them a hydrophobic finish that repels water. The treatment is designed to help the products stay drier longer, keep you warmer and dry faster than untreated down. Untreated down plumes are notorious for collapsing and clumping when wet causing the jacket or sleeping bag to lose its loft and be about as warm as a soggy sweater. Untreated down also takes a long time to dry out once wet. DriDown bags, on the other hand, are meant to repel water so that the bag stays drier and maintains its loft (and, therefore, warmth) much longer than an untreated bag. Similarly, once it does get wet, a DriDown bag will dry much faster than a regular bag. Although DriDown is not waterproof, it is meant to be highly water resistant as seen in the picture below.
Testing of DriDown:
In order to test the claims made regarding DriDown we took the Eleanor 20 sleeping bag into, that's right you guessed it, the shower. As a comparison we took a similar 600 Down filled -7ºC sleeping bag. (The comparison bag is older and more used than the Sierra Design's bag which may have had some influence on the results.) Each bag was subjected to a constant stream of water from the shower head aimed at the footbox. Testing was stopped when the reviewer's feet got wet.
As stated above, the comparison sleeping bag is older than the Eleanor which may have caused a larger difference in the tested variables than if two down bags of similar age were tested. Even with this taken into account, the difference between the two bags' reaction to water was very definite. As seen above, the feet in the DriDown bag stayed drier for 4 minutes and 15 seconds longer than those in the untreated down bag. Furthermore the difference in the loss of loft was shocking; while the DriDown bag barely lost any loft, the untreated one basically collapsed and became a soggy mess. The drying times for the two bags were also very different; the DriDown dried in a fraction of the time. Although the warmth of these bags while dry versus wet was not tested it is evident that the DriDown bag would be much warmer even after 5 times as long in the direct water.
In addition to the shower testing, the Eleanor was used for 12 nights in the backcountry. Most of these nights were in a cabin and all of them were in dry weather (hence the shower test). Even in dry conditions, I immediately noticed that I woke up feeling much less sticky and damp in the Eleanor than in an untreated bag even after skiing all day then sleeping in a cabin with a fire and numerous other sweaty people. I also found that the warmth rating on the Eleanor seemed to be accurate. Specifically, the Eleanor is rated to -7ºC and the two nights I slept in -5ーC to -7ºC I was perfectly warm and comfortable. I hesitate to make this claim as everybody sleeps at different temperatures, but for me I would use the Eleanor in this temperature range again.
The Sierra Designs Eleanor Sleeping Bag with DriDown in the shower.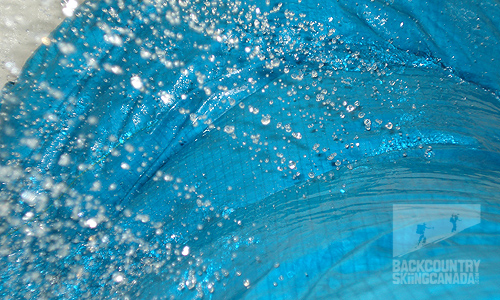 The water just beads off the Sierra Designs Eleanor Sleeping Bag thanks to the DriDown.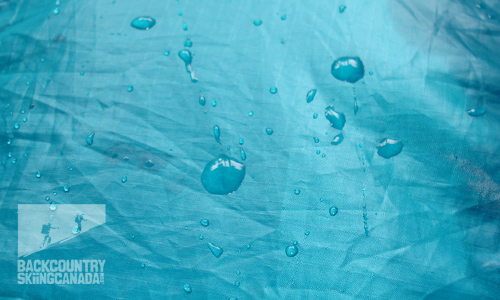 A comparison of the 2 sleeping bags when wet. Notice the difference in the loft!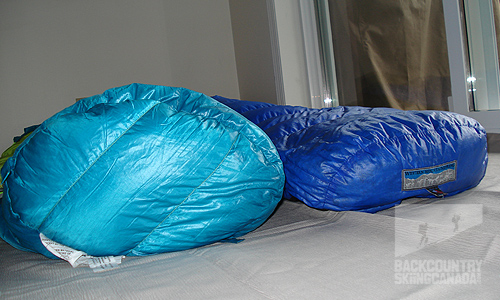 The Sierra Designs Eleanor Sleeping Bag with DriDown foot box when dry.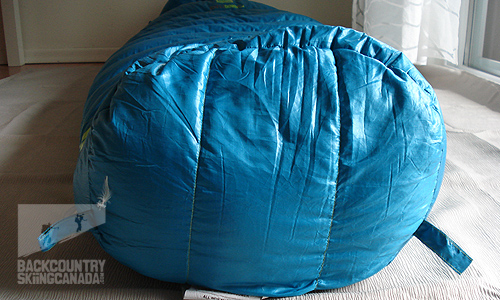 Zipper:
The Eleanor has a 60 inch right sided zipper. I found that the zipper constantly snagged, which was annoying especially in the middle of the night. Looking at the pictures of the 2013 version of the bag it looks like Sierra Designs has added a "cord" along the inside of the zipper aimed at fixing this problem.
Several of TNF and MEC sleeping bags now have glow in the dark zipper pulls, which, although not a game changer, would be nice to see on the Eleanor.
Weight and Price:
Sierra Designs claims that the DriDown bags are no heavier than other down bags. We looked at similar woman's specific MEC, TNF and SD bags to verify this.

Based on the above comparisons the Eleanor is very similar in weight to bags with similar temperature ratings. For gram crunchers, it is slightly heavier but for the rest of us it is within the same range. Where the Eleanor stands out in this comparison (and not in a good way) is price. Unfortunately it is $100 more than the next most expensive bag and twice as much as the MEC down bag.
Unfortunately it is difficult to compare how compressible the different bags are as the companies measure this differently. Based on personal experience, however, I found that the Eleanor compressed down to around the same size as an untreated down bag with the same temperature rating.
Hood:
The Eleanor has an ergonomically shaped hood with a draft collar and drawstring. The draft collar was great for keeping out unwanted cold air. I did find that the drawstring required two hands to tighten or loosen, which was a bit tricky in the middle of the night. The Eleanor also has a small pocket for stashing ear plugs or other small items, which was super handy and well placed.
The hood fully open.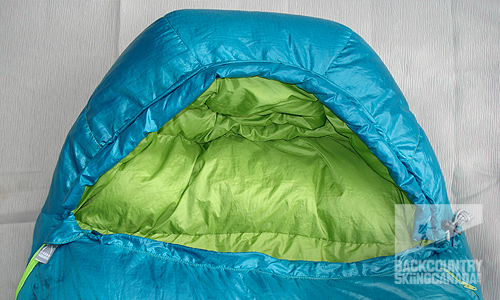 The hood tightened part way.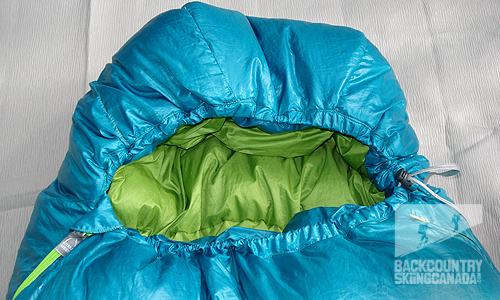 Features:
- DriDown insulation
- Women's specific construction
- Women's specific warmth rating
- Draw cord at collar
- Draft collar
- Ergonomic hood and footbox
- 30D Polyester Micro Ripstop shell
- 30D Polyester liner
- Buit in pocket
The handy pocket.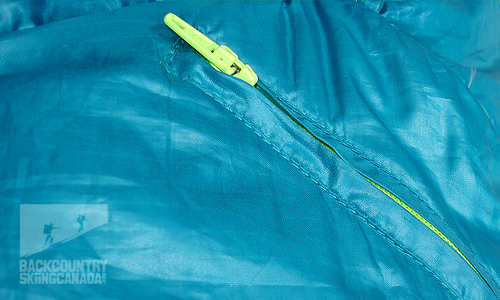 Verdict:
When I first heard of DriDown technology, I have to admit I was sceptical. Is it really possible for down to retain its loft even when wet? After having tested the bag in the backcountry and the shower, however, I have to say that "yes" at least in the short term it is possible. It is also true that a bag treated with DriDown dries much faster than an untreated bag. After seeing the difference in how the Eleanor reacted to water verses an untreated bag I feel confident in the Eleanor's ability to stay drier, maintain loft and dry faster than an untreated bag. It is important to keep in mind that DriDown is water resistant and not waterproof. It is meant for trips where you do not expect to be bivying out in the rain, but you may run into moisture in your tent. For example, last fall some friends and I were camping in the Lake Louise backcountry and on the last night we had constant hard rain for several hours. Although we were in our tent the water was running under the tent, a lot of the gear in the tent was wet and we were somewhat wet. I was happy to be in a DriDown bag, knowing that despite all of the wetness I would still be warm and that if the bag did end up getting wet it would dry quickly the next day.
In the down verses synthetic debate that we started the review with, DriDown changes the game by maintaining the advantages of down (lighter, more compressible, warmer for its bulk) but reduces the main disadvantage with a down product that stays drier longer, maintains warmth when wet and dries faster. On the other hand, due to the lack of information regarding how DriDown is created, I am unsure if "lack of petroleum products" can be listed as one of the advantages over synthetic products. DriDown also comes at a cost, with the Eleanor costing significantly more than untreated bags.
In the end it comes down to your priorities, if price is the main concern for you then a traditional down bag or a synthetic bag may be your best option. If, however, money is not a main concern and you want a sleeping bag with the advantages of down with the added bonus of being water resistant than DriDown is an excellent choice for you.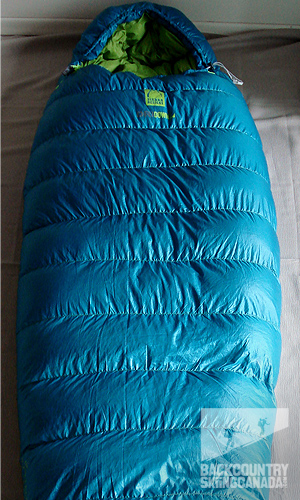 SPECS:
Price: $320 US
Temperature comfort limit: -7ºC/ 19ーF
Shape: Mummy
Zipper side: Right
Size: Regular, Fits to: 5 ft 6 in/168cm, Length: 72in/183cm, Shoulder girth: 57in/145cm, Hip girth: 57 in/99cm, Footbox: 39in / 99cm
Fill Weight: 30oz / 850g
Total weight: 2lbs 15oz / 1.33kg
Dimensions: Diameter: 9in / 23cm, Length: 17in / 43cm
PROS:
-Waking with less of a sticky feel
-Feeling of security that if your bag gets wet it will loose less loft and dry faster than untreated down bags
-Draft collar
-Women's specific fit and warmth rating
-Fun colour
-Handy ear plug pocket
CONS:
-Frequent zipper snags (may have been dealt with in newer model)
-Stuff sac not a compression sac
-No specifics given on how DriDown is created or how its safety is measured
-Price
Rating: 9/10
Warmth 2/2
Compressibility 1.5/2
Features 2/2
Weight 1.5/2
Quality / Price 2/2

This is only our opinion. Do you disagree? Did we miss something? Are we totally out to lunch? Join the discussion in the forums here, and let us know what you think. People like/dislike gear for different reasons so chime in and we'll get a well-rounded evaluation.
Back to the rest of the reviews.
---