Sierra Designs Mobile Mummy 800 2 Season Bag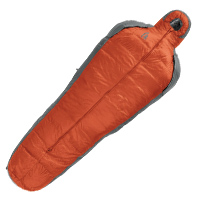 "There's a better way out there. And we're designing it." A new tagline sums up Sierra Designs' approach for their recently renovated line of products. With fresh branding comes fresh thinking which is very apparent in the new Sierra Designs Mobile Mummy 800 2-season bag. I first saw the Mobile Mummy 800 at the winter Outdoor Retailer Show in Salt Lake City this past January. I was immediately intrigued by the unique approach to the good ole down sleeping bag so we put it on the spring review radar.
The big differentiator of the Sierra Designs Mobile Mummy 800 is that it's designed to move with you while you sleep. You don't roll inside the bag from your back to you side or over onto your front. The sleeping bag moves with you through these various sleeping configurations. Gone is the large opening at the top of the sleeping bag that you need to cinch tight around your head to remove drafts. It's been replaced with a lighter, smaller hood that fits closely around your head allowing just enough room for your nose and mouth to poke out. The traditional cords and toggles are gone so there is nothing to mess with, it's simple and easy to use. With this new design getting into and out the Mobile Mummy 800 is achieved by way of a large centre zip that opens up down past your knees. It provides more than twice the the accessibility at 58" in length. Dual zipper pulls make opening the bag a snap from the inside and outside and its centre location is more ergonomic and convenient. Need to vent extra heat? Unzip the centre zipper from the top or bottom and your core is immediately exposed to the cooler outside air.
Watch the Sierra Designs Mobile Mummy 800 in action in the following video review:
The Sierra Designs Mobile Mummy 800 2-season bag is a wearable sleeping bag with a minimal hood that provides just enough room for breathing but no room for cold air to get in.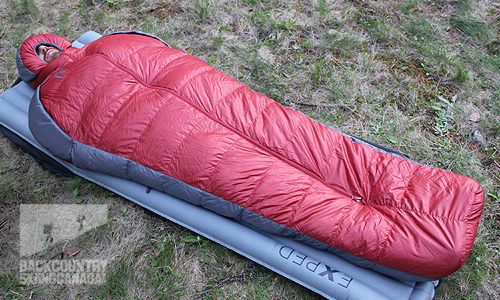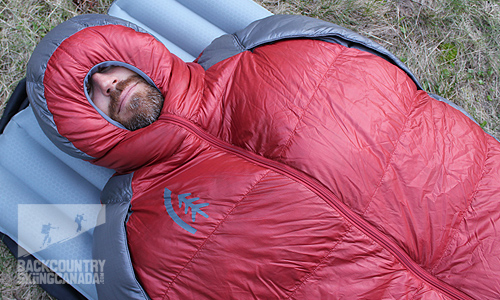 The large centre zip provides easy in/out as well as huge venting options.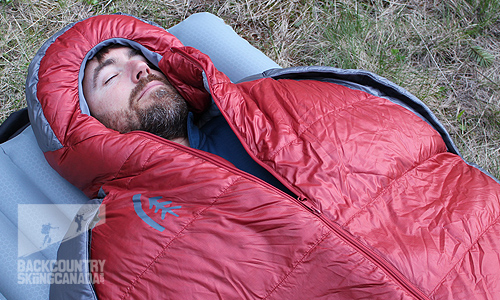 The other big innovation built into the Sierra Designs Mobile Mummy 800 is the 'mobility' aspect. It has two zipperless arm ports that allow you to effortlessly free your arms from the sleeping bag so that you can perform various tasks with them as needed. Reading, blowing your nose, getting a drink of water, finding your headlamp, are all very fast and easy. What's mobility though without your lower torso in on the action? Sierra Designs created what they call a "stowable footbox" which allows you to get your legs out of the sleeping bag so that you truly are mobile. By unzipping the centre zipper from the bottom you can remove your legs from the bag, the footbox can then be tucked up and behind you.
The arm ports have no zippers or toggles to get in the way, just pure down baffle goodness. The exterior view is directly below with the next photo showing how things look from the inside.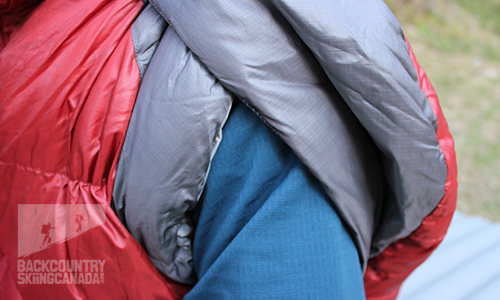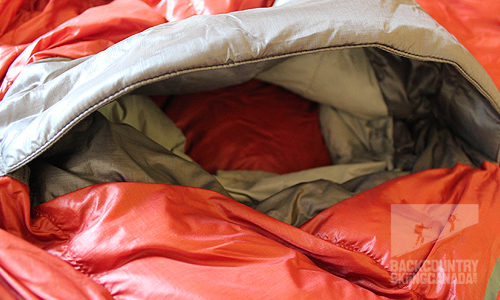 The foot box can be fastened in place with two toggles so that it doesn't drag on the ground behind you avoiding a tripping hazard and keeping your bag in shape.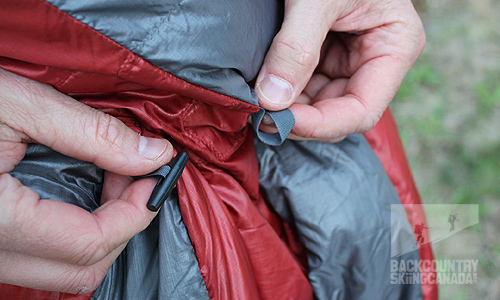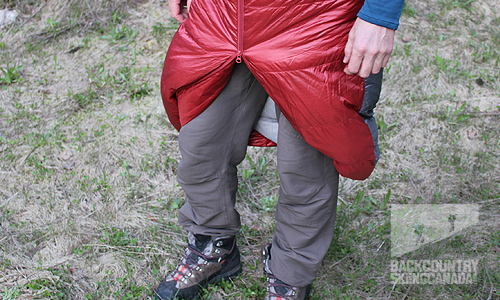 While you are "mobile" you don't have to wear the hood in order to prevent the Mobile Mummy 800 from slipping down around your waste. The garment-style shoulder design means the bag hangs from your shoulders when your upright so things stay where you want them. There's still adequate access to the arm ports while standing or moving around as needed.
The women's version of the Mobile Mummy 2-Season sleeping bag is rated a little warmer at -1°C for comfort and -7°C for limit. There is also a 3-season and soon to be 4-season versions available for both women and men. The 3-season version is rated -3°C comfort and -9°C limit, weighing 2lb 4oz with 19.2 oz of fill versus the 1lb 13oz weight and 11.4 oz of fill weight for the 2-Season version we tested. The 4-Season Mobile Mummy 800 bag pushes things a little further with lower comfort and limit ratings and will be available soon.
Features:
- Zipperless Arm Ports
- Garment-Style Shoulder Design
- Draft-Prevention
- Stowable Footbox
- 800 fill Duck DriDown
- Articulated foot box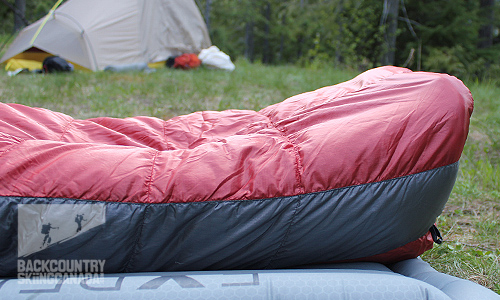 - Ultralight Jacket Hood With No Cords Or Toggles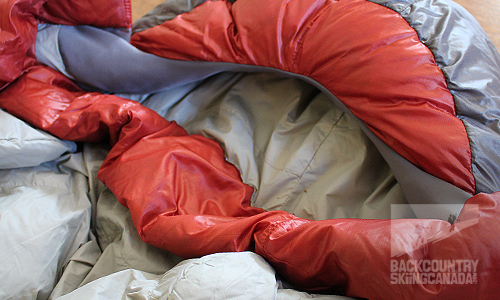 - Centrally Placed, Ventable Zipper with no snag panels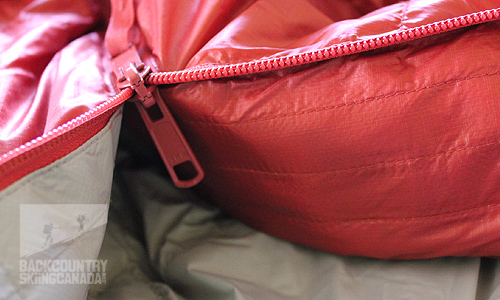 Materials:
The materials used in the Sierra Designs Mobile Mummy 800 2-season bag are all of high quality and the addition of DriDown ensures your insulation stays drier ten times longer than untreated down. If the down is exposed to moisture it will still retain its loft (and therefore warmth) 2.7 times more and also dry 33% faster than untreated down.
Fill: 800 fill Duck DriDown
Shell: 20D Nylon Ripstop
Liner: 20D Nylon Taffeta
Verdict:
Sierra Designs continues to impress in their pursuit for innovation. They are simply not afraid to try things and I award full points for this. This is especially commendable when you realize that from time-to-time the final product does not always work in the field as well as it did in pre-production/development. Case in point is the Sierra Designs Mojo 3 Tent which we reviewed last year. This year Sierra Designs went back to the drawing board and got things right with the similar Sierra Designs Lightning 2 UL Tent. Persistence paid off. In my opinion Sierra Designs got the Mobile Mummy 800 right on the first go-round.
I have spent many a night testing and trying to find a fault with this rather unique sleeping bag design. While the mobility aspect may seem funny at first, this is only due to the fact that the concept is a foreign one. Once you put the Sierra Designs Mobile Mummy 800 to the test its easy to be won over and realize that this could be the new direction for all sleeping bag designs. With a comfort rating of only 4°C and a Limit rating (more for us guys) of -2°C it was easy for me to find the Mobile Mummy 800 warmer that comparable sleeping bags. My nights out in the field were between 0°C and 5°C and were no problem for the Mobile Mummy. No cold spots of dead air because I was using the entire bag to sleep in and it moved as I did. While I may have felt a slight chill there was no dead air as in traditional sleeping bag designs. The trade off of course with this "wearable" design is that the mobility inside the bag is limited but the 58" centre zip helps to open things up if you are feeling claustrophobic. It's a simple matter of getting your arms out, unzipping the centre zipper to create room for your knees to move or to pull your legs out of the bag completely without ever having to actually leave the sleeping bag.
The Sierra Designs Mobile Mummy 800 2-season bag doing what it does best—being mobile.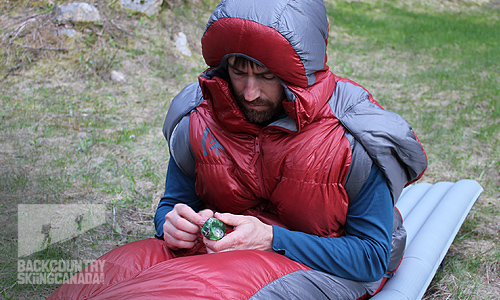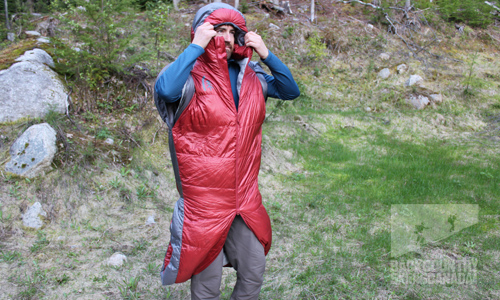 The real beauty of the Sierra Designs Mobile Mummy 800 has to be in the execution of its features. To have a good idea is one thing, to be able to execute that idea with style and functionality is another. Sierra Designs created the arm ports without adding fasteners by successfully using overlapping down panels. Usability didn't suffer and a simple, lightweight solution was achieved. The same can be said for the centre zipper. The danger of such a long zipper over your heat-producing core could mean drafts and heat loss but the 6cm semi-rigid zipper storm flap keeps the heat in and makes zipper snags all but impossible.
Last year we did review there DriDown Cal 6 sleeping bag with Insotec Flow design and found it to be one of the best bags we have ever tested, so it seems the tradition continues. If you like the look of Sierra Designs products then be sure to check out the Sierra Designs Lightning 2 UL Tent and if you are looking to purchase any of their products just click the links below for the best deals on line.
Unfortunately no compression sac with the Mobile Mummy 800, just a simple stuff sac.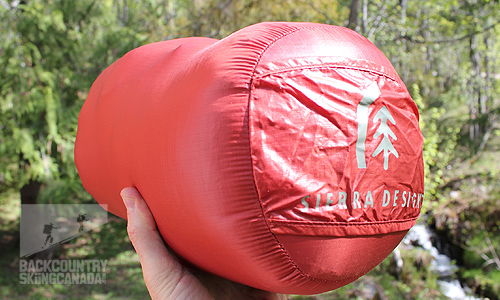 SPECS:
Price: $329.95 US
Weight: 770g / 1lb 13oz
Colour: Orange
Rating: Comfort 4°C / 39°F, Limit -2°C / 29°F
Fill Weight: 323g / 11.4oz
Stuff Size: 18 x 35cm / 7x14"
PROS:
- Warmer that rated.
- Rolls and moves with you while sleeping.
- The ability to wear the bag while using your arms is innovative and useful.
- 800 fill Duck DriDown.
CONS:
- No compression sac included just a simple stuff sac.
- The ability to walk while wearing the bag is unique but not sure it's practical for frequent use.
Rating: 9/10
Warmth 2/2
Compressibility 1.5/2
Features 1.5/2
Weight 2/2
Quality / Price 2/2

This is only our opinion. Do you disagree? Did we miss something? Are we totally out to lunch? Join the discussion in the forums here, and let us know what you think. People like/dislike gear for different reasons so chime in and we'll get a well-rounded evaluation.
Back to the rest of the reviews.