Sierra Designs Mojo 3 Tent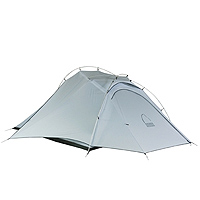 As the proverb goes "Necessity is the mother of invention." For Sierra Designs this necessity was the need to make a lighter tent without sacrificing interior space, comfort or features. A tent that is quick to set up, keeps the interior dry when the weather is not co-operating and incorporates top notch ventilation to ensure condensation is not an issue. Their solution was the Sierra Designs Mojo 3 Tent with "Exofusion" frame technology and hybrid single wall/double wall design. This fancy term essentially means that the Mojo 3 has an external pole structure with no traditional fly. Instead it uses a hybrid of single and double wall construction; single wall where you need 100% protection from outside weather and double wall where ventilation is required. This unique combination allows for fast set-up times since there's only the tent to set up (no additional fly). This also allows for a dry set up in inclement weather as the tent fabric is essentially the fly. To increase ventilation, the Mojo 3 has strategically placed vents at the front and rear of the tent in addition to large mesh side panels and a single entry door panel. With no stand alone fly and a unique pole and hub configuration, which eliminates a rear cross pole, it is easy to see how weight savings was achieved. At the end of the day these features add up to an incredibly light tent; at sub four pounds the Mojo 3 is an ideal weight for multi-day backpacking trips.
Front view with door zipped up and the door open (below).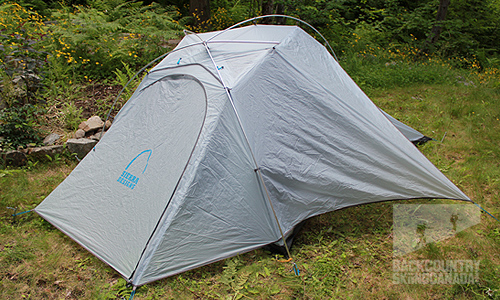 While the big innovation with the Mojo 3 is the ExoFusion hybrid design, there's also plenty of smaller features that still pack some wow factor. The first is the pole assembly which has a lot in common with that of the Sierra Designs Lightening HT 4 Tent that we reviewed last spring.
-First off the light and strong DAC Featherlite® NSL poles are anodized without the use of harmful acids, which is a no brainer in these enviro-conscience times. The poles themselves use a sunflower hub which brings all the sections of the pole together at the front crest of the tent. Instead of a long end pole the Mojo 3 relies on corner peg out points to keep the shape and interior room. This simplified pole structure means less poles which in turn mean less weight. Locking pole tips ensure the poles are kept securely in place and also improve structural integrity.
- Moving onto the canopy, its optic white colour is not only easy on the eyes when you wake up it also serves up a bright yet diffused white light throughout the interior of the tent. The canopy has two large wings cover the side mesh panels to keep weather out and allow for venting and airflow patterns that are unrivalled by traditional tent designs. If the wind and rain whip up, the wing tie downs help create a lower profile and thus protect the vestibule contents as well as the tent occupants.
- Plastic tent hooks hang the tent from it's external frame and aid in the fast dry set up I referred to before. Seams on both the tent fly panels and floor are covered with PVC-free seam taping to ensure protection from rain and other weather.
- The "Superseal floor," as Sierra Designs calls it, is a bathtub design without any seams near the ground where water can seep through.
- Reflective trim surrounds the D-shaped door which provides easy access day or night. Similar reflective guy lines also help night time navigation and reduce that dreaded three AM stumble on the tie downs.
- On the inside the Mojo 3 has ample head room with 43 inches of clearance, however, this does reduce at the foot end. Overall there is 40.5 square feet of space inside the Mojo 3, with the front vestibule offering up 11.75 square feet of storage space but since this is the only entrance/exit you'll want to keep most of your gear in the secondary vestibules found under each wing which is pegged out to keep things dry.
- For smaller items there are three internal pockets which help to keep things organized and close at hand.
Features:
- ExoFusion: An external frame combined with hybrid single and double wall panels.
- Quick set-up: Due to the lack of an eternal fly, an ExoFusion shelter sets up in far less time than traditional tents.
- Dry set-up: Integration of the rainfly means your tent is protected during set up, rather than having the inner body get soaked before you can attach a separate fly.
- PVC-free seam tape
- SuperSeal Floor: Since 2004 Sierra Designs has been designing their tents with what they call a SuperSealed floor (also known as bathtub construction). This means that the perimeter seam is raised off the ground and taped to provide guaranteed waterproofing.
- Safety: Reflective door trim and guy lines keep important parts of the tent visible in your headlamp's beam at night.
- Hybrid design: double wall/single wall.
- Pockets: 3 Hanging pockets.
- Door: Ultralight D-door.
- Vents: 2 front and two in the back.
- Clips: Ultralight clips, grommet pole attachment, locking pole tips, ball cap connector and sunflower hub.
Inside view looking out.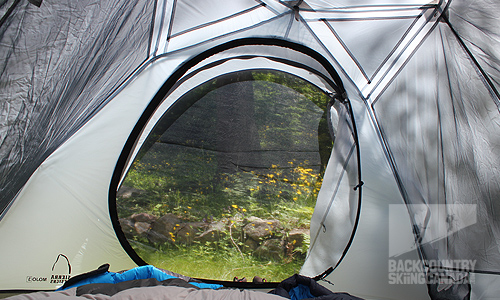 Inisde view looking towards the foot end.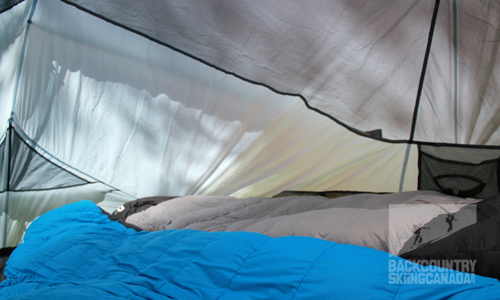 Inside view looking to the sides with mesh walls and pockets.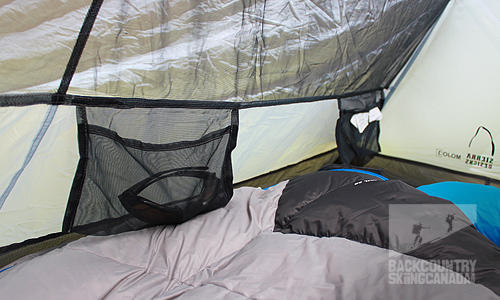 Venting at the foot end.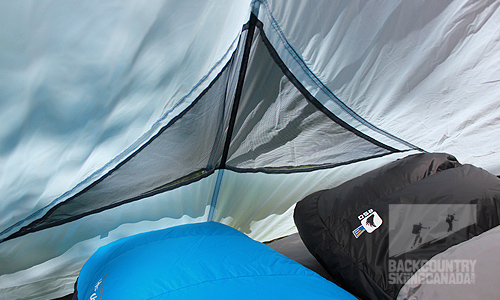 High end DAC pegs and adjustable tie-outs.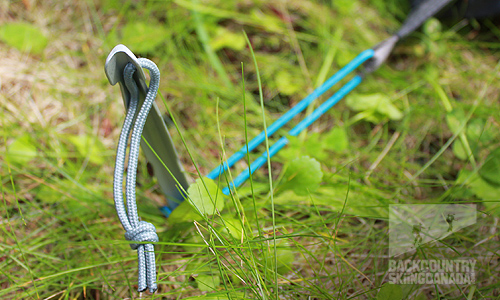 More venting options along the ridge.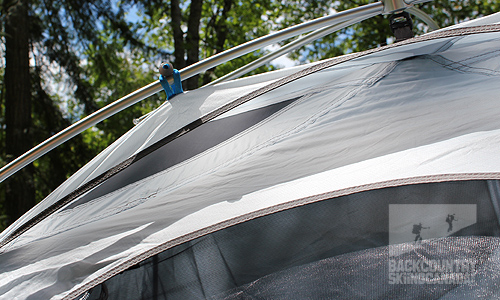 Back venting tie-out.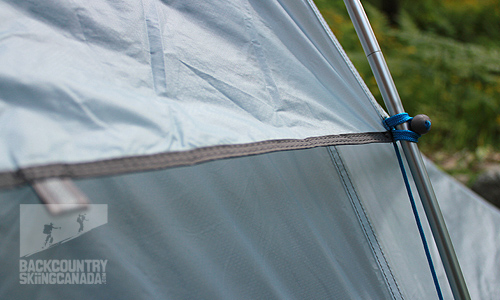 The wing tie out and notice the tie-down to the tent body on the right.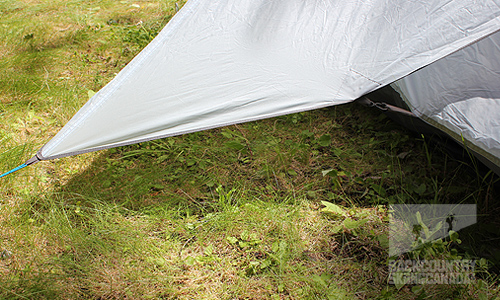 Fabrics:
Pole Type: DAC NSL
Floor Material: 40D Nylon, 3000 mm
Body Material: 20D Nylon
Fly Material: 20D Nylon, 1500 mm
Verdict:
I've calculated that the Sierra Designs Mojo 3 tent is in the neighbourhood of 30 - 40% lighter than the average 3-person tent; it even weighs less then some 2 person tents currently on the market (including my old tent). The weight savings is what initially brought this tent to my attention, but after having spent some time with the Mojo 3 I noticed many of its other features and began to truly appreciated how unique this tent is.
Unfortunately, around this time I also started to notice some shortcoming with the tent. For the average camper who's not going to venture far from their car or lives in a dry climate this tent is killer. The weight saving, easy pitching, ample interior space and cross flow venting are spot on. For me, however, I need to know I can bet my life on a tent when I am several days from any shelter and at the mercy of Mother Nature. I've been in the mountains long enough to know she can be a real pain at times and this is what I prepare for. Weight savings aside, the Sierra Designs Mojo 3 tent has a few key functions that are in my opinion lacking due to it's unique design. First, with only a single entrance the front vestibule offers up little storage space for gear other than boots. This means that you depend solely on the side vestibules for storing your pack, which worked fine when Mother Nature is smiling down on you. When it really storms, however, I found things got wet since there is only one tie down on the wings that cover your gear. This was a lot worse when the wind picked up as the side wings lift up, allowing rain to get inside the tent. Keep in mind this is when it's really storming out. A secondary tie down point higher up would easily rectify this problem and not add much weight in the process. This situation aside, if you have to get anything our of your packs when you are tent bound you have to exit the tent in order to access you gear as there is no pass through access to the vestibule areas. Again, this works fine in clear weather but once it storms it's a different story.
Having a single rear pole helps keep the weight down on the Mojo 3 but does not provide much in the way of structural integrity. Again wind and inclement weather are the enemy here and should any of your pegs come loose you will loose the side wings that protect your gear and ultimately the interior of the tent from getting wet. You'll need good pegging ground to ensure things stay put and also to maximize interior space as the two rear corners rely on pegging to keep them in place. Occasionally you may have to get creative with rocks or other tie downs for these corners as accommodating soil is sometimes in short supply at desired tent sites.
Back to more positive thoughts now as the Sierra Designs Mojo 3 Tent has a lot to offer. The Mojo 3 has the best crossflow ventilation of any tent I have seen and the strategic vent locations at the front and back of the tent magnify this. The interior has plenty or room for three and is a very bright and cheerful environment to spend some time in given the fabric colour. If you find that you crave more space for storage or perhaps drying gear the Mojo 3 appears to be ready to accommodate a pre-designed gear attic or one you create out of cord.
The Mojo 3 receives full marks for innovation, however. a few tweaks are needed before I would weather out the perfect storm in the Mojo 3. While weight savings is always appreciated it's but one of the many features that make this tent's design so unique.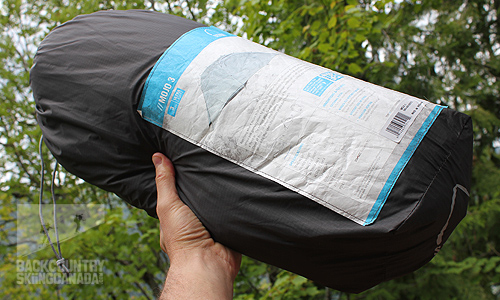 SPECS:
Price: $499.95US
Minimum Weight: 1.59 kg / 3lbs 8oz
Packed Weight: 1.81 kg / 4lbs
Packed Size: / 21" x 6"
Colour: grey/blue
Capacity: 3-person
Season: 3-season
Vestibule Area: 1.09m2 / 11.75ft2
Floor Area: 3.76m2 / 40.5ft2
Peak Height: 108cm / 43"
Number of doors: 1
Warranty: Lifetime
PROS:
- Extremely light tent for people
- Bright and roomy inside
- Innovative, unique design and Exofusion pole structure
- Hybrid single/double wall design saves time during set up and tear down
- Excellent vent locations allow for more than adequate airflow
- Bathtub construction floor is waterproof and does not have any seams
CONS:
- Expensive compared with similar three person tents
- Structural integrity is compromised when there is side wind load or top load
- Side wings need secondary tie down in order to keep wind and rain out on really stormy trips, gear tends to get wet low down when close to the edge
- Side vestibules are not accessible from inside the tent so retrieving items on stormy days is not fun
- Interior pockets are not integrated into the interior layout and feel like an add-on
- Tent must be pegged to maximize interior room and provide side vestibules
- Only one zipper pull on main door (no doubt to save on weight)
- 40 denier floor fabric is very thin so a drop sheet is highly recommended
Rating: 7.5/10
Interior Space 1.5/2
Design 1/2
Features 1.5/2
Weight 2/2
Quality / Price 1.5/2

This is only our opinion. Do you disagree? Did we miss something? Are we totally out to lunch? Join the discussion in the forums here, and let us know what you think. People like/dislike gear for different reasons so chime in and we'll get a well-rounded evaluation.
Back to the rest of the reviews.
---