Sierra Designs DriDown Cal 6 sleeping bag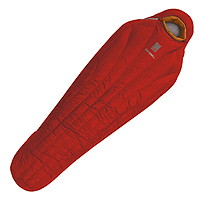 Down versus Synthetic is the age old question but for this reviewer it's a mute point. Down is lighter, more compressible and warmer, why choose anything else? The Achilles heal of down has always been its lack of ability to insulate when wet.
Sierra Designs, however, has taken this factor out of the equation with their invention of DriDown technology. The DriDown process treats normal down with molecular level polymers so that it effectively becomes hydrophobic. This term literally means "water-fearing" so you know it will keep your sleeping bag dry even in wet conditions. As you can see below DriDown numbers are pretty impressive:
1. Stays dry 10-times longer than untreated down.
2. Has 2.7 times more loft than untreated down when exposed to moisture and humidity.
3. Dries 33% faster then untreated down.
The DriDown Cal 6 sleeping bag isn't the first DriDown bag that we've reviewed from Sierra Designs. Previously our Rocky Mountain gear maiden Jenny tested the Sierra Designs Eleanor Sleeping Bag (which is specifically designed for women) by putting it in the shower! Read about that DriDown testing method here .
So you're likely now impressed with the benefits of DriDown but what other features make the Cal 6 noteworthy? Well, have you noticed how much it weighs or doesn't I should say? At 1134g / 2lbs 8oz this is one light -15°C sleeping bag. How did Sierra Designs get the Cal 6 to be so light? First they used 800 fill goose down, which is very light and compressible. Second they used 10 denier nylon ripstop shell and liner fabric instead of the standard 20 denier. Third, they used a 1/3 zipper instead of full length. Finally they incorporated "Insotect flow" which uses fewer baffles and thus adds less weight. If you are wondering how you make a sleeping bag with fewer baffles, read on….
Form fitted bag design, sculpted hood, zipper and neck baffle with single handed adjustments, this bag has it all.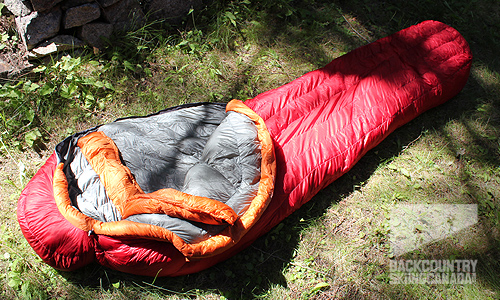 Great loft straight out of the storage sac or compression sac.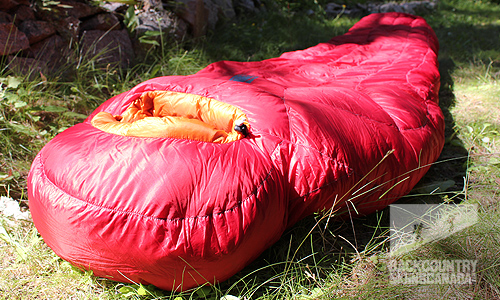 Insotec Flow baffle design:
The Sierra Designs DriDown Cal 6 sleeping bag uses a technology design called Insotect Flow which is lightweight, promotes uniformed heat distribution and follows the natural contours of your body. So what exactly is this Insotect Flow? Instead of traditional horizontal baffles (picture baffles running around your chest) Sierra Design used "Vertical Thermal Channel" baffle orientation (picture baffles running from your head to your feet). With this system, fewer baffles are required which results in an overall lighter sleeping bag. The traditional problem with vertical baffles is that the down migrates over time to either end of the baffle resulting in all the down being at your feet or your chest. The Cal 6 overcomes this problem by using strategically placed and staggered "Flowgates" throughout the entire length of the vertical channels or baffles as I call them. The Flowgates effectively hold the down in place to help maintain uniform insulation distribution and reduce cold spots. In addition to this, Insotect Flow's design also distributes heat more readily from where you produce, it in the core chest area, down to your legs and feet. Furthermore, the vertical orientation allows the baffles to more closely reflect the contours of your body so you get a more comfortable form fitting sleeping bag which keeps the insulation closer to your body which in turn means you are warmer. This technology is used in all of Sierra Designs Cal and Clo (women specific) sleeping bags including the Cal6, Cal 13, Cal 30, Clo 18 and the Clo 25.
You can easily see the vertical baffles that follow the contour of your body, that's the Insotec design.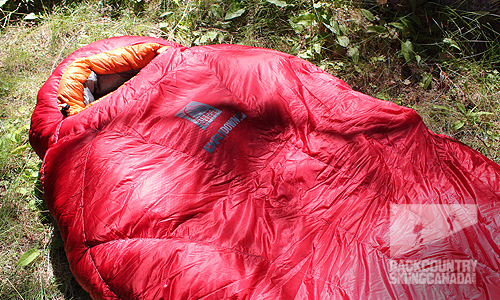 DriDown:
So why is DriDown so revolutionary and what exactly is it? As mentioned above DriDown was invented by Sierra Designs and is a hydrophobic molecular-level polymer which is applied to each individual goose down plume to make it repel water. The chemical manufacturing, finished chemical and down processing have all been evaluated and rated as non-hazardous to human health, safety and the environment. DriDown isn't made from petroleum products and is a natural, renewable resource unlike synthetic insulations. DriDown has been proven to stay drier, keep you warmer and dry faster than untreated down.
Case in point, some comparison research between DriDrown and regular down has shown that: in an 80% relative humidity environment, an untreated 15-degree down sleeping bag looses up to 30% of its loft over a period of eight hours. A 30% loss of loft essentially turns a 15-degree sleeping bag into a 30-degree sleeping bag. DriDown™ sleeping bags avoid this loss of thermal efficiency by retaining 98% of their loft, keeping you warmer on both short and extended trips into the backcountry no matter the weather.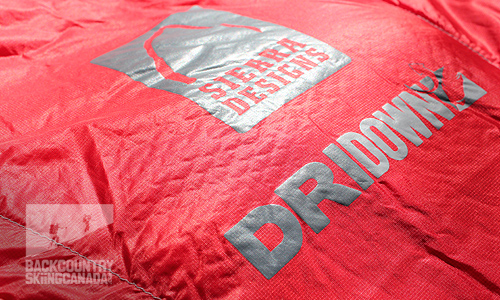 Features:
DriDown insulation: Stays drier, keeps you warmer and dries faster than untreated down
Zipper: 40 inch zipper keeps weight down and won't let out all the warmth when you're getting in and out of the sleeping bag, there is a zipper on the inside and outside
Snag-free zipper tracks: Prevent the zipper getting stuck by creating an anti-snag binding tape barrier between the lining and the zipper track
Draft Tube: Fully insulated draft tube backing the zipper keeps body heat in and cold air out
Insotec Flow baffle design: Promotes uniformed heat distribution and follows the natural contours of your body
Stuff sack: Included (not compression)
Storage bag: Included
One handed adjustabilioty on the hood.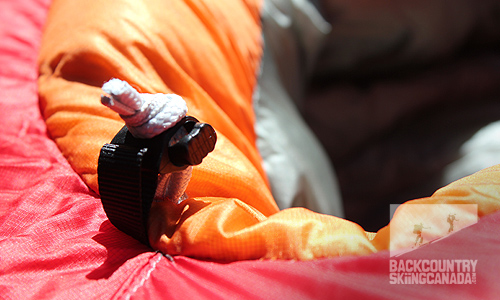 Ultralight jacket hood: Fits to the contour of your head so there is less dead air space, one handed adjustability keeps out drafts, is an ergonomic, nonrestrictive design.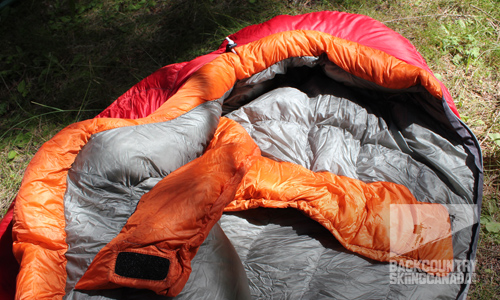 Neck collar baffle: Eliminates cold spots at the neck by using an adjustable down filled neck baffle.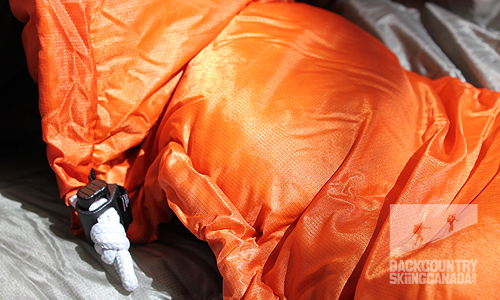 Zipper: 40 inch zipper keeps weight down and won't let out all the warmth when you're getting in and out of the sleeping bag, there is a zipper on the inside and outside.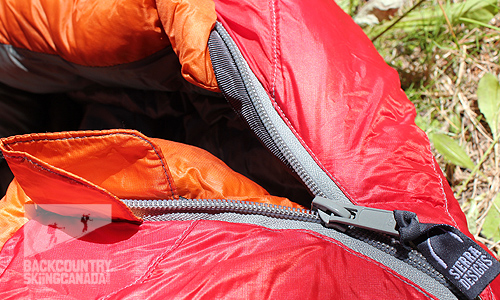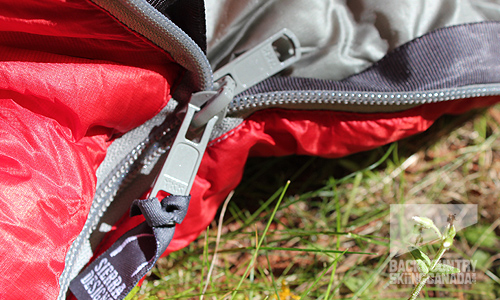 Contoured foot box offers up plenty of room for your digits.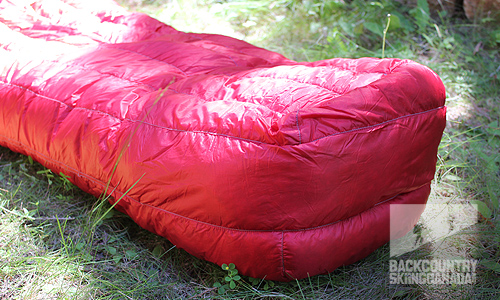 Verdict:
As with our other recent sleeping bag reviews we have been comparing and contrasting our thoughts on the Sierra Designs DriDown Cal 6 sleeping bag with other bags that have a rating of around -10°C and use down insulation. This allows us to better decide which sleeping bag has the best attributes, warmth, price and weight. For comparison we have used down sleeping bags from the manufacturers Deuter, First Ascent, Sea to Summit, The North Face, Big Agnes and Mountain Hardwear.
First things first, the Sierra Designs DriDown Cal 6 sleeping bag was one of only three bags we tested that had some sort of additional water repellency technology besides the traditional DWR (Durable Water Repellent) on the exterior shell fabric. Because of this the Cal 6 had the best loft of any bag we have tested to date. Additionally the Insotect Flow design made this the warmest sleeping bag which was still comfortable enough to sleep in above 0°C. The 10 denier fabric was soft against bare skin while its ripstop properties made it almost as durable as the 20 denier fabric sleeping bags reviewed. The adjustable neck collar draft tube and hood kept things warm and were both easily adjustable with one hand. The 1/3 length zipper also kept in heat and reduced overall weight of the bag but did take some getting used to. Every other sleeping bag reviewed had a full zipper so this shorter zipper obviously contributed some weight savings which placed the Cal 6 bang on the average weight of all bags tested and only 170 grams shy of the lightest sleeping bag. However, if you look at just the bags with a -10°C rating or more the Sierra Design Cal 6 would win hands down. Given that it's rated to -15C°C, which is an addition 5°C warmer than other bags, this is a pretty incredible metric. The zip itself had a zipper on the inside and the outside of the sleeping bag to aid in getting in and out of, especially once snuggled in tight. The anti-snag binding tape also prevented any zipper snags through out our testing period.
The overall comfort of the Cal 6 was also at the front of the pack when compared with the other similar sleeping bags we've tested. The ergonomic cut at the feet provided ample room and the Insotect Flow design, which uses a form fitting vertical baffles design, kept me snug inside. This was the best sleeping bag that we tested narrowly edging out the Sea To Summit Xt 2 Traverse 3D which had the most features and the First Ascent Karakoram 20 sleeping bag which was far and away the best value. Unfortunately the score out of ten for the Sierra Designs Cal 6 sleeping bag does not accurately reflect this as we had to dock the Cal 6 points for having the worst stuff sack (since there was no compression sac) of any sleeping bag tested and also there was no interior pocket provided, which is a nice feature to have. Since the Sierra Designs DriDown Cal 6 sleeping bag is the most expensive bag tested (at a 10% premium), we would have expected it to include both of these features.
Overall if you have the money this is a cutting edge sleeping bag that's superior to any other we've tested due to its, warmth, comfort, weight and, of course, DriDown.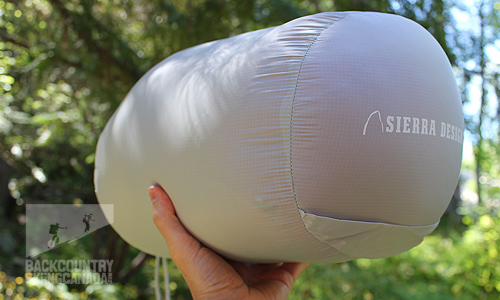 SPECS:
Price: $620 US
Weight: 1134g / 2lbs 8oz
Size: Long
Dimensions: 213 x 163 x 147 x 102cm, 84 x 64 x 58 x 40inches (length / shoulders / hips / footbox)
Fill: 800 Fill-Power Goose with DriDown
Fill weight: .85kg / 30oz
Stuff Size: 23 x 38cm / 9 x 15inches
Temperature Rating: comfort -8°C, lower limit -15°C
Warranty: Lifetime
PROS:
- DriDown rocks
- Baffle design is genius and looks good too
- Incredible comfort, warmth and loft
- Ergonomic fit
- Light weight
CONS:
- No compression sack included, for this kind of money all you get is a sack, no compression
- No internal pocket to store earplugs and iPod
- Zipper only goes 1/3 way down the bag
- Price
Rating: 9/10
Warmth 2/2
Compressibility 1.5/2
Features 2/2
Weight 2/2
Quality / Price 1.5/2

This is only our opinion. Do you disagree? Did we miss something? Are we totally out to lunch? Join the discussion in the forums here, and let us know what you think. People like/dislike gear for different reasons so chime in and we'll get a well-rounded evaluation.
Back to the rest of the reviews.