Marmot Pulsar 2P Tent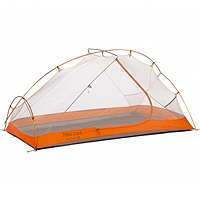 Marmot is known not just for the quality of their soft goods but also for their hard goods, such as tents and sleeping bags. I can attest to this personally as I have been using the Marmot Twilight 2 person tent for the past five years and it has always provided a durable shelter no matter the location or weather conditions. While the Twilight is a full featured two person tent it's on the heavy side at two and a half kilos. In order to save some weight and space in my pack I have recently been testing the Marmot Pulsar 2P Tent which weighs in at just 1.8 kg. The weight savings is welcome for this ageing backpacker as too is the reduced stuff size of the Pulsar Tent. In order to achieve these reduced numbers one would think Marmot would have to strip features down to the bare bone but not so with the Marmot Pulsar 2P Tent.
While this is a single door and technically a single vestibule tent it still offers may conveniences and niceties of much heavier tents on the market. As with every Marmot tent, the Pulsar 2P is made of durable fabrics and poles; in this case it is a 40 denier fabric and quality DAC poles. There are two large mesh pockets conveniently located inside in opposing corners for stashing small quick access items. The design itself offers plenty of vertical room, even at the foot end thanks to Marmot's unique inverted footbox design. Specifically, the pole system incorporates an arch pole at the feet so that there is plenty of vertical height through-out this tent. The poles themselves are colour coded to aid in quick set up along with quick clips, ball joint and sliders clips that make quick work of set up and tear down in the event you have to do this in inclement weather or in the dark.
The single large mesh door and full mesh walls offer great ventilation and when the fly is on there is a ridge vent with a built in prop to ensure it stays open and allows airflow. If you want to go ultralight with the Pulsar 2 you can set up just the fly with the poles to weather out a quick storm or to provide shelter for your entire trip. Should you use the tent in conjunction with the fly then you will have the main vestibule for storing packs and boots and a secondary smaller vestibule for storing smaller items that you can access via the pass-through zipper in the tent wall.
To see how all the features highlighted below actually perform in the field have a read of the Verdict near the end of the review.

The Marmot Pulsar 2P Tent without the fly offers up 360 degree views.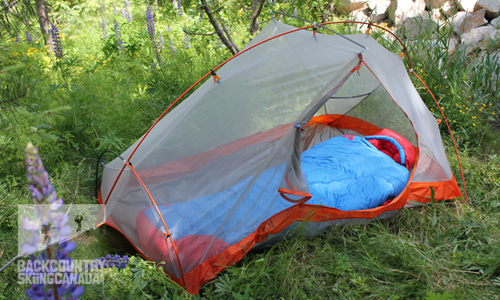 The storage sac is oversized and can easily be reduced to save room in your pack.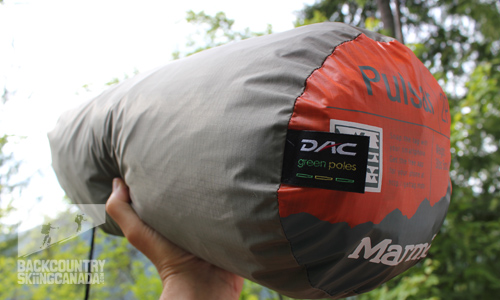 The Marmot Pulsar 2P Tent with fly on provides a bright and cheery interior thanks to the orange colour.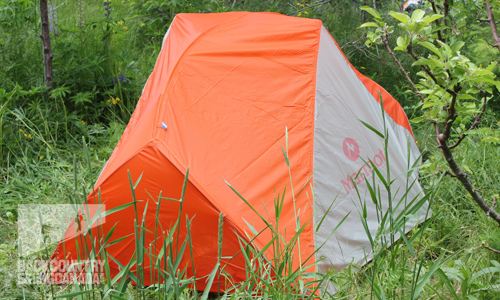 The pegging system is super slick with a place to clip in the fly and tighten everything down.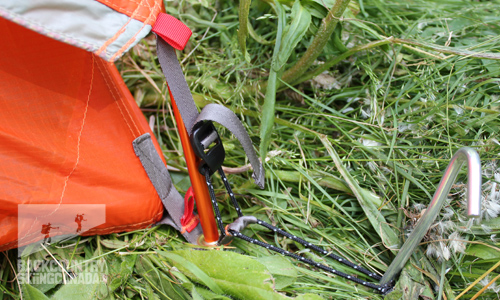 The entrance vestibule offers adequate space for your gear.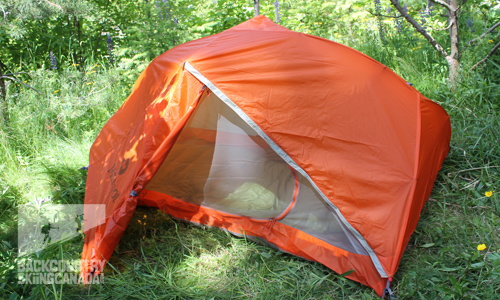 Fly vent with built in prop keeps air flowing.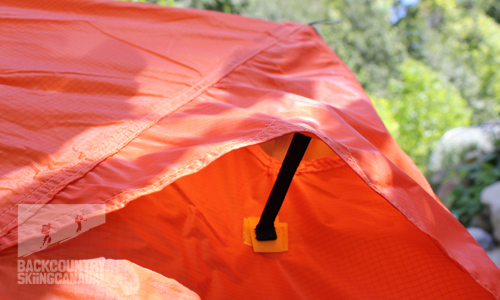 Quick clips, ball joint and sliders make set up incredibly quick.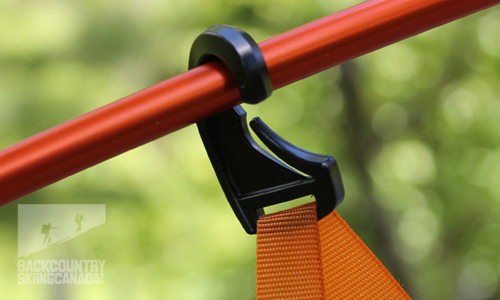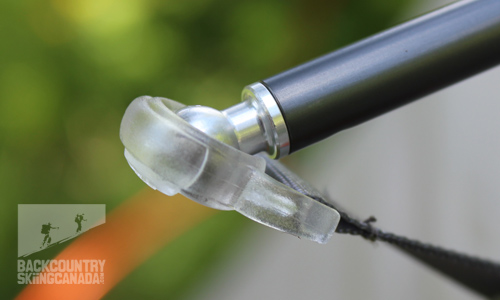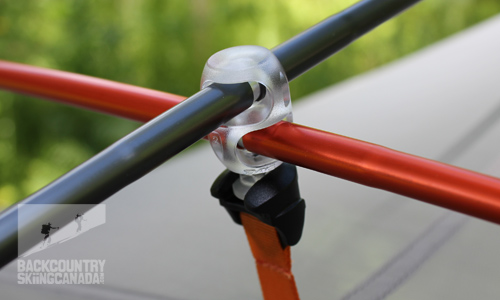 Large mesh corner pockets for each person provide space to store items you need in a pinch.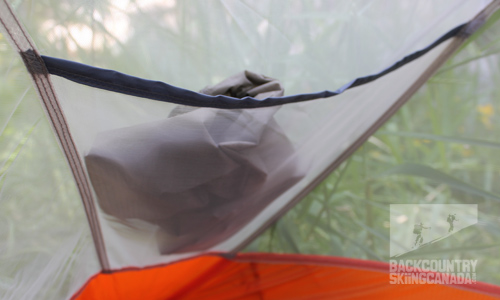 Pass through zipper allows access to items in the secondary vestibule on the opposite side of the tent to the larger vestibule/entrance.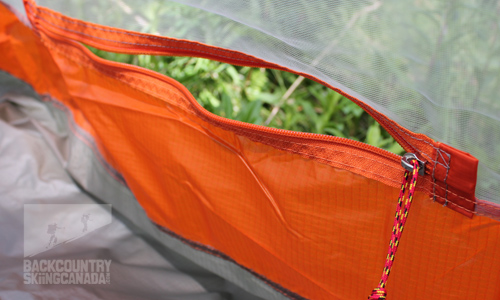 Features:
- DAC NSL Dual Diameter Green Poles with Eco Friendly Green Anodizing
- Free-Standing Design - Increase Habitability Allowing a Person to Sit-Up
- Reverse Foot Design for Additional Leg Room
- Colour Coded "Easy Pitch" Clips and Poles - Confusion-free set up
- Fully Taped Floor and Fly Seams
- Catenary Cut Floor - Fully Waterproof Floor with Taped Seams Lifted Off the Ground
- Bare Bones Setup - Allows the Fly to be used by Itself with footprint to Make a Lightweight, Sturdy Shelter
- Optional Footprint - Extra Protection Under Your Tent or for Bare Bones Setup
- Reflective Guy Out Points
Materials:
Tent floor Material: 40 denier 100% Nylon 3000mm
Tent canopy Material: 20d No-See-Um-Net F/R
Tent fly Material: 40 denier 100% Nylon Ripstop, Silicon PU 1800mm
Sidewall Material: 40 denier 100% Nylon Ripstop, Silicon PU 1800mm
Tent Poles: 2 / DAC Featherlite NSL 8.5mm/8.05mm
Verdict:
If you are looking for a light and compact tent for long backcountry trips then this is a great candidate. It weighs in at only 1.8kg which is light but not ultralight. The big advantage of the Marmot Pulsar 2P Tent is that it is super compact. The bag that it comes in is oversized and can easily be compressed by at least 40% if space is limited for you. Speaking of space, this commodity is also some-what limited inside the Marmot Pulsar 2P Tent. Since the footprint is only 2.6square meters it can get a little cramped if you are tent bound waiting out a storm. Two six foot plus stinky guys are not ideal tent mates at the best of times but in the Pulsar you will be knocking shoulders and fighting to claim space. A couple, on the other hand, fit much better and have more shoulder room to spare. With only one entrance / exit the Pulsar takes time to get in and out of when there are two of you. Similarly if your tent partner is one of those small bladder campers then be sure to position them close to the door so your slumber is not interrupted. The door itself is plenty large enough but having gotten used to life in the Marmot Twilight 2 person tent over the years I have become accustomed to having my own entrance / exit but you pay for it in weight as the Marmot Twilight is a full 700 grams heavier.
To make up for the small footprint, the unique pole design of the Marmot Pulsar maximizes headroom and makes a small tent feel not quite so small. The DAC poles are not only light but a snap to set up thanks to their intuitive colour coding and fast clip systems on the tent body and at the pegging locations. If you want to save weight you can even set up with just the fly to take shelter under.
Since the interior room is limited on the Marmot Pulsar 2P Tent they have provided a large vestibule which will accommodate .7 square meters of gear, additionally the fly on the opposite side of the tent can also store some gear that you don't need to access all the time. A small pass through zipper is provided to gain access to this area so you can actually get at the gear.. The zipper length, however, is limited so the size of item you can pass through is quite small. I would like to see Marmot increase the size of this pass through zipper or at least make it an "L" shape so that larger items can be accessed. Since the main vestibule has limited room for gear as it also functions as the entrance/exit, this second vestibule is a welcome addition.
The Marmot Pulsar 2P Tent is meant to be light and compact and that's just what it is. It has plenty of nice features but is not a full featured tent as this would add weight and bulk. If you are looking for a more cush tent then consider the Marmot Twilight Tent but if small and light is the name of your game then this could be the tent for you.
SPECS:
Price: $349 US
Weight: 3 lbs 14 oz / 1.8 kg
Minimum Weight: 3 lbs 5 oz / 1.5 kg
Dimensions: 37x53x87in / 94x135x220cm
Packed Size: 8 x 23.5 in / 20 x 60 cm
Vestibule Area: 7.97 sq ft / 0.7 sq m
Floor Area: 28 sq ft / 2.6 sq m
Colour: Vintage orange
Guarantee: Life of the product
PROS:
- A relatively light 2 person tent with good head room
- 2 large well located mesh pockets (one either side in the corners)
- Colour coded pole assembly
- Super simple pegging system with fast clip to attach the fly
- Built-in vent with mechanism to keep it open in inclement weather
- Ball joint and slider clips are quick to set up and take apart
CONS:
- Tent pegs are pretty cheap given the price of this tent
- Interior dimensions are tight for two strangers but OK for a couple
- Not a bathtub construction tent and has a seam very low down to the ground
Rating: 8/10
Interior Space 1.5/2
Design 1.5/2
Features 1.5/2
Weight 2/2
Quality / Price 1.5/2

This is only our opinion. Do you disagree? Did we miss something? Are we totally out to lunch? Join the discussion in the forums here, and let us know what you think. People like/dislike gear for different reasons so chime in and we'll get a well-rounded evaluation.
Back to the rest of the reviews.
---