Happy 50th Birthday to You MSR
As a way of saying happy birthday to MSR, we thought we'd take a spin through a few of the many products we've reviewed for the brand (and maybe some that we haven't). First off though, let's talk a little about the history of MSR. Mountain Safety Research (or MSR as it is now known) started off in 1969 as a newsletter committed to improving mountaineering safety. The company's founder, Larry Penberthy, was an engineer, professional inventor and lifelong mountaineer who dedicated himself to making the backcountry safer.
Here's the b-day card MSR put together for itself. As part of his program, Penberthy tested stove fuels, the elongation of ropes, the holding power of pitons, the strength of ice axes and all kinds of other important things that hadn't really ever before been investigated. After a while, this was no longer viable with no revenue, so, as Penberthy puts it: "I formed Mountain Safety Research, Inc, as a vehicle to make and sell safety equipment as a means of supporting the equipment and methods of research and the safety education program." Doesn't that make a lot of sense. The rest, as they say, is history.
My personal story with MSR began about 25 years ago when my older brother gave me a Whisperlite Stove for my birthday. It kept me fed and warm in the Adirondacks, The Whites and Green Mountains as well as the Chick Chocs. The Whisperlite is the best selling liquid fuel stove ever made—that's gotta say something about a product! It's simple, fail-proof design makes for a dependable workhorse that's still going strong. We did an in-depth review of the WhisperLite Universal back in 2012.
Give it a read
if you're curious to learn more about this MSR classic.
The MSR brand offers products in nine main categories: Tents, Cookware, Stoves, Poles, Snow Tools, Water Treatment, Snowshoes, Wearables and Global Health. We here at backcountryskiingcanada.com have had the pleasure of reviewing all kinds of MSR gear over the last decade. I guess if there was any one category we've explored most, it'd be tents. Our first of eight tent reviews was of the MSR Reflex 3, sub-4-lb backpacking tent. If you'd like to check out that review,
click here.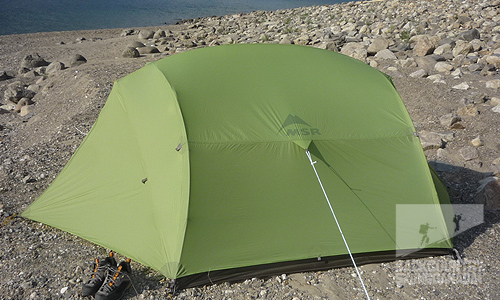 Tent-wise, we've also tested and reviewed a couple newish 4-season models:
The Remote
and
the Access
. Of these two, our reviewers liked the Remote the most—because it's so bomber. See it at work below: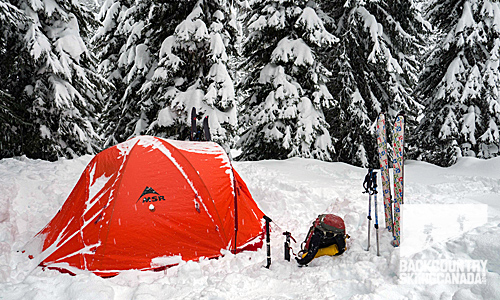 Ok—last mention of tents...the Mutha Hubba is a total classic (like the Whisperlite and many other MSR products). We've tested and reviewed the
Mutha Hubba 3 NX
and
the latest version
of the same tent with the Syclone poles and Xtreme Shield waterproof coating. This pic below is of the earlier iteration, because it brings back many good memories.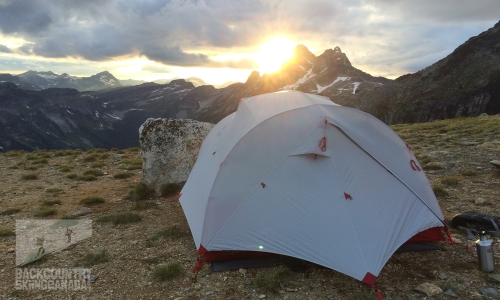 If you are a tent fiend, like I am, check out our review of the
MSR Nook 2
from 2013 or the more recent
MSR Elixir 3
, both also great shelters.
Speaking of great shelters, we are looking forward to putting the MSR Rendezvous Wing Sun Shelter 200 to work when conditions allow. It has been upgraded this year with an SPF 50+ coating. The design is dramatic, and inventive (Penberthy would be proud). Though primary uses are listed as backpacking and car camping, I'd like to take this out on a SUP/kayak camping trip and transform the beach or creekside into a total comfort zone in sunny or rainy weather.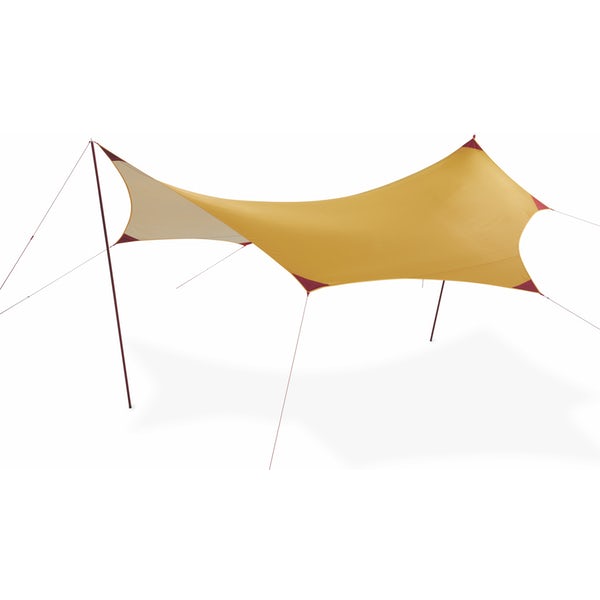 We've checked out various
Snow tools at different trade shows
over the years, too. The MSR Responder (the little yellow guy at left below) is my go-to ski touring shovel because it's super-solid, feels great and it's small enough to fit in my blowbag's tight-ish avy equipment pocket.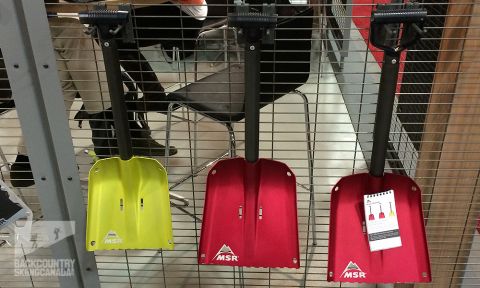 We've also had the pleasure of including a couple other MSR products in our various
Holiday Gift Guides.
These guide are comprised of items we recommend to our audience as presents for their buds and loved ones. In other words, we like 'em! Two of our faves are the Titan Tool Spoon (eat and fix your Whisperlite at 22g) and the Windburner Group Stove Kit (easily cook demanding menus for 2 or more).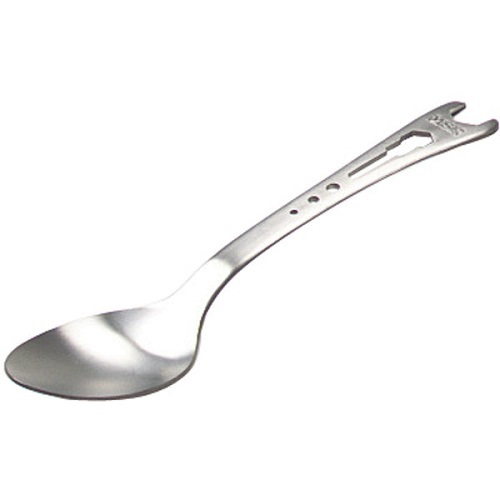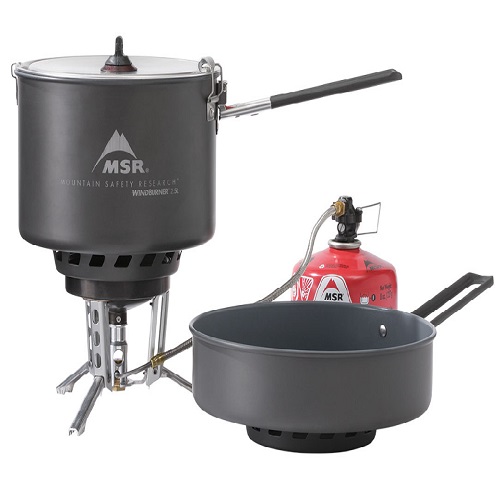 We could go on for a while here (we didn't even mention the Pocket Rocket), but you get the idea. To me, MSR has been a part of my enjoying the outdoors for decades. I think the notion of MSR developers and fans, as unruly dreamers, fits. We all embrace doing things a little differently, and we might have slightly different viewpoints when it comes to travelling through the wilds while being comfortable and well-equipped. There are only a handful of brands with which I have this connection and appreciation. I say: here's to another unruly 50 years!