MSR Carbon Reflex 3 Tent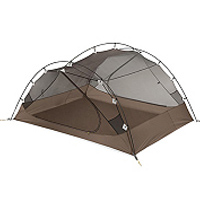 MSR is part of the Cascade Designs company which i's the Seattle-based parent company that owns Thermarest, Sealine, Platypus and a couple other well-known names. Before I forget, be sure to take at look our review of the MSR Whisperlite Universal Stove, over here and also the Thermarest NeoAir Camping Mattress review, MSR Nook Tent review and the Thermarest Antares down sleeping bag and the Thermarest NeoAir XLite camp mattress review.
I have a lot to say about the two items we tested because they both are so different from the tent and mattress I have been using for too long. In the tent department, I had a four-season, expedition-grade dome tent. This old tent was bombproof—but damn was it heavy. I also found that though the tent was made for winter camping, I never used it for that. Ever. I do a lot of ski touring but when an overnight is part of the program, so is a hut/cabin or leanto. These dwellings admittedly offer varying levels of comfort and protection but they definitely remove the need for a tent.
The first thing you'll notice about the Carbon Reflex 3 tent is its weight, or lack of it. The thing weighs in at a paltry 4 lbs 9 oz / 2084 g. This is likely half the weight of most four season tents (actually, less than half the weight in my case) and a least 25% lighter than most three person, three season tents. It really is a dream on the hike in. Split the load with your mate and you will literally be carrying only two pounds each—very manageable.
The tent claims to be a three person tent and, in a pinch, it accommodates. If you have the option, I say it's always better to have a little extra room to keep stuff dry in case of rain or if you want to hang and wait out the weather. One of the things that struck me almost immediately was the rectangular shape. Many tents don't have two opposite sides of an equal length and this is somehow unsettling to me. With the MSR Carbon Reflex 3, you feel the symmetry and don't worry about sleeping on top of anyone because there's a choke at one end of the tent. Note that if bugs aren't a concern, you can pitch the tent with just the fly and the footprint (which isn't included). Don't forget the poles. If you want to see how to set up the tent, check out this vid. It features the two-person version but you'll get the idea. The MSR Carbon Reflex 3 is part of their Experience Series of tents; not as minimal as the Essential Series and not as expedition-ready as the Explore Series.
The tent, canoe camping. From the front and from the side respectively.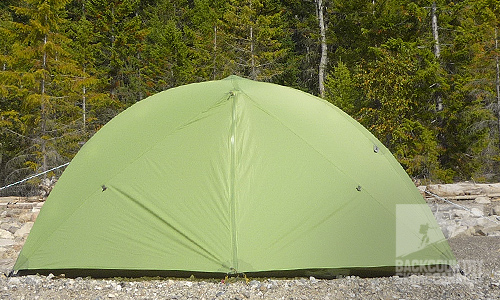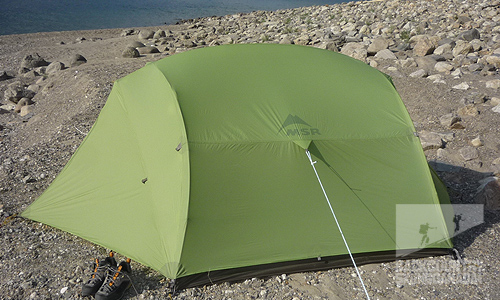 If there's no risk of precip., you can skip the fly. The entire top section of the tent is mesh. Great for hot and dry nights.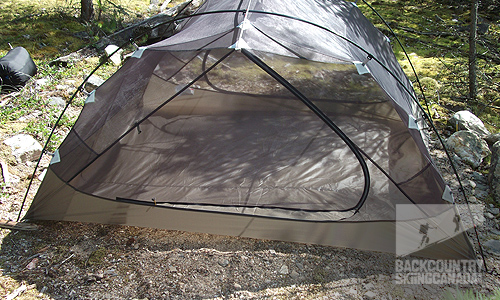 If it is really blowing, there are Velcro straps attached to the underside of the fly. Here is the centre one and one on the side below it. You can tell that the sewing is high quality just by looking at it.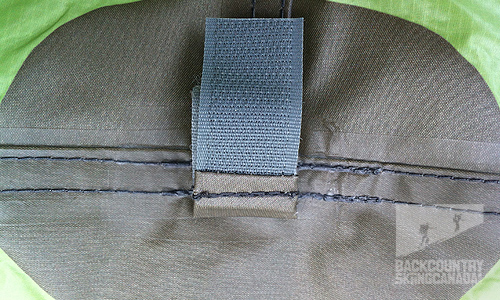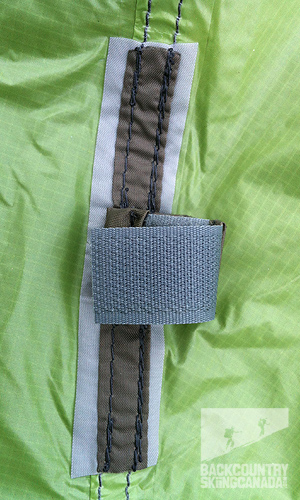 Seam sealing looks nice and tidy but it always does on new tents. I'll report back with an update next year (or I'll try to remember).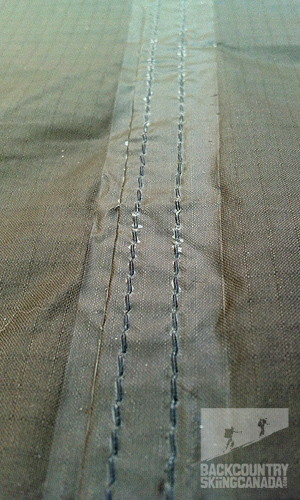 Inside, the tent is pretty bare bones, though many supplemental items are available through MSR (like gear lofts, dry lines, etc.) There are two pockets in the corners like the one pictured here.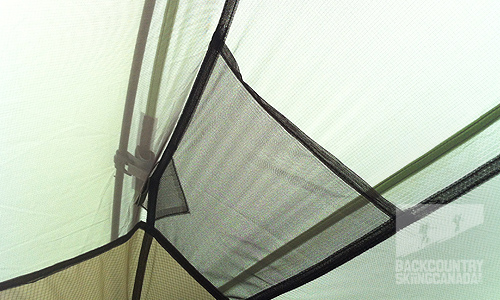 The Carbon Reflex 3 tent doesn't come with a footprint but I would recommend getting one to increase the tent's durability and ability to fend off driving rain storms. The fly clips into the corners of the tent, as does the footprint. One can easily tighten the fly over the tent by pulling up on the strap (pictured here, cranked to the max.)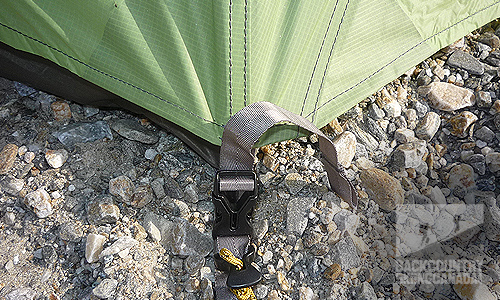 Here's the kit that comes with. I think the MSR folks scaled back in order to keep the weight down. I picked up a couple extra tent pegs that I threw in the bag for back-up. The tent poles (which aren't pictured) are made of Easton carbon fibre and are one of the many features that keep the tent's weight down.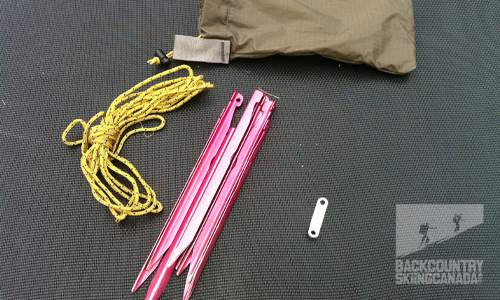 Fabrics:
Fly Fabric: 20D ripstop nylon 1000mm DurashieldTM polyurethane & silicone
Mesh Type: 20D nylon no-see-um mesh
Floor Fabric: 40D ripstop nylon 3000mm DuraShieldTM polyurethane & DWR
Verdict:
The MSR Carbon Reflex 3 is a remarkable tent. If you are moving from a 4-season tent, you'll soon appreciate that you don't really need something so totally bombproof (read: heavy)—especially if you aren't camping out in the winter. The tent's simple 3 pole design makes it a breeze to set up (I did it in the dark no problem) and the steep sidewall construction means it feels spacious. There are interior lash points if you need to batten down the hatches for a storm. As is likely the case with any tent in this ultra-lightweight class, durability may be an issue. Make sure to invest in a footprint, take care of it and it'll probably live a long and full life.
SPECS:
Price: $635
Color: Moss Green/Gray
Capacity: 3
Minimum Weight: 4 lbs 5 oz / 1904 g
Packed Weight: 4 lbs 9 oz / 2084 g
Floor Area: 41.5 sq. ft / 3.8 sq. m
Vestibule Area: 20 (10 + 10) sq. ft / 1.85 sq. m
Tent Volume: 124 cu. ft / 3530 litres
Vestibule Volume: 20 cu. ft / 566 litres
Packed Size: 20 x 7 in / 51 x 17 cm
Number of Doors: 2
Number of Poles: 3 Easton Carbon FX
Number of Stakes: 8
PROS:
Super light weight. You'll feel the difference on the hike in—before you even set up the tent. Comfortable and spacious feel. Really, really easy set up. Kept us dry through a night of rain.
CONS:
Could have come with a couple more tent pegs. At $600ish, the Carbon Reflex 3 is a little spendy to work into many budgets.
Rating: 8.5/10
Interior Space 2/2
Design 1.5/2
Features 2/2
Weight 2/2
Quality / Price 1/2

This is only our opinion. Do you disagree? Did we miss something? Are we totally out to lunch? Join the discussion in the forums here, and let us know what you think. People like/dislike gear for different reasons so chime in and we'll get a well-rounded evaluation.
Back to the rest of the reviews.
---