Thermarest NeoAir Camping Mattress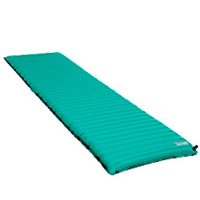 Thermarest NeoAir Camping Mattress is part of the Cascade Designs brand which is the Seattle-based parent company which. Among the brands that Cascade Designs owns, Thermarest is but one, there is also MSR, Sealine, Platypus and a couple other well-known names. Before I forget, be sure to take at look our review of the MSR Whisperlite Universal Stove, over here and also the MSR Carbon Reflex 3 tent review, MSR Nook Tent review and the Thermarest Antares down sleeping bag and the Thermarest NeoAir XLite camp mattress review.
I have a lot to say about the Thermarest NeoAir Camping Mattress because it is so different from the mattress I have been using for too long. Lately, I have been stacking two standard-issue Thermarests—one on top of the other—or a Thermarest on top of an ensolite pad. Then the NeoAir came into the picture and changed how I operate.
The version we got to test was the Large and, at 25 in/63 cm, it was plenty long for my 6' 2.5" frame. I am a thin guy and I often get pains in my hips after a night out camping. At the risk of sounding like an infomercial, the Thermarest NeoAir All Season Mattress changed all that. I sometimes bring a long two mattresses and stack them on top of each other. No more. The NeoAir is that comfortable. I first saw the mattress at a trade show where Cascade Designs had set up a big booth. They had the NeoAir on a cold slab and passers-by were invited to lie on the mattress and feel the comfort and insulation qualities. The mattress was totally warm, no cold from the slab got through to the body lying on top. I tried it.
This heat retention, and comfort I assume, is achieved through what Thermarest designers call "Triangular Core Matrix™" technology. If you are keen to learn about the technology, check out this video. If you aren't interested, just enjoy the comfort and warmth. It is way more comfortable than any mattress I have ever slept on—by a longshot. The NeoAir All Season is positioned as an excellent all-around 4-season mattress. It's not super light, nor is it super warm.
Here a snap of the mattress fully inflated. Mid- to large-sized dog included for perspective.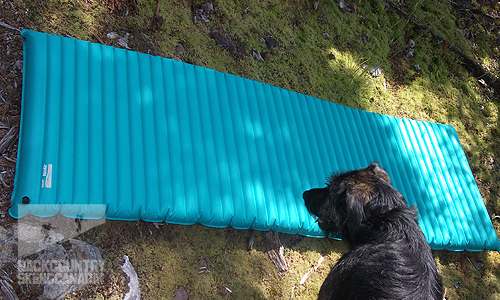 Close up of the valve. Pretty standard stuff.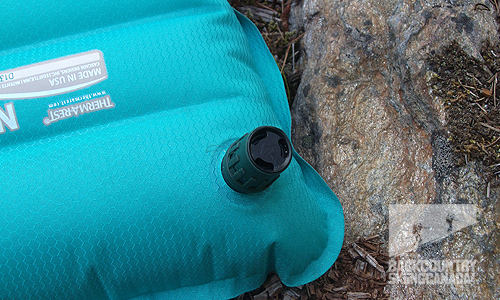 The top side features a fabric that resists dirt and feels OK on your skin if your sleeping bag slips off.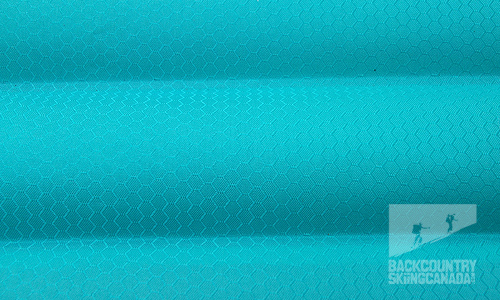 The bottom side features a "tacky" fabric face that holds the mattress in place on the tent floor. This, along with many other features of the NeoAir, begs the question: "why didn't they think of this before?"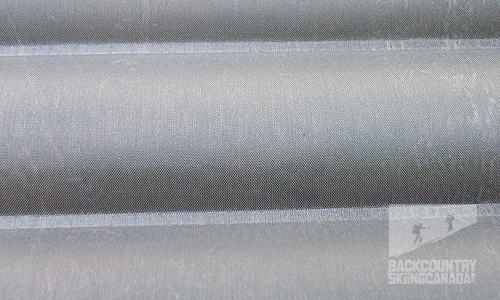 Here's a photo of the NeoAir in situ inside the Carbon Reflex 3 tent. Total comfort.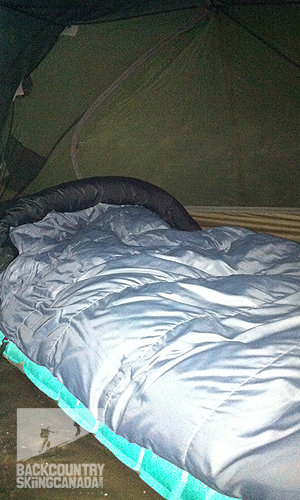 Fabrics:
Top fabric type: 75d Polyester
Bottom fabric type: 70d Nylon
Core: Nylon
Verdict:
Anything but guilty your honour. This mattress represents a quantum leap from any other mattress I have ever tried. It's comfortable, warm and relatively light weight. It makes camping out more pleasant. What more could you ask for?
SPECS:
Price: $150US
Color: Columbia / Griffin
R-Value : 4.9
Weight: 1 lbs 9 oz / 710 g
Dimensions: Width 25 in / 63 cm, length: 77 in / 196 cm, thickness: 2.5 in / 6.3 cm
Packed dimension: 11 x 4.8 in / 28 x 12 cm
Volume: 4813 cu. in
Top fabric type: 75d Polyester
Bottom fabric type: 70d Nylon
Core: Nylon
PROS:
Comfortable, warm, packable, high-quality mattress.
CONS:
My tent mates claims it is a little "crinkly" and makes noise when sleepers move about. I can't hear it over my own snoring. I live in fear of a puncture. The material looks robust but may fall victim to an unwelcomed thorn (but what mattress wouldn't?).
Rating: 9/10
Innovation 2/2
Function 2/2
Aesthetics 2/2
Features 2/2
Quality / Price 1/2

This is only our opinion. Do you disagree? Did we miss something? Are we totally out to lunch? Join the discussion in the forums here, and let us know what you think. People like/dislike gear for different reasons so chime in and we'll get a well-rounded evaluation.
Back to the rest of the reviews.
---