MSR Nook Tent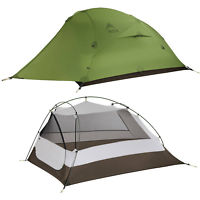 Mountain Safety Research (MSR) has been making everything from stoves to tents for decades. The Seattle-based company is part of the Cascade Design group and got its start in the camp stove area. For a review of the omnipresent MSR WhisperLite Universal stove just click here. In this look-see, we'll be focusing on the MSR Nook (with Gear Shed), a lightweight, two person, 3-season backpacking tent. To see a review we did on the MSR Carbon Reflex 3 tent click on over here. Enough with the hyperlinking for now.
We took the MSR Nook on a couple canoe camping and hiking trips this summer and fall. It seems that it's common practice to be a little generous with the number of people tent makers say their tents will accommodate. MSR does the same—I'd say that the Nook works best as a roomy one-person tent, and, in a pinch, it'd work for two people.
The beauty of the MSR Nook and Gear Shed combo, is that you can bring along the Gear Shed if you want more room for storage, getting out of your boots, etc. If it's a fast and light mish, leave the 'shed at home. This kind of flexibility is almost, but not quite, like having two tents.
We took a whack of pics, so let's let them do the talking (or help us do the talking, anyway).
MSR Nook, profile.
Nice and taut. I survived one significant rain event and stayed bone dry. Get a footprint. They attach to the base of the tent really well, lessen your chances of soakage in a downpour and increase the life of your tent. They go for about 35$.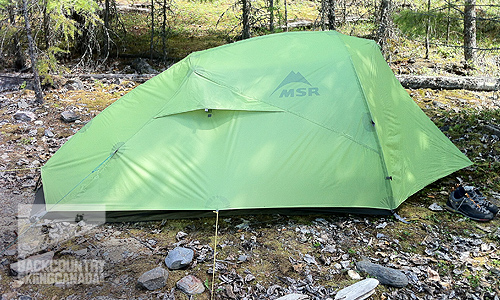 MSR Nook, head-on.
Again, you can see here how the fly is nice and taut here. Little or no wall sag (thank goodness). The Nook comes with five stakes and a paucity of guy lines. I'd suggest acquiring at least another 5 lightweight stakes and some line. The weatherproofnocity of the Nook is increased dramatically if one takes advantage of the multiple guy lines options on the fly. This is true for both wind and rain.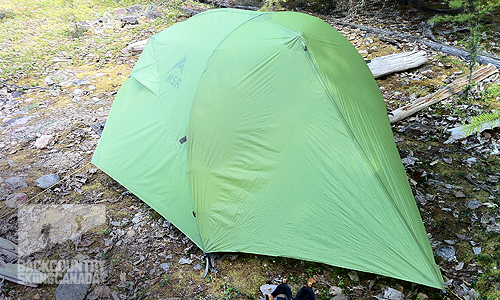 I borrowed this image from the MSR site because I realized that I didn't have anyhting showing the tent, sans fly. Here it is, ready for a dry night unde the stars. Plenty of ventilation.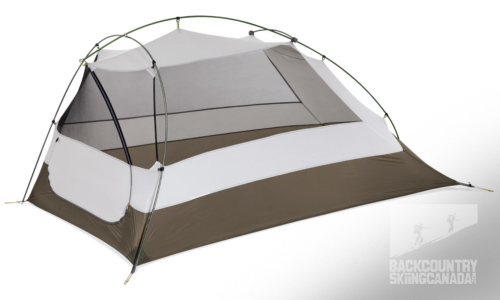 MSR Nook w/ Gear Shed.
See how much extra space it ads? 'looks like about another 50% or so. The specs say 15 sq, ft. (1.3 sq. m.). The Gear Shed makes the tent way more livable—and more realistic for a party of two or an extended solo-stay where a little extra weight can be managed.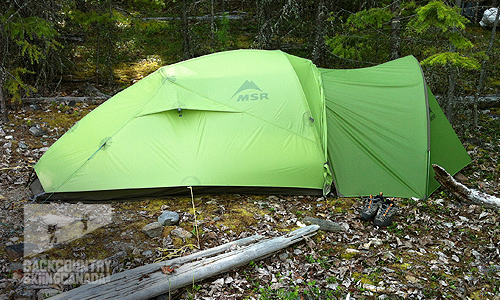 Inside the 'shed.
Ample space for two big packs. Note that the "point" of the shed, on the ground beneath where the bag is in the picture, is tent fabric so your stuff will stay dry.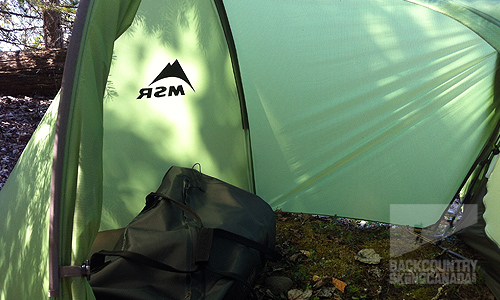 Nook air vent.
Details like this little vent show off some of the good thinking behind the Nook. A semi-rigid wand, deployed with the help of Velcro, ads air circulation to the tent—even when it's pissing with rain outside.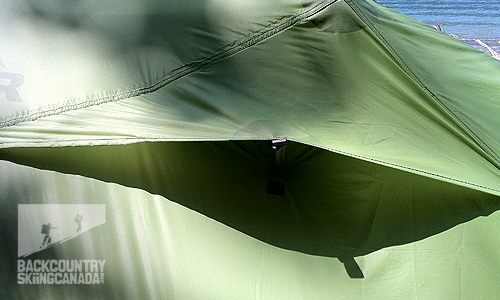 Lashing point.
Here's a c/u of one of the many loops available for guy lines. All reinforced with extra bomber cloth on the inside (that's the darker circle you can see).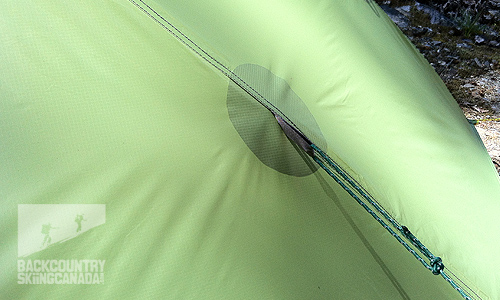 Interior view.
Here's an interior view of one such point. This is an example of one of many Velcro fasteners one can use to further reinforce the fly-to-tent attachment.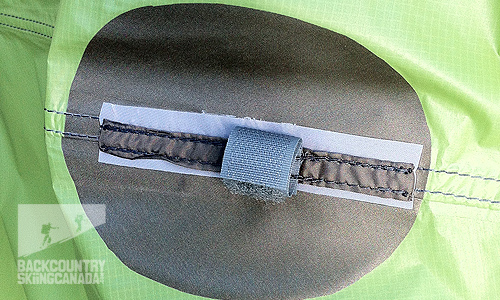 Attachment detail.
The fly, tent, and footprint all connect in an intuitive and secure fashion. The Nook is an easy tent to put up, for sure. It's even possible to make it a standalone (no pegs) with the help of a hiking pole. 'nice option if you can't get a peg in.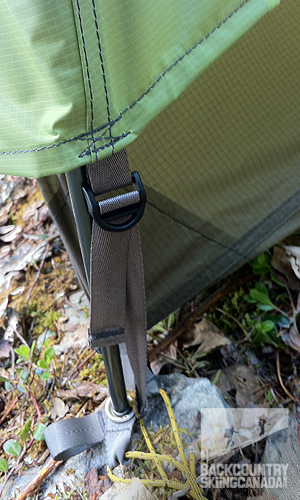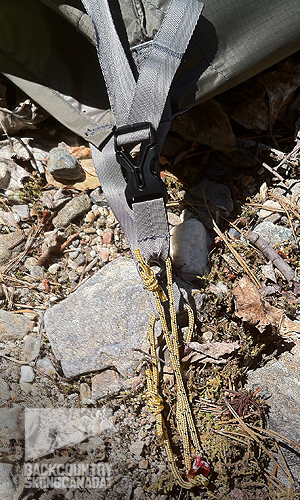 MSR range.
Hello, my name is Andrew and I have a Cascade Design problem. Left to right: bourbon, Thermarest NeoAir Xlite mattress, Thermarest Antares down sleeping bag, MSR Nook Gear Shed, MSR Nook tent, Thermarest Trekker chair. All very light, highly functional and east to pack.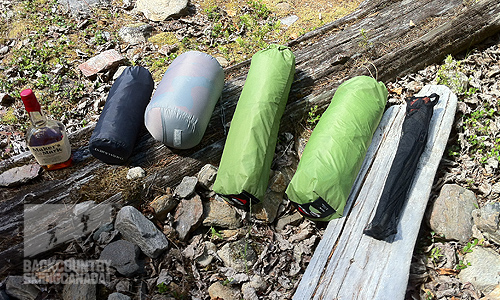 Verdict:
Definitely a nice little 3-season tent. Its real benefits shine with the addition of the Gear Shed. Its small footprint is ideal if you are pitching in the alpine or anywhere with limited space. MSR make great gear and the Nook is no exception.
Before I forget, be sure to take at look our review of the MSR Whisperlite Universal Stove, over here and also the MSR Carbon Reflex 3 tent review, Thermarest NeoAir Camping Mattress review and the Thermarest Antares down sleeping bag and the Thermarest NeoAir XLite camp mattress review.
Good hot flame with mucho BTU's.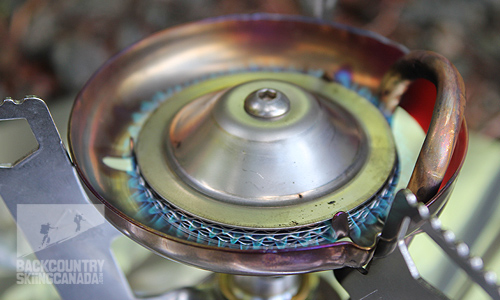 SPECS:
Price: Tent is $399, Footprint is $35, Gear Shed is $149
Minimum Weight: 1420 g / 3lbs 2oz
Packed Weight: 1590g / 3lbs 8oz
Fly with Footprint Weight: 1050g / 2 lbs 5oz
Tent Volume: 1359 liters / 48cu. ft
Capacity: 2
Color: Moss Green/Gray
PROS:
- Easy, three pole set-up
- Lightweight
- Flexible and good in various situations
- Excellently weather proof for a 3-season tent
- Super lightweight fly and footprint option
CONS:
- If you go for the Gear Shed and Footprint, it adds up to about $600- a little spendy
- For this kind of investment, I'd like a couple more stakes and some more line.
Rating: 8.5/10
Interior Space 1.5/2
Design 1.5/2
Features 2/2
Weight 1.5/2
Quality / Price 2/2

This is only our opinion. Do you disagree? Did we miss something? Are we totally out to lunch? Join the discussion in the forums here, and let us know what you think. People like/dislike gear for different reasons so chime in and we'll get a well-rounded evaluation.
Back to the rest of the reviews.
---