Therm-a-Rest Antares Down Sleeping Bag and NeoAir XLite Mattress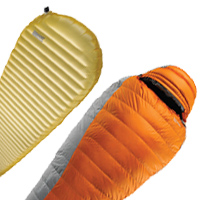 There are many developments coming out in gear these days that sound a little silly at first. Upon further examination, about 85% of these turn out to be, in fact, silly. The sweet spot is the remaining 15% of items which offer something that is well though out, purpose driven and innovative. The Thermarest Antares down sleeping bag and the Thermarest NeoAir XLite camp mattress sit in this sweet 15%.
Thermarest introduced a line of sleeping bags this year which feature something they call "SynergyLink Connectors" on the bottom of their bags. These connectors are simply 2 semi-circular elasticized straps which fit around the mattress and stabilize the sleeping bag on top. If you are a side sleeper, chances are good that you've been tied up in knots like the rest of us. With this new system from Thermarest, the bag's bottom remains stationary so the pretzel effect is all but eliminated. The bag is also bigger around the torso so you can move your arms and sleep on your side without feeling constricted.
This is feature is cool, but the list continues. Because you can depend on the sleeping bag remaining in one place, it's possible to eliminate a lot of the down insulation and, yes, weight, under your body. In fact, there is no insulation under your body. This is possible thanks to the attributes of the second part of the program, the Thermarest NeoAir mattress. As well as the sheer comfort of this mattress, it includes a funky triangular foil technology that allows it to kick you natural body heat back up at you. In other words, you really don't need any insulation below you. I went to a trade show a couple years back and the Thermarest booth had this crazy display. There was a NeoAir mattress placed on a cold rock slab (like, refrigerated cold) and people were invited to lie on the mattress. I did and I was amazed at how the mattress was warm, not cold, after lying on it for 60 seconds.
We talked about another mattress in the NeoAir line, here. I try to avoid hyperbole but I have to say, these mattress have made camping out waaaay more pleasant. So the Thermarest Antares sleeping bag and the Thermarest NeoAir Xlite are really items you want to keep together. I guess you could run the mattress alone—but not the sleeping bag.
Let's let the pictures do some talking.
Note the insulation-free, orange panel at the bag's bottom.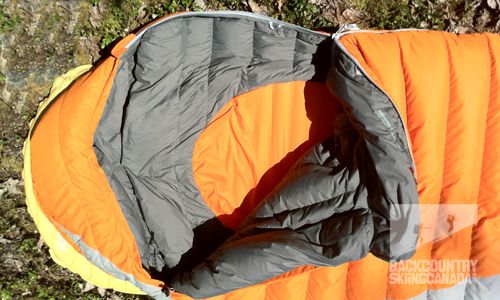 Rated to 20F/-7C, 750+ fill down.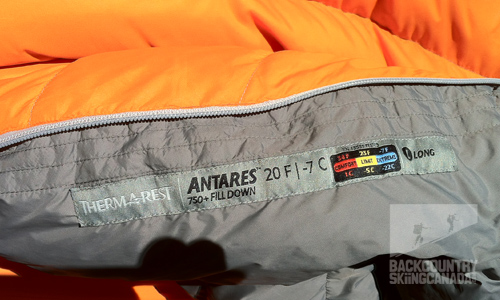 Simple hood with draw cord.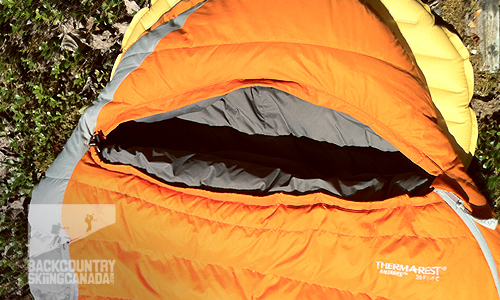 Zippered pocket for valuables or whatever. Sunglasses probably not a good idea.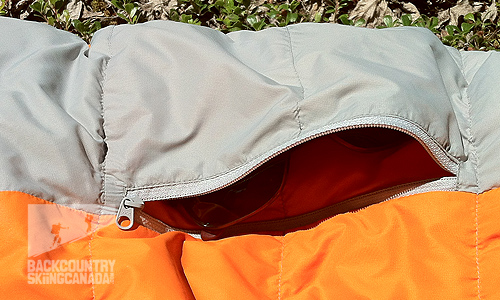 Puffed out. 980 g of 750+ fill.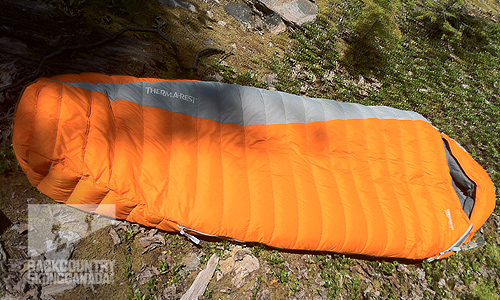 Antares sleeping bag, in the MSR Nook tent, on the Thermarest NeoAir XLite pad.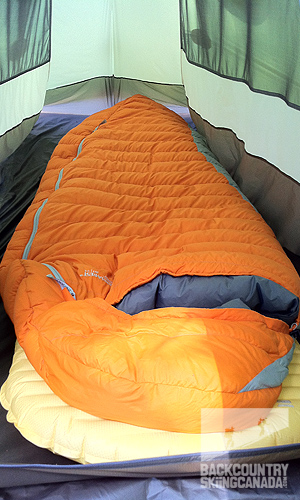 The attachment system that makes it all work.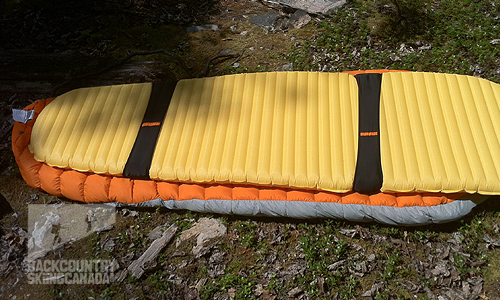 Comparo of the NeoAir XLite and NeoAir All Season camping mattress. The later is slightly thicker,and also a little heavier.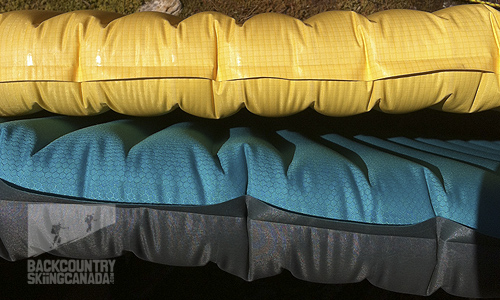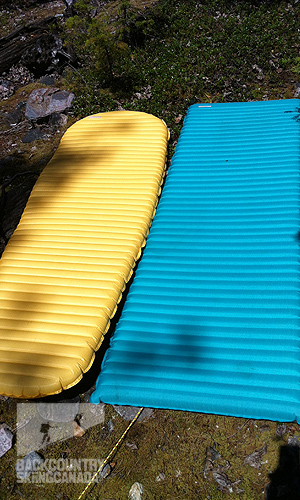 NeoAir Xlite mattress coupled with the Thermarest Trekker chair. Comfy wumfy.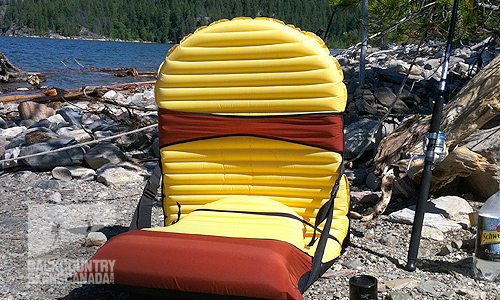 Sleeping bag and mattress packed. Bottle for illustration purposes only.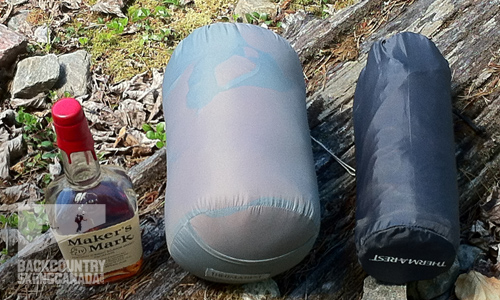 Features:
Thermarest Antares Sleeping Bag
Fill: 750+ Goose Down
Fill weight: 1 lb / 460 g
Liner fabric 30D Nylon
Shell fabric 330D Nylon Ripstop with DWR
Zipper: side Left
Thermarest NeoAir XLite Mattress
Packed dimension: 11 x 4.5 / 28 x 11
Top fabric type: 30d High Tenacity Nylon
Bottom fabric: type 30d High Tenacity Nylon
Core: Nylon
Verdict:
I have to talk about the bag and the "pad" as one because they really complement each other. Two thing suck about hiking and camping: crappy sleeps and heavy packs. This mattress/bag combo addresses these issues head on. Bravo to Thermarest for sticking their necks out a little on this one. We can start thinking of Thermarest as the "comfortable camping people" rather than just the camping mattress people.
Before I forget, be sure to take at look our review of the MSR Whisperlite Universal Stove, over here and also the MSR Carbon Reflex 3 tent review, MSR Nook Tent review and the Thermarest NeoAir Camping Mattress review.
SPECS:
Thermarest Antares Sleeping Bag
(all for the long model, 6'6")
Price: $379.95 US
Weight: 2 lbs 2 oz / 980 g
Packed dimension: 7 x 12 in / 8 Litres
Rating: Comfort 1 C / 34 F, Limit -5 C / 23 F, Extreme -22 C / -7 F
Colour: Orange
Thermarest NeoAir XLite Mattress
(again, just for the large)
Price: $179 US
R-Value: 3.2
Weight: 1 lb / 460 g
Width: 25 in / 63 cm
Length: 77 in / 196 cm
Thickness: 2.5 in / 6.3 cm
Color: Radiant Yellow

PROS:
I was already sold on the NeoAir mattress series because of the insane comfort and light weight. With the Antares bag/NeoAir Xlite mattress combo, these benefits are ramped up. The designers have managed to maintain the low weight with their innovative approach and zonal construction, while keeping the comfort dialled—particularly for side sleepers. The freekin' pad/bag combo weighs in at just over three lbs in the large size. Thanks.
CONS:
The fabric on the inside of the bag is a little "slick." Some sleeping bags are available with a sheet-like feeling interior. This is not one of them. It'd probably be less of a factor if it were around freezing. The Antares bag really only works with a mattress capable of retaining body heat. 'not a problem unless your pad pops and there are no NeoAirs in sight. At $179, they aren't giving away the NeoAir Xlite mattress. It's also not the most durable mattress on the market (a trade-off for weight savings).
Rating: 8.5/10
Warmth 1.5/2
Compressibility 2/2
Features 1.5/2
Weight 2/2
Quality / Price 1.5/2

This is only our opinion. Do you disagree? Did we miss something? Are we totally out to lunch? Join the discussion in the forums here, and let us know what you think. People like/dislike gear for different reasons so chime in and we'll get a well-rounded evaluation.
Back to the rest of the reviews.
---