MSR WhisperLite Universal Stove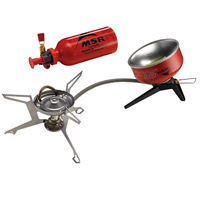 Mountain Safety Research (MSR) has been one of the big players in the backcountry stove market for many years with many great stove designs to their name. The original MSR multi-fuel WhisperLite International has been the industry standard in backcountry stoves since its inception in 1969. For 2012, MSR has updated the WhisperLite stove and renamed it the "Universal". There were many improvements made in the creation of the Whisperlite Universal; the main one being that it is now the first stove from MSR that burns both liquid fuel and canister fuel. The refinements, however, don't end there so be sure to keep reading to find out more.
Why would you want a stove that can burn both liquid fuel and gas canister fuel? It basically comes down to your adventure type, your preferred fuel type and your preference of canister verses refillable bottle. Some people prefer canisters of fuel for their convenience. I, in contrast, am a liquid fuel bottle kind of guy simply because of the negative environmental impact of tossing gas canisters straight into the landfill. In addition, on the one hand, canister gas is more compact and provides instant performance when compared to liquid fuel. On the other hand, liquid fuel (white gas, unleaded gas and kerosene) performs better on cold weather trips where reliability and versatility count.
Thanks to the creative design of the MSR Universal you will no longer need to make a choice of which type of stove you should buy; the MSR Universal can handle both bottles and canisters! Although one may assume that such as stove would be very complicated and the switch over very daunting there is no need to worry! The MSR Universal design is genius in its simplicity. How does it work? Please see below for a list of exact steps needed in the process of switching over the stove. In general, however, the difference resides in the length of the jets. Canister gas requires less air to burn so the jet is longer and blocks more of the air intake. The liquid gas jets, on the other hand, are much shorter and thus allow the additional air to mix with the fuel for optimal combustion. In addition there are two fuel adapter lines: one for canisters and one for bottles.
The story on gas canisters is not over at that though as the fuel line has a built in swivel point which allows you to burn gas fuel in the upright position or to invert the canister for low fuel situations or in colder conditions so you can burn the gas as a liquid.
Liquid fuel set up.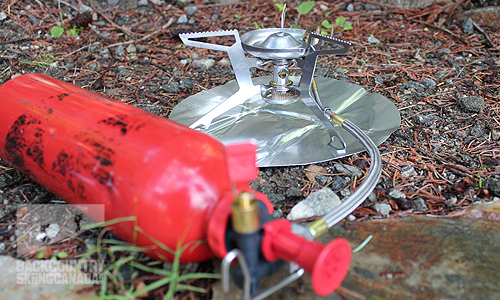 The liquid fuel jet is shorter as it requires more oxygen to burn liquid fuel.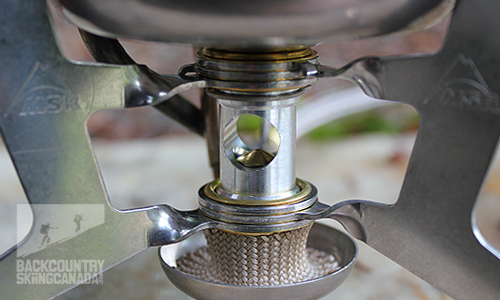 Canister fuel set up.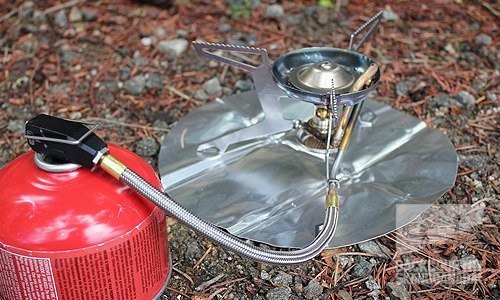 Canister fuel set up in inverted mode to burn the gas as a liquid.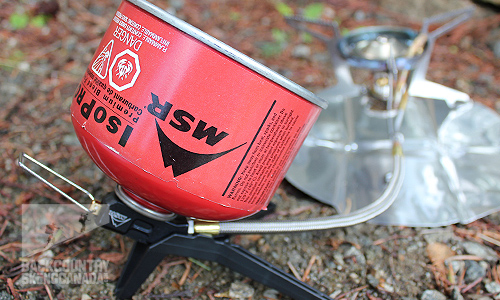 The canister fuel jet is longer as it requires less oxygen to burn gas.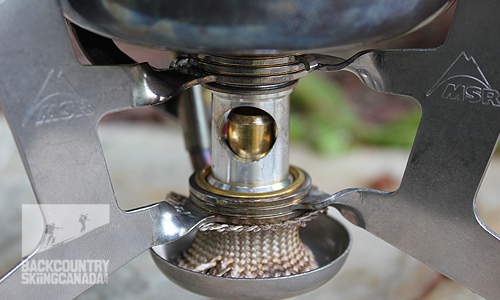 New Features:
Better fuel performance - Ability to burn hybrid fuel (gas/liquid)
Superior stability - Pot supports are now stamped steel with serrated edges (instead of previous wire ones) and they provide better support for larger, heavier pots.
Lighter weight - Aluminum burner tube and stainless steel legs reduce weight.
Easier maintenance - The legs are now fixed to the burner assembly unit so there is no mystery on how to put it back together after cleaning.
Easier serviceability - Collapse the stove legs, unscrew the priming cup (by hand) and pull out the fuel line to scour it or change out jets.
Jet change over:
The MSR WhisperLite Universal Stove comes set up to burn canister fuel so if you prefer to burn white gas, unleaded gas or (that dirtier) kerosene gas from a liquid fuel bottle then you will have to change the jet and fuel line adapter. No need to cringe here, this is a relatively easy operation that will have you burning in less than 2 minutes.
Steps for Removal:
- Fold up the pot/support legs
- Turn over stove and unscrew the priming cup
- Remove the priming wick
- Pull the fuel line out
- Unscrew the jet (labeled UC for Universal Canister). You may have to use the supplied tool to unscrew it.
- Ensure you do not lose the shaker needle
Steps for Installation:
- Set the new jet (labelled "UG" for Universal Gasoline, or "UK" for Universal Kerosene) over the shaker needle and screw into place. You should use the tool here to get it nice and snug.
- Put the fuel line back in and ensure it is fixed to the stove leg with the built in clip
- Replace the wick and screw the priming cup back in
- Change the fuel line adapter by loosening the nut on the liquid fuel adapter and removing it
- Place on the new canister adapter and tighten the nut back up and you are ready to go
Ready to switch jets with the fuel line, wick, priming cup and jet removed.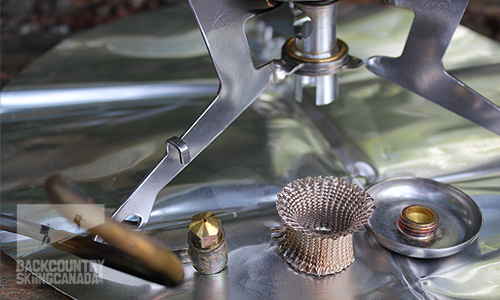 Three jets to choose from Universal Canister, Uinversal Gasoline and Universal Kerosene.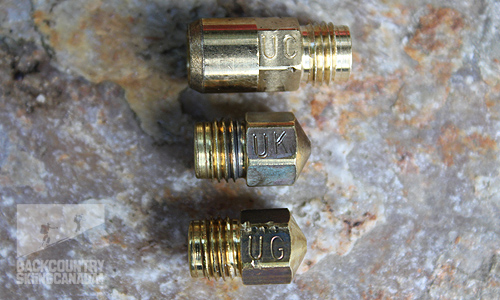 The shaker jet - be sure not to lose this very important piece.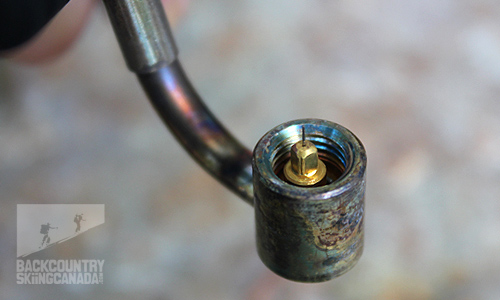 What's included:
MSR gives you everything you need to get going (other than the fuel bottle/canister). Here is what you get:
- Stove
- Liquid fuel pump adapter
- Canister fuel adapter
- Kerosene jet, canister jet and liquid fuel jet
- Windscreen
- Heat reflector
- Canister Stand
- Repair Kit (Pump cup oil, 3 O rings, tool)
- Instructions
Everything that is included, you just need to buy an MSR fuel bottle.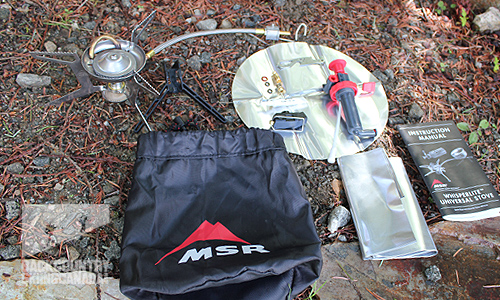 Verdict:
Having been a less than satisfied Primus stove user for many years it was nice to see the other side of the coin. When I heard of the redesigned MSR WhisperLite Universal Stove I decided it was time to take a closer look. MSR has done an admirable job improving what has been a staple in their stove line up. Not only did they improve the ease of use they also increased stability by lengthening the pot supports a full half inch while saying arrivederci to the previous less than desirable wire supports. Overall weight gain with the new design was kept to a modest two grams, which is nothing.
My previous stove jet would constantly clog in the field and repairs took the skills of McGuiver. As a first time user of a Whisperlite I have to say bravo! The design of the jet should require significantly less in the field maintenance compared to my old stove. If you do need to access the fuel jet to clean or change it, however, it's incredibly easy compared to other brands; you can get in and out in a matter of minutes. Please note that on the MSR WhisperLite the shaker jet remains unchanged from earlier versions of the stove.
In addition, I found that the wide burn area cooked food much faster and more evenly than what I am used to. I also discovered that being able to hold a conversation while stirring the pasta is a welcome change; I now see where the name "Whisper"Lite comes from. Although there is no true simmer function with the MSR WhisperLite Universal Stove, you can increase your odds of not burning your morning oatmeal by pressurizing the fuel bottle less and applying an easy touch on the fuel valve. Furthermore, the BTU output is admirable for both liquid and gas options so you don't have to worry about a shortage of cooking power.
With the ability to switch between gas canister fuel and liquid fuel the MSR WhisperLite Universal Stove really covers all the bases for this user. I have only ever purchased a mutli-fuel stove primarily for the versatility it provides while traveling and now with the option of canister fuel the restriction of not being able to fly with a fuel bottle is a non-issue.
I did find, however, two main drawbacks of the stove. First, I didn't like the build-up of soot on the bottom of the stove that resulted due to the low placement of the priming cup. After one light up it became covered in black and required constant cleaning. Second, I am not a fan of the mostly plastic pump; having been used to an aluminum pump assembly on my previous stove this one feels arguably more flimsy. Despite these two negatives, overall the WhisperLite Universal is a great stove.
Before I forget, be sure to take at look our review of the Thermarest NeoAir Camping Mattress, over here and also the MSR Carbon Reflex 3 tent review, MSR Nook Tent review and the Thermarest Antares down sleeping bag and the Thermarest NeoAir XLite camp mattress review.
Good hot flame with mucho BTU's.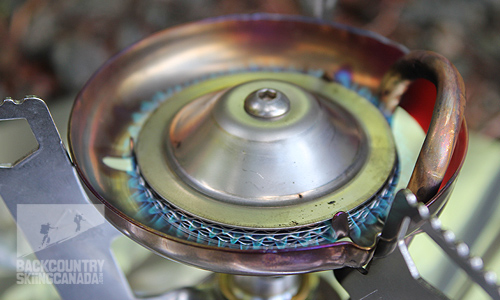 Black soot build up on the bottom due to the low primer cup location.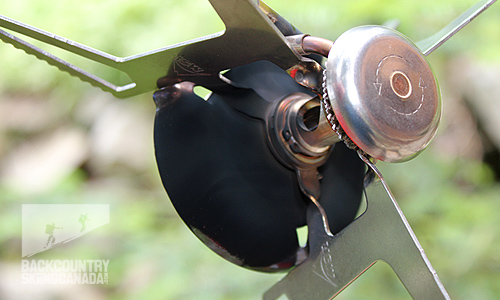 SPECS:
Price: $160 CAN
Weight (Minimum and packaged): Liquid fuel mode 326g-467g / 11.5oz-16.5oz, Canister fuel mode 268g-430g / 9.5oz-15.2 oz, both liquid fuel and canister mode 388g-549g / 13.7oz-19.4oz
Warranty: Lifetime
Fuel Types: White gas, Kerosene, Unleaded gasoline or IsoPro fuel canisters
Average Boil Time: 3.5 minutes on white gas / 4.4 minutes on Kerosene / 3.75 minutes Iso/Propane canister
Output: 9500BTU white gas / 7300BTU kerosene / 9000BTU unleaded gas / 5300BTU propane/butane with vapour feed, 10,3000BTU propane/butane with liquid feed.
Burn time per 590ml / 20oz of fuel: 110min white gas / 155min Kerosene / Iso/Propane
Awards: 2012 Editors' choice
PROS:
- Incredibly quiet operation.
- Easy access to the jet for maintenance and the shaker jet self-cleaning option is brilliant.
- Quick and simple to use.
- Allows you to switch from gas canisters to liquid fuel.
-Carrying case with zippered pocket for jets, tools and repair kit is useful.
CONS:
- The plastic parts on the bottle adapter are not as strong as those on other brands.
- The low priming cup places soot all over the bottom of the stove so regular clean up is required.
- The fuel line is super stiff (likely to keep the fuel away from the flame - which is a good thing).
- Flimsy storage bag that will easily rip.

This is only our opinion. Do you disagree? Did we miss something? Are we totally out to lunch? Join the discussion in the forums here, and let us know what you think. People like/dislike gear for different reasons so chime in and we'll get a well-rounded evaluation.
Back to the rest of the reviews.
---