Best New Gear for Summer 2023 - Accessories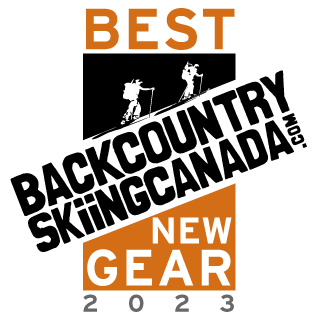 BEST ACCESSORIES
We've researched all the new gear along with some existing classics to provide you with only the best of the best, which we've broken down into three categories: Camping, Apparel, and Accessories. Whether you need to replace an outdated, broken, or well-loved piece of gear—or are just in the market for something new, the following list should help ensure that your hard-earned money is well spent. If you are just window shopping that's ok too, nothing wrong with making a wish list for your upcoming birthday, Christmas, or just because.

We started off the Best Summer Gear of 2023 with our Camping Category (check that out here) and then it was the Best Apparel that you should simply not be without. Now it's the Best Accessories for getting outside and having fun this summer.
Peruse over the list and see what strikes your fancy and if inclined click the 'Buy Now' button and get a great deal too!

YETI LoadOut GoBox 30

YETI is more than just coolers and their line of super durable products now includes things like the LoadOut GoBox 30 Gear Case which is dustproof, waterproof, and virtually indestructible. It is designed to protect anything that you need to keep safe and dry. It can be used as a camp pantry, camera equipment case, tackle box or first aid kit. It has a removable cargo tray which is great for organizing smaller frequently used items, a divider which doubles as a cutting board and the removable PackAttic gear compartment which is a zippered fabric organizer with several pockets. It comes in three sizes 15, 30 and 60L but we think that the 30L hits the sweet spot between just big enough but not too big. While the LoadOut GoBox 30 is not a cooler it is ideal for river trips, hunting adventures or overland car camping and van life. You can read a

full review of the YETI LoadOut GoBox 30 here
.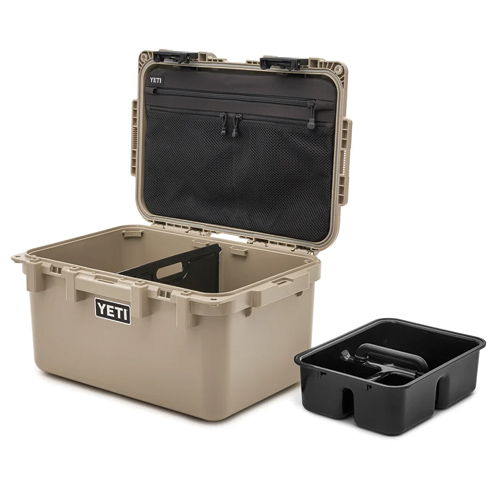 Features:
Dustproof, waterproof, and virtually indestructible
Removable cargo tray and divider, pack-and-stack design
Perfect to use as a camp pantry, camera case, or tackle box
Specs:
Price: $330CAN / $250US
Colours: King Crab Orange, Charcoal, White, Tan
Sizes: 15 , 30 , 60L
Dimensions: 131.8 x 95.3 x 72.6cm / 51.9 x 37.5 x 28.6 in
Weight: 5.5kg / 12.1lb
Colours: King Crab Orange, Charcoal, White, Tan

MEC SERRATUS Pace UL 40 Pack

Lighter is always better, but only if features are not compromised in the process and MEC got it right with their new SERRATUS Pace UL 40 Pack. At only 930g, the SERRATUS Pace UL 40 is designed specifically for minimalist hikers and runners who like to travel light and fast over long distances. Think Running Vest with the carrying capacity and comfort of a pack. Stand-out features include a front mesh pocket, side sleeves for a Nalgene water bottle or tent poles, top zippered pocket, and shock cord compression which doubles as a pole/axe attachment system. MEC considered the environmental impact of this pack and has achieved both fair trade and Blue Sign certification. It is designed to be more comfortable than your average ultra-light pack and also carry more weight over longer distances thanks to the padded shoulder harness and hip belt. To go truly lightweight, you can remove the frame sheet and save approximately 20% of the pack's weight. The frame sheet provides shaping and rigidity and can be bent and adjusted for a perfect fit for the wearer's spine. The shoulder harness system has several built-in pockets for soft flasks, snacks, bear spray or snacks. The rolltop closure can be cinched down and secured with the Y-compression strap over the top of the pack. The SERRATUS Pace UL is also available in a 25L size for $139.95CAN.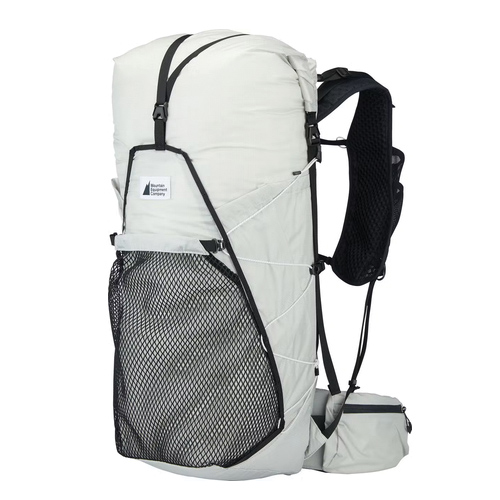 Features:
Nylon and Spectra® body is lightweight but tear-resistant
Air mesh shoulder straps and back panel enhances airflow
Lightweight shoulder harness with pockets and adjustable sternum strap
Large front mesh pocket for stashing items on the go
Side shockcord bungees secure additional items
Front water bottle pockets securely hold standard sized water bottles
Hydration system-compatible with hanger and hose port
Recco® reflector is detectable by ski patrols and search and rescue teams
The removeable frame sheet lets you shave off a few more grams. Standard/long 992g with frame sheet, 772g without. Standard/short 930g with frame sheet, 741g without
Specs:

Price: $189.95CAN / $149.95US

Sizes: Short/Standard, Standard/Long

Volume: 40L

Weight: Short / Standard - 930g / 32.8oz (741g / 26oz with out frame sheet); Standard/Long - 992g / 35oz (772g / 27oz with out frame sheet)

Aquaglide Cirrus Ultralight 110 Kayak

The Cirrus Ultralight 110 is Aquaglide's newest and lightest solo inflatable touring kayak. It uses an efficient touring design for long distance paddling and provides a good balance between tracking and manoeuvrability. This ultralight inflatable kayak is fun to paddle and not bulky like regular rigid kayaks and when you are done on the water it packs down to an impressively small size. There is an included compression storage bag for packing it away and this bag also does double duty as a drybag for clothing and gear. Thanks to its TPU/Nylon construction and TPU drop-stitch floor it is super light and durable yet doesn't sacrifice any performance. At 11' long and weighing under 15 pounds the Cirrus Ultralight 110 Kayak is perfect for paddling at the cottage, overland adventures and hiking into remote lakes. The construction of the Cirrus Ultralight 110 Kayak uses less harmful material than other inflatable kayaks and can actually be recycled at the end of its lifecycle. If you are looking to paddle with a friend or partner then Aquaglide also makes the Cirrus in a double version for two people, it is called the Cirrus Ultralight 150. Auquaglide does not include a hand pump with the Cirrus Ultralight 110 so you'll need to purchase their Kayak Hand Pump 10 for $64.99CAN / $49.99US. This Compact single or double-action pump has a built-in gauge and is built tough with an aluminum shaft, and folding feet so it's sturdy and compact. You'll also need a paddle and the Aquaglide Orion 4-Piece Leverlock Kayak Paddle is available for $239.99CAN / $199.99US. This lightweight 4-piece paddle is compact and lightweight thanks to the fibreglass/carbon shaft construction and glass-reinforced nylon blades which are also super tough and durable.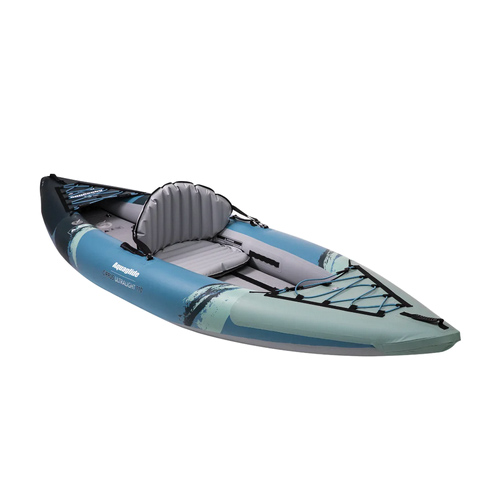 Features:
UL (Ultralight) Inflatable Seat – adjustable lightweight support and comfort
UL (Ultralight) EVA Footrest – lightweight control for improved paddling efficiency
Velcro Adjustment Strips – allow for personalized custom seat and footrest positions
PA (Polyamide) Nylon D-rings – provide secure attachment for seat back
Quick Release Weedless Fin – increases tracking
Molded Plastic Carry Handles – on bow, stern, and at mid-point for comfortable carrying or lifting
Cockpit Drain – opens easily to drain water from the boat
Halkey-Roberts Type Valves – for quick and easy inflation and deflation
Mini-MOLLE Attachment System – on either side of cockpit, for storage of essential items
Deck Cargo Bungees – on bow and stern offer secure storage of extra gear
Waterproof Compression Storage Bag – doubles as drybag for clothing and gear when paddling
Materials:

Double-Coated 0.13mm TPU 70 denier Nylon Fabric – lightweight and supple, yet provides excellent rigidity when fully inflated

TPU ULDS (Ultralight Drop-Stitch) Floor – lightweight rigidity and optimal paddling performance

Specs:

Price: $1649.99CAN / $1299.99US

Weight: 6.7kgs / 14.75lbs

Dimensions: 335 x 84 x 28cm / 11' x 33 x 11"

Includes: kayak, seat, footrest, fin, storage bag.

Best For: 1-person ultralight performance touring, expedition, and overlanding.

Capacity: 1-person | 300 lb. (136 kg) max weight.

Warranty: 2-year limited against any manufacturing defects.

Garmin GPSMAP 67i

The new Garmin GPSMAP 67i is a handheld GPS device that combines navigation and communication features in a rugged and water-resistant design. It has a 3-inch colour display that is readable in sunlight and the rechargeable lithium-ion battery provides up to 165 hours of battery life in tracking mode and up to 425 hours in expedition mode—that's up to 55 times the battery life of the previous version. The built-in USBC charge port means that it is easy to keep fully powered when on the grid and with a secondary battery when off the grid. The GPSMAP 67i also has built-in inReach satellite technology that uses the Global Iridium Satellite Network which allows you to send and receive text messages, share your location, and trigger an SOS to a 24/7 global emergency response coordination centre. You can also access preloaded TopoActive U.S., Mexico and Canada maps which show you terrain contours, topographic elevations, summits, parks, coastlines, rivers, lakes and geographical points. Ythere are even high-resolution, photorealistic maps you can load directly to the GPSMAP 67i via Wi-Fi. By using the inReach connectivity you can also get detailed weather updates and request weather forecasts for your current location. It is built to military standards for thermal, shock and water performance (MIL-STD-810), and it's even compatible with night vision goggles. The Garmin GPSMAP 67i is a versatile and reliable GPS device that can help you stay connected and safe in remote areas. It is ideal for hikers, hunters, geocachers, and adventurers who need a durable and easy-to-use device with advanced features.

If you are looking for a much lighter and more basic handheld GPS navigation unit then consider the new Garmin eTrex SE which has a 2.2" high-resolution screen and provides up to 168 hours in standard mode and up to 1,800 hours in expedition mode thanks to two field-replaceable AA batteries. It uses multiple global navigation satellite systems (GPS, GLONASS, Galileo, BeiDou and QZSS), has a digital compass, has a IPX7 waterproof rating and weighs only 156g / 5.5oz. It can also connect with the Garmin Explore app for wireless software updates, cloud storage, trip planning, smart notifications and additional mapping. The price is $199CAN / $149.99US and it is available now!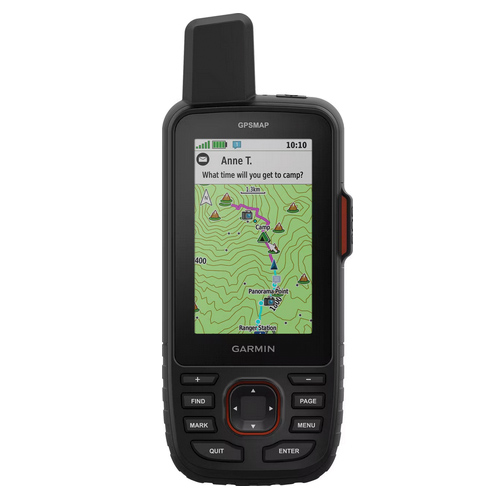 Features:
Preloaded with routable TopoActive maps (Canada and US 100K resolution), featuring streets and trails
Multiband and multifrequency signal reception and expanded GNSS support (GPS, GLONASS, Galileo, QZSS and IRNSS) has access to more satellites and more signals, this provides faster, more accurate positioning and elevation data, anywhere in the world
Point of interest navigation lets you search for places you may want to go, e.g., restaurants, attractions, accommodation, etc
Connects via Bluetooth to phones/tablets running the free inReach Messenger® app. When paired with the Messenger app you gain access to your phone's keyboard, contacts and group text capabilities
Smart network switching technology sends and receives your messages via the most reliable available network, helping ensure your messages get though, and you only use your satellite subscription when you need it
Messages have your GPS location embedded, letting your rescuers, friends, family or followers know exactly where you are
GPS tracking feature allows your friends and community to follow your progress via a personalized MapShare® page
LiveTrack™ during activities (through a connected smartphone) shares your location with friends
GroupTrack displays the location and telemetry of up to 50 contacts with compatible Garmin devices
Active weather provides real-time radar tracking (via a connected phone running Garmin Connect)
World coverage SOS feature gives you a confirmation message from the International Emergency
Response Coordination Center (IERCC) if you use it to send an SOS. 2-way texting allows you to stay in contact with rescue personnel
SOS messages are received by IERCC, a worldwide emergency response coordination center with 24/7/365 staffing
SOS button has a hard plastic cover, greatly reducing chances of an accidental activation
Uses Iridium's constellation of 66 satellites for coverage of the earth's entire surface. Messages are buffered for up to a day
Iridium's worldwide coverage lets you send texts and emails from anywhere in the world. Your plan determines how many you can send and how detailed they are. Note – some jurisdictions regulate or prohibit the use of satellite communication devices
SOS/PLB functionality and all off-grid communication requires a separate satellite plan to activate, GPS functionality works all the time, no plan required
Monthly plans are available, as well as seasonal hibernation options that allow you to pay a minimal fee during months when you are not using the device
Garmin Explore website and app let you sync routes, tracks and waypoints to your device. You can download map data to your phone, use your phone to plan routes and tracks, and then send those plans to your GPS, all without cell reception
Satellite caching saves an extended predicted orbit path (EPO) file, so it knows where to look for satellites when you turn it on
Barometric altimeter tracks ascents, descents and total elevation changes
Tilt-compensated 3-axis electronic compass shows your heading even when you're stationary
Extended battery life, with multiple different GPS modes let you find the perfect balance of battery life and GPS accuracy
Internal Lithium-ion rechargeable battery provides up to 165 hours of battery life in GPS mode and more than 2 weeks in inReach enabled Expedition mode
3in. colour screen is bright and clear even direct sun
16GB internal memory can be increased via MicroSD cards (not included)
IPX7 waterproofing
Built-in LED flashlight has S.O.S setting
Specs:

Price: $799.99CAN / $599.99US

Weight: 241g / 8.5oz

Memory: 16GB

Dimensions: 16.3 x 6.2 x 3.5cm / 6.4 x 2.4 x 1.4in

Smith XC Sunglasses

SMITH is going retro with their new XC Sunglasses. Their heritage styling dates back to the Smith Cross-Country sunglasses and they even come complete with incorporated flip-up lenes. Their optics are updated with SMITH's ChromaPop lenses which boost colour and provide sharp contrast. Originally launched in 1984 for Nordic skiers, the XC Sunglasses still have a shield shape to block out wind and snow and are ideal for not just XC skiing but also downhill, ski touring and all sorts of other adventures. The height of style, performance and function—the new Smith XC Sunglasses are a modern take on a true classic.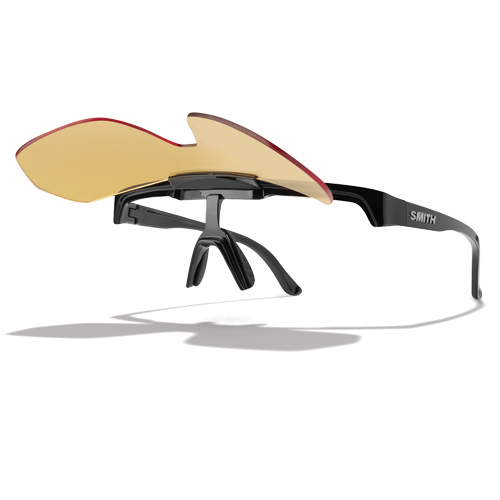 Features:
ChromaPop™ lenses enhance contrast and natural colour to make the details pop
Flip-up lens feature
Smudge and moisture-resistant coatings for easy cleaning and clear optics
Medium to large fit, large coverage
4-base spherical shield lens curvature
Modest wraparound fit
Megol nose pads provide non-slip grip so glasses stay put
Evolve™ bio-based frame material is lightweight and durable
AutoLock hinges hold frames open for easy one-hand on and off
Goggle inspired strap compatible temple tips
Specs:

Price: $220CAN / $179US

Colours: several

The James Brand – The Redstone Knife

The Redstone Knife is a compact and lightweight outdoor knife so it's easy to take anywhere with you on the trail. James has designed the Redstone with a new island design that allows for your finger to rest between the two protrusions providing a sturdy grip, especially for a smaller knife like this. It is made from one-piece of die-stamped Sandvik 12C27 stainless steel making it incredibly strong and corrosion resistant while reducing the overall number of parts. The blade is secured with the TJB Slide-Lock design for secure and easy one-handed use. The Redstone also features a bent-wire clip so you can easily fasten it around a belt or pack strap.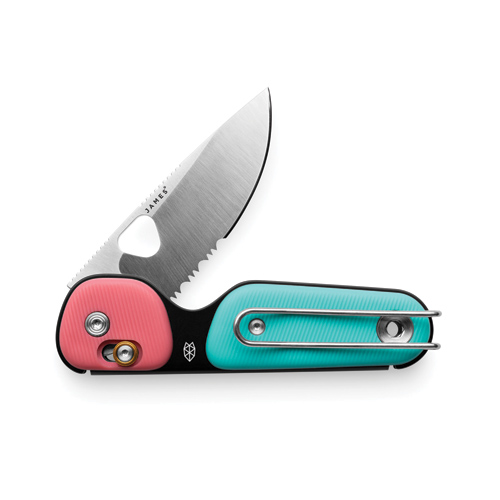 Features:
Lanyard
Pocket Clip
Slide Lock Design
Materials:

Stainless steel and black oxide with a SANDVIK 12C27 blade steel

Specs:

Price: $119CAN / $99US

Weight: 50g / 1.8oz

Blade Length: 6.3cm / 2.5"

Overall length: 15.6cm / 6.2"

Colours: several

Patagonia Black Hole Pack 32L

Patagonia's Black Hole line of bags and packs is ever-expanding and their Black Hole Pack is available in 25L and 32L sizes. They are made with 98% recycled materials but function and durability are not sacrificed one bit. The Black Hole Pack is burly and weatherproof, it sheds rain and dirt and is made for adventure. With external stretch woven stash pockets, a zippered front pocket, a zippered top pocket and a padded internal storage pocket for your laptop, the Black Hole Pack can carry a lot. Fully featured, comfortable and ready for urban or mountain adventures, the Black Hole Pack is ready for whatever you can throw at it.
Features:
98% of our line uses recycled materials.
Easy-Access Main Zippered Compartment with Interior Zippered Mesh Pocket Provide Organization
Large Front and Top Stash Pockets Keep Necessities Organized and Accessible
Stretch-Woven Side Pockets for Water Bottles or Guidebooks
Laptop Pocket is Padded and Zips Open Flat, Making it TSA-Approved; Fits Most 15" Laptops
Mesh Back Panel for Comfort and Increased Ventilation
Padded Shoulder Harness and a Sternum Strap
Hydration-Compatible with Port at Top of Back Panel
Top-Mounted, Reinforced Haul Handle and Front Daisy Chains for Lashing
Materials:

Body – 8.7-oz 300-Denier 100% Post consumer Recycled Polyester Ripstop (22% Solution-Dyed) with a TPU-Film Laminate

Lining – 3.3-oz 200-denier 100% recycled polyester with a polyurethane coating

Both Body & Lining with a DWR (Durable Water Repellent) Finish

Body Fabric is bluesign® Approved

Specs:

Price: $209CAN / $169US

Capacity: 32L

Black, Classic Navy, Lago Blue, Perennial Purple, Shine Yellow

Weight: 810g / 1lb 12.57oz

Warranty: Lifetime

Eagle Creek Expanse 4-Wheel 30" Luggage

The Eagle Creek Expanse 4-Wheel 30" Luggage is a durable and spacious suitcase that is ideal for long-haul travel where light weight and maximum capacity are required. It features a lightweight 100% recycled polyester construction with an expandable design for when you pack just a little too much stuff. It has four heavy-duty multi-directional wheels and a telescoping handle with multiple height settings for easy transport. The interior has a zippered mesh divider, adjustable compression straps, and a large zippered pocket for organization. The exterior has front zippered pockets to stash items you need on the go, rugged top and side handles and a lockable zipper with a Central Lock Point. Eagle Creek has covered the Expanse 4-Wheel 30" Luggage with their No Matter What™ Warranty which covers any damage or defect for the lifetime of the product.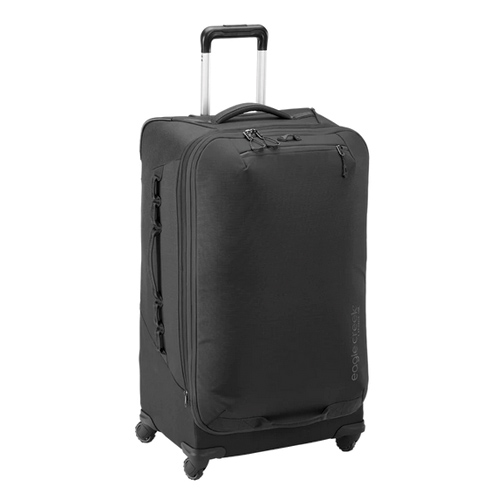 Features:
Interior Zippered Mesh Pocket
Heavy Duty Lash Points
Internal Adjustable Compression
Rugged Grab Handles
Mesh ID Pocket
Attachment for Modular Pack-It™ Integration
Front Zippered Pocket
Multi-Directional Spinner Wheels
Pack-It™ Compatible
Multiple Handles
Lockable Zippers with Central Lock Point
Telescoping Handle
Materials:

100% Polyester Recycled 450d / 600d / 200d

Specs:

Price: $380CAN / $299US

Volume: 95L / 5797cu in

Colours: Black, Aizome Blue

Weight: 3.6kg / 8lbs

Dimensions: 75 x 42 x 34cm / 29.5 x 16.5 x 13.5in

SOLE Performance Medium with Met Pad

SOLE's latest ultra-sustainable insole is the Performance Medium with Met Pad. This footbed provides targeted forefoot support to minimize the impact on athlete's bodies, and also on the environment. Built on a sustainable base of ReCORK recycled wine corks, this insole is great for improving forefoot comfort in medium-fitting footwear like running shoes, casual sneakers, tennis shoes, and hiking boots. It uses a density-mapped construction to help maintain the foot's natural biomechanics for the best dynamic support and comfort. It has a built-in metatarsal (Met) pad to better position the foot's natural forefoot padding and also supports the metatarsals in their natural spread. The Performance Medium with Met Pad is perfect for relieving forefoot pain and discomfort associated with conditions like Metatarsalgia and Morton's Neuroma. If you are a runner, hiker or racket sports player then you need to give the SOLE Performance Medium with Met Pad a try.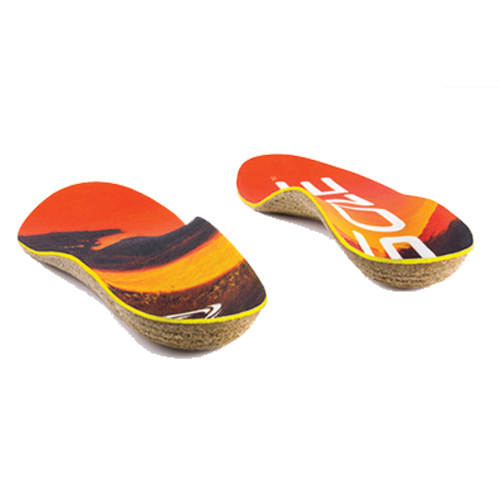 Features:
Heat and wear moldable for customized fit
Supports natural spread of foot bones
Reduces plantar fascia strain
Suitable for any arch height
Provides cushioned support
Improves balance
Promotes natural foot alignment
Distributes weight and pressure equally
Zero drop from heel to forefoot
Deep heel cup
Materials:

100% natural recycled cork base, Softec cushioning (1.6mm), Polygiene® stays fresh technology top sheet

Specs:

Price: $65 CAN / $59US

Sizes: (Unisex) M3/W5 - M14/W16

Colour: Mountain Sunset

Hydaway Collapsible Travel Backpack

The Hydaway Collapsible Travel Backpack is just as the name states, a compact travel pack for any adventure. It comfortably carries 15L and when not needed packs away into one of its own pockets. It is made of tough, water-resistant exterior fabric that is made from 100% post-consumer recycled plastic bottles. The straps, buckles, and carabiner are also made from recycled content so it is easy on the planet. There are adjustable, padded shoulder straps, a large zippered top pocket, two over sized stretchy side bottle pockets, and a hydration pocket that doubles as a laptop sleeve. It is available in four very expressive colour schemes: Acadia, Biscayne, Kenai, and Zion so you can express who you are with this travel-friendly backpack.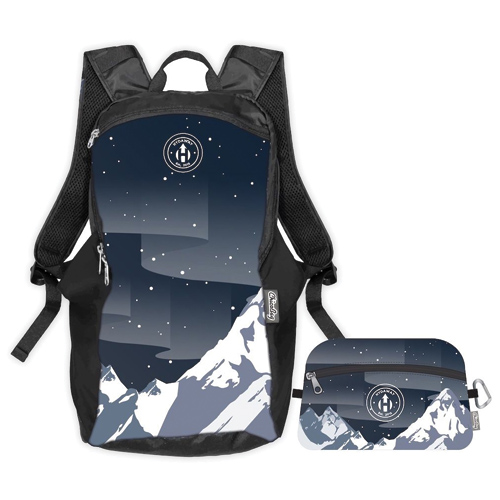 Features:
Easily pack away the entire backpack into its top pocket to store in your luggage, carry-on, or bike panniers
Carry all your favorite trav el essentials in the large zippered top pocket, two over-sized stretchy side bottle pockets, and hydration pocket that doubles as a laptop sleeve
Find the exact right fit for your body with fully-adjustable, padded shoulder straps, and a two-location, adjustable sternum strap
The fabric is made from 100% post-consumer recycled plastic bottles, and the straps, buckles, and carabiner are also made from recycled content
Specs:

Price: $54.95CAN / $39.95US

Capacity: 15L

Weight: 200g / 7.2oz

Dimensions: collapsed - 20 x 13 x 6cm / 8 x 5 x 2.5"; Expanded - 43 x 25 x 2.5cm / 17 x 10 x 1"

Colours: Acadia, Biscayne, Kenai, Zion

Luno Car Camping Cool Down Bundle

Luno makes brilliant products for the car camping life and we first profiled them with their Luno Air Mattress 2.0 last spring

in the Best Camping Gear of Summer 2022

. This time around we are featuring their new Car Camping Cool Down Bundle which helps you beat the heat while car camping with these two car camping essentials. The Luno Car Window Screens and Luno Camping Fan are guaranteed to keep you cool and comfortable no matter how hot it gets. The Luno Car Camping Fan attaches to any vehicle window or dashboard and is powered by any USB-A portable power solution. The 5" fan has an articulating ball mount base that gives you full control over the direction of airflow. The Luno Car Window Screens allow plenty of fresh air to flow into your vehicle on those hot summer nights but keep out any pesky bugs. They easily slide over your vehicle's doors and come in a variety of sizes to fit any vehicle. You get two screens in each kit and they pack down nice and compact into the included storage pouch. Car camping has become Car Glamping with the new Luno Car Camping Cool Down Bundle.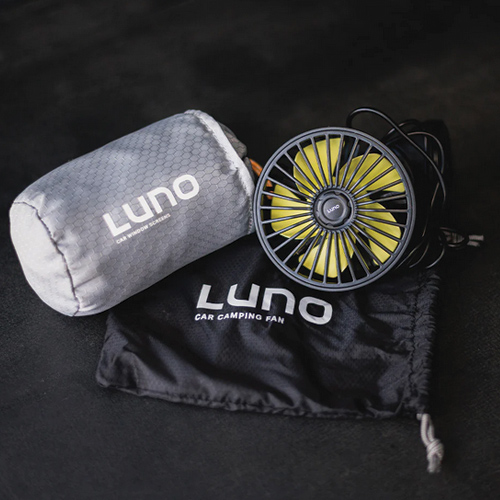 Features: Specs:

Price: $119CAN / $74.99US

Luno Car Camping Fan

Product Size: 4in x 2.25in x 5in

Weight: 3oog / 0.65 lbs

Color: Black

Luno Car Window Screens

Material: 70D Nylon 50x50 elastic mesh

Window Size: various

Packed size: 5.5" x 3.5"

Quantity: Includes 2 window screens

Buff 5 Panel Explore Cap

We all know Buffs for their iconic headwear and neckwear but they also design and produce hats and new to the line this year is the 5 Panel Explore Cap. This 5 Panel Cap is made with recycled ripstop fabric to help keep its carbon footprint to a minimum. It has an adjustable elastic cord closure for a snug fit and is easy to pack away in the smallest of places since it is lightweight and very foldable making it ideal for biking, hiking and all sorts of on the water paddle sports. If trucker caps are more your style then Buff has you covered there as well with their Pack Trucker Cap. This soft flexible trucker cap looks just like the real thing only it's made to stuff in your pack and take with you everywhere.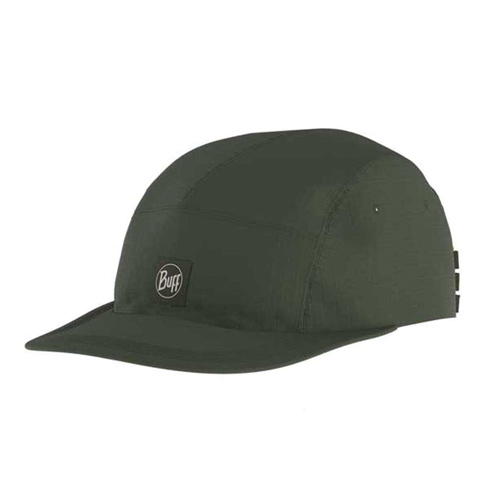 Features:
Recycled nylon is light and quick drying
Sweatband is made from a soft recycled poly' blend and wicks away moisture, to help keep you cool
UPF 50+ material blocks more than 98% of harsh UV
Adjustable fit means one size fits all
Fabrics:

Crown, Visor: 100% Recycled Polyamide

Inner Sweatband: 92% Recycled Polyester, 8% Polypropylene

Specs:

Price: $44.95CAN / $35US

Colours: Graphite, Orange, Violet, Denim, Military, Brick, Black, Blue, Moss Green

Gnarly

Gnarly is a sports nutrition company that makes products for all levels of performance, whether you are a weekend warrior or a serious professional athlete. They pride themselves on using only natural ingredients, which means no GMOs, artificial colours or flavours and they don't use gluten or soy in any of their products. They also take the environment into consideration and use steel cans for their products instead of plastic which has a recycling rate of less than 8% compared to steel's 70%. They also have plans to remove all plastic from their product line by 2025!

Gnarly sells several Sample Boxes so you can try a variety of their products to see which is right for you. Each box contains 4 single-serve stick packs of Gnarly supplements, with options to customize for diet + lifestyle and they are priced at $9.99US which includes free shipping.

The Everyday Sample Box includes Performance Greens, Whey or Vegan Protein (Vanilla and Chocolate) and Hydrate with a choice between their BCAA's or Collagen product. The Strength Sample Box contains their Pre-Workout, BCAA's, Whey or Vegan Protein (Vanilla and Chocolate) and a choice of Hydrate or Collagen products. The Endurance Sample Box contains Fuel2O, Hydrate, Whey or Vegan Protein (Vanilla and Chocolate) and a choice between BCAA's or Collagen. The Adventure Sample Box contains Fuel2O, Hydrate, Performance Greens and Whey or Vegan Protein (Vanilla and Chocolate).

My favourite products from these Sample Boxes are the Gnarly Vegan Protein and Gnarly Performance Greens. The Gnarly Vegan Protein contains no animal-derived ingredients and provides the essential protein you need for active meal replacement or recovery. It uses a plant-based protein blend with 14 essential vitamins and minerals for complete vegan nutrition on the go. The Gnarly Performance Greens is a whole food nutrition powder you mix with water, designed for active people who want all the essential micronutrients for optimal performance. It provides energy and recovery benefits and can also help prevent high blood pressure and cholesterol build-up.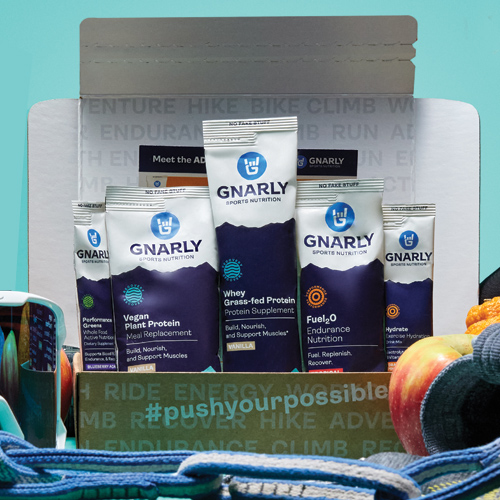 Specs:

Gnarly Vegan Protein

Price: $54.60CAN / $61.45US

Weight: 800g / 28.2oz

Quantity: Steel tins (16 servings) or convenient on-the-go stick packs (5 servings per box)

Flavours: Chocolate and Vanilla

Ingredients: Pea-based plant protein with 14 essential vitamins and minerals to meet your micronutrient needs. Pre and probiotics support digestion and gut health and also works as a meal replacement or mixed into a recovery shake and are NSF content certified.

Gnarly Performance Greens

Price: $77.21CAN / $43.45US

Weight: 330g / 11.64oz

Quantities: recyclable bags (30 servings) and convenient on-the-go stick packs (5 servings per box) Flavours: Blueberry Acai and Lemon Mint

Ingredients: Cordyceps for energy, turmeric to optimize recovery and a range of organic superfoods, including cracked cell wall chlorella and spirulina, to give your body all the micronutrients it needs to perform and recover optimally.

Trango Mountain Vault 72

Trango touts their Mountain Vault 72 as 'Serious protection for serious exploration'. It is designed with the needs of the explorer in mind who travel to remote destinations and need to protect their gear from the element, abuse and theft. To help achieve this the Mountain Vault 72 is made of Waterproof 500D PVC fabric that is burly and fully seam welded. The lockable zipper and several built-in lashing points ensure that no one can gain access to your belonging and that it won't fall off the back of a truck or moped. Customizable carry strap options allow for several carry options depending on the overall weight and your personal preferences. The Mountain Vault comes in a 42, 72 and 112L volumes with the small 42L bag fitting into most airline's carry-on dimensions. I chose the 72L middle-of-the-road size and find it an ideal capacity for my essentials on most trips. If you are looking for a well priced, durable and waterproof bag then this is it.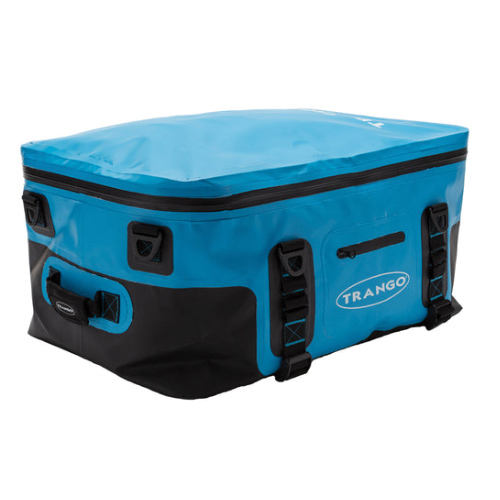 Features:
Waterproof 500D PVC body protects contents
Fully welded seam construction
Multiple carry options for comfort
Water resistant zipper with lock point
Versatile compression straps
Full top zipper opening for easy access
Multiple daisy chains & buckles to easily secure to vehicles & racks
42L Fits standard airline carry on requirements
72L & 122L Fit Standard Check Bag Sizes
42L - 3 grab handles
72L & 122L - 2 grab handles
Specs:

Price: $235CAN / $174.95US

Volumes: 42L, 72L, 122L

Weight: 1.4kg /

Dimensions: 58.5 x 40.5 x 30.5cm / 23 x 16 x 12"

Petzl Actik Core

At 600 lumens the Petzl Actik Core is one bright headlamp. It comes with the CORE rechargeable battery and also works with three standard batteries, thanks to its HYBRID CONCEPT design. It has a red light option which helps keep you from disturbing those around you when nature calls in the middle of the night. It also has a phosphorescent reflector that makes it easier to find this headlamp in the dark which is always a struggle. It is lightweight and has a wide, uniform beam so you can see up close or at a distance with a flood light. There are three white light levels: Max Burn Time, Standard (better power/burn time balance) and Max Power so you can better manage your battery burn time. This powerful, easy-to-use headlamp is ideal for running, trekking, camping, climbing and mountaineering. If you are looking for a headlamp at a lower price point the Tikka Core provides all the same great features as the Actik Core but with 450 Lumens instead of 600.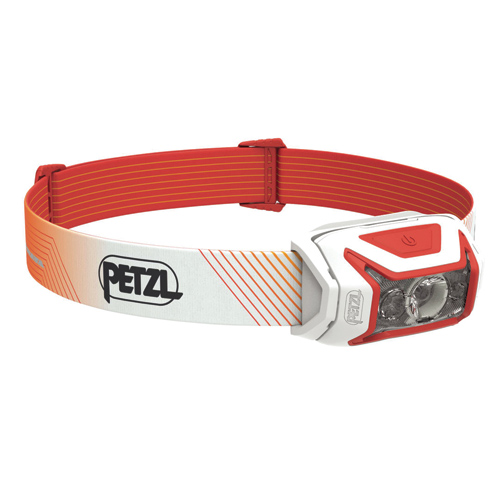 Features:
Wide, uniform beam so you can comfortably see up-close or at your feet
Mixed beam (flood and focused) allows for proximity and distance vision for movement
Three white lighting levels: MAX BURN TIME, STANDARD (better power/burn time balance) and MAX POWER
Continuous red lighting to preserve night vision without blinding those around you, and strobe to signal your location, especially in emergency situations
Single button for quick and easy selection of brightness or light color
Plate allows you to easily orient the lamp in desired direction
Battery charge indicator shows the battery level each time lamp is turned on or off
Rechargeable via the type B micro USB port
Useful phosphorescent reflector for locating the lamp in the dark
LOCK function prevents the lamp from turning on during transit or storage
Detachable, washable headband that is symmetrical for easy adjustment
Reflective headband to remain visible at night
Storage pouch allows it to be transformed into a lantern
HYBRID CONCEPT design: ACTIK® CORE comes with the CORE rechargeable battery and also works with three AAA/LR03 batteries (not included); it automatically detects the energy source and adjusts lighting performance
Compatible with the HELMET ADAPT and BIKE ADAPT 2 mounts, so you can fix the lamp on a variety of helmet types or a bicycle (1)
Specs:

Price: $104.95CAN / $79.95US

Weight: 88g / 3.1oz

Beam pattern: Flood or mixed

Energy: 1250 mAh CORE rechargeable battery (included)

Charging Time: 3 hours

Battery compatibility: Alkaline, lithium or Ni-MH rechargeable

Watertightness: IPX4 (weather-resistant)

Shokz OpenSwim

Shokz makes bone conduction MP3 headphones and we profiled their

Shokz Openrun Pro

last spring in the Best Accessories category. While those are wireless headphones the Shokz OpenSwim are not and instead have 4GB of MP3 storage built-in. The big difference with the OpenSwim headphones is that they are waterproof and designed specifically for swimming. They have 8 hours of battery life and best of all they are not ear bud style headphones and instead use bone conduction technology so you can still hear your environment around you. While the OpenSwim headphones are submersible and completely waterproof they can also be used out of the water for running or cycling. As Shokz says "no wires, no devices, no limits".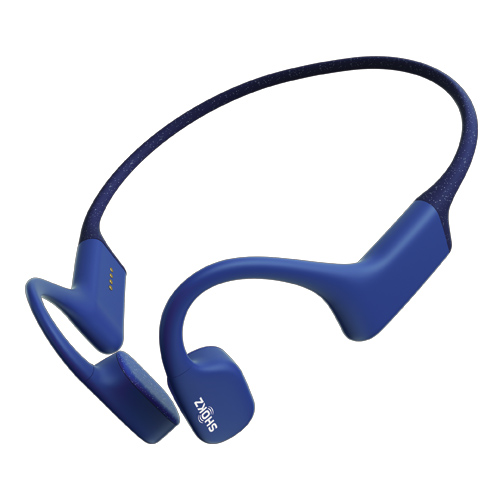 Features:
4GB of MP3 Storage
Not Bluetooth Compatible
IP68 Waterproof
8-Hour Battery Life
Comfortable Under Swim Cap
Designed for swimmers
Open-Ear Comfort
IP68 Waterproof
Specs:

Price: $199.95CAN / $149.95US

Colours: Black Diamond, Sapphire Blue

Zeal Optics Calistoga Sunglasses

Zeal Optics is a sustainable eyewear brand based in Boulder, Colorado that designs eyewear for active lifestyles. New for this spring is their See Grass Collection which features the Calistoga Sunglasses that are plant-based cat-eye polarized sunglasses that are made from recycled plastics and agricultural grasses using renewable energy. See Grass is produced at a closed-loop German biorefinery, where fibrous grasses are grown, and mixed with pre-consumer recycled plastics. Powered by a methane turbine that runs on decomposing organic matter, the process creates fertilizer to grow the grasses, without generating any waste.

Zeal combines function, fashion and sustainability into the fashion-forward, medium-fit Calistoga Sunglasses that features a keyhole bridge design. They feature plant-based Ellume Polarized lenses, which further reduce their footprint and add exceptional highlights of colour, clarity and contrast through their round lenses. The Calistoga Sunglasses are lightweight and durable and features Zeal's proprietary ProFlex material in the bridge and temple tips to keep these shades in place no matter the adventure.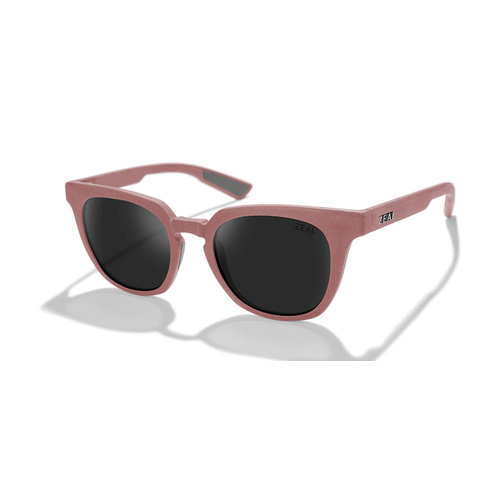 Features:
See Grass uses 70% recycled plastics and 30% grass fibers in a closed-loop system to create ZEAL's most sustainable sunglasses yet.
Ellume Polarized lenses
ProFlex material in the bridge and temple
Specs:

Price: $189CAN / $179US

Colours: Granite, Lichen, Brick, Matt Midnight

Frame Fit: Medium

Sweet Protection Bushwhacker 2Vi Mips Helmet

Sweet Protection's new Bushwhacker 2Vi Mips Helmet is built on the back of their best-selling Bushwhacker Helmet but now has a 2Vi technology platform that provides a multifaceted approach to increasing the helmet's overall protection. This protection includes Mips Air which protects against rotational forces while the multi-density EPS shock-absorbing structure has four integrated impact shields—one in each corner of the helmet. Sweet Protection re-designed the Bushwhacker Helmet to be the lightest, most comfortable helmet on the market with increased impact protection. It is triple certified to e-bike standards and meets and exceeds both the CPSC 1203, EN 1078, and NTA 8776 standards. To ensure you keep cool while grinding out the climbs on hot summer days the Bushwhacker has a STACC ventilation system that efficiently gets air in the front and out the back. With a vastly improved out-of-the-box fit for all head shapes, an adjustable visor for easy goggle storage, and eyewear grippers for shades the new Bushwhacker performs as good as it looks.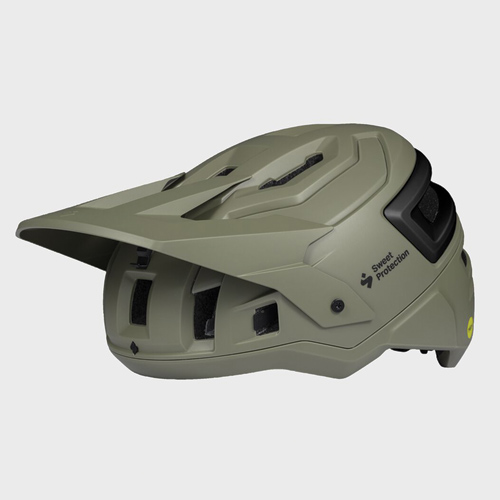 Features:
Vastly improved coverage to suit the needs of the modern mountain biker: Higher speeds and rougher trails
Featuring our 2Vi® technology platform for increased performance and comfort including Mips Air for protection against rotational forces
Exceeds EU, US and UK bike standards – and the NTA 8776 (e-bike) standard
New integrated 360 fit system with on the fly height adjustment. Especially designed to integrate well with Sweet Protection eyewear.
STACC ventilation which effectively cools down the superficial temporal arteries.
Adjustable visor for easy goggle storage
Eyewear grippers for easy eyewear storage
Replaceable moisture absorbing front pad
Specs:

Price: $310CAN / $250US

Sizes: SM, ML, LXL

Colours: Woodland, Dusk, Nani, Nomad, Matte Black, Matte White

Weight: 430g / 15oz (M/L)

Maddle Voyager V Stand Up Padleboard

Maddle is a Canadian company based in Quebec that designs Stand Up Paddleboards with custom art on the underside of the boards created by Quebec and international artists. They have 30 unique designs to choose from which are all based upon the same SUP dimensions. The Voyager V is not one of these SUPs with beautiful artwork but it is still a solid SUP with great proportions at a reasonable price. The Voyager V's 'all around' shape means that it is very stable on the water and ideal for beginner and intermediate paddlers. There are three removable fins on the back of the SUP to ensure you track straight and an anti-slip grip on the top of the board provides comfort and stability. There are a set of D-rings for multi-purpose attachments, as well as elastic tie-downs on the front of the SUP to secure gear you need close at hand. There are three large grab handles, one on the top, one in the middle and one at the bottom of the board to provide lots of grip options and make it as easy as possible to transport. Weighing only 5.9kg / 13lb, the Voyager V is light and easy to transport but it's also very durable thanks to its 2-Layer MSL Technology. This rigid Double Layer MSL Fusion construction makes the board lighter, stiffer & incredibly durable. The Maddle Voyager V is a great stand up paddleboard that is stable on the water yet still manoeuvrability and fun.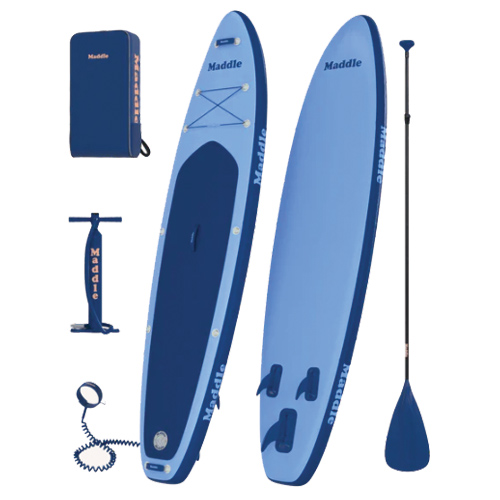 Included:
Limited edition Maddle board
Lightweight Aluminium Paddle
Sturdy transport bag
10' leash
Dual-action pump
Repair kit with PVC patch and valve wrench
Specs:

Price: $499CAN / $375US

Dimensions: 10'6'' x 32'' x 6''

Weight: 5.9kg / 13lb

Weight limit: 158kg / 350 lb

Warranty: 2 years

DEUTER Vertrail 16

DEUTER's new ISPO Award-winning Vertrail 16 is a waterproof backpack for speed mountaineers. At just 480 grams the Vertrail 16 is super light and allows you to travel fast on longer adventures. It doesn't compromise quality and durability, however, as it uses very hard-wearing material with taped and welded seams, and TPU-coated zippers to keep things waterproof. It uses a vest style carry system like those used for trail running packs so it has a lightweight fit that provides just enough balance and support without adding extra weight. The wide shoulder straps wrap into the DEUTER Lite back panel to help keep the pack snug against your back which is important while moving at speed. There are a number of pockets on the shoulder straps for carrying a phone, GPS, soft flasks, energy bars and gels and even a hiking pole holster for collapsable hiking poles. Bungee cords and gear loops provide flexible attachment points for a helmet, ice axe and crampons for when things get more technical. There is also a dedicated hydration sleeve inside the pack so you can carry up to 3L of water. The Vertrail is free of PFAS (per- & polyfluorinated) chemicals which are 'forever chemicals' and very harmful to the environment. DEUTER instead uses a Durable Water Repellency (DWR) impregnation that is harmless to health and the environment. Move fast and far on your next trail run or mountain adventure with DEUTER's new Vertrail 16 Pack.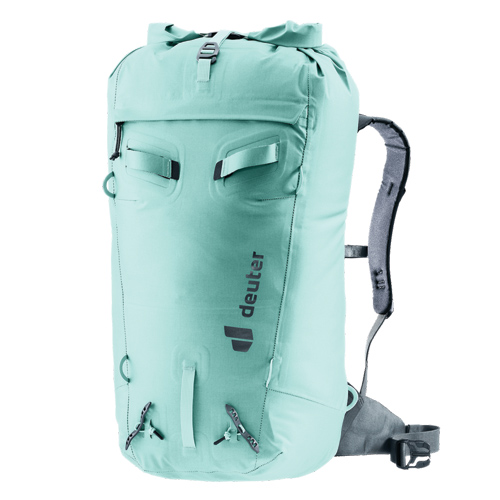 Features:
Lightweight
Waterproof
Load adjustment strap
Removable and adjustable sternum belt
Adjustable sternum strap with signal whistle
Roll-top capacity extension
Trekking pole holster on shoulder strap
Zippered pocket on shoulder strap for smartphone, GPS, etc.
Ice Axe Attachment
SOS label
Compatible with 3.0 liter drinking system/bag
Elasticated inner compartment for storing wet/sweaty clothing, water reservoir, etc.
Key clip
Inside compartment to keep your valuables safe
Helmet Mount
Ergonomically shaped vest shoulder straps
PFAS free
Specs:

Price: $260CAN / $210US

Weight: 480g / 17oz

Volume: 16L Colours: Glacier-graphite, Graphite-tin, Tumeric-teal

Camping Edition of the Best Summer Gear of 2022 you can find that over here and also be sure to check out our Best Summer Apparel over here.

Want to get a great deal on some new Camping Gear and help make this website possible in the process? Click the 'Buy Now' button and see what deals await you.