Best Camping Gear of Summer 2021 - VIDEO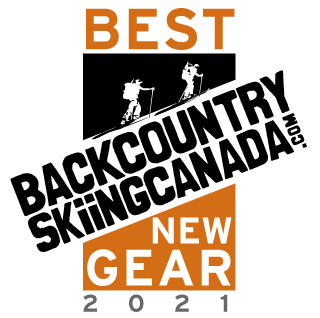 As the snow quickly melts from the high alpine it's time to turn our attention to summer adventures like hiking, camping, mountaineering, biking, and paddling. To make these activities as enjoyable as possible well-designed gear is a must and that's where our list of the Best Summer Gear of 2021 comes in.
We've researched all the new gear along with some existing classics to provide you with only the best of the best, which we've broken down into three categories: Camping, Apparel, and Accessories. Whether you need to replace an outdated, broken, or well-loved piece of gear—or are just in the market for something new, the following list should help ensure that your hard-earned money is well spent. If you are just window shopping that's ok too, nothing wrong with making a wish list for your upcoming birthday, Christmas, or just because.
Let's start off with the Best Summer Gear of 2021 in the Camping category and then we'll move onto the Best Apparel followed by the Best Accessories that you should simply not be without.
Peruse over the list and see what strikes your fancy and if inclined click the 'Buy Now' button and get a great deal too!

Big Agnes Fly Creek HV UL2 Solution Dye Tent

We initially

reviewed the Big Agnes Fly Creek Platinum Tent
back in 2016 and were impressed but Big Agnes didn't rest on their laurels and new for this spring is the Big Agnes Fly Creek HV UL2 Solution Dye Tent. This is an updated version of the three-season, semi-free-standing ultralight Fly Creek Tent with several new improvements and features. As you may have noticed in the name the Fly Creek HV UL2 Tent is now solution dyed which means that Big Agnes uses 50% less water, 80% less energy, and 80% fewer chemicals to dye the fabrics. This is a significant reduction in carbon emissions and water requirements, yet the fabric is still highly resistant to UV fade. Big Agnes is the first company to introduce a solution-dyed tent body and fly fabrics—Bravo Big Agnes.
Other improvements to the Creek HV UL2 are a larger vertical door entry-arch for easy in and out and a new steep-wall architecture for more internal headroom. They also simplified the setup with their proprietary tent corner construction and unique TipLok Tent Buckle that combines three functions, it secures the pole-tip capture, rainfly attachment/tensioner, and stake-out loop all in one. Also included are Big Agnes's new lighter, yet stronger Dirt Dagger UL Tent Stakes with patent-pending I-Beam aluminum construction which makes set up that much easier.
The Fly Creek HV UL2 is constructed using ultralight weatherproof materials with technical features that protect you from the harshest of weather. The higher internal height and longer footprint mean that there is more internal volume which makes camping more enjoyable for everyone.
Features:
Solution-dyed fabric is highly resistant to UV fade and drastically reduces energy consumption and water use during manufacturing, a process that is better for the environment and improves the quality of the tent fabric.
Newly expanded headroom and larger front entry with updated high-volume architecture and steeper walls.
Increased usable interior space without increasing weight using single-pole DAC Angle SF Hub, plus more usable volume added to the vestibule with vertical door construction.
Simplified setup with proprietary tent corner construction and unique TipLok Tent Buckle that combines three functions: secure pole-tip capture, rainfly attachment and tensioner, and stake-out loop.
Dual zipper, single-door with quick-stash door-keeper plus storm flaps on single vestibule door.
Perfect pitch and extra stability with velcro tabs that connect fly to pole structure.
Ready to pitch with pre-cut guylines and tensioners attached to fly.
Easy to pitch any time of day with reflective guylines and color-coded webbing on tent corners.
Storage and organizational features include two interior mesh pockets, one oversized media pocket, and integrated gear loft loops.
Clean earbud-cord routing from phones or other devices through media pockets located above the sleeping area. Keep interior dry with dual zipper, smooth-closing, dry entry/exit vestibule.
Includes lighter, yet stronger Dirt Dagger UL Tent Stakes with patent-pending I-Beam aluminum construction.
Specs:
Price: $539.95CAN / $369.95US
Trail Weight: 879g / 1lb 15oz
Packed Weight: 1.02kg / 2lb 4oz
Packed Size: 15 x 50cm / 6 x 19.5"
Floor Area: 2.6m² / 28ft²
Head Height: 107cm / 42"
Vestibule Area: 0.7m²/ 8ft²
Number of Seasons: 3
Number of Doors: 1

Jetboil Stash Stove

Jetboil's all-new Stash Stove takes lightweight / compact stove design to new realms with its 40% weight savings over the same size Jetboil Zip stove. The new Stash Stove weighs only 200g / 7.1oz (not including fuel) and doesn't sacrifice any of that iconic Jetboil performance, boiling 5 litres of water in just two and a half seconds. The .8L FluxRing Cook Pot comes with a lid that has a built-in drink/pour spout, a Titanium Burner Stove, and a Fuel Stabilizer Stand for safety and convenience. This all packs up (including your lighter or matches) into the pot into a very compact 11.2 x 13cm / 4.4 x 5.1in design. Lightweight, compact, and powerful cooking for 1 - 2 people was never so easy.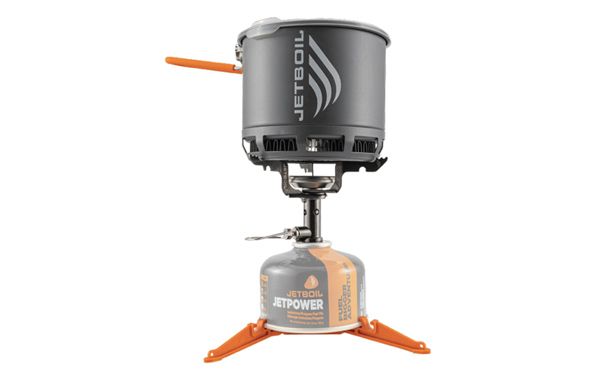 Features:
Stand-alone stove with titanium burner and .8L FluxRing cook pot is the lightest Jetboil system ever made.
FluxRing technology ensures a rapid 2.5 Min boil time.
Nesting design makes taking anywhere compact and easy.
Cook Pot with Lid and attached pour handle makes for easy handling.
Fuel stabilizer keeps everything stable and steady.
Storage for 100g JetPower Fuel Canister makes adventuring anywhere easy.
Specs:

Price: $169.99CAN / $129.95US

Weight: 200g / 7.1oz

Power: 1.32kW / 4500BTH/h

Volume: .8L

Boil Time: 2m 30sec per .5 liter (avg. over the life of Jetpower can)

Water Boiled: 12 litres per 100 g Jetpower can

Ignition Type: Match

Packed Dimensions: 11.2 x 13cm / 4.4 x 5.1in  

Sierra Designs Night Cap 35° Sleeping Bag

New for Spring 2021, Sierra Designs Night Cap 35° is an innovative take on traditional Sleeping Bag design. Based on their bestselling Cloud sleeping bag, the new Night Cap features a patent-pending zipperless design with an integrated comforter so it's more like sleeping in your bed than in a confined sleeping bag. This design not only improves comfort but also saves on weight and if you get hot during the night you can simply fold down the comforter portion of the sleeping bag (just as if you would in a bed) to regulate your heat. There is also a patented zipperless self-sealing foot vent that allows for additional ventilation and temperature regulation in case you are a hot sleeper of the weather warms. On the backside of the Night Cap you'll find an integrated pad sleeve that helps keep the bag and your sleeping mat together and prevents you from slipping off your pad throughout the night. The Night Cap uses recycled post-industrial fabrics and Repreve recycled synthetic insulation so it not only keeps you warm even if the insulation gets wet (unlike down) but it's also better for the planet. On the outside a 20D recycled nylon ripstop shell will protect you from the elements and on the side you'll find a 20D recycled nylon taffeta lining which is super comfortable and soft against your skin. The Night Cap is available in a 35°F, 20°F and W20°F temperature rating and in Regular (fits up to 6' 0") and Long (fits up to 6' 6") sizes. As well, a stuff sack and storage sack are also included.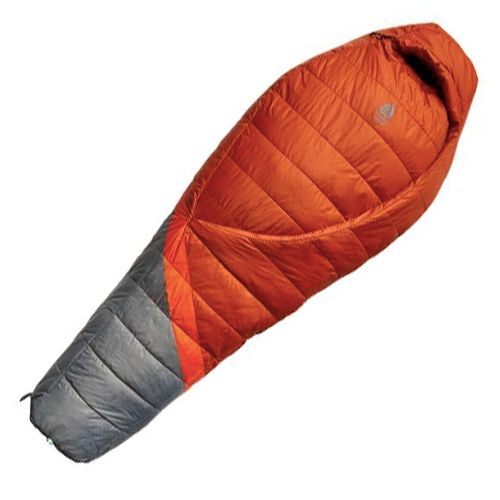 Materials:

Liner: 20D Recycled Polyester

Shell: 20D Recycled Polyester

Insulation: SierraLoft Eco Synthetic

Features:
Patent pending zipperless design for the ultimate comfort
Oversized integrated comforter gives you all the comforts of your bed at home
Insulated shoulder pockets keep comforter wrapped around you and seals out drafts
Patented self-sealing foot vent provides fast and easy ventilation
Integrated sleeping pad sleeve keeps pad under you for comfort and warmth
Hood cinch to keep in heat when the temps drop
Recycled materials reduce environmental impact
ISO tested
Stuff sack included for easy pack up and transport
Specs:

Price: $195.95CAN / $149.95US

Temperature Rating: 1.67°C /35°F, ISO Comfort Rating: 2.22°C / 39°F; ISO Limit Rating: -1.67°C /29°F

Weight: 1.011kg / 2lb 3.7oz

Stuff Size: 19 x 38cm / 7.5 x 15in  

Therm-A-Rest MondoKing 3D Sleeping Pad

A good night's sleep is crucial when camping and the best way to ensure this is with a big Therm-A-Rest sleeping pad such as the MondoKing 3D which uses 11cm / 4.25in of premium foam to keep you warm and comfy. While air-filled sleeping pads are ideal for backcountry camping if you are car camping then go with foam for its superior comfort and insulation. New for Spring 2021, the MondoKing 3D Sleeping Pad provides Therm-A-Rest's highest level of comfort and support and combines a plush next-to-skin feel with a 7.0 R-value to keep you warm in any condition or season. The MondoKing's StrataCore construction provides a lofty three-dimensional shape and is self-inflating which means set up is fast and easy. Should you want a little more firmness then the included Pump Stuff Sack will help you out by forcing more air into the mat. The integrated, easy-to-use TwinLock valve allows the pad to inflate three times faster and deflate five times faster which is super handy when you are trying to set up or take down camp quickly. Because of its foam construction, the MondoKing 3D Sleeping Pad provides a big cushy sleeping surface but still packs down well (for a foam pad). Treat yourself to the most luxurious sleeping pad there is, the new Therm-A-Rest MondoKing 3D, it can't be beat!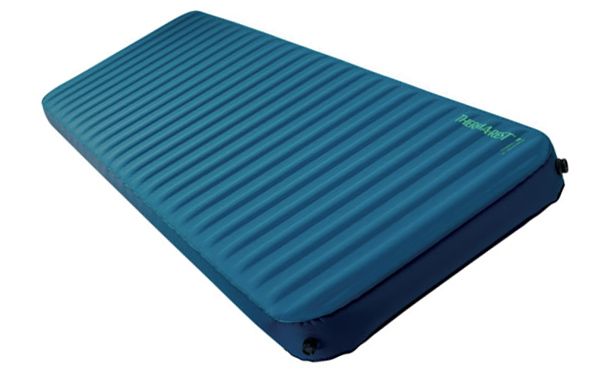 Materials:

Top: 50D polyester knit

Bottom: 75D polyester

Foam: Urethane Foam

Included: Pump Stuff Sack

Features:
Stable Comfort: 4in / 10cm of stabilized loft provides the comfort of home anywhere.
StrataCore Construction: Yielding an impressive warmth-to-weight ratio, StrataCore uses a continuous layer of thermal foam nestled between alternating ridges of air and foam.
Comfortable Fabric: Supple stretch knit fabric provides deluxe breathability and plush surface.
Giant Sleep Surface: Vertical sidewalls maximize useable sleep surface.
Incredibly Warm: Foam core delivers all-season warmth to assure a great night's rest anytime.
Easy to Pack: StrataCore construction allows the pad to easily compress and pack away.
Mateable: Mates perfectly with other 3D mattresses.
TwinLock™ Valve: Utilizing two one-way valves, one for inflation and one for deflation, the TwinLock valve system makes setting up and breaking camp a breeze.
Pump stuff sack included
Specs:

Price: $269.95 - $304.95CAN / $209.95 - $229.95US

R-Value: 7.0

Sizes: Large, Extra-Large

Weight: 1.99kg / 4lbs 6 oz (Large)

Dimensions: 64x196x11cm / 25x77x4.25in (Large)

Packed Dimensions: 66x26cm / 10.3x26in

Warranty: Limited Lifetime  

Tentsile Duo 2-Person Double Camping Hammock

Hammock camping gets you up off the cold wet ground and provides a unique alternative to traditional tent camping and now with Tentsile's new Duo 2-Person Double Camping Hammock you can enjoy this experience with your significant other or camping buddy.

The Duo is the latest addition to Tentsile's range of Camping Hammocks, and the World's largest double camping hammock. At 2.7m / 13ft in length, it easily fits 2 adults with room to stretch out, in two separate sleeping spaces. The seatbelt webbing reinforcements and Tentsile's Patented Anti-Roll floor system prevents occupants from simply rolling into the middle of the hammock and instead helps ensure that they get a good night's sleep.

Tentsile uses the same high-quality, robust materials in the Duo 2-Person Double Camping Hammock as it does in all of its 1-4 person hammocks and Tree Tents. Ideal for the campsite, the backcountry or the backyard, the Duo features underfloor storage nets to keep your gear clean and dry and is suspended with seatbelt webbing and heavy-duty ratchets. Unlike other hammocks, the Duo has very little sag and remains taut. It is also simple to pitch and incredibly comfy which makes it ideal for young families and kids.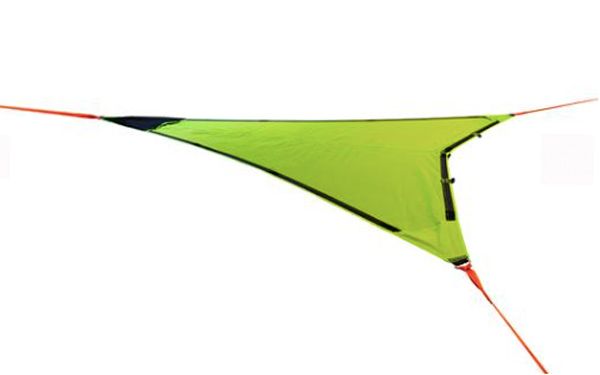 Included:
1 x Duo 2-Person Hammock Floor (Green Fabric or Black Mesh)
3 x Heavy-duty ratchet buckles (2.5-ton breaking strength)
3 x 6m / 19ft polyester straps
3 x tree protector wraps
Fabric:

Fabric Floor: 400D Nylon/Polyester composite, PU coated.

Features:
The Duo's unique tensioned anti-roll strap system not only reinforces the base but also creates 2 separate sleeping bays.
Suspended between 3 anchor points which when tensioned, creates a taut surface to lay on.
Designed to hold 2 adults in complete comfort.
880lbs/400kg weight capacity.
Comes in black mesh or solid green fabric.
Has 1,500hrs of UV exposure.
The double hammock is straightforward to set up and easily achieved by a single person.
The Duo comes with 2 underfloor storage nets, giving you plenty of space to store your belongings.
Specs:

Price: $380CAN / $299US

Weight: 7kg / 15.4lbs

Packed Size: 56x25x25cm / 22x9.8x9.8in

Floor Area: 4sqm / 43sqft

Dimensions: 4x4x2.7m / 13x13x8.85ft

Capacity: 400kg / 880lb

Options: Green Fabric, Black Mesh  

Spot Gen4 Satelite Messenger

Spot's new Gen4 Satelite Messenger is a redesign of the companies popular Gen3 version with a few welcome improvements. The first thing you'll notice about the Spot Gen4 is its sleek new look with improved side grip details and bold design features. The device is also now IP68 rated to protect from dust and water and on the tech side, the location tracking feature is now motion-activated instead of it just running continuously which saves on battery life.

For serious or weekend adventurers alike, the Spot Gen4 Satelite Messenger offers peace of mind and a critical, life-saving line of communication to the outside world when you are off the beaten track and away from cellular service. SPOT's Gen4 one-touch messaging options allow you to easily let others know you are ok and in the case of a real emergency, the Gen4 sends your GPS location to emergency responders with the simple push of the S.O.S. button. You're also able to send a custom pre-programmed message with your GPS location or alert your personal contacts that you need help in non-life-threatening situations. Your family and friends can also track your progress and location thanks to the SPOT Gen4's motion-activated tracking feature which automatically saves and then sends your location. You can also easily update those following you with a simple 'check-in' along the way that states that you are ok.

With a price point that is more than reasonable and service plans that are affordable, every adventurer should not be without the peace of mind that the Spot Gen4 Satelite Messenger can provide to you and your loved ones.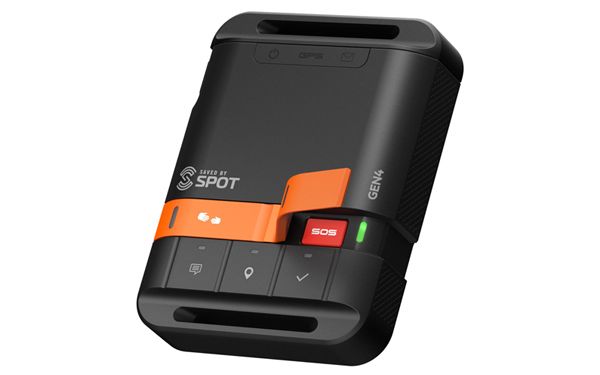 Included:
Spot Gen4
Carabiner and strap
USB cable
SOS sticker
Batteries
Documentation
Features:
SOS messaging sends rescuers your exact GPS location.
SOS messages are received by GEOS, a worldwide emergency response centre with 24/7/365 staffing.
The SOS button has a hard-plastic cover to prevent accidental activation.
Help function notifies your contacts of non-life-threatening emergencies. Additional SPOT assistance services can be purchased and programmed.
Satellite coverage works around the world, including the continental US, Canada, and Mexico (for coverage see SPOT's website).
Custom message and GPS location alerts your contacts with help alert (can be used in place of SPOT assist service).
The Check-in feature sends a pre-programmed message and GPS location to up to 10 contacts.
Track progress with location updates on cloud-based mapping, at 5, 10, 30 or 60 minutes to maximize battery life. Extreme tracking sends updates every 2½ minutes.
Motion-activated tracking sends signals when moving, saving battery when in camp.
Cloud-based mapping predetermines an area so you get GPS alert if you leave it.
2 subscription plans for year-round use, or flex plans for seasonal/month-to-month use.
IP68 dust and waterproofing can handle sandstorms or downpours.
Specs:

Price: $188.95CAN / $150US

Weight: 142g / 5 oz with lithium batteries

Dimensions: 6.8 x 2.4 x 8.8cm / 3.48 x 2.66 x .93"

Satellite network used: Globalstar

Service plans: Start at $12US per month (with annual contract) or at $15US per month (on a month-to-month plan).  

Petzl ZIPKA + CORE

While the

Petzl ZIPKA + CORE

are not new for Spring 2021, they are a classic that is worth including in this list of must-have gear. The ZIPKA is an ultra-compact headlamp that provides an impressive 300 lumens in a wide flood beam for proximity lighting and some movement. It uses a self-adjusting retractable cord (a Petzl patent) which makes it extremely compact and still provides several ways to wear it or mount it. The built-in phosphorescent reflector helps you find it in the dark, and there is also a red light option so that you can find your way around in the dark without waking others in your tent or cabin.

The ZIPKA uses three AAA batteries (alkaline, lithium or Ni-MH rechargeable) and has a burn time of 2-120 hours depending on which mode you use. It is also compatible with the Petzl CORE rechargeable battery, thanks to the HYBRID CONCEPT design. This is a high-capacity 1250 mAh Lithium-Ion battery that is rechargeable with the integrated USB port and included cable. The Petzl CORE provides an economical solution as the main power supply or as a backup battery for the ZIPKA.

If -9°C isn't adequate for you, the Phantom comes in a -18°C/0°F and -40°C/ -40°F versions as well as less warm 11°C/ 30°F option. Mountain Hardwear has you covered for high-alpine traverses, backcountry hut trips, and multi-week backpacking adventures with their Phantom line of Sleeping Bag.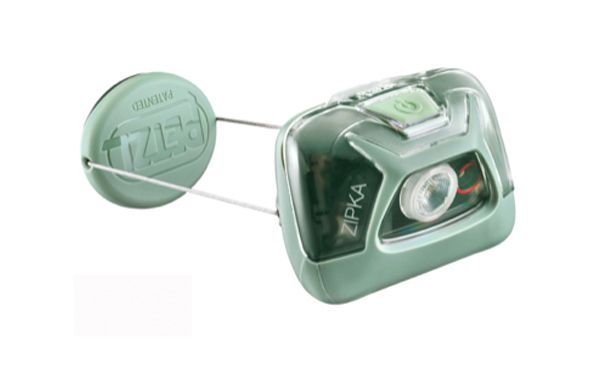 Materials:

Insulation: 850-fill goose down 90% Goose Down, 10% Goose Feather

Shell: 10D recycled shell 

Features:
Self-adjusting retractable cord.
Can be worn on the head, the wrist, or attached to a tent pole, a bike frame.
Three white lighting levels: proximity, movement, and distance.
Red lighting preserves night vision and prevents members of a group from blinding each other.
Single-button for quick and easy selection of brightness or light colour.
HYBRID CONCEPT design: comes with three standard batteries and is also compatible with the CORE rechargeable battery.
A phosphorescent reflector is useful for locating the lamp in the dark.
Easy universal charging via the USB port.
Charge indicator on the battery (red = charging; green = battery charged).
Performs well at low temperatures.
The economical and sustainable solution as main power supply or backup battery.
Comes with a charging cable.
Specs:

Price: $39.95CAN / $29.95US each

Brightness: 300 lumens

Burn Time: 2-120 hours

Weight: 66g / 2.3oz (ZIPKA); 23g /0.8oz (CORE)

Energy: Three AAA batteries (alkaline, lithium, or Ni-MH rechargeable) or CORE rechargeable battery

Watertightness: IPX4 (weather-resistant)

Recharge time: 3hrs  

Sea To Summit Ether Light XT Extreme Air Sleeping Mat

Sea To Summit has always made some of the best sleeping bags and sleeping mats on the market because they continually push the boundaries of what is possible and this is also the case with their new Ether Light XT Extreme Air Sleeping Mat.

With an R-value of 6.2 and a thickness of 10cm / 4", the new Ether Light XT Extreme is an ideal four-season sleeping mat for those looking for the ultimate in lightweight comfort. The XT's Air Sprung Cells and dual-density layers of THERMOLITE insulation keep you warm and comfy and prevent convective heat loss and internal air movement. At just 950g / 2.1lbs the Ether Light XT Extreme Air Sleeping Mat is lightweight while remaining very packable.

The secret behind the Ether Light XT Extreme Air's comfort is that each Air Sprung Cell deforms independently and allows the mat to conform to your body shape. This provides support and comfort by more evenly dispersing pressure across the mat's surface. Because of its extra thick size, there are larger pockets of air when inflated which means even side sleepers will be extra comfortable on the Ether Light XT Extreme Air Sleeping Mat.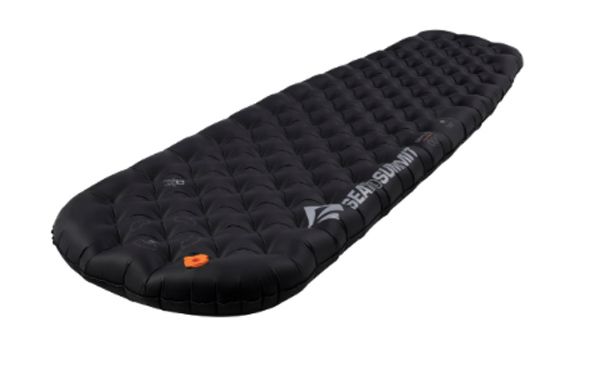 Features:
ASTM R-value of 6.2 is designed for cold-weather use.
Dual-density layers of THERMOLITE insulation.
Extra thick (XT) Air Sprung Cell construction for 10cm stable comfort.
Lightweight, quiet and grippy 30/40D Nylon face fabric.
Field repairable with included self-adhesive patches.
Ultra-Fresh anti-microbial treatment added to the TPU formula prevents internal mold growth.
Pillow Lock attaches an Aeros pillow to the mat.
Quick and easy inflation, deflation, and adjustment with the multi-function, high flow-rate valve and supplied Airstream Pump Sack.
Specs:

Price: $259.99 - $279.99CAN / $199.95 - $219.95US

R-value: 6.2

Weight: 950g / 2.1lbs

Sizes: Regular, Large, Rectangle Large, Rectangle Regular Wide

Dimensions: 198 x 64 x10cm / 78 x 25.2 x 4in (large)

Packed Dimensions: 18.5 x 18.5 x 28cm / 7.3 x 7.3 x 11in(large)  

MSR Guardian Gravity Purifier

New for Spring 2021 from MSR is their Guardian Gravity Purifier which is able to effectively remove viruses, bacteria, protozoa, sediment, and microplastics hands-free. All you have to do is fill it from a local water source, hang it, and go about your tasks around camp. The Guardian Gravity Purifier does all the work thanks to its 10L reservoir which can support the daily water/hydration needs of multiple people. The Guardian Gravity Purifier was originally designed to protect service members in the field so you know it's designed to be rugged and will be able to handle the abuse of your adventure. The Guardian Gravity Purifier of course meets the NSF P248 military testing standard so you can rest assures the water that it produces is very safe to drink.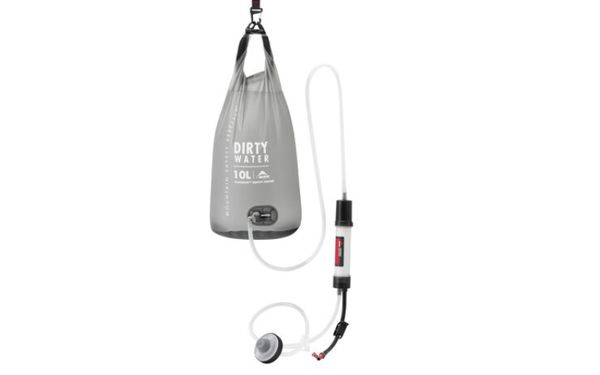 Features:
Ultimate Virus Protection: Meets NSF protocol P248 military testing standard for removing viruses (99.99%), bacteria (99.9999%), protozoa (99.9%), sediment, and microplastics from "worst-case" water conditions.
Better-Tasting Water: Two-stage purifier includes activated carbon to reduce chemicals and unpleasant tastes and odours.
Easy to Fill: 10 -liter reservoir is easy to fill at sinks and streams alike; covers daily water needs for drinking, cooking, and hygiene.
Simple Cleaning: No backflushing required—simply opening the purge hose flushes the system to clean it and maintain flow rate.
Fast-Flow Rate: Up to 1 liter in 2 minutes with optimal reservoir hang height of 6 feet, 2.5x faster than the next leading gravity purifier.
Engineered for Travel: Rugged, military-grade construction.
The compact system fits easily in carry-on luggage and smaller packs.
Fabrics:
MSR Front Range 4 Person Ultralight Tarp Shelter

20D ripstop nylon 1200mm Xtreme Shield polyurethane & silicone 

Specs:
Price: $349.95CAN / $249.95US
Weight: 0.53kg / 1lb 3oz
Dimensions: 10x30x10cm / 4x12x4in
Pore size: 0.02microns
Cartridge life: 3,000+ litres
Flow: 0.5 L/min
Effective against: Bacteria, Particulate, Protozoa, Viruses  

Gregory Katmai 65L Pack

For more than 40 years Gregory Mountain Products has been making expedition, backpacking, daypacks and travel gear, so they know a thing or two about packs. We were so impressed by their

Gregory Targhee 32 ski touring pack

that we wanted to test out their new for Spring 2021 men's Katmai and women's Kalmia packs which come in 55 and 65L options in the Katmai and 50 & 60L options in the Kalmia Pack.

Gregory uses their FreeFloat 36 dynamic backpack suspension system in the Katmai 65L Pack, it ensures that the pack flexes, rotates, and reacts to your body's every movement for maximum comfort on the trail. It's made of a ventilated, suspended mesh back panel that allows your back to breathe while carrying heavy loads without sacrificing comfort. The shoulder harness system is adjustable to fit your specific torso length from 38.1-48.3cm / 15-19" plus the customizable hip belt fits waists from 63.5-121.9cm / 25-48". All this combines to provide a 3D Comfort Cradle for hotspot-free, body-hugging comfort. With the addition of Polygiene's Stay Fresh Antimicrobial Treatment which Inhibits the growth of odor-causing bacteria, it means that the entire back panel and suspension system is guaranteed fresh for years.

The stand-out features on the Katma 65L Pack include a stretch mesh shove-it pocket on the front, side stretch pockets and 4 compression straps on the sides, 2 zippered hip belt pockets to keep small personal items handy, a Sunglass QuickStow System which holds your shades without scratching them, ComfortGrip molded zipper pulls and much more. Gregory also uses recycled materials and a PFC-free water-repellent coating to reduce the Katmai's environmental impact and its carbon footprint by 28% compared to a conventional nylon pack.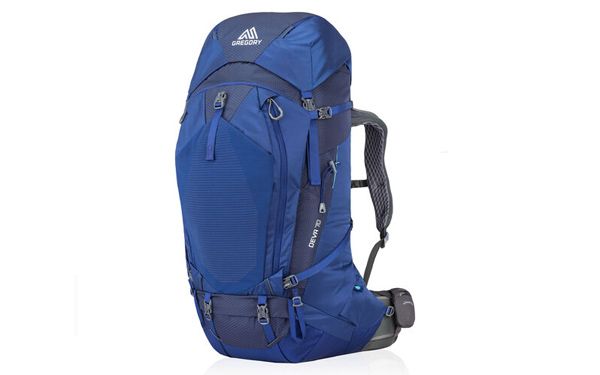 Features:
FreeFloat suspension system is light, dynamic, and breathable.
Katmai 65 Plus is adjusted to provide fit and comfort to suit a wide range of body types.
3D Comfort Cradle system allows the hip belt to pivot as you walk, improving balance on uneven terrain.
Adjustable shoulder harness to fit your torso length.
Plus size-specific harness and hip belt provide a better fit for diverse sizes and shapes.
Polygiene Stays Fresh antimicrobial treatment on the back panel, hip belt, and harness.
Sliding sternum strap with an integrated whistle.
The floating lid and spindrift collar accommodates different size loads.
Stretch mesh shove-it pocket fits a shell jacket and secures with a single buckle.
Side stretch pockets and 4 compression straps.
2 zippered hip belt pockets keep small personal items handy.
Bottom compression straps to reduce the volume or hold extra gear.
Sunglass QuickStow system holds your shades without scratching them.
Interior Nano connect toggles let you attach a Nano 14 daypack (sold separately).
Custom ComfortGrip molded zipper pulls and molded webbing keepers for strap management.
Quick-pull drawcord closure and top webbing compression.
Zippered bottom sleeping bag compartment with removable divider.
Adjustable attachment loops and upper shock locks for trekking poles or ice axe.
Specs:

Price: $369.95CAN / $279.95US

Volume: 65L / 3966cu in

Weight: 2.149kg / 4lbs 11.8oz

Colours: Volcano Black, Empire Blue

Sizes: SM/MD, MD/LG

Fits Torsos: 38.1-48.3cm / 15-19"

Fit's Hips/Waist: 63.5-121.9cm / 25-48"

Max Carry Weight: 20.4kg / 45lbs

Guarantee: Lifetime

 

VSSL First Aid

They say 'safety first' and for good reason as accidents always seem to happen at the most inopportune times. With the new VSSL First Aid kit, you can always be prepared with the supplies you need. The long list of contents in the VSSL First Aid canister below all fit into a sleek, durable, compact military-grade aluminum canister which keeps the contents safe and dry since the canister is completely waterproof.

If you are looking to save on weight and space then VSSL also makes a First Aid Mini version for $95CAN / $70US. It contains fewer items and is quite a bit smaller and lighter so it is more ideal for backpacking and adventures farther afield.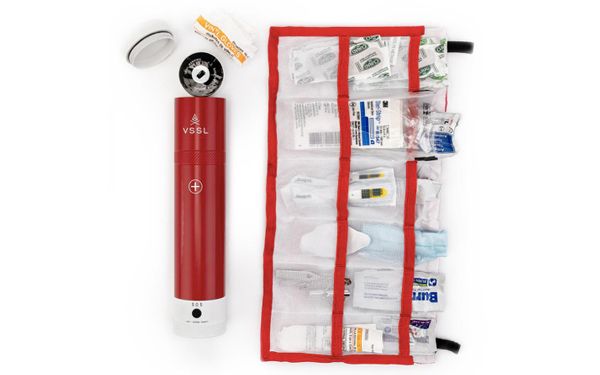 Included:
200 Lumens LED light (flood beam)
Oil-filled precision compass
Multi-use tape
4 large bandages
4 knuckle bandages
2 packs of 3M Steri-Strips
2 disposable thermometers
4 antiseptic towelettes
10x butterfly bandage
2 antibiotic cream packs
2 burn cream packs
1 Non-Medical Mask
1 whistle
1 tweezer
4 safety pins
1 gauze pad
1 pair of medical gloves
Blister Pads
Features:
Made from military-grade aluminum
Waterproof - keeps your first aid gear dry
Lifetime Warranty
Lightweight
Ultra-Packable Design
Specs:

Price: $165CAN / $125US

Dimensions: 23.8 x 5cm / 9.375 x 2"

Weight: 480g / 1.06lbs

ORCA 20 Quart Cooler

The Orca 20 Quart Cooler is made for hot summer days and will reportedly keep contents cold for up to 10 days if you follow the manufacturer's recommendations. It can hold up to 18 cans or 15 bottles and if that's not big enough then Orca also makes 26, 40, 58, 75, and 140 Quart versions. The durable Roto-moulded construction can take a beating and uses an integrated lid gasket to ensure a perfect seal which helps keep in the cold. The built-in drain plug provides easy drainage of any unwanted meltwater or liquids. On the back, there is an affixed cargo net to hold camping and beach essentials and a single flex-grip stainless steel handle on top allows for easy transport if you don't want to use the two built-in side handles. On the front, there are two flexible latches in the shape of the Orca logo (a whale tail—naturally) along with a hole through the lid and body that can be used to lock the cooler shut to prevent animals from getting into it.

This full-featured 20 Quart Cooler is reasonably priced and built like a tank to keep all your summer beverages as cold as you like them.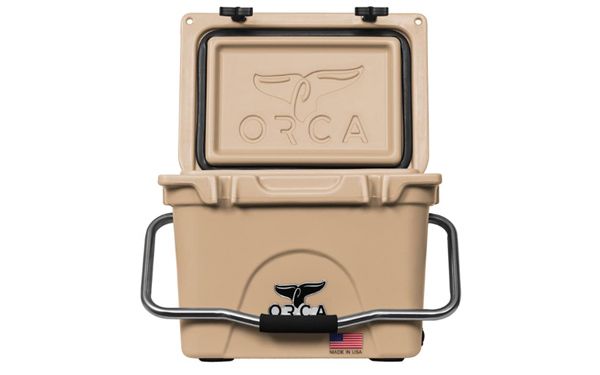 Features:
20-quart storage capacity.
Durable, roto-molded construction.
Integrated insulation for maximum ice/cold retention and freshness of your stowed items for up to 10 days.
Lid gasket to ensure a perfect seal.
Single flex-grip stainless steel handle for simple solo portage.
Cargo net attachment for added storage.
Easy-flow drainage spout.
Specs:

Price: $251.26CAN / $199.99US

Weight: 8.16kg / 18lb

Dimensions: 35.6 x 25.4 x 27.9cm / 19 x 14 x 16in

Volume: 19L / 20Quarts

Colours: White, Lime, Tan, Seafoam, Pink, Red, Light Blue, Navy, Green, Blaze Orange, Charcoal, Black

Warranty: Limited Lifetime  

Thermarest Vela Double 20F/-6C Quilt

Stay warm and comfy, snuggle up to your sweetie and be able to pack lighter on your next camping trip with the Thermarest Vela Double 20F/-6C Quilt. It's built for two and this cozy quilt is insulated with high loft 650-fill Nikwax Hydrophobic Down so it's as warm as it is comfortable. Since it is a quilt and not a sleeping bag it saves on weight and bulk as it has no underside and by being able to accommodate two people it is far less heavy and bulky than two full sleeping bags. Full-perimeter side baffles protect you from drafts while an elasticized, insulated foot box keeps your feet extra warm. There are built-in perimeter snap loops designed to mate with another Therm-a-Rest quilt, blanket, or sheet if you prefer to be surrounded on both sides in more of a traditional sleeping bag style experience. This roomy quilt has plenty of room for two and is not as confining as a sleeping bag so you are able to move around in your sleep if you need. A stuff sack and storage sack are also included.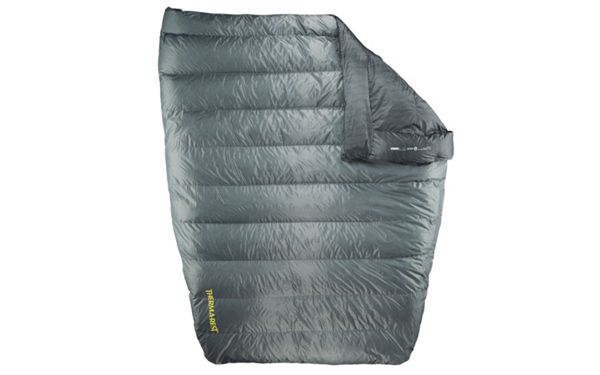 Fabrics:
Shell fabric: 20D Polyester w/ DWR
Fill: 650 Fill Duck Nikwax Hydrophobic Down RDS
Lining fabric: 20D Polyester Taffeta
Features:
650 Fill Nikwax Hydrophobic Down: Absorbs 90% less water and dries 3 times faster without using dangerous PFCs.
Box Baffled Construction: Uses mesh walls to maximize down loft and minimize cold spots.
Draft Protection: Full-perimeter side baffles keep out unwanted drafts.
Thoughtful Foot box: Precisely shaped foot box can slip over your pad to eliminate drafts or over your feet for extra warmth.
Build a System: Pair with another Therm-a-Rest quilt, sleeping bag, blanket, or sheet to build a layered system.
Responsible Down Standard Certified: Certification that ensures that the waterfowl in the down supply chain are treated humanely.
Stuff sack and storage sack included
Specs:

Price: $485CAN / $369.95US

Weight: 1.27kg / 2lbs 13oz

Dimensions: 208 x 203cm / 82 x 80in

Packed Dimensions: 23 x 41cm / 9 x 16in

Temperature Comfort: 0°C / 32°F

Temperature Limit: -6°C / 20°F

 

Black Diamond Onsight 375 Headlamp

Black Diamond's new Onsight 375 Headlamp was designed specifically for climbing (as the name suggests) and offers a dual-beam configuration. The 300 lumens main Climbing Mode is optimized for illuminating climbing holds or a trail that is directly in front of you thanks to the wide evenly dispersed light. The secondary Route-Finder Mode adds a powerful, narrow, long-distance beam and increases the total max output to 375 lumens allowing you to spot anchors or search for trails off in the distance. By touching either the right or left side of the front housing you can switch between Climbing Mode (Spot) and Route-Finder Modes (Flood) using Black Diamonds innovative PowerTap technology.

Instead of using the included three AAA batteries the Onsight 375 Headlamp also works with Black Diamond's rechargeable BD 1800 Li-ion battery which provides more burn time in all three modes (sold separately).

The design of the Onsight 375 Headlamp is such that it is ultra-thin and has extra articulation built into it allowing you to get close to the wall and still see everything around you. It also has the highest waterproof rating of IP67 which means that it's fully submersible and dustproof. The Onsight 375 Headlamp is completely sealed and therefore totally reliable if you're caught out in the rain.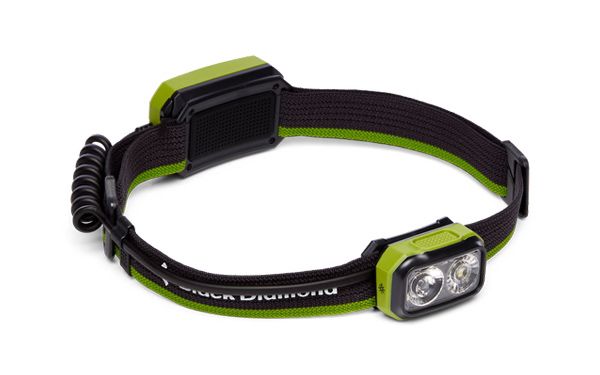 Features:
Dual-beam configuration, providing the two main lighting modes climbers need most: Climbing Mode and Route-Finding Mode.
Climbing Mode illuminates the holds or trail directly in front of you with 300 lumens of wide evenly dispersed light.
Route-Finder Mode adds a powerful, narrow, long-distance beam and increases the total max output to 375 lumens.
Dual PowerTap technology easily toggles between Climbing and Route-Finder Modes by touching either the right or left side of the front housing.
Dual-Fuel: Maximum flexibility to utilize either the rechargeable Lithium-Ion BD 1800 battery or Alkaline cells (included).
Ultra-thin front housing with extra articulation.
Perforated elastic headband for breathability and lightweight performance.
Six-setting 3 LED battery meter.
Brightness Memory allows you to turn the light on and off at a chosen brightness without reverting back to full or mid-power.
Digital lockout feature safeguards against accidental use when stored in a pack or pocket.
IP67: Waterproof and dustproof—Unit is completely sealed and tested to operate up to 1 meter underwater for 30 minutes. Requires no maintenance after submersion.
Specs:

Price: $79.95CAN / $59.95US

Weight: 135g / 4.75oz

Colours: Graphite, Aluminum, Rose, Octane

Battery: 3 x AAA or BD 1800 Li-Ion Battery

Lumens: 375

Burn Time: BD 1800 Li-Ion Battery Max - 5hs, Medium - 13hrs, Low - 110hrs AAA Alkaline Batteries Max - 4.5hrs, Medium - 12hrs, Low - 72hrs

Warranty: 3 years

 

GSI Pinnacle Pro Stove

GSI's highly anticipated Pinnacle Pro Stove is slated to be available this spring and is changing the boundaries of what a camp stove can be thanks to its rugged, compact and modern design. GSI spent 4 years designing the new Pinnacle Pro Stove to give us the thinnest, high-performance dual-burner stove on the market. At just 3.5cm thick when folded, the Pinnacle Pro Stove is ultra-thin yet it still provides a full-size camp stove cooking experience with its easy ignition, folding windscreens and locking legs. It is made of rugged stainless steel and incorporates two 11,000 BTU regulated burners with push-button Piezo ignitions. The in-use dimensions are 20" x 12.4" x 1.4" and when you open the unit the innovative design extends two pot supports and when you close it they retract so there is plenty of room and support for cooking with two posts or fry pans at once. To aid in cleaning these supports rotate out of the way and the integrated non-stick coated drip pan catches any boil-overs or messes that may occur. Be sure to check out the new GSI Pinnacle Pro Stove when it's available this spring as it will take your camp cooking experience to new heights.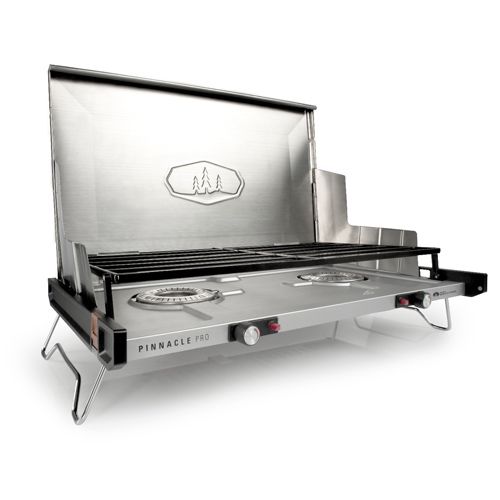 Features:
Packs down to 1.4″.
Dual 11k BTU compact regulated propane burners.
Dual piezo ignition.
Simmers.
Unique non-stick coated drip pan for easy, low-water clean-up.
Suitable for all propane 1 lb. fuel canisters or LPG tanks with the appropriate adaptor.
Folding locking legs for full height table-top cooking and efficient storage.
Unique linkage expands pot support when opening stove cover and retracts with closing.
Rugged, stainless steel case ensure long life.
Pot support grate rotates for ease of stove cleaning.
Integrated carry handle for ease of transport.
Durable storage sleeve for additional protection.
Specs:

Price: $199.95CAN / $169.95US

Fuel: Propane

Output: 2 x 11,000BTU

Dimensions: 50.8 x 31.5 x 3.5cm / 20.0 x 12.4 x 1.4″

Weight: 4kg / 9lb

   
 
---
Klymit Maxfield Tent

For Spring 2021, Klymit introduced their new Maxfield Tent line which includes a 4-person and 2-person tent configuration. These three-season tents feature a lightweight structure designed to provide a roomy and comfortable interior space with good packability and intelligently designed storage. With three interior mesh storage pockets and a large 1.2sq m / 12.5sq ft vestibule, the Maxfield Tent has plenty of usable interior space for two people. Sil-nylon fabrics and premium aluminum hardware maximize strength without sacrificing weight and the innovative roll style stuff sack or "Maxfield Mat" as it's called ensures a clean work surface for tent set up and ease of repackaging. The Maxfield 2-person Tent is ideal for backcountry camping adventures while the 4-person is perfect for those car camping families that may want to venture away from the road on occasion without the weight and bulk of a car camping tent slowing them down.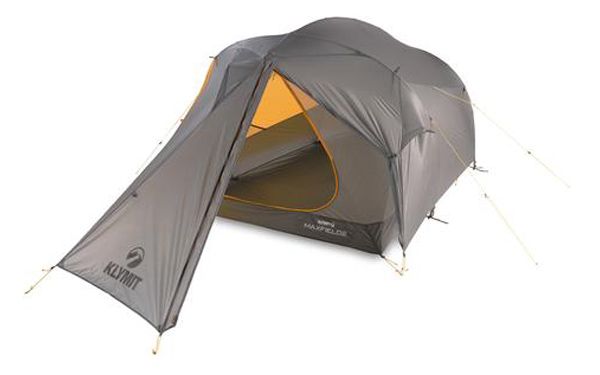 Included:
Rain Fly
Tent Body
Maxfield Mat
10 Aluminum Stakes with storage sack
Fully Connected Pole system with storage sack
Features:
Tapered tent design creates a spacious living area at an incredibly lightweight.
Innovative roll style stuff sack ensures a clean work surface for tent set up and ease of repackaging.
Large vestibules provide storage for all of your adventure gear.
Spacious front vestibule for quickly accessed items.
Interior access to rear vestibule.
Two interior mesh storage pockets.
Three port ventilation optimizes airflow, decreasing condensation.
Fast fly capable.
Specs:

Price: $482.32CAN / $399.95US

Pack Weight: 1.9kg / 4.2lbs

Trail Weight: 1.7kg / 3.8lbs

Floor Area : 2.7sq m / 29.3sq ft

Floor Dimensions: 218 x 127cm / 86 x 50in

Vestibule Area: 1.2sq m / 12.5sq ft

Peak Height: 112cm / 44in

Pack Size: 48 x 15cm / 19 x 6in

Capacity: 2 person

Season: 3 seasons

   
 
---
Osprey Aether Plus 70

The men's Aether and women's Ariel packs have been staples in Osprey's pack line for 25 years and are their premium backpacking bags that are full-featured and designed to carry heavy loads with ease. Both the Aether and Ariel have been updated for this Spring with several improvements. The Aether comes in a Plus 60, 70, 85 and 100 as well as the standard Aether 55 and 65; the women's is available in the Ariel Plus 60, 70, 85, and the Ariel 55 and 65. We tested out the Aether Plus 70 and found it to be even better than

the previous version which we reviewed

four years ago.

The Aether Plus 70 is ideal for a week-long adventure on the trail or a gear-intensive weekend objective as it provides a stable and comfortable carry for loads of 30-60lbs. You can customize the fit on the fly with the hip belt and shoulder strap and for those summit bids, you can use the removable top lid which quickly converts to a roomy daypack. Some of our other favourite new features include the included rain cover that is stowed in its own zippered pocket, Dual front panel zippered pockets for easy-access storage, and the large front panel zip access to the main compartment.

Constructed with high-quality bluesign-approved high-tenacity nylon and PFC-free DWR, the Aether Plus 70 is not only well designed and performs well in the field, but it's also made with preserving the environment in mind.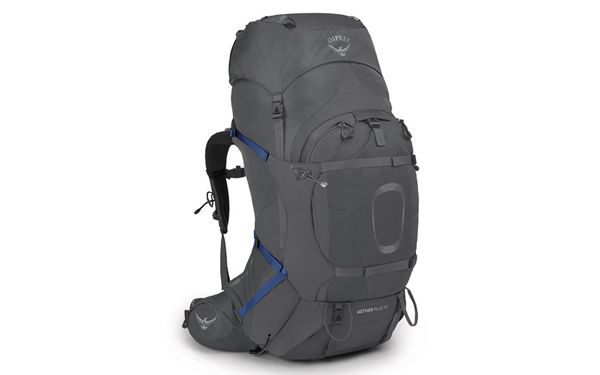 Fabrics:
MAIN - bluesign-approved 210D high-tenacity nylon, PFC-free DWR
ACCENT - bluesign-approved 210D high-tenacity nylon honeycomb contrast, PFC-free DWR
BOTTOM - bluesign-approved 210D high-tenacity nylon, PFC-free DWR
Features:
The removable top lid converts to DayLid daypack.
Included rain cover made with PFC-free DWR and bluesign-approved materials.
Stow-on-the-Go trekking pole attachment.
Floating top lid with lash points.
Integrated FlapJacket cover for lidless use.
Dual front panel zippered pockets for easy-access storage.
Large front panel zip access to the main compartment.
Fabric reinforced front shove-it pocket.
Large dual-access stretch mesh side water bottle pockets.
Dual upper/lower side compression straps.
Dual front-panel compression straps with StraightJacket compression.
Dual zippered hip belt pockets.
Dual ice axe loops with bungee tie-offs.
Zippered sleeping bag compartment with removable divider.
Removable sleeping pad straps.
Internal hydration reservoir sleeve.
Specs:

Price: $460CAN / $360US

Weight: 2.8kg / 6.171lbs

Volume: 70L / 4272cu in (size large)

Sizes: Small/ Medium, Large/Extra Large

Colours: Eclipse Grey, Axo Green, Black

   
 
---
 

Want to get a great deal on some new Camping Gear and help make this website possible in the process?  Click the 'Buy Now' button or any of the images in the gear widget below and see what deals await you.