Petzl Zipka Plus 2 with Core rechargeable battery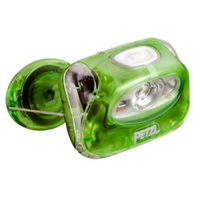 We've all done it. Taken longer on that climb than we anticipated, been slowed by injury or weather, or benighted by any number of factors. And I'd bet a good number of us have struggled back to the car in the dark, tripping over roots and rocks, because we were going "fast and light", and we wouldn't need a headlamp weighing down our pack - there's no way we would still be out after sunset. Reality check – stuff happens, and a headlamp is an essential piece of equipment. With today's super small, super light lights there really is no excuse to not carry one.
Petzl is a world leader in headlamp technology and reliability. Most outdoorsy people probably have one of the bulkier, bright, long lasting ones with the colourful headbands and heavy battery packs somewhere in their gear closet. I wouldn't blame you for not wanting to lug that one around, "just in case". The pocket-sized Tikka and Zipka lights, however, can be taken anywhere, and the new versions are every bit as bright, durable, and long-lasting.
The Zipka Plus 2 is a tiny powerhouse that will ensure you get back to the tent/ cabin/ car without skiing or walking off the edge of the mountain. For a water-resistant little package of just 71g with AAA batteries, you get a 40m distance of 70 lumens (that's bright!), with an estimated battery life on 3 AAA's of 70 hr in maximum mode, which can be stretched to 185 hr by using economy mode and not fiddling too much with the optional features. Those features include 3 white light settings: maximum, economy, and strobe, and 2 red light settings: maximum and strobe, which are great for fussing about in the tent or woods at night, or for adding a safety light in rescue situations, or just biking home at night. It's dead easy to switch between modes using the single large button, which has never accidentally turned the light on in my pack in the 2 years I've had it. There is also a battery indicator, which is a welcome bonus when you're trying to decide whether to plunk new batteries in before that traverse, or try to milk one more trip out of the ones you have. The zip strap retracts fully into the unit to make a super-compact package, and is very versatile for attaching the headlamp to poles, tent gear lofts, packs, bike handlebars, and heads. It's made of a very durable dyneema, which really does stand up to a lot of abuse. I find myself using this little powerhouse constantly, because it's always close by and convenient.
If you don't want to bother with batteries, then pick up the new Core lithium ion rechargeable battery for the Zipka and Tikka headlamps. The little unit fits into the headlamp where the batteries sit, and increases the depth of the lamp by about 0.5cm. It weighs about the same as 3 AAA batteries. You can charge it up with its USB cable without removing it from the headlamp, and its estimated total life is equivalent to 900 AAA batteries! It also has its own multi-stage battery indicator light to advise you of when it's time to recharge. But this isn't simply a rechargeable battery, this is a smart battery! With Petzl's free software downloaded to your computer and the battery pack plugged in with its included USB cable, you can customize the performance of your headlamp to maximize brightness or extend battery life. The factory-preset mode operates as AAA batteries do, namely, the brightness of the light decreases progressively as the battery is exhausted, which extends the life of the light as much as possible. With the Petzl operating system customizing your light use, you can choose to have the brightness maximized until the battery is done, then it will simply go dark, instead of fade. These modes can be chosen independently for the bright (maximum) light, and the dimmer (economy) light. You can also adjust the light output of the lamp using the Petzl OS, from 4-100%. The software is intuitive and easy to use.
All in, this is easily the best headlamp I have ever owned. Its size, weight, portability, and ease of use make it super functional for me. I look forward to it saving my bacon on many sunset retreats in the future!
Front and centre.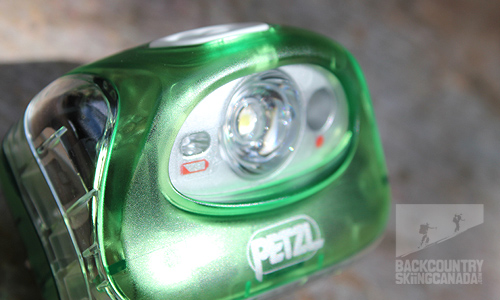 Back shot with retractable cord system.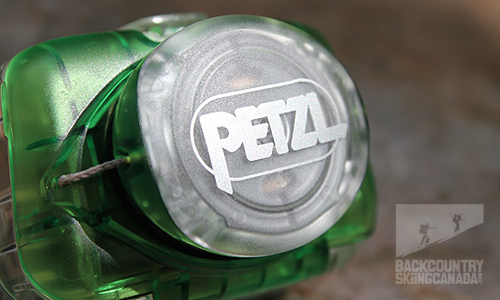 Helmet compatible.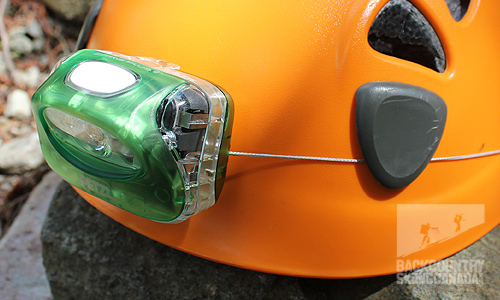 Battery mode.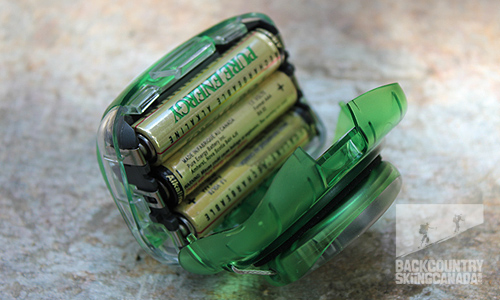 Rechargable Core battery inserted.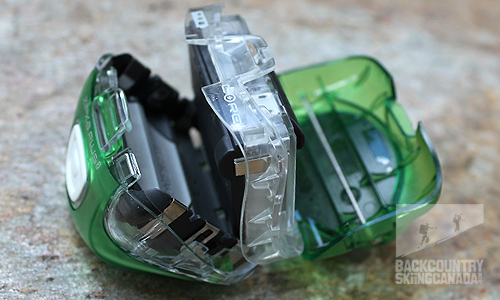 Split shot.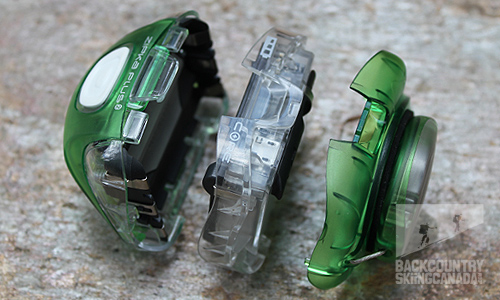 High beams on.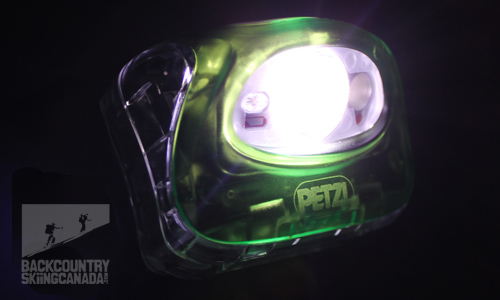 The bracelet light.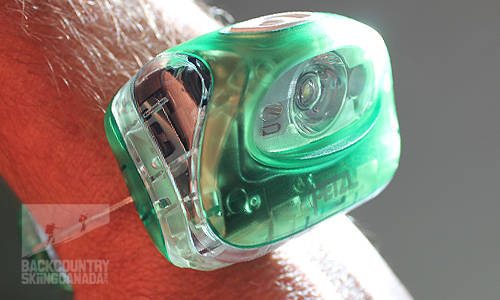 Recharging the Core via USB connection.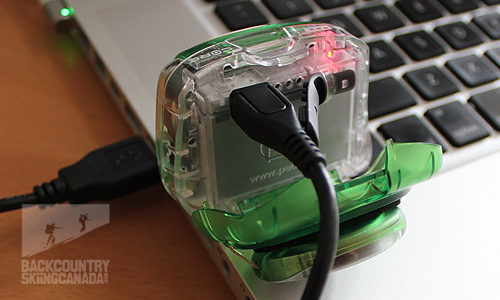 Intuitive Petzl software to customize your Core battery.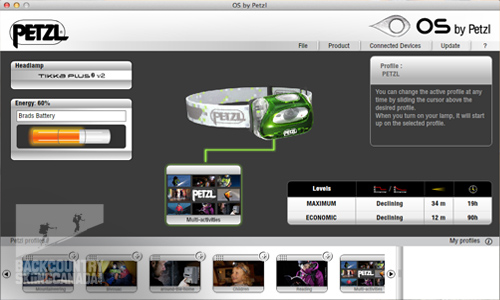 Verdict:
The Petzl Zipka Plus 2 headlamp with the Core battery pack is not just a back up emergency light, but can be used as your primary headlamp, saving precious weight in the pack, and delivering solid performance that can be tailored to any user's preferences.   
SPECS:
Price: Zipka Plus 2 $45.95 US
Core battery pack: $39.95 US
Weight: 71g / 2.5oz
Max battery life: 185 hours
Max lighting distance: 40m / 131ft
Max light quality: 70 lumens
PROS:
Small, lightweight package, long lasting bright light, conveniently rechargeable and customizable battery management
CONS:
Long haired users beware the zip strap! use carefully. There is no vertical angle adjustment on this model. The compatibility with a climbing helmet can be precarious. Hopefully the retractable cord system stands up to wear and tear.
Rating: 8/10
Ease of use       1/2
Features           1.5/2
Quality             1.5/2
Size / Weight    2/2
Price                 2/2

This is only our opinion. Do you disagree? Did we miss something? Are we totally out to lunch? Join the discussion in the forums here, and let us know what you think. People like/dislike gear for different reasons so chime in and we'll get a well-rounded evaluation.
Back to the rest of the reviews.
---