The V6 skis are a slimmer version of the V8's but this doesn't mean that they aren't a powder ski. At 100mm underfoot with a wide 132mm shovel and an early rise tip there's plenty of float to make any pow junky smile. Their slimmer shape provides smooth flowing turns on the mandatory corduroy these days due to the less than average start to the ski season. They're also a capable dance partner in tight trees if the low snow cover doesn't dampen your spirits to venture off-piste. The balance between tradition camber, taper and early rise is spot on for most conditions one would encounter in bounds or out. The Voile V6 skis can be described as a more playful version of the V8 skis and for good reason, they simply impressed both on the up and the down.
We mounted the Voile V6 skis with Marker's F10 Touring Bindings, if you want to know more about them read the full review here.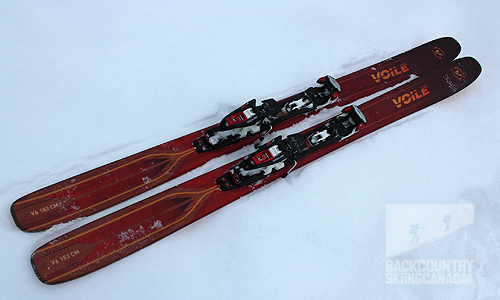 Features:
- Aspen core
- Carbon fiberglass laminate construction
- Next-Gen Hybrid Rocker
- Traditional camber underfoot with a rockered tip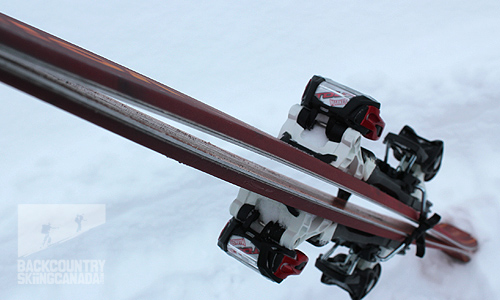 - Early rise tips.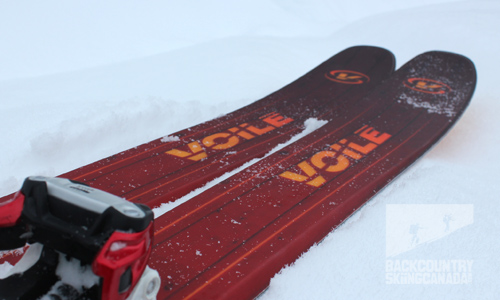 - Slightly raised and tapered tail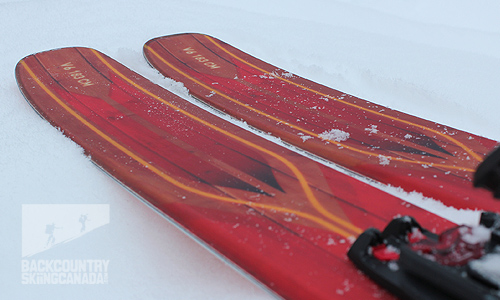 - Cap construction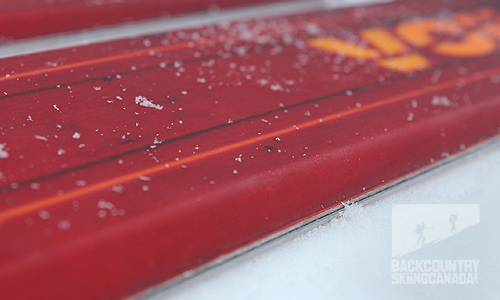 The tips and tails from the vertical perspective so you can really get a feel for them.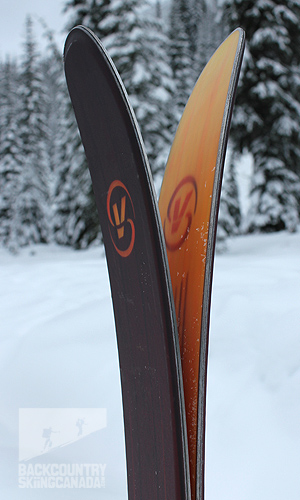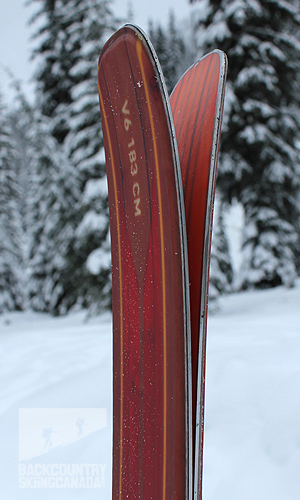 Verdict:
As I mentioned previously, the winning formula of the V8 skis is built right into the V6's but now they are lighter and even more fun which makes me smile. It was evident with my in bounds testing at the Whitewater Ski Resort that the narrower shape provides superior edge grip. They were responsive and easy to put on edge and manoeuvre around trees and just laying out tight radius turns. They were soft enough to be forgiving but still able to rail a turn on hard pack. Initiating a turn was pretty effortless and powering through was where the fun factor got cranked to 11. They love to go fast just like the V8 skis and seem to ride on rails. If there is any ice or chunder however then expect some tip chatter, however slight, given the early rise tip. Fast and fluid was the name of the game inbounds.
Out of bounds touring around Whitewater Ski Resort the Voile V6 skis were light on the up track, compare their weight with the Voile Charger or V8 Skis and you'll see why. The shovel was plenty wide and combined with the early rise tip, levitation over the snow seemed possible. I'd classify the V6 skis as a mid fat ski that tours pow well and isn't too much ski to carry up the mountain. They were floaty and fun but could also handle adversity. If over the head face shots are your staple then the V8 should be your ride of choice but who ever gets what they truly want more than just occasionally?
If I had to be hyper critical of the Voile V6 Skis then I could only raise two minor points. First is that other skis can handle crud and junk snow better than the V6's but the added weight required to do so would slow you down on the up-track and the backcountry is mostly pow, at least when I venture out. The second is the slight tail rocker on the V6's was noticeable on tight switch backs which seemed to be prevalent this season as you had picked your way around a mine field of obstacles given our slow start and minimal snow coverage. Again, both minor points.
So to summarize I would have to say that the Voile V6 Skis also "fire on all cylinders" only they require less gas to get you where you want to go (if you get my drift). They're a solid touring ski from tip to tail, Voile has done it again!
Front and back symmetrical graphics.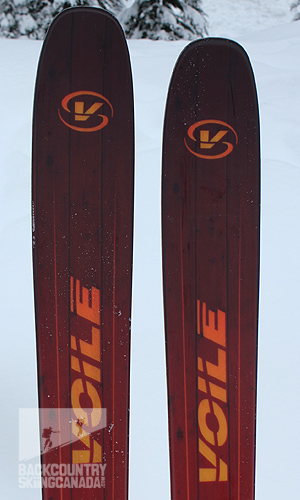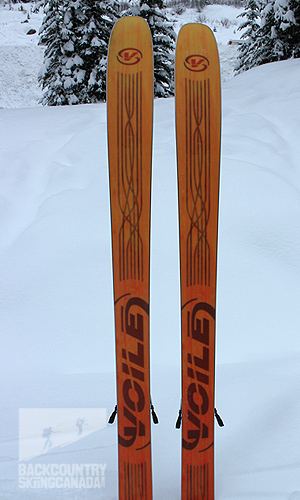 And one last parting glamour shot.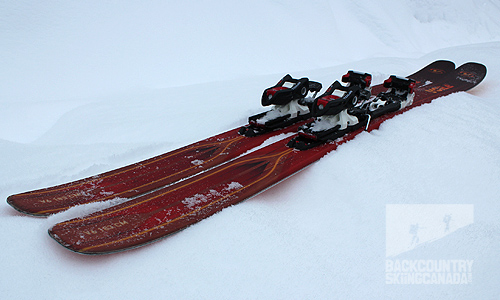 SPECS:
Price: $650 US
Lenghth: 163, 173, 183, 188cm
Dimensions: 132/100/113cm (183cm length)
Radius: 19m
Weight: 7lbs 6oz./3.35kg
Awards: Freeskier Editor's Pick, Powder Skiers Choice, Wild Snow Ultimate Quiver, Backcountry Magazine Editor's Choice
Warranty: Lifetime
PROS:
- Light weight
- Reasonable price and made in America (really!)
- A true quiver of one ski
CONS:
- I'd prefer a less tapered tail to better hold my skins tail clips and also finish a turn with more gusto
- Top sheet graphics are not my thing but they grew on me
Rating: 9.5/10
Powder Performance 1.5/2
Groomer Performance 2/2
Stability 2/2
Weight 2/2
Value 2/2

Join the discussion in the forums here, and let us know what you think. People like/dislike gear for different reasons so chime in and we'll get a well-rounded evaluation.
Back to the rest of the reviews.
---