Voile V6 Skis - VIDEO REVIEW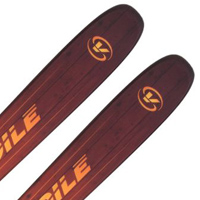 Last season we reviewed the Voile V8 Skis and were thoroughly impressed. I believe the exact words were that they "fire on all cylinders" and the same can be said about the more svelte and nimble Voile V6 Skis. So much so that we've awarded them our Gear of the Year Award!
Weighing in 300 grams less means that chugging up the skin track just got 10 per cent more enjoyable and it's without feeling a sacrifice on the way down. Sure the V6 Skis aren't as fat as their big brothers with 22mm less girth in the shovel, 5mm less underfoot and 17mm less in the tail, but this makes them that much more of an all round crowd pleasing "do-it-all" ski.
Have a quick watch of our video review below then read all the details in the full written review over here.