Efficiency
Marker have used what they call Hollow Frame Technology to dramatically reduce weight whilst provide real stability. Essentially a fiber-reinforced frame is created using gas injected hollow construction.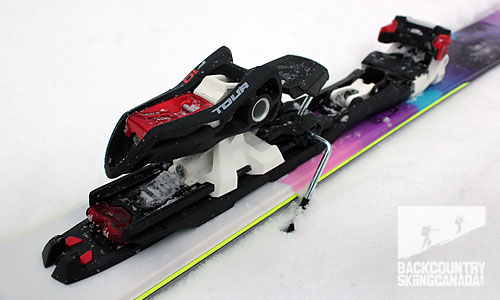 Inside the compact toe system a hollow stainless steel pivot point provides higher stability without adding weight. Additional Teflon® coating on the bottom and sides reduces snow adhesion.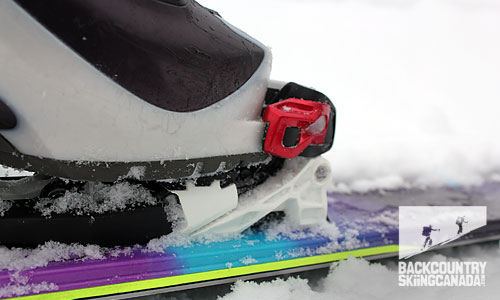 A rubber sleeve around the AFD screw keeps snow and ice from sticking.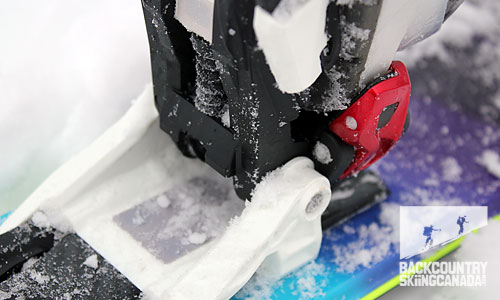 A moveable AFD (anti friction device) under the ball of the foot allows a precise release, unhindered by snow and ice buildup.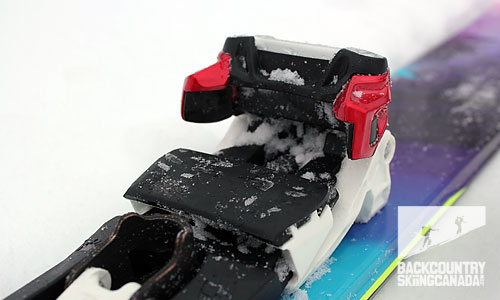 The F10's now include a new stiffer and stronger base plate and frame, as well as a modified profile designed to make changing to ski mode easier with improved handling in icy conditions.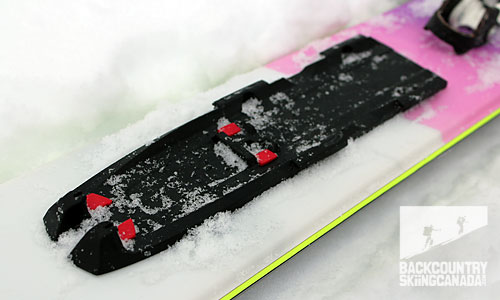 Switch to tour mode by pulling the glove friendly lever in the centre of the binding back toward the heel, this moves the whole binding 40 mm back and allows a more comfortable walking position. It also keeps the ski balanced for kick turns and steep terrain.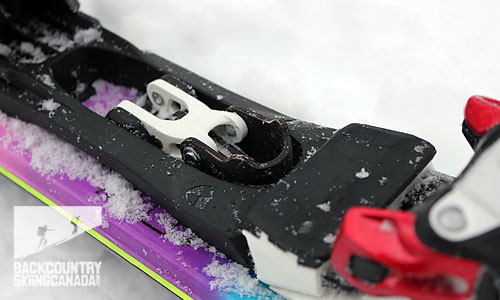 A titanium riser or climbing aid finished with high visibility red offers three positions – flat, 7° and 13°. The riser can easily be accessed with the ski pole.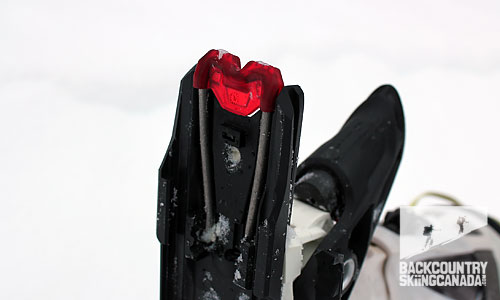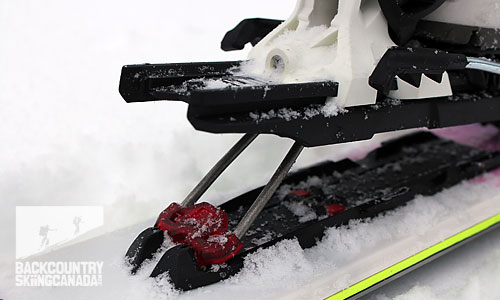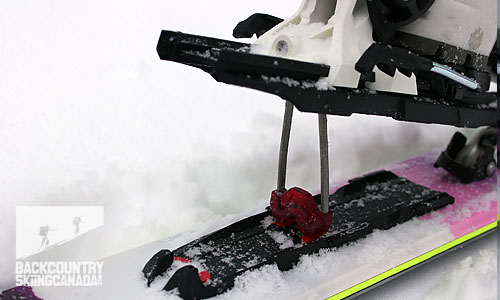 Performance
Want to know one of the reasons why Marker bindings feel so stable and responsive on the down? Wider connection brackets create better power transmission, this is what Marker calls their Power Width Design, a breakthrough for wider freeskiing skis based on a 76mm platform.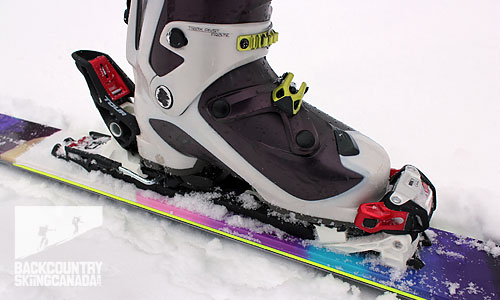 Features:
Recommended skier's weight: 65-230 lbs
Stand Height w/o ski: 36 mm
Toe System: Triple Pivot Elite
Gliding AFD: height adjustable, AT/alpine
Climbing aid: 7°/13°
Brakes: 90 mm or 110 mm
Verdict
I have spent the last month on the Marker Tour F10 bindings in-bounds—on groomers, in fresh powder and in the chop—as well as, backcountry on a number of all-day adventures. Usually, when it comes to backcountry skiing, I love my tech bindings—mostly due to the weight savings. Like many things, when you drop the weight there is usually a sacrifice, so next to the F10s, my tech bindings seem waif like and I still have some doubt about my tech binding release and rentention on the down. This is exactly why I will keep the F10's. The F10's give me a confidence while skiing in bounds that I haven't quite had with my tech bindings. If you were looking for a one binding fits all solution to skiing in and out of bounds, the F10 is it (or the F12 if you are on the burlier side and/or like to raise the stakes). The Marker F10s seem built to handle all ski conditions, for me they provide almost the same performance as an alpine ski binding. I expect they will last me for years as a real workhorse.
The switch over to tour mode and back took a little getting used to as in the passed I have like to perform the ole peel the skin off the ski without removing the ski trick. It's a trick I mastered quickly one day in -20 degree temperatures on a windy ridge where a speedy switch-over was a matter of survival. I do also miss being able to switch over to ski mode without removing my skis in deep powder. This seems to be the only downside I can find with the Marker F10 and the only reason I can swallow it is because the mechanism that causes you to remove your ski to switch over is also the mechanism that makes them such a solid binding. Once you have them locked down to ski there is no chance of they will slip out of ski mode as you ski down—that's the confidence I like to have.
From time-to-time you may lazily not pull the leather loop all the way back (and the lever down) when you try to engage tour mode. If you do this you will notice that the binding doesn't line up the heel with the stopper at the back nor will it line up with the climbing aids (risers) at 7 and 13 degrees. It's an easy problem to avoid just be sure the binding is fully unlocked when switching over to tour mode.
My favourite feature on the Marker F10 are the climbing aids in tour mode. With the flick of a pole they are the easiest heel lifts to engage on any binding I have toured on to date.
SPECS:
Price: $399 US
Weight (per pair): Small 1.7kg / 3lb 12.3oz, Large 1.75kg / 3lb 13.6oz
DIN Range: 3 - 10
Color: white / black / red
Warranty: 1 year
PROS:
Secure. Light-weight and low-profile for it's class. Super easy heel lift system while in tour mode.
CONS:
Have to take your skis off on the switch over. Be sure the binding is fully unlocked when switching over to tour mode or the heel pieces won't align.
Rating: 9/10
Ski/hike performance 2/2
Transition 1/2
Durability 2/2
Weight 2/2
Quality / Price 2/2

Join the discussion in the forums here, and let us know what you think. People like/dislike gear for different reasons so chime in and we'll get a well-rounded evaluation.
Back to the rest of the reviews.
---