The biggest difference to note is that the Voile V8 skis feel more solid than the Chargers. You would swear that the V8 was a heavier ski but once you get out on the skin track you'll be surprised that they are every bit as light. I found skiing on the V8 skis was more fun than the Chargers. They were stable and responsive while also wanting to charge and have fun. They held an edge remarkably well and felt superior when it came to their torsional rigidity.
The beauty shot with Salomon Guardian WTR 13 AT bindings mounted.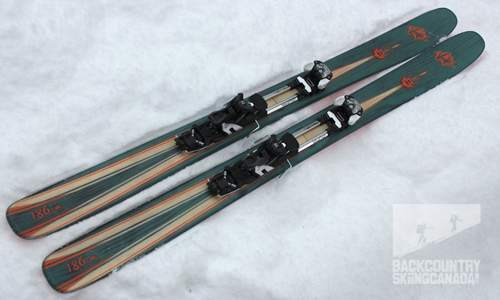 The bigger shovel gives the advantage to the Voile V8 when it comes to busting crud and floating in the powder. It's moderate side cut and ample camber underfoot allows you to snap out linked turns on the groomers, tighter turns in the trees and even longer GS turns if that's your thing. The Voile V8 shines in all conditions and likes to run fast,…hence the name I suppose?
Plenty of early rise to float in the deep stuff.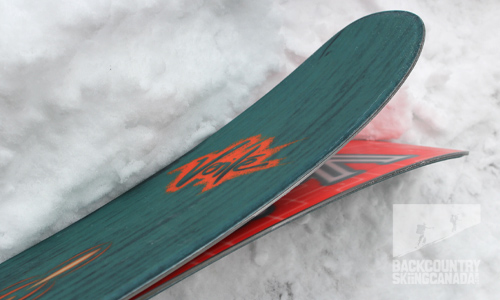 Slight rocker in the tail end as well.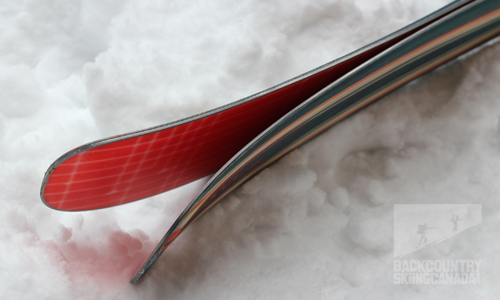 Traditional camber under foot to carve on the hard pack.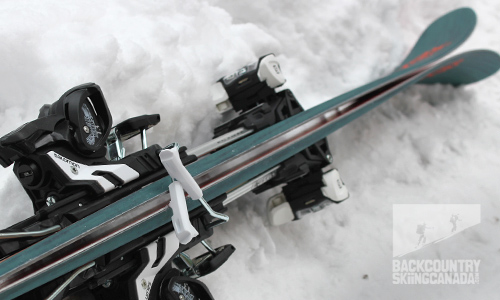 Construction:
Voile uses a lightweight cap construction which provides torsion and flex control. The V8 skis have a full aspen core with a single layer of carbon at the bottom of the ski (whereas the Chargers have two layers or carbon). This allows the ski to be light on the up track and yet lively on the descent. The early rise tip and slight rise in the tail allow for quick, easy turn initiation and provide float. Last but not least, the top sheet - it's almost indestructible and the graphics are in my opinion, top shelf. (Even the back side.)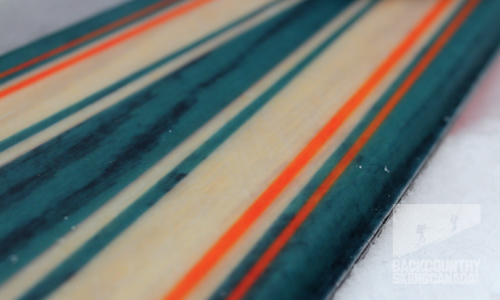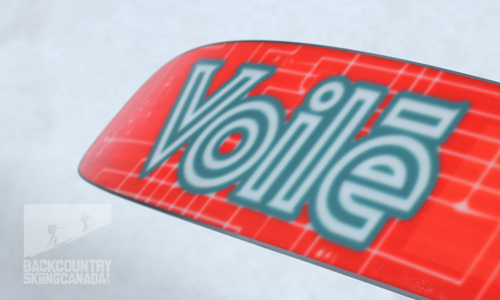 A front and rear shot of the Voile V8 top sheet design, pseudo-retro-cool.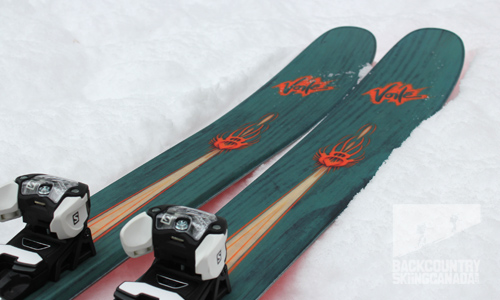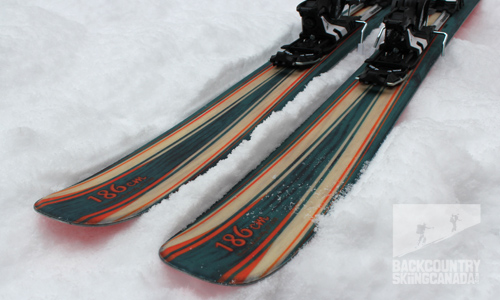 Verdict:
I have always been impressed with Voile's skis and the V8s are no exception. They have great dimensions with a big shovel that allows you to float through powder and power through the crud. They are easy to drive in any condition and I was surprised to find out how much fun they were on groomers. Although not designed specifically for skiing corduroy they carved exceptionally well and were confident on edge at high speeds. The tight turn radius makes them right at home in the trees which is unusual for a ski of these dimensions. It was easy to snap turns out rapid fire while also being able to open them up when conditions permit as the V8 skis like to ride fast while still remaining stable.
On the skin track the Voile V8 skis felt light and fast. Referring to our ski weight chart it is easy to see why. The Voile V8 skis fall right in the middle of the weight rankings. When you consider their dimensions the 3.63kg heft is pretty impressive.
The only aspect of the Voile V8 skis that I would improve upon is the tip chatter. While not a huge problem, it is evident on hard pack and groomers. Given the early rise, this is bound to be an issue, however nowadays with all the new construction methods many ski companies have eliminated tip chatter almost entirely. It would be great to see Voile experiment a little more in this area but overall this is one small nit-picky point for an otherwise outstanding ski. It's not often that we get to test a ski that is this much fun to ride–in all conditions. I suggest you demo a pair this season to see what I mean as the Voile V8 skis may just 'get your motor runnin'.
If you want to learn more about the new Voile V6 Skis read the complete review here.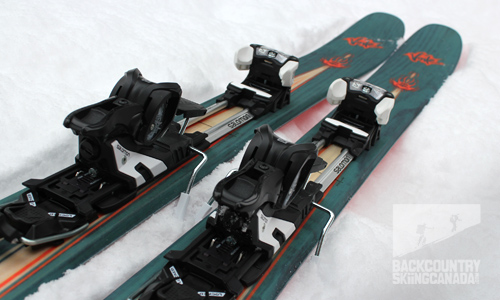 SPECS:
Price: $625 US
Weight: 3.63kg / 8lbs (size 186cm)
Sizes: 165, 176, 186, 193cm
Dimensions: 146 / 115 / 126 (size 186cm)
Turning Radius: 18.4(size 186cm)
Awards: Editor's Choice Backcountry Magazine
PROS:
- Light for a ski of these dimensions
- Cap construction seems pretty bomb proof
- Made for the pow but super fun on the hard pack
- Fast
CONS:
- Early rise tends to produce a bit of tip chatter on hard pack
Rating: 9/10
Powder Performance         2/2  
Groomer Performance       1.5/2     
Stability                            2/2
Weight                              1.5/2
Value                                2/2

Join the discussion in the forums here, and let us know what you think. People like/dislike gear for different reasons so chime in and we'll get a well-rounded evaluation.
Back to the rest of the reviews.
---