Scarpa F1 Evo AT Boots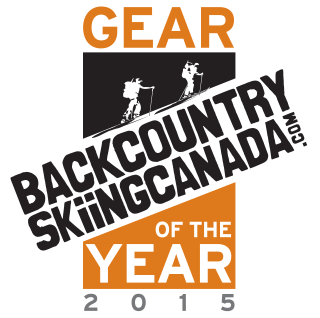 The second Scarpa boot to make Gear of the Year, the F1 Evos have us gushing. Smart, innovative design that makes for energy-saving, fun alpine touring. These boots have all the special sauce that define our Gear of the Year designation. Buon lavoro e grazie, Scarpa.
The Backcountry Skiing Canada Team.
---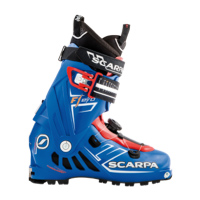 "What are those things on your feet!!???." "Those look really light." Such is a sampling of the kinds of unsolicited comments one gets wearing the new Scarpa F1 Evo boots in public. With their primary colours, Boa closure, and snub nose, the Scarpa F1 Evos are funky looking boots. Really funky. The good news is: they ski great too!
We have reviewed a whack of Scarpa boots over the years. If you're so inclined, take a look at the: Scarpa Freedom SL, Scarpa Maestrale RS, Scarpa Maestrale, and Scarpa Rush. If you are reading this in the "off" season, Scarpa's backpacking boots are pretty ill too.
Scarpa is an Italian, family-owned company with a rich heritage in ski boot design and manufacture. My first pair of Scarpa's were the T1 tele boots, about 15 years ago now. Point is, they're not just starting to figure out how to make ski boots; they've been around the block and all their current models are build on a strong foundation/rich heritage.
Scarpa's F1 Evo's are like a beefed-up version of their Alien and Alien 1.0 rando racing boots. When we first saw them at Outdoor Retailer in 2014, I didn't think they'd fit my feet. Because of the "sawed-off" toe and asymmetrical molding, they looked like they'd only fit a very thin foot. I've tried to get into a Dynafit TLT before (the old ones) and I had no luck. I thought this would be the same story. Not so.

Scroll to the bottom of this review for an updated video review of the new and improved Scarpa.
Didn't I tell you they had a dramatic look?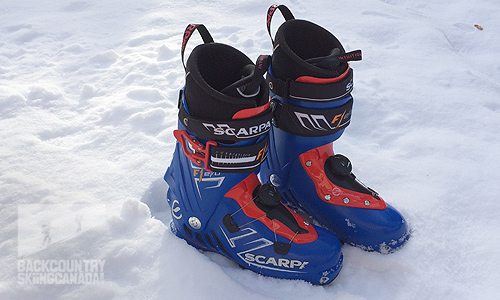 Fore and aft views. Note the Boa closure system on the forefoot and the X-Cage Evo cross strapping on the back. Added stiffness without the weight.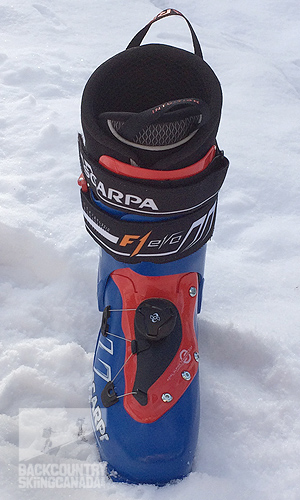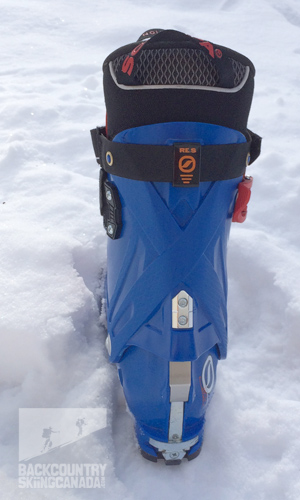 Here's a closer look at the Boa system. This program has come from snowboarding and can also be found on some boots like the Scarpa Alien. I've only used the Boa kit for half a season so can't comment on durability—but, it affords a great, "gloves-on" even adjustability across the forefoot.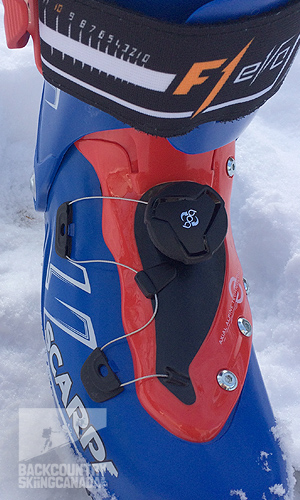 Here's the fast buckle closure which includes an elastic strap. Flip open. Flip closed. Wax on. Wax off. See the little power strap too. It's not super beefy but it does the trick.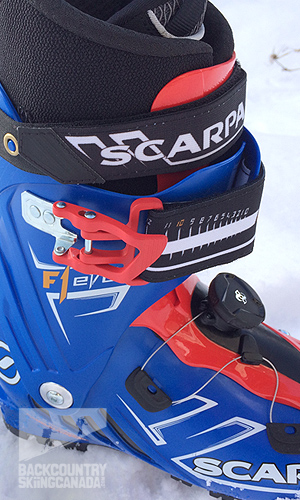 Here's a close-up of the hands-free walk mechanism. Solo at left and tech pins engaged at right. Definitely one of the F1 Evo's best features, making for really quick and simple transitions. The pins just hit the little tabs in the tech fittings at the bottom and bammo—downhill mode.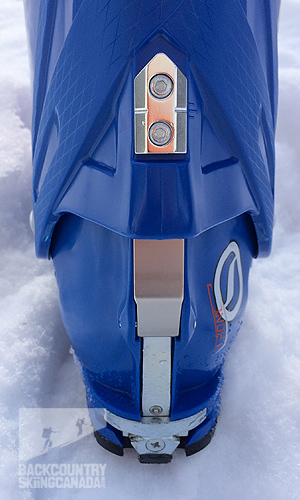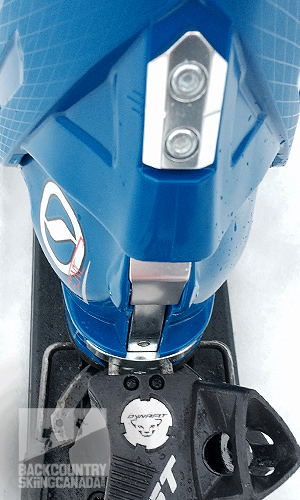 Here's a top down shot into the guts of the boot. See how simple the hands free walk mechanism is? The black "inner" boot is the carbon core that contributes to the boot's awesome weight-to-stiffness ratio.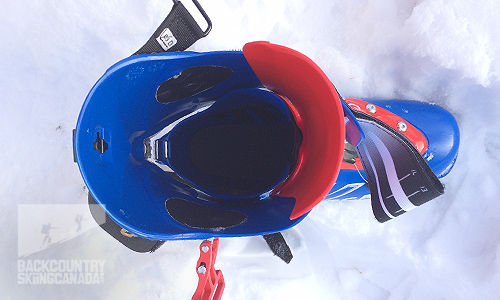 Just to illustrate the F1 Evo's range of motion. A true 62°, resistance-free range. More than any boot I have ever put on my feet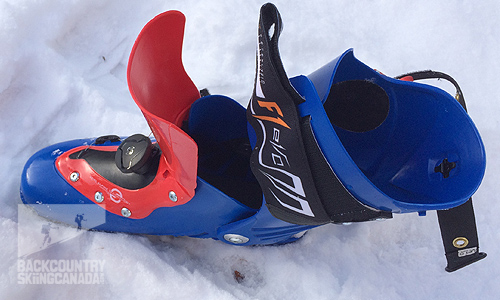 Dynafit-made quick-step tech inserts on the toes. Natch. The boot's toe is almost sculpted looking. At first I thought they wouldn't fit my feet. They fit well—and without whacking out the shell.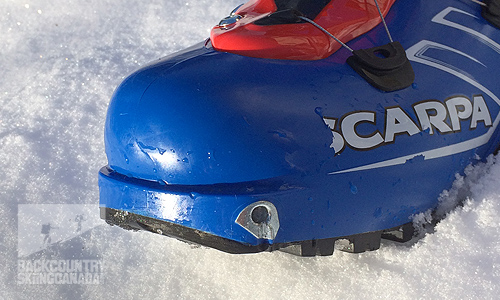 Intuition liners. Thank you. To keep down weight, these are pretty thin and don't "thermoform" all that much. Not a problem though. With the help of the ROAM shop trusty-boot-fitter-guy, Tom, they fit like a glove.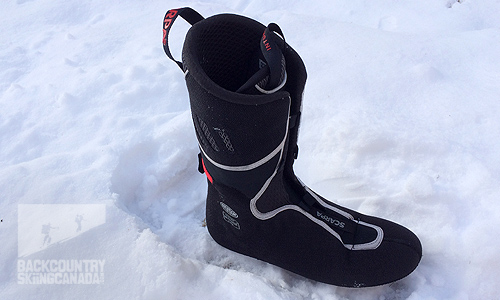 Vibram soles. The pre-production models had orange soles. I like the black ones way better. Nice sticky rubber for the occasional scramble.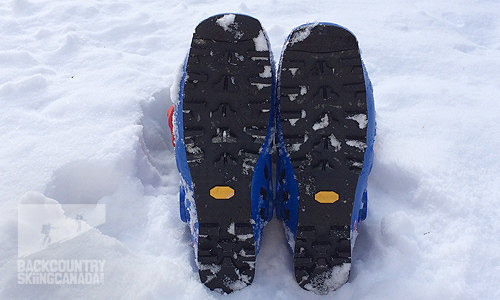 Features:
- Inner Boot: Intuition - Pro Flex EVO • Shell/Cuff | Tongue: HPA | Pebax®
- Buckles: 1 + Boa® closure system
- Sole: Vibram® UFO EVO
- Binding System: TLT
Verdict:
I have been skiing the F1s paired with the G3 Zenoxide Carbon 105, mounted up with some old faithful Dynafit Vertical ST bindings—I call it my "old man setup." I have skied lift service days as well as several days in the backcountry. No surprise, but these boots are built for the backcountry. A couple things have struck me about the F1 Evo (other than their show-stopping good looks). First off, their weight at approx 1100g (or 2lbs, 7oz). Lots of boots we've looked at on the site have made the lightweight claim and, sure, many of them are lightweight. The F1 Evos are really light, though. Putting them on at first feels weird because it's like they aren't even on your feet. Second noticeable attribute: their range of motion—a full, near no-resistance 62°. Range of motion is another term (and number) AT boot makers use to sell boots. It describes how far back and forward the boot flexes, enabling the stride we all make millions of times a season. An important distinction with the F1, in flexing back and forth, you feel little or no resistance. Other boots may claim a 60° RoM but it's only achievable with resistance. I'm kind of beating a dead horse here… but the F1's range of motion is something you feel immediately after putting them on. And it makes themj feel like bedroom slippers.
I have been impressed with how stiff the boots are. I'd say they are in the same range as the orange Scarpa Maestrales. They are pretty much all you need to drive just about any ski. Maybe not a pair of Line Sick Day 125s, but definitely the DPS Wailer 112 or, my current pairing of choice, the G3 Zenoxide Carbon 105. Getting in and out of them continues to be a bit of an "adventure" for many. So much so that Scarpa published a little vid with a mod to make the in/our process a little easier. As promised, I've noticed that it gets easier over time as the boots begin to give a little bit. Such is the price one pays for a glove like fit.
Lastly, the rando-racing inspired Boa closure and the hands-free walk mechanism boost the F1's into the super special and good boot category. Cool, functional, innovative design work.
Catching some middle-aged air in 5-Mile Basin, near Whitewater Resort, Nelson, BC. F1 Evos helped it happen.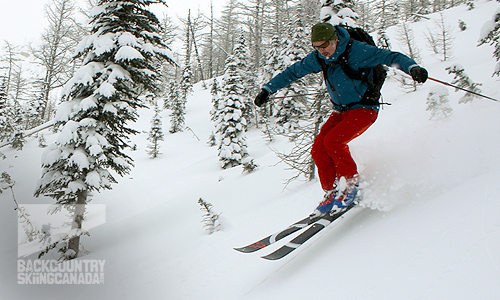 SPECS:
Price: $685 CDN
Forward Lean: 16° / 18˚/ 20°
Flex Index: 95
Range of Motion: 62°
Weight: 1100g; 2lbs 7oz (1/2 pair size 28)
Sizes: 24.5 – 31 (whole sizes)
Forefoot width: 102mm
PROS:
- Make you look like Iron Main/Captain America.
- Incredibly light weight.
- Stiffer than you'd think.
- Comfortable and warm.
- Mind-blowingly simple ski/walk mode.
- Boa closure.
CONS:
- A pain to get in and out of (but getting better).
- Cuff system can get a little tangled up in the liner.
Rating: 9.5/10
Fit/Comfort 1.5/2
Cuff Rotation 2/2
Function 2/2
Weight 2/2
Quality / Price 2/2

And here, for your info, is a quick video on the Scarpa F1 Alpine Touring Boot. A slightly younger "blood relative" of the F1 Evo:

Back to the rest of the reviews.
---