Scarpa Kinesis Pro GTX Boots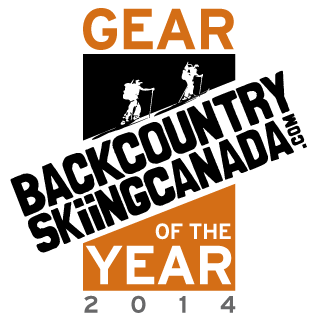 The Scarpa Kinesis Pro GTX hiking boots were a shoe-in for our Gear of the Year designation. They are beautifully made, bomb-proof, comfortable, high-performance footwear that seem like they'll last for years and years to come. If you are looking for an example of Italian craftsmanship, from a family-owned company, pick these puppies up. Complimenti di nuovo, Scarpa.
The Backcountry Skiing Canada Team.
---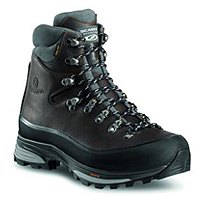 We here at Backcountry Skiing Canada are big fans of the Scarpa line of ski boots—what follows is our first write-up of a pair of their backpacking boots, the Scarpa Kinesis Pro GTX. (If you'd like to see other reviews of Scarpa goods, go here: Scarpa Maestrale, Scarpa Rush, Scarpa Maestrale RS). I have been wearing various Scarpa boots for 20+ years, starting off with their game-changing early plastic tele boots. The company has been around and they enjoy the kind of cred that few other manufacturers can claim. Starting in 1938, and working out of the Asolo region of Northern Italy, Scarpa is owned by the Parisotto family. We did an interview with Chris Davenport, Scarpa athlete and product dev. guy, a while back. It's worth a read because he talks about the Parisotto family's work and design ethic and what a pleasure it is to work with them.
Back to the Scarpa Kinesis Pro GTX….have you ever had a pair of footwear with which you sneak a moment every now and again—just to admire and look at the craftsmanship? This probably either sounds really creepy, or you know exactly what I am talking about. We got the boots early in the season so had to wait a while before putting them to use. I'd walk by them sitting in the muck room and be compelled to pick them up and fondle them—such is the quality of craftsmanship that these backpacking boots exude.
The Scarpa Kinesis Pro GTX sits at the top of the food chain within the "Backpacking" category, which is in the "Trail" category, on the Scarpa site. It is intended for long hikes with heavy packs. Any beefier than this and you get into the plastic zone. We've been out on multi-day hikes with a heavy load up into the alpine and agree with their categorization.
Fan of leather? The Scarpa Kinesis Pro GTX is made with nubuck "smoothout" leather. Mmmmm buttery.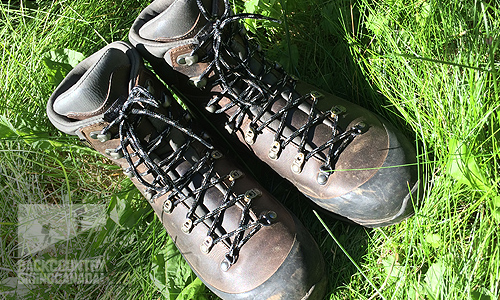 Made in Italy. Obvs.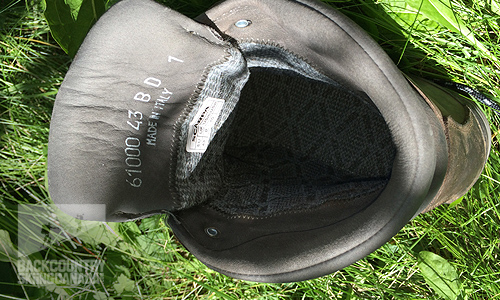 Bomb-proof, high-quality stiching. They're lined with a Gore-Tex performance comfort "sock" as well—for total weather protection.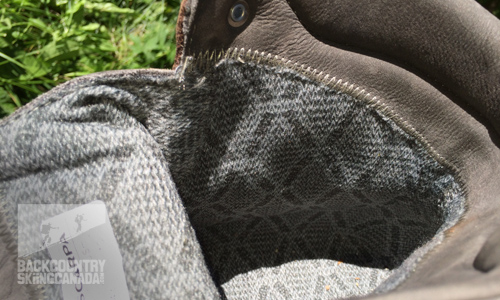 Stock footbeds are good to go. No need for an upgrade.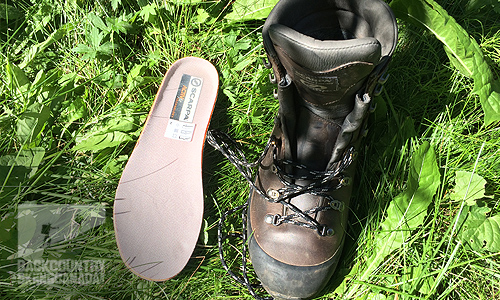 The full rubber rand protects the boots from weather and sharp rocks. It also comes in handy when scrambling.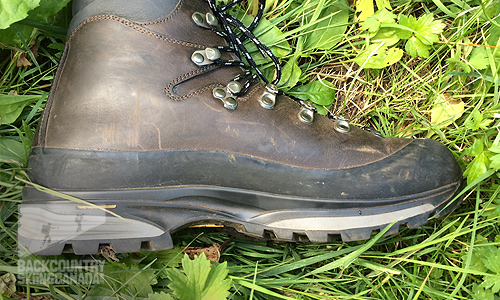 The Vibram Biometric sole is agro, in a good way. Great grip on snow, dusty-trails, in the muck, and on the rocks.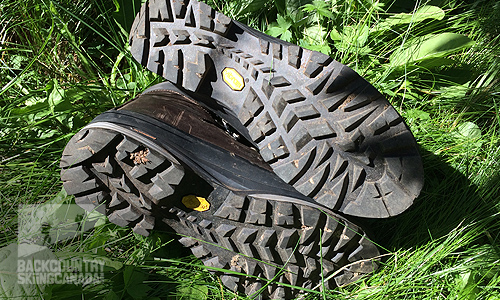 Lacing-wise, the Scarpas feature micro-pulley, no friction hardware (see the three lacing points on the boot's forefoot?) These make it really simple to adjust the fit.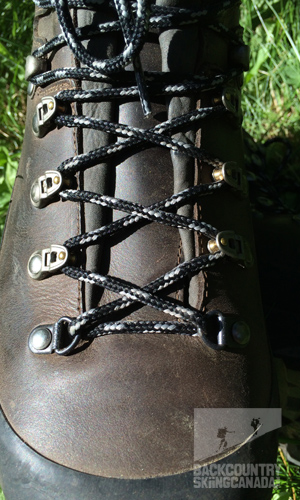 In all their glory—on snow, late spring.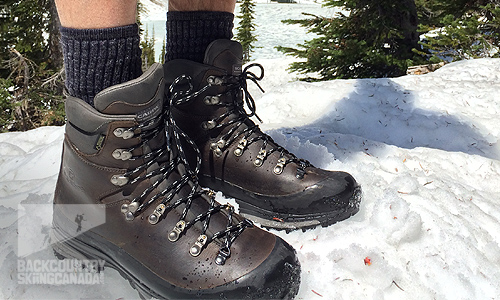 Features:
- Upper: Smoothout leather
- Lining: Gore-Tex - Performance Comfort
- Insole: Active Pro 4mm
- Midsole: Dual-density PU
- Sole: Vibram® Biometric
- Last: All new, modern BD
The Scapa Kinesis Pro GTX's out for a walk in the park. Kokanee Glacier Park.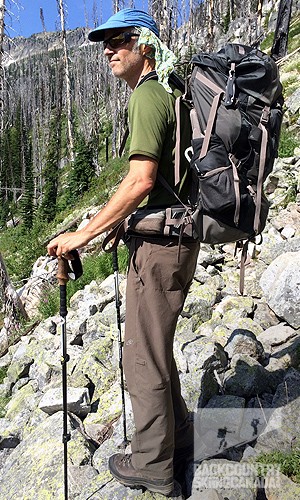 Verdict:
I can't help myself. I have to gush. Two thumbs up. If I had a third thumb, it'd be up too. These boots are remarkably well made, very comfortable, built-to-last backpacking boots. They ooooze Italian craftsmanship and have all the high-tech features without making you look (or feel) like a cyborg. I've treated them once with Sno Seal, BTW. Features like "a dual-density polyurethane midsole that maps different densities of polyurethane into specific locations to improve both cushioning and precision on the trail" and the inclusion of memory foam are things that one doesn't notice—because they are so comfortable on the trail that you never have to.
There are so many upstart, young gear/footwear companies that have come onto the scene in the last decade or so and that's great—the more the merrier. If I am going to pay $300 for a pair of backpacking boots, though, I'm going to go with a manufacturer whose products are proven. Especially if they are Italian and still family owned.
SPECS:
Price: $329 US
Size: 40-47, 48, 49, 50 (half sizes)
Weight: 850g / 1lb 14oz (1/2 pair size 42)
Color: Ebony
PROS:
Where do I start? Well crafted, high performance backpacking boots that work really well and look like they'll last for a long, long time.
CONS:
None to speak of. The price point may be a little high for some people but just think that you'll likely have them for a decade if you treat them well.
Rating: 9/10
Innovation: 1.5/2
Function: 2/2
Aesthetics/Fit: 2/2
Features: 2/2
Quality/Price: 1.5/2

This is only our opinion. Do you disagree? Did we miss something? Are we totally out to lunch? Join the discussion in the forums here, and let us know what you think. People like/dislike gear for different reasons so chime in and we'll get a well-rounded evaluation.
Back to the rest of the reviews.
---