CHRIS DAVENPORT
We learned that Chris Davenport has inked a long-term relationship with Scarpa, and, rather than regurgitate the press release, we caught up with him through email and asked a few questions:
What will be the nature of your work and partnership with Scarpa? What does being a part of a product development team entail and how will it be different from relationship you have had—or have—with other manufacturers?
My relationship with SCARPA will basically be two-fold: First, I'm working closely with the product development team and engineers on the development of this new, high-performance, ski boot. I will offer my insights, knowledge, and testing from start to finish for this product, with the hopes that we as a team will come up a real home run of a product. My experiences with the first prototype in Chile a few weeks ago were great, both because there were positive things about the boot already, but also because I was able to define some changes that would help. Secondly, as an ambassador for the brand it's my job to be promoting all of SCARPA's product lines in all of my endeavors, including ski and mountaineering exploits, trail running, climbing, and of course across all my social media platforms. Being a good brand ambassador means you have a clear understanding of how you can create value for the brand through your marketing and PR efforts. I have learned a lot over the years through my relationships with other brands along these lines,and look forward to applying my knowledge to this new relationship.
With Greg Hill and Eric Hjorleifson signing on with other manufacturers it seems like backcountry skiing is growing up. Do you think the "celebrification" of top ski mountaineering athletes is like anything that has happened in other one-time fringe sports moving into the mainstream?
There is no doubt that backcountry skiing is evolving, and in a very positive direction I think. The activity itself is driving tons of innovation with products of all types, and it's no surprise that companies want to partner with those people who are out in the field the most, having first hand experiences with the gear. Both Greg and Eric not only ski hundreds of days a year, they, like me, are product guys, who love tweaking their gear to make it better. Ultimately I think companies naturally like aligning themselves with professionals, whether they be guides, instructors, or pro athletes. These relationships are mutually beneficial and make sense.
Lots of terms are passed around to describe various forms of skiing these days. What is freeride, exactly? Does it imply earning your turns or not necessarily?
Your right about the terms… there are so many right now. I think Freeride is more descriptive of an attitude rather than a specific activity. A freerider, or freeriding, just means you have an open mind when it comes to skiing and your willing to go ski hard in all types of terrain, as if the mountain were a play ground. It doesn't necessarily imply earning your turns, in fact that would be more of a backcountry skier in my mind than a freerider, but of course the two can overlap. This new boot we are developing with SCARPA definitely has "freeride" in its DNA, but will cross over into the backcountry as well.
Do you have any predictions you can share with us on the next big thing in ski touring boots?
I think the development of materials is a big question mark for the future. There are several boot manufacturers out there right now doing some interesting things with carbon, and the applications seems to work for certain aspects of skiing, like hard snow performance (racing) and ultra-light weight touring. But for the average consumer it's not working quite yet due to stiffness issues and cost. Comfort and performance are the two things most important to me in touring boots. Both can be improved upon, and both will be, but i'm not sure the ski boot of the future, even 20+ years from now, will look much different from what we see today. What will change i'm sure of is the connection of the boot/ binding interface. There are some really wild design projects happening right now that could radically alter how we step into and out of skis.
We are fans of the folks who work in Scarpa's Boulder office. What was it like meeting the Parisotto family and how did the event get you further pumped to work with Scarpa?
I am also a big fan of the team in Boulder, and it was them who first whispered into my ear a while back. There is so much experience and collective knowledge in that office it's very contagious. Meeting the Parisotto family in Italy was a really neat experience for me. I was a history major in college and have always loved the history of our sport and all of the stories that come with it. The SCARPA story is rich and wonderful and I really appreciate the family owned and operated aspect of the business. Unfortunately it seems more rare these days than ever. Anyway, we very quickly hit off on a positive discussion and shared some very similar ideas and concepts with regards to boot design. That common ground was comforting for me and went along way towards solidifying my decision to move to SCARPA
Any feeling on what kind of a season we can expect snow wise? Better than last year, we all hope.
As a friend of mine said recently a "Council of Squirrels" would have as good a chance of predicting the winter as NOAA and their models. I'm an optimist by nature, so I'm looking forward to some good snow. Heck it snowed last night up high here in Colorado. But at the same time if you are a life long skier, you will have some awesome winters and you will have some equally shitty ones, and you really have to be OK with that. I go out and ski every day regardless anyway.
Finally, where will you be skiing this year?
I'm well into the planning stages of my season as we speak. I will definitely have a couple trips to the Alps, one to chamonix and another to the Dolomites, as well as an ISPO trip. I also have two alaska trips planned, both guiding trips. And I have a potential film trip to Asia as well that is not set in stone. Beyond that I am working on a project in the US with a couple of friends that will be unveiled in 2013.
And, for those of you who are interested, here's the Press Release:
SCARPA collaborates with Chris Davenport to launch new freeride boot program
Premier big-mountain skier to be intimately involved in product development process for new SCARPA freeride line.
BOULDER, Colo. (Sept. 10, 2012) – SCARPA, the Italian-based manufacturer of footwear for the full range of mountain sports, began a long-term partnership with renowned big mountain skier Chris Davenport in August 2012. Along with serving as a SCARPA ambassador and testing new SCARPA products, Davenport will be a key member of the product development team for a new line of SCARPA freeride boots that will be available in Fall 2013.
Widely regarded as one of the most accomplished big-mountain skiers in the world, Davenport said he was attracted to work with the SCARPA brand not only because of its world-class reputation in the ski-mountaineering, touring and footwear categories, but also because of the opportunity to be intimately involved in the development and testing of a new, innovative line of ski boots specifically for the freeride market.
"I'm a product guy, a gear geek if you will. I love equipment, I love tweaking it, and I believe that you can always make a better product," Davenport said. "SCARPA is super well respected in the world of skiing, so for me, this a chance to work with an already great line of products, but also a chance to help create something innovative and new."
"There's very definitely an opportunity in the freeride category – a product for a specific set of needs that doesn't yet exist in the marketplace," he said. "I'm not just joining SCARPA, I'm joining SCARPA to be involved in the development of the strongest boot line yet specifically built for the needs of freeride and sidecountry skiers."
Davenport began working closely with the SCARPA product development team in August with the goal of launching SCARPA's innovative new ski boot collection to the world market at the 2013 Outdoor Retailer, SIA and ISPO shows in January and February.
Another factor that attracted Davenport to working with SCARPA was meeting the Parisotto family that owns the company, along with the SCARPA North America team, and seeing their passion for developing game-changing products for skiing and mountain sports.
"We're all product people, we love having the right product, the best thing out there, the most high performance thing we can have," Davenport said. "So I think that also makes this a great match."
After beginning his skiing career as a racer, Davenport was a fixture on the freeskiing scene for a decade, winning two Freeskiing World Championships, an X-Games medal, and many Powder Magazine Reader's Poll Awards. Among his many ski mountaineering achievements, he became the first person to ski all fifty-four of Colorado's 14,000-foot peaks in less than one year (2007) and recently guided and skied on Mt. Everest. Davenport has numerous first descents of peaks around the globe under his belt, and has been featured in more than 30 ski films by Warren Miller and Matchstick Productions. He is also a TV commentator for ESPN, ABC sports, and Outside Television, and is an Olympic and World Cup announcer for ski racing events. A professional speaker who often lectures on risk management as it relates to business and mountain sports, Davenport is the author of two coffee-table books that celebrate North America's mountains, Ski The 14ers and Fifty Classic Ski Descents of North America. When not traveling the globe, he resides in Aspen, Colo., with his wife and three boys.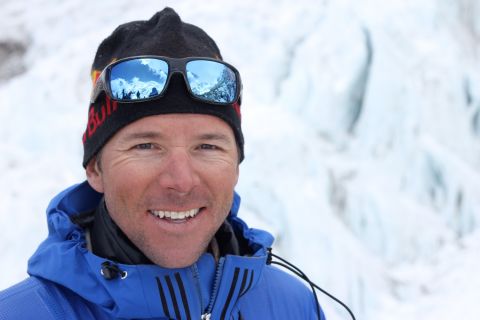 About SCARPA and SCARPA North America
Founded in 1938, SCARPA builds performance footwear for climbing, hiking, skiing, mountaineering, trail running and other outdoor pursuits from its headquarters in Asolo, Italy. SCARPA has been owned and operated by the Parisotto family since 1956. In 2005, SCARPA opened its North American headquarters in Boulder, Colorado., staffed and directed by veterans of the North American outdoor industry, to oversee sales, marketing and distribution in the U.S. and Canada.
Chris ascending. Looks like he's running some Scarpa boots! Photo: Adam Clark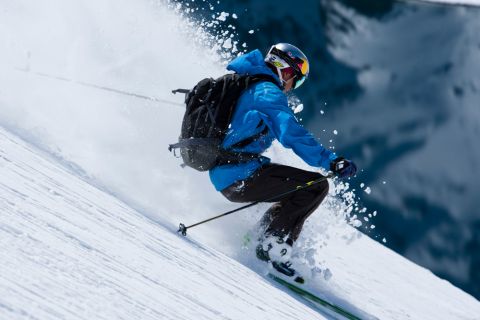 ---