Mountain Hardwear Optic 2.5 Tent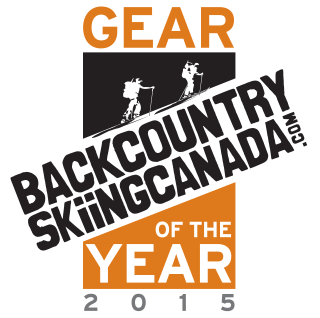 Unobstructed one hundred and eighty degree views are what make the Mountain Hardwear Optic 2 Tent such a pleasure to lounge in and the thirty-seven square feet of interior space are what make it a joy to live in. Bringing the outside in is a fresh new view on tent design and Mountain Hardwear is all about views with the new Optic 2 Tent.
The Backcountry Skiing Canada Team.
---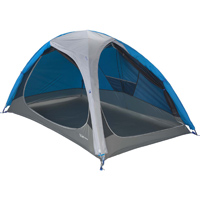 Imagine a full 48" (122cm) of head room, two huge panels that zip away to give you unobstructed 180 degree views, and 37 square feet (3.4m2) of interior space. More of a nylon palace than a cramped shoebox, the Optic Vue 2.5 tent by Mountain Hardwear makes lounging around drinking your morning camp coffee inside the tent a truly enjoyable experience. Thanks to Mountain Hardwear, gone are the days of rushing out of the stuffy too-small rabbit den that I used to call my backpacking tent to drink my coffee outside. With rave customer reviews and a handful of awards and nods from the gear industry, the Optic 2.5 has made camping more enjoyable for a lot of people, myself included.
Lightweight and ultralight tents have been the center of attention for some time now. Sure, it's amazing to stash a tiny tent in your pack for the travel portion of your adventure, but when it comes to the sleeping/relaxing/shelter-providing part of the trip, it's livability that really counts. In my mind, lightweight is the way to go for extended backpacking trips where there is a substantial amount of foot travel, but for the adventures where you'll be setting up a base camp and doing day summits, I'd opt for livability. This is where the Optic 2.5 really shines.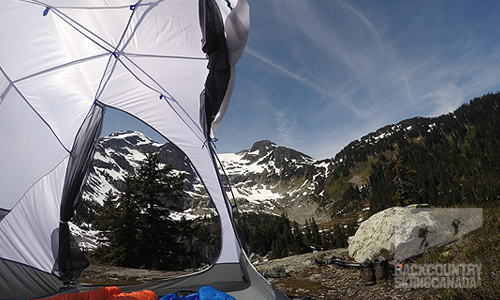 The Design:
At just over 6lbs, the Optic Vue 2.5 doesn't fall into the ultralight category, as its' real strengths are durability, comfort, space, performance and livability. The 2.5 refers to all of that wonderful extra space, making it easy to store gear inside, and comfortably sleep two adults plus a small child or a large dog. There is 37 square feet of interior space plus two vestibules measuring 12sq. feet and 6sq. feet. The four full feet of head room completely removes any feeling of being cramped, so getting changed or just hanging out when the weather turns nasty is easy and comfortable. Big mesh pockets allow for plenty of storage inside the tent as well.
The Optic 2.5 has a unique design, with two adjacent panels doubling as doors and 180 degree views. These huge doors can be fully unzipped to the outdoors offering up panoramic views and easy access. Each door has both a mesh panel and a full nylon panel. The other two sides of the tent are full panels of nylon. Unlike other tents that are made entirely of mesh to save weight, Mountain Hardwear chose to design the Optic for windy, dusty climates, something I appreciate having spent a lot of time camping in the southwestern US, where sand fills your tent in a hurry if it's all screen. Having the ability to close this tent right up is also great for cold nights, making it a true three season tent.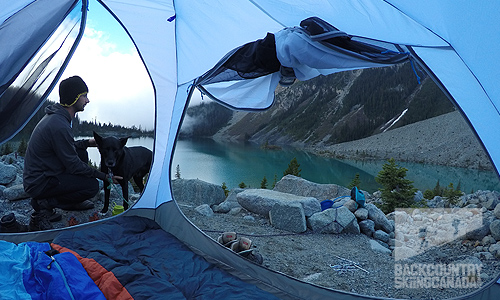 The Materials:
The fly is made of 75D polyester taffeta 1500mm fabric, and the tent floor is 70D nylon taffeta 3000mm fabric. This is one tough piece of equipment, ready to withstand whatever mother nature can throw at it. The first night I spent in this tent we had a full eight hours of torrential rain and wind, and it was like sleeping in a cozy cabin. There's an optional footprint available, however with a thick 70D floor, I don't think it would be necessary unless your adventures take you to places with a lot of tree sap on the ground.
Pole Type: Paleria DAC Pressfit™
Fabric Fly: 75D Polyester Taffeta 1500mm PU
Fabric Canopy: 20D Poly Knit Mesh
Fabric Tent Floor: 70D Nylon Taffeta 3000mm PU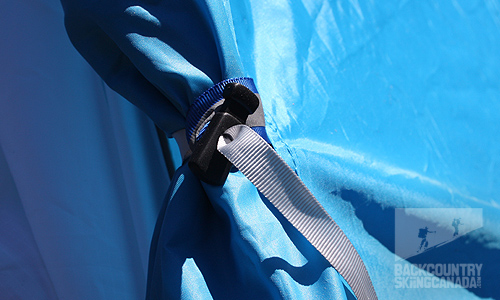 Set up:
Two criss-crossing Paleria DAC Pressfit™ poles create the main structure of the Optic, while a shorter third pole fits into the top of the tent, providing more head room and keeping the fly away from the tent walls. It's quick and easy to set up. The fly extends down fairly close to the ground, keeping dust, wind and rain out, a feature that I love. Jingle free zips, reflective colour coded tabs, and additional guy lines round out the feature list.
The three poles intersect at the top with a clip.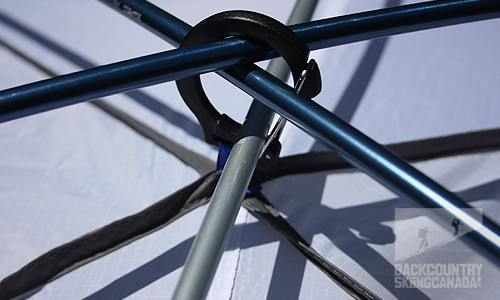 Jingle free zips with colour coded pull tabs.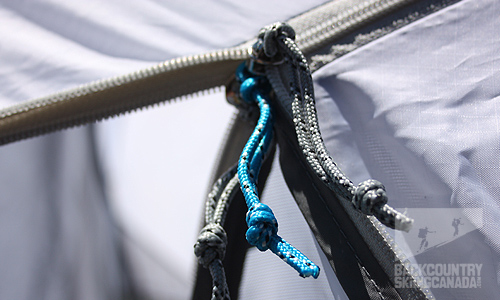 How it works:
All tents have condensation issues from our breath during the night, however I found that in the Optic Vue 2.5 it wasn't as noticeable, probably because there's enough space that your sleeping bag isn't jammed up against the side of the tent, and there's plenty of airy space above you.
When I found out that I was reviewing a tent with panoramic views as one of its' selling points, I remember wondering why on earth anyone would want to stay inside a tent when there's 360 views right outside. Once I set the Optic up, I definitely got the picture though. When you have a comfy, spacious, well designed tent, why not lounge in there away from the black flies and drink your morning coffee with these 180 views? Having slept in a very small two person tent with our mats overlapping and the dog on our heads (in the name of saving weight) for the past five years, the Optic has been a real treat to camp with.
It's worth noting that you can leave the fly at home when the forecast calls for clear skies, as this tent functions great just on its' own. This gives you a huge 2.5 person space, at about half the weight.
Both doors fold back out of the way for unobstructed views. It took us a few tries to fold these huge screens up properly (as you can see in the lower photo's first camp!).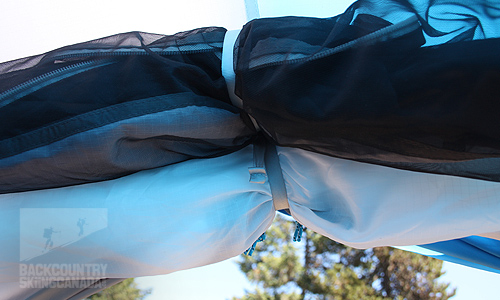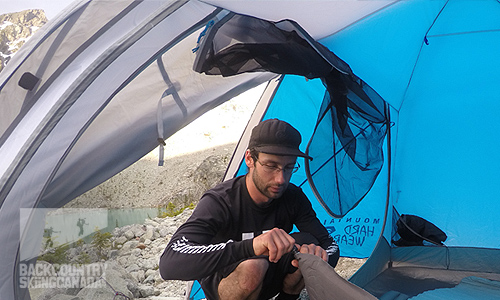 Best uses:
Backpacking and road trips/car camping would be my top picks for the Optic 2.5. I have carried the Optic up thousands of feet and many kilometres into the mountains, and was content with the trade off that a little bit of extra weight and space would mean a super comfy home away from home. Mountain Hardwear makes some other fantastic tent models for ultralight multi-day backpacking, so if you're going far and packing up day after day, one of those designs would probably suit you better. For weekend adventures and hike-in base camps, I highly recommend the Optic.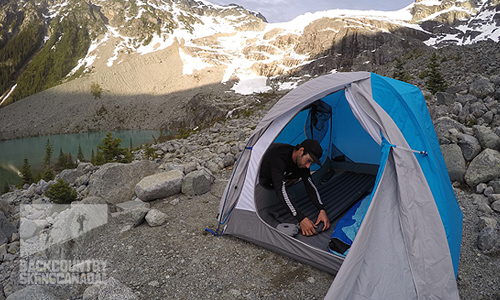 Verdict:
I'd highly recommend the Optic Vue 2.5 to anyone who backpacks with their dog, or just likes to have more space for sleeping or gear storage.
Using the Optic 2.5 for road trips is a total no brainer – I can't really see any reason not to buy this tent if that's your thing. For backpacking, I was really happy with the Optic as well. This tent put a bit of the comfy factor back into alpine camping for me that I'd lost to my lightweight set-up.
Overall, I'm with the other folks who have bestowed great reviews on the Optic Vue 2.5. It is beautifully constructed with quality materials, thoughtfully designed, and gets top marks for livability. I'm packing up for another overnight trip today, and can't wait to get back in the alpine with Mountain Hardwear's fantastic tent.
If you are looking for other tent reviews click on over to our Tent Review Page here, and if you are looking for other Mountain Hardwear specific tent reviews then give the Mountain Hardwear SuperMega UL 2 or the award winning and oh so incredible Mountain Hardwear Skyledge 3DP Tent review a read.
SPECS:
Price: $240US
Colour: Blue and white
Weight Packed: 6 lb. 3 oz. / 2.80 kg.
Weight Minimum: 5 lb. 13 oz. / 2.64 kg.
Interior Height: 48 in / 122 cm
Length Packed: 23 in / 58 cm
Diameter Packed: 7 in / 18 cm
Tent Floor Area: 37 sq. ft. / 3.4 m2
Tent Vestibule Area: 12 sq. ft. 1.1 m2 / 6 sq. ft. 0.5 m2
PROS:
Extremely tough, high quality materials, plenty of space, and the huge double doors would be at the top of my pros list. The panoramic view really is something, and the doors provide great access and ventilation. It's easy to set up, and let's not forget the beautiful tropical blue colour of the fly. At $240US, the value is fantastic.
CONS:
It's on the heavier side for backpacking, and because of the bomber materials, it takes up quite a lot of space in your pack (23 inches).
Rating: 9/10
Interior Space 2/2
Design 2/2
Features 2/2
Weight 1/2
Quality/Price 2/2

This is only our opinion. Do you disagree? Did we miss something? Are we totally out to lunch? Join the discussion in the forums here, and let us know what you think. People like/dislike gear for different reasons so chime in and we'll get a well-rounded evaluation.
Back to the rest of the reviews.
---