Here's a brief overview of the DAC "Toys" as they are called:
Jake's foot: This small unit accepts clips from the fly, canopy and ground sheet as well as the poles in a secure ball joint. The jake's foot can be kept on the canopy or the ground sheet to assist in DryPitch set up and maintains the distance from fly to canopy so air circulation is maximized.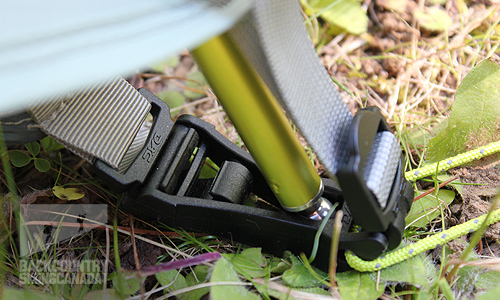 Ball Caps: Eliminates the old grommet and pole tip connection which is difficult to use and often releases when pitching the tent. It also allows the pole to rotate as required due to wind load.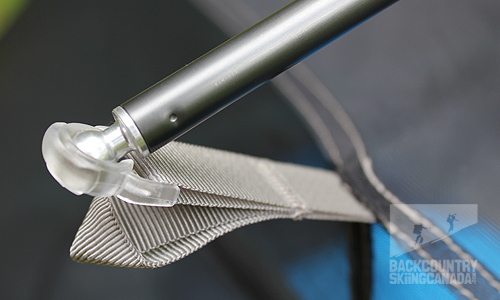 Swivel Hubs: Fixes the crossing point of the two main poles which increases stability yet allows the tent to flex under load. Also provides a hanging point for the tent canopy which creates more head room.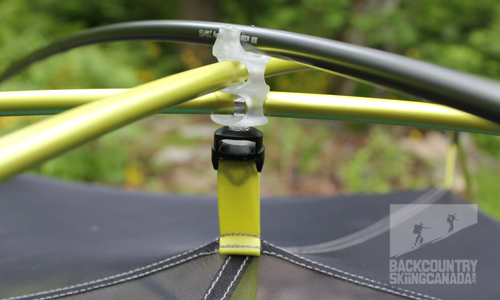 Twist Clips: Found on the tent canopy and fly, these clips are fast and easy to use and connect the tent to the pole structure. They provide some flex between the poles, fly and tent canopy which is required in windy conditions.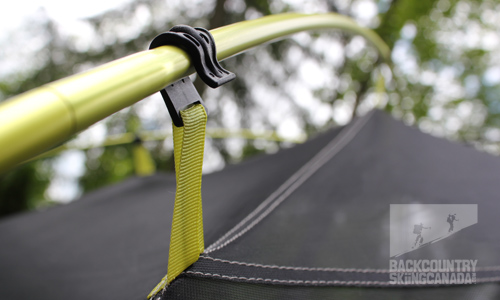 A few other nice adjustable features are:
- Micro adjustable tie backs on the doors to easily get the tent doors out of your way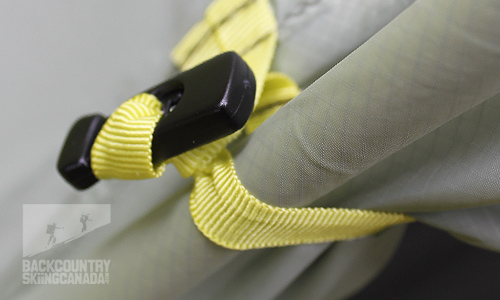 - Tension triangles on the tie out cords for super simple tensioning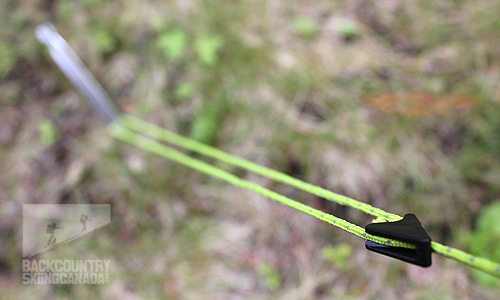 DryPitch Technology:
DryPitch technology is all about options. You can pitch the Mountain Hardwear Skyledge 3 DP Tent three ways: fly and ground sheet only, tent canopy only or a complete tent with fly, canopy and ground sheet. If you remove the jake's foot from the tent (since this is how it is shipped) and place it on the fly then you are all set to pitch the Skyledge in the rain without getting the tent itself wet. Simply connect your pole segments and insert them into the jake's foot (which is now attached to the ground sheet) so that the skeleton of the tent is created. Next, throw the fly over this structure and peg it down. Take shelter under the fly, out of the elements and then hang the tent from the poles with the handy twist clips and clip it into the jake's foot at the corners. Your tent is pitched and the interior is still bone dry.
A variation on the traditional ground sheet, tent and fly configuration is to eliminate the tent body itself and simply pitch the ground sheet and fly. This is a quick and light set up for good weather conditions and with a savings of almost a full kg it's a nice option to have in your bag of tricks. Given that the ground sheet is included with the tent and not an additional $40 purchase like most other tents, you can test this method for yourself straight out of the gate.
Poles and ground sheet set up.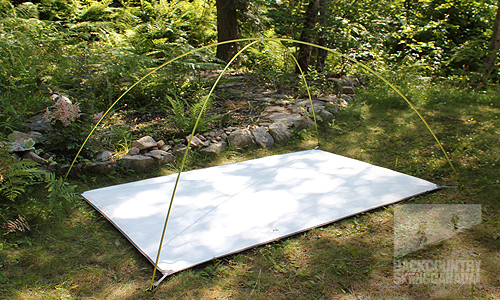 Poles and ground sheet set up with fly on for the ultralight set up.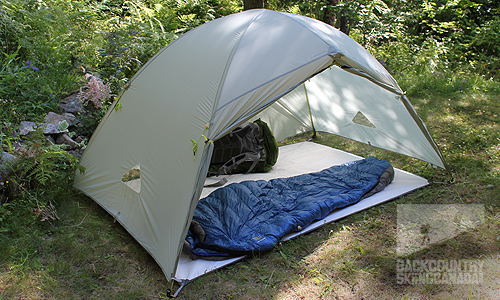 The tent body is set-up from under the fly which is a good option when it's raining.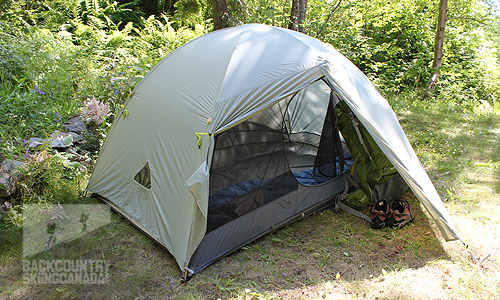 Unique ground sheet material is super sturdy.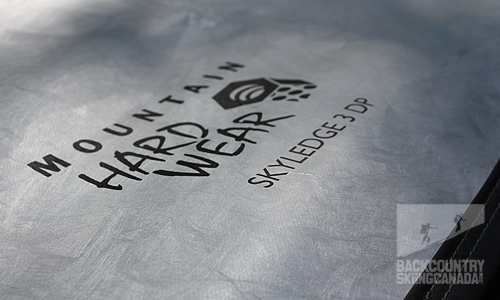 One thing you'll notice right away is that the ground sheet is not your traditional coated nylon, instead its made of a spun and bonded Olefin material. Basically a non-branded Tyvek material. The reason this material is used is due to it's incredible weight savings to durability ratio. This stuff is incredibly strong and its also water resistant to 1500mm on a hydrostatic head test. Additionally this bonded Olefin material is dimensionally stable so it's easier to set up because it likes to lay flat. Mountain Hardwear only uses this material on ground sheets for its premium ultra light tents of which the Skyledge is one of.
Features:
DryPitch™system: Allows user to set up an ultra light shelter using the tent fly, poles, and footprint only. You can also set up the fly first and then the tent in order to stay dry in the rain.
Poles: DAC Featherlight™ NSL poles.
Guaranteed watertight construction: Fully taped fly, taped perimeter seam, welded corners and welded guy clip anchors.
Footprint: Included.
Floor: Off-ground perimeter floor features double-stitched, folded seams that absorb stress and prevent the floor fabric from stretching or weakening.
Fly: Made from super light ripstop nylon for additional strength with the addition of a silicone coating to enhance water repellency and reduce stretch in wet conditions.
Vestibules: Two dry entry vestibules with dual slider mesh doors.
Zippers: Welded zipper flap construction is lighter and drier than a sewn flap.
Hang loops: Allows you to add a gear loft.
Weight: Super-light clips and webbing reduce tent weight.
Glow in the dark: Reflective guyout loops, starter points and zipper pulls enhance night time setup and visibility.
Extras: Stuff sacks, aluminum stakes/guyline and owner's manual.
Pockets: Mesh pockets for interior storage.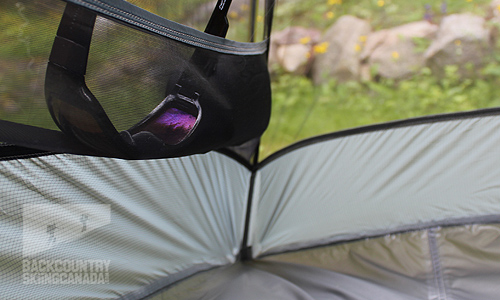 The fly is affixed to the poles in addition to the tent, super stable!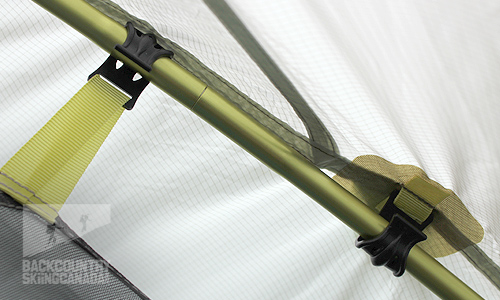 Pegging out the fly.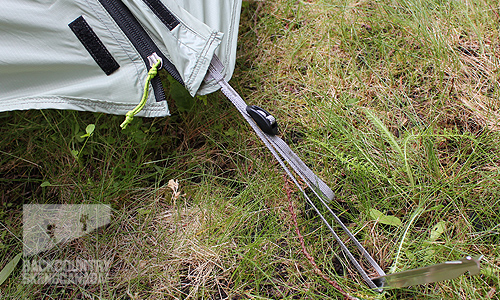 Window: SVX window for a brighter interior and visibility of exterior conditions.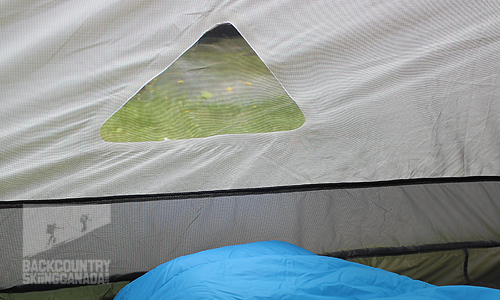 Off-ground perimeter floor features double-stitched, folded seams—unfortunately there is a seam in the middle of the floor.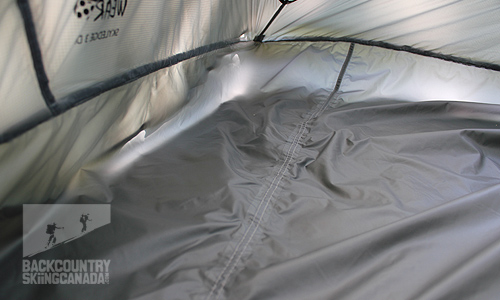 Stuff sac is oversized but keeps things together.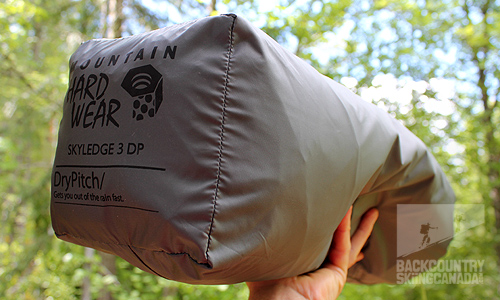 Fabrics:
Fly: 20D nylon ripstop, PU/silicone coating (1500mm)
Tent body: 15D polyester mesh
Tent canopy: 15D Poly Knit Mesh
Floor: 70D nylon taffeta, PU coating (3000mm)
Poles: DAC Featherlite NSL aluminum
*To better understand fabric terminology, the D refers to 'Denier', which measures the thickness of the nylon strands in the fabric. A lower number means a lighter mass, and therefore less protection from the exterior elements.
The canopy is constructed from Poly knit mesh and provides full ventilation and bug protection while offering 360° views on clear alpine nights. To keep the weather out, the ripstop nylon fly is fully taped and has a 1500mm Polyurethane coating. The nylon taffeta floor has a taped perimeter and welded corners to keep you dry in wet conditions while its 70 denier heft will help prevent punctures. Mountain Hardwear includes the ground sheet so there is no need to shell out additional money for something that is required but seldom provided by manufacturers.
Verdict:
Mountain Hardware got the formula right with the Skyledge 3 DP Tent - it's lightweight, compact and well designed. The DryPitch option alone is worth the ticket price. Combine this with innovative DAC "Toys" that make set up and tear down a snap, along with two doors and two vestibules and you can see why this tent is so easy to love. The smart design includes easily adjustable reflective guy wires, adjustable door ties, offset doors, large interior gear storage pockets, easily adjustable fly peg outs, gear attic, internal tie out points for additional support on windy days, and glow in the dark zipper pulls.
There is plenty of ventilation built into the Skyledge 3 DP. The full screened tent canopy ensures that bugs stay out and moisture can be minimized with healthy air exchange. Protecting you from below is the 70 denier fabric tent floor which is the beefiest we have reviewed to date. Pair this with the ground sheet and you have an admirable defence against rock, nicks and moisture. It is unfortunate that there is a seam running the full length of the floor as this screams cost savings and could be an eventual failing point for water to penetrate as materials and seams wear. A full bathtub construction floor would also be a huge plus to keep all seams well away from the ground where moisture could penetrate. On the top side, the fly is made of 20 denier ripstop nylon with a PU/silicone coating so it's good and waterproof but also very lightweight when compared to other tent flies.
The Dual vestibules may not be the largest on the market but at 12 sq ft. but they offer up plenty of room to store gear for three and still allow one entrance to be gear-free for easy enter and exit. The built in "Dry-entry" flap on the vestibules prevent water from dripping inside tent which is a requirement when things get stormy. The sage colour of the fly may not be ideal for pictures or safety (since it blends in well with the backcountry environment) but it does provide good light transmission to keep things bright and cheery inside after multiple days of being tent bound. The small SVX window also helps with this and lets you check the weather prior to those alpine starts. A dedicated side wall vent would be a nice addition for those rainy days when leaving the doors open is not an option however it would also add some weight so perhaps it is best left out.
The Mountain Hardwear Skyledge 3 DP Tent's interior is not overly spacious at only 36 sq. ft. Most three person tents on the market offer up at least 40 sq ft. but again this increases your overall weight so I am happy to have a little less interior space to save a few hundred grams on the trail. Three large stinky guys shoulder to shoulder are pretty tight but mix it up with some members of the opposite sex and you are good to go. The steep walls and 114cm of height provide great headroom for occupants and enable you to sit up with ease. Since the Skyledge 3 DP weighs less than my two man tent it is now the only tent I use for alpine trips and with only two people it's super spacious.
The final selling point of the Skyledge 3 DP Tent is the stability and structural integrity it offers. Since the DAC poles are fixed together and the fly itself clips to the poles (and not just the tent canopy as with most tents) it can resist gail force winds and likely some snow load on those early or late season adventures up in the mountains. This is a major point that is often overlooked by most but having seen several tents flattened by winds up at Camp Muir on Mt. Rainier it's now one of my main priorities for any tent I would ever consider using.
Fly off. Fly on.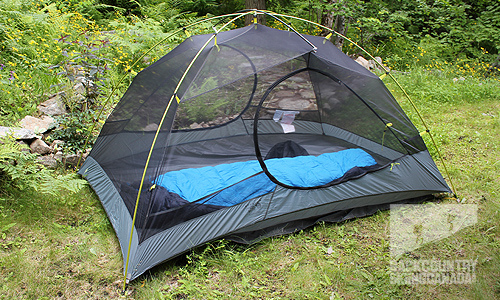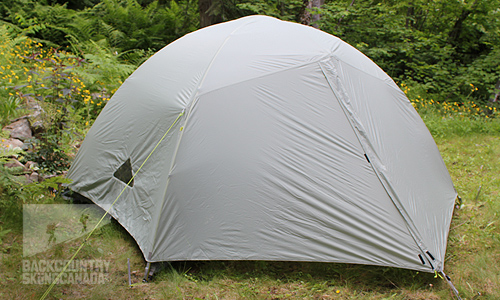 SPECS:
Price: $580 CAN
Minimum Weight: 1.94 kg / 4 lb 5 oz
Packed Weight: 2.22 kg / 4 lb 14 oz
Fast-pitch Weight: 1.26kg / 2lb 13 oz
Packed size: 15cm x 58cm / 6" x 23"
Colour: Smokey Sage
Capacity: 3-person
Season: 3-season
Vestibule area: 12sq. ft. / 1.1m2 per vestibule
Floor Area: 36sq. ft. / 3.3m2
Warranty: Lifetime
PROS:
- Dry Pitch technology for when a rain storm comes in quick
- Dual doors and vestibules
- DAC pole connections and Jakes Foot
- Pretty light weight
- Glow in the dark guy wires and zipper pulls
- Structural integrity is the best we have seen and can withstand vertical and horizontal loads from wind and possibly snow
CONS:
- Colour is not safety orientated
- Not a true bathtub construction floor which has a seam in the middle which is not ideal for long term weather proofing
- In Dry Pitch set-up there is no secure way to install the ridge pole ends, it requires the tent in order to secure itself
- Drop sheet is white which is not a great colour as it gets dirty fast
- A little tight for three big guys but the weight savings becuse of this is welcome
Rating: 9/10
Interior Space 1.5/2
Design 2/2
Features 2/2
Weight 2/2
Quality / Price 1.5/2

This is only our opinion. Do you disagree? Did we miss something? Are we totally out to lunch? Join the discussion in the forums here, and let us know what you think. People like/dislike gear for different reasons so chime in and we'll get a well-rounded evaluation.
Back to the rest of the reviews.