Mountain Hardwear Optic 2.5 Tent - REVIEW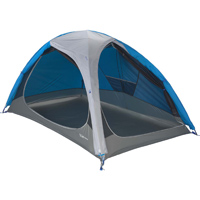 Imagine a full 48" (122cm) of head room, two huge panels that zip away to give you unobstructed 180 degree views, and 37 square feet (3.4m2) of interior space. More of a nylon palace than a cramped shoebox, the Optic Vue 2.5 tent by Mountain Hardwear makes lounging around drinking your morning camp coffee inside the tent a truly enjoyable experience. Thanks to Mountain Hardwear, gone are the days of rushing out of the stuffy too-small rabbit den that I used to call my backpacking tent to drink my coffee outside. With rave customer reviews and a handful of awards and nods from the gear industry, the Optic 2.5 has made camping more enjoyable for a lot of people, myself included.
Read the full review of the Mountain Hardwear Optic 2.5 Tent here.