Mountain Hardwear SuperMega UL 2 Tent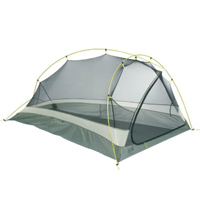 Mountain Hardwear's new two person tent is called the SuperMega UL 2 and the "SuperMega" double adjective is well deserved given it tips the scales at a scant 0.98 kilos. That's just over one pound per person—SuperMega light indeed! In addition to being light, the Mountain Hardwear SuperMega UL 2 is constructed with quality fabrics, poles and fasteners, which help keep the weight down as well as create a quality tent. A single industry leading DAC Featherlight™ NSL pole with a hub connector makes set up fast and efficient. A single drip-free triangular entrance and vestibule combo provide a dry place to store your gear out of the elements. A full screen tent body provides big views and plenty of ventilation if the weather allows and if things turn for the worst the 10 denier Nylon fly has you covered (literally). The floor uses a 30 denier nylon in order to provide some additional resistance against rips and tears that you may encounter in the backcountry. The interior space is respectable at 2.5 square metres and there is plenty of head room with 91cm in total height.
Plenty of headroom inside.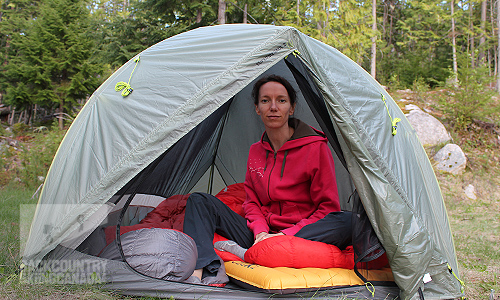 The front door is accessed via the vestibule. In the top photo the vestibule and screen door are open and in the bottom photo everything is closed for foul weather.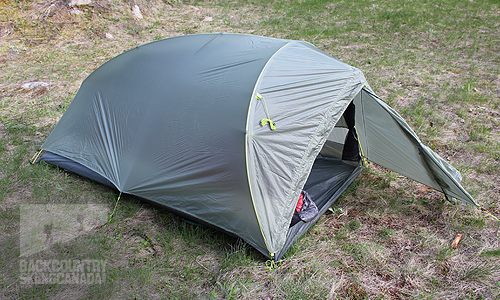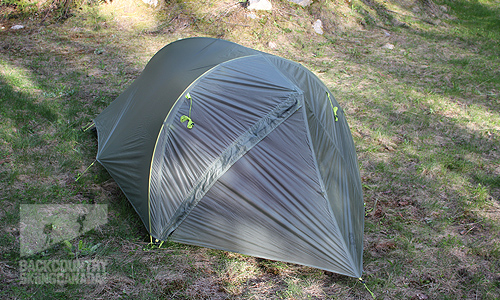 Materials:
Tent Floor: 30D Nylon Ripstop 2000 mm Ether Type PU/SIL FR
Poles: Paleria DAC Featherlight NSL
Canopy:15D Nylon Ripstop FR;15D Poly Knit Mesh
Fly: 10D Nylon 800-1200mm PU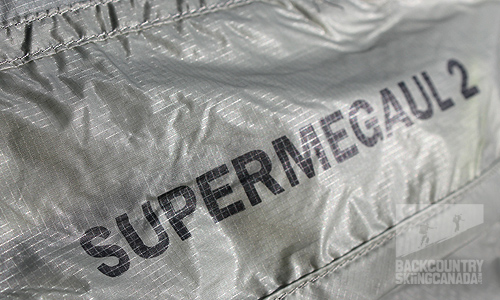 Features:
- Super lightweight fabrics still deliver protection from the elements.
- Guaranteed watertight construction with fully taped fly, taped perimeter seam, welded corners and welded guy clip anchors.
- One Dry entry vestibule also provides storage.
- Free standing light weight geometry and design.
- Welded zipper flap construction is lighter and drier than a sewn flap.
- Mesh pockets for interior storage.
- Super-light buckles and webbing reduce tent weight.
- Industry leading DAC Featherlight™ NSL poles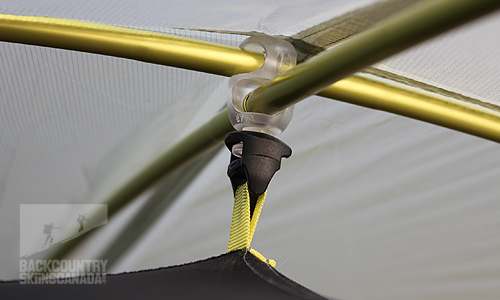 The clip under the fly pulls the mesh tent outwards to increase interior space.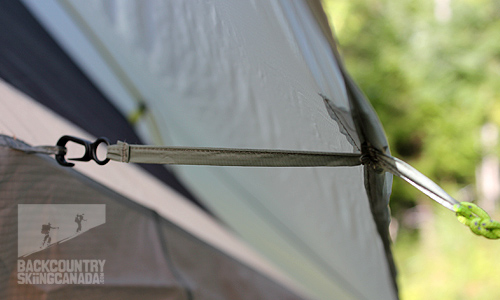 Lightweight and simple to use fasteners and tensioners make set up a snap.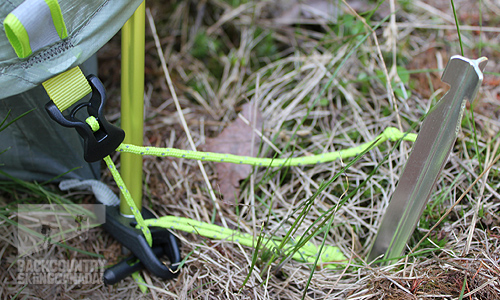 The interior view towards the foot of the Mountain Hardwear SuperMega UL 2.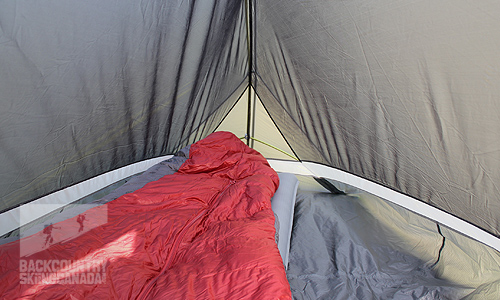 Verdict:
I have learnt over the years that there is always a trade off between priorities when designing gear and for a product to be super light sacrifices have to be made. The Mountain Hardwear SuperMega UL 2 tent is no exception to this; while it is one hell of a light tent it does suffer from insufficient interior space, primarily at the foot end. As you can see in the picture below two Exped wide width mats didn't even come close to fitting in the SuperMega UL 2. Even If these were regular mats they still wouldn't have fit. So unless you are willing to sleep on a 3/4 length mattress, there simply is not enough space for your mattress at the foot of this tent. On the height side of things the SuperMega UL 2 had more than enough room to easily sit up and relax given its 91cm ceiling height. During my testing this spring the liveability of the tent was fine but it was trying to figure out how to accommodate our sleeping mats that was the real challenge.
With the fly off you can see that two wide Exped mats don't even come close to fitting in the SuperMega UL 2 Tent.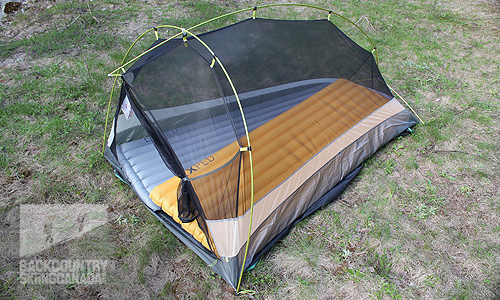 The main appeal of the Mountain Hardwear SuperMega UL 2 tent is its weight, or lack thereof. Unfortunately that weight savings has to come from somewhere and in this case it is mainly at the expense of the fabric thickness. Tent canopies, floors and flies are typically made with fabric weights between 30 - 40 denier. In comparison, the SuperMega UL 2 uses just 10 denier fabric weight for the fly, 15 for the tent body and 30 for the floor; you can see where a lot of weight saving came from. Although having a lighter tent is fantastic for many back country pursuits, this is not a weight of fabric that was meant to take a beating and, as such, it will be important to take care of it or you might be needing some repairs sooner than you'd like.
Further weight savings is achieved from other high quality parts such as the DAC Featherlight NSL poles and Super-light buckles and webbing. While the materials are certainly well thought out and the best money can buy the tent design offers up a single vestibule at the entrance. The pole structure of this tent is unique in that it's a single centre pole design (which again saves on weight) however the vestibule location does hamper entry and exit of the tent on bad weather days when you need to keep your gear dry. You would be wise to bring waterproof pack covers or a spare tarp as you will not have enough room for all of your gear in this single vestibule.
In terms of the colour of the SuperMega, the darker coloured fly doesn't provide that much light (or cheer) on cloudy rainy days but conversely it does help provide some additional z's on bright sunny mornings.
Low light conditions inside looking to the front entrance. Notice the two pockets, one either side of the door.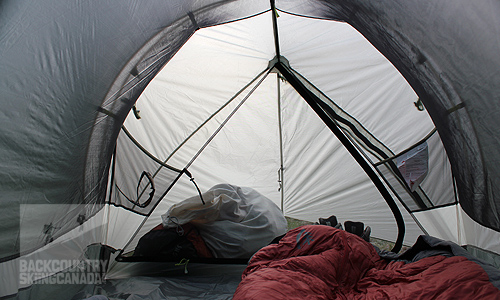 In my mind, when buying a new tent it comes down to a matter of priorities; do you want a lightweight tent or do you want a tent that is durable and/or has extra space? I am a big, big fan of the Mountain Hardwear SuperMega UL 2's weight and technologically advanced materials. In terms of light and fast, this is your tent. On the other hand, the foot space and storage areas are small and it could feel cramped pretty quickly if you like you're space. If you are looking for something with a little more room check out the Sierra Designs Lightning 2 UL Tent which is a similar 2 person design or the Mountain Hardwear Skyledge 3 DP Tent that we reviewed last season which won our coveted "Gear of the Year Award".
For a look at all our tent reviews be sure to navigate over towards our tent review page here.
Given the .98kg weight it is no wonder that the packed size of the Mountain Hardwear SuperMega UL 2 Tent is micro small.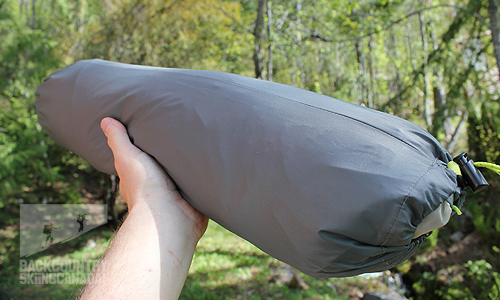 SPECS:
Price: $475
Weight: .98kg / 2lb 2oz
Capacity: 2 people
Floor Area: 2.5 square metres / 27 square feet
Interior Height: 91cm / 36 inches
Colour: Smokey Sage / Tree
PROS:
- The lightest 2 person tent we have reviewed to date.
- Bathtub construction.
- Quality poles, fabrics and fasteners which all save weight.
- Drip free entrance thanks to the extended ridge pole.
CONS:
- Foot room is limited.
- No tie back for the front vestibule portion of the tent.
- Taped seam across the floor which could wear over time.
- Vestibule is small and blocks door when filled with gear.
- Single ridge pole does not provide great support against wind and snow load (but this is not a winter tent and there are tie out points to improve upon this).
- Dark fabric colours make the interior dark and dreary over multiple days stuck in the tent.
- Pricey
Rating: 7.5/10
Interior Space 1/2
Design 1/2
Features 2/2
Weight 2/2
Quality / Price 1.5/2

This is only our opinion. Do you disagree? Did we miss something? Are we totally out to lunch? Join the discussion in the forums here, and let us know what you think. People like/dislike gear for different reasons so chime in and we'll get a well-rounded evaluation.
Back to the rest of the reviews.