K2 Pinnacle 130 AT Boot Review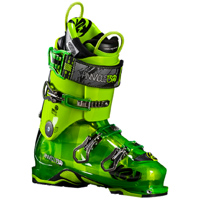 After 51 years in business, K2 is now in the ski boot game. They blasted onto the scene with the K2 Pinnacle 130 AT Boot, thanks to Mike Hattrup's lead as Director of K2's Backside development division. K2's new line of boots, which launched in fall 2013, comes in two flavours: the alpine touring / freeride Pinnacle and the more traditional alpine SpYne series. It was only a matter of time before K2 entered the ski boot arena as they have over 20 years of expertise designing footwear of all shapes and sizes across various brands under the K2 umbrella. This has included snowboard boots, Full Tilt ski boots, inline skates, nordic boots, and running shoes.
The idea behind the K2 Pinnacle 130, was to create a high performance, hard-charging all-mountain ski boot that has an integrated walk mode (or hike mode as others say) so that it would appeal to the freeride touring market. With a weight of 4.75kg per pair and a flex rating of 130, the Pinnacle 130 can hold it's own with the best of the alpine boots. The carbon fibre 'PowerFuse SpYne' and 'Synchro Interlock' achieve a super-stiff 130 flex rating and provide lateral support which allows the Pinnacle 130 to charge hard like a big mountain ski boot. With dual cuff alignment (on either side) and the K2 PowerBuckle, a customized fit is fairly easy to achieve. The K2 PowerBuckle combines the power strap and top buckle so it's a one-stop action to maximize cuff rotation when you go into walk mode. This PowerBuckle also has what K2 calls a 'memory lock' which is simply the ability to un-buckle without having to un-power strap so you save time and there is no guessing as to how tight the power strap was before you switched over.
Lets take a 360 degree look, shall we?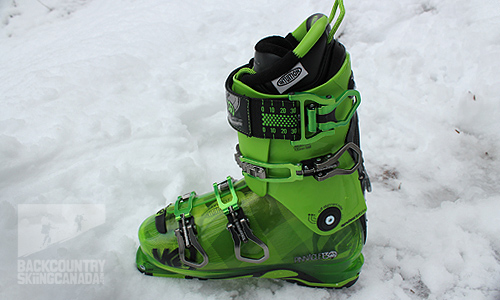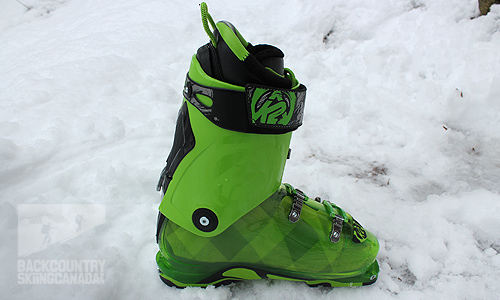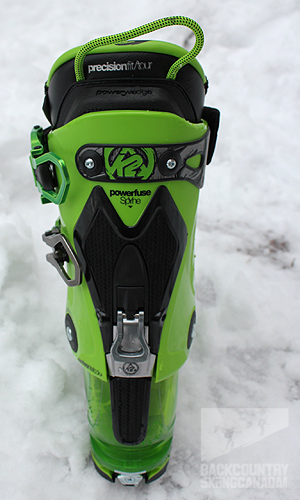 This green monster is not all alpine prowess though. It has tech fitting moulded into the replaceable DIN compatible outsoles which work with AT, Tech and alpine bindings. There's no need to swap out sole lugs to fit either a DIN or Tech binding like the Salomon Quest Max 120 boots. The K2 Pinnacles do it all. Under the hood they have PrecisionFit Tour Intuition liners which combine a more traditional alpine liner on the top and the mould-ability and flex of a ski touring liner on the bottom. The integration of a flex notch above the heel and in the front allows the liner to flex and articulate with the shell.
The hybrid Intuition liners are pretty innovative.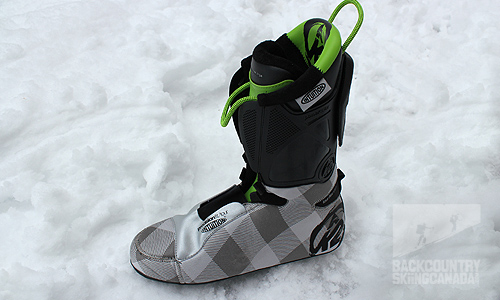 Underneath all that green is more green (and black) with some gription.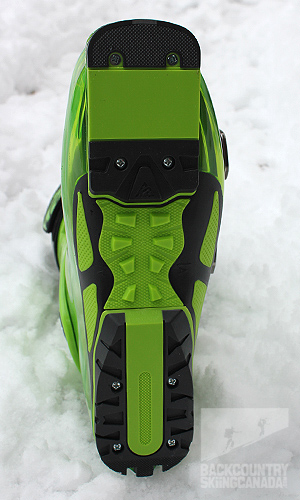 Features:
- Synchro Interlock: Walk mode provides fore and aft range of motion when released with the flick of a ski pole. It uses the Energy Interlock design platform which has a built in release mechanism and uses both an internal wedge and the Interlock.
- PowerFuse SpYne: A rear co-injected Y shaped spine adds strength and maximizes flex efficiency and lateral stiffness.
- Replaceable DIN-Compatible Outsoles: Made of dual-injected thermo plastic rubber with TPU for use with alpine bindings.
- Padded Mid-Grip: Dual-injected Thermo Plastic Rubber (TPR) Provides grip when walking on rocks or slippery surfaces.
- Buckles: Large and easy to use with low profile and built with 6060 T6 extruded hardened aluminum alloy
- Integrated Tech Fittings: Built into the shell injection for Tech binding compatibility.
- Precision Fit Tour Intuition Liners: This hybrid liner has a lower half which is a thermo mouldable Intuition liner while the upper is a more traditional alpine liner that offers better support. Tour Flex Notches allow the liner to flex naturally with the ankle and shell when in walk mode.
- Dual cuff alignment: Provides cuff angle adjustment by +/- 2.2 degrees on both medial and lateral sides for a total range of 4.4 degrees.
- 130 flex index: Provides free riding performance.
- Power Wedge: Is a removable spoiler for accommodating varying calf shapes and adjusting your desired forward lean angle from 12 to 14 degrees.
- 45 mm Power Buckle - Is an extra wide power strap and buckle in one and is designed exclusively for K2's freeride collection. It allows you greater range of motion while in tour mode by simply releasing the power strap with the flick of a buckle.
- Fit Logix™: Refers to the three last widths available 97, 100, and 102 mm along with a navicular punch that's built into the mould of the boots to alleviate pressure during ankle flexion.
- PowerBuckle: Is a combination of top buckle and power strap and allows more flexibility in walk mode without having to release the power strap.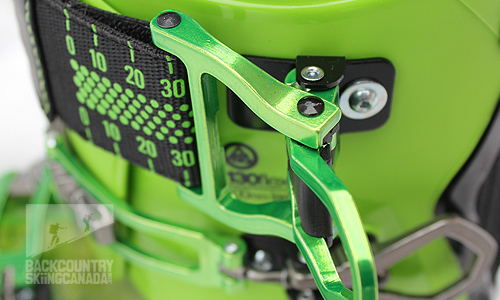 Tech fittings front and back moulded right into the toe and heel pieces.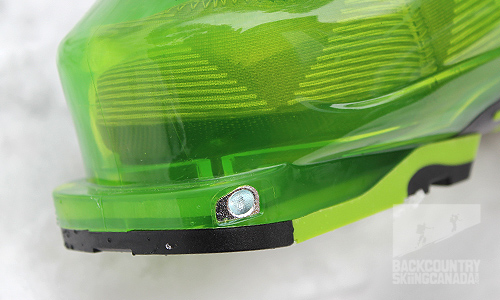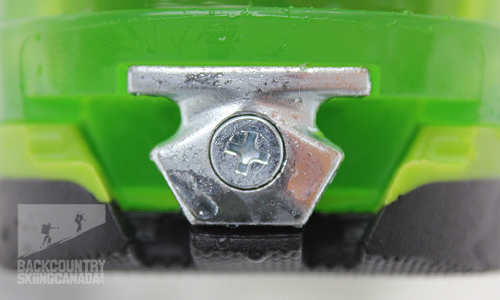 Micro adjustable low-profile buckles.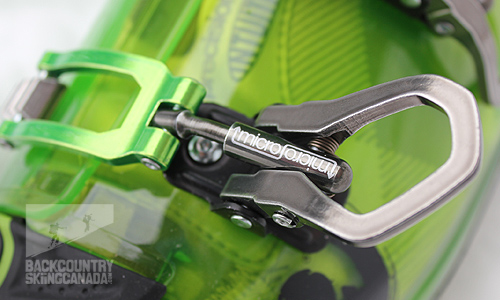 PowerFuse SpYne and Synchro Interlock.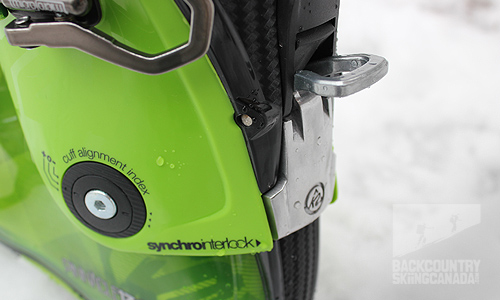 Verdict:
Given the weight and limited flex in walk mode I would classify this as a resort based ski machine that can also hit up a few side country laps or short backcountry sorties. If you are looking for a dedicated alpine touring boot for big backcountry days and multi-day traverses then you may find the K2 Pinnacle 130 AT Boot more than a little on the heavy side. Weighing in at 4.75kg per size 27.5 these are one of the heaviest boots we have ever reviewed. True, they do offer up a lot of support and provide high power ski-ability but it comes at a price on the uptrack. My current dedicated ski touring set-up weight is just over the K2 Pinnacle 130's weight alone, so they were a huge weight increase for this reviewer. Here's how my light weight touring set-up weighs in: La Sportiva Spectre Boots 2890g, Plum Tech Bindings 630g, Skilogik Yeti Skis 3300g, total weight per foot = 3410g.
Overall the K2 Pinnacle 130 AT Boots provide a rock solid alpine ski experience with great foot hold, stability and responsiveness. They're also a very respectable first go at an alpine touring boot with tech fittings and just an 'ok' walk mode. To fully maximize the walk mode you have to undo both the 3rd buckle and PowerBuckle at the top. The 3rd buckle allows the upper shell to expand enough to pass over the lower shell which vastly improves it's walking ability. The PowerBuckle adds some additional range of motion but I usually left this one cinched up tight. With all the buckles done up there is barely a walk mode at all so you will need to experiment to find what's right for you.
The DIN sole is a great solution to the multiple binding conundrum but not having a rockered toe on the Pinnacle 130 really hampers walking efficiency and comfort as you still get the Frankenstein saunter. A Vibram sole would also be a big plus and offer up better grip in the lodge and on rocky summit bids.
A lot of thought went into this boot and it shows. There are heaps of features and most are bang on, but the weight is one area that will limit this boot's appeal to the resort / slackcountry crew and not to the dedicated backcountry skier who would scoff at lugging around 5lbs on each foot for just the boots. If you are looking for an alpine boot that gives you the option to sample the goods outside the rope line and you want tech fittings, then this is the boot for you. If you are a backcountry skier who occasionally skis the resort then you are likely not going to be happy with the weight or walk mode of the K2 Pinnacle 130.
SPECS:
Price: $700 US
Sizes: 25.5, 26.5, 27.5, 28.5, 29.5, 30.5
Weight (27.5): 4.753kg / 10.5lbs
Flex: 130
Last: 97mm, 100mm
Colour: Green
Awards: 2014 Backcountry Magazine Editors' Choice, 2014 Powder Magazine Skier's Choice
PROS:
- Tech fittings and single sole for every binding out there
- Hybrid heat mouldable Intuition Liners
- Large, low profile buckles
- Skis like a traditional alpine boot
- Super stiff
- Walk mode is easy to engage.
CONS:
- This is one heavy boot.
- The walk mode is good for an alpine boot but lacks for an AT boot, especially to the front and when buckled up.
- The power strap / power buckle combo doesn't provide much more flex in walk mode and your boots feel way too loose with it undone so it may be a little redundant for some.
- Not a lot of grip on the soles, would be nice to make them Vibram soles and add in some toe rocker to make walking more natural.
- A few of the buckles can be a little hard to undo with gloves on.
- Micro adjustment on the buckles dictates that they have to be undone first, would be more user friendly to allow them to still be engaged.
- Hard to get your foot into the boots, especially if they are cold.
- The included foot beds are not worth keeping and I found my feet got cold from below on a few occasions.
Rating: 7.5/10
Fit/Comfort      1.5/2
Cuff Rotation    1.5/2
Function           1.5/2
Weight              1.5/2
Quality / Price   1.5/2

Join the discussion in the forums here, and let us know what you think. People like/dislike gear for different reasons so chime in and we'll get a well-rounded evaluation.
Back to the rest of the reviews.
---