A quick comparison of the Salomon Quest Max 120 Boots (the green ones) and the Salomon Quest Max BC 120 Boots (the blue ones) reveals that visually the shells are quite similar, but if you look at the next photo you'll notice that the liners are quite different. It's not until you pick up both boots that you suddenly discover the true magic of the new Salomon Quest Max BC 120 Boots – their weight savings.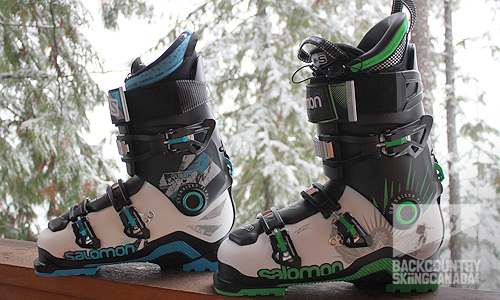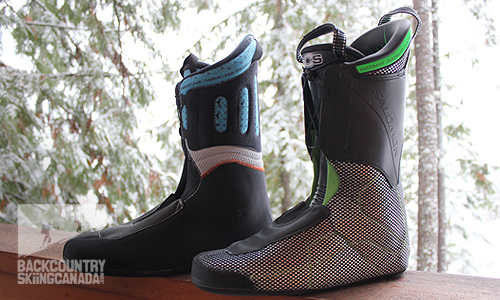 Lets take a 360° look at the Salomon Quest Max BC 120 Boots shall we? You will notice again that they look very similar to the Salomon Quest Max 120 Boots, other than the distinctive blue design for this new Backcountry version.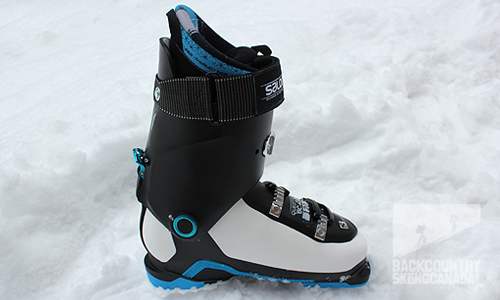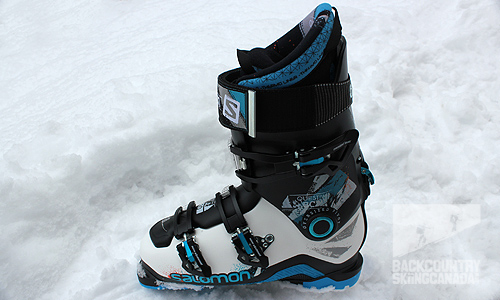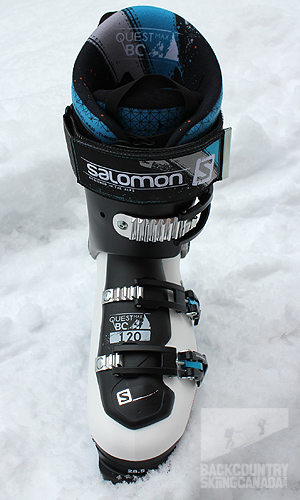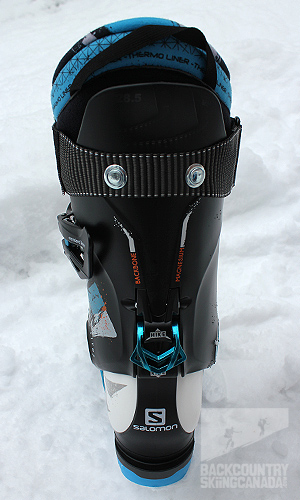 Features:
Hike and Ride Modes - The smooth hinging and easy to operate Hike & Ride switch employs magnesium backbone technology for rear support and power transmission along with a progressive forward flex.
Buckles - 3 Magnesium Micro-adjust buckles
Power Strap - 50 mm
Sole - Interchangeable bi-material pads - Allows the boots to work with alpine, WTR, ISO Touring Norm or Tech bindings. It also has an extended rubber sole which wraps around the underfoot for ski mountaineering
Ability Level - Advanced-Expert
24 mm Oversized Pivot - Reduces any play at the ankle of the boot for direct transmission of energy and to deal with greater torque generated when putting wider skis on edge.
Shell Materials -TwinFrame Technology provides the right rigidity where it's needed for better control and enhanced sensation, stiff on top (black shell) and softer Pebax PU material below (white shell)
Fit - 98 104 mm Last
Flex Rating -120 which is a stiffer flex for hard charging skiers
Liner - Full thermoform-able liner with lace loops, flex zones and a Polyolefin cuff
Waterproof Gusset- PVC piece between the lower shell's overlap & the forefoot hood, sealing out snow and water
Hike and Ride lever is large enough for gloved hands and yet streamlined enough that it will not get in the way.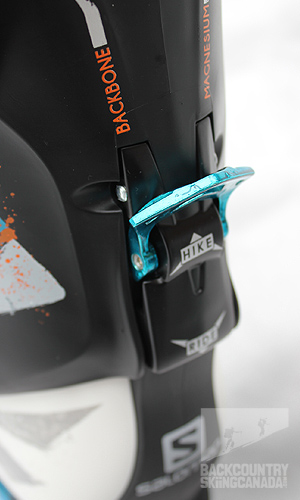 Three large Magnesium buckles are easy to use, strong, relatively flat and out of the way.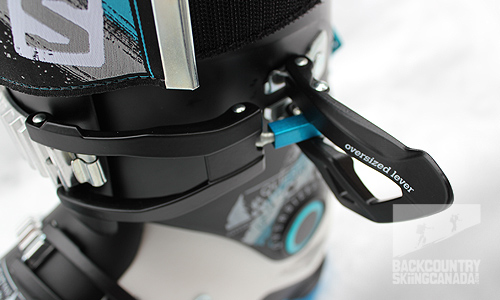 The middle buckle has a bracket that allows for some adjustability should you find that its position is not optimal over your instep which could help relieve uncomfortable pressure in this location.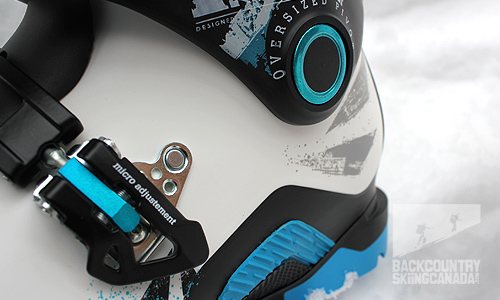 The wrap around sole is a great feature and one that will provide additional traction on rocky summit bids and ski mountaineering trips for those Greg Hill wannabes.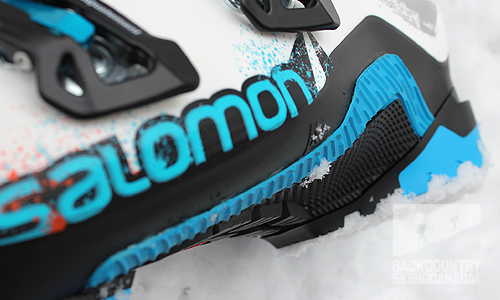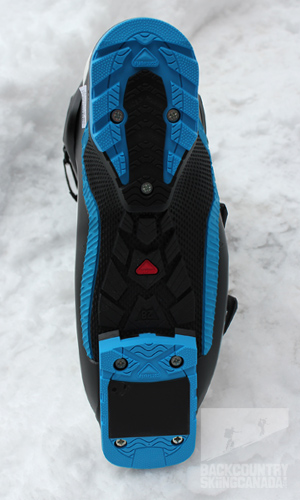 Verdict:
I give Salomon a virtual 'high five' for their big strides in weight savings with the new Quest Max BC 120 Boots. When compared to the non 'BC' or 'Backcountry' version of the Quest Max 120 these boots are far superior for backcountry skiers. I am not saying that these boots would appeal to everyone however. Likely Greg Hill did not have enough time at his new position with Salomon to make the Salomon Quest Max BC 120 Boot a true multi-day, pseudo-ski-mo, ultra light weight alpine touring boot. For this I am sure we will have to wait just a little bit longer? For now the Salomon Quest Max BC 120 Boot fills a nice void that seems to be gaining popularity with that segment of the 'new' backcountry skiing market that is more youthful than I and looking for a ski boot that performs like a downhill boot at the resort and a backcountry boot once out of bounds. This is where the Quest Max BC 120 Boot shines. At 4060 grams per size 28 pair it's a great weight for a ski boot that can do it all, but again, maybe not light enough to make more serious backcountry skiers take notice.
There are a few areas where the Quest Max BC 120 Boots could still be improved, namely the cuff rotation. At approximately 10 degrees in either direction of vertical it's not a huge amount and a full day on the skin track or those who prefer longer strides may find this limiting. The top buckle retention system while in walk mode could also use some love as it feels more like an after thought. While still talking buckles, I found that on both the Salomon Quest Max 120 and BC models, the top buckle was a challenge to buckle up as it would not easily reach across the shell with out first compressing the shell itself, so it needed to be tightened in small increments. It would be nice to see the buckle have an extended reach, which could be achieved by moving the pivot point to increase the length of the buckle and its effective reach. On the fit side of things, straight out of the box the Quest Max BC 120 Boots were not effective in anchoring my heel. I had to swap out the stock foot beds as they provided no support for the arch of my foot and since the Quest Max BC 120 is a high volume boot I needed my SIDAS moulded foot beds to take up the additional room. After some boot fitting love from our local wizard at ROAM here in Nelson, my feet found their happy place and testing could begin.
On the plus side of things there is much to talk about:
- The forward flex is smooth and progressive
- Wrap around grippy sole for climbing on rocks
- Heat mouldable liners are super warm even on a -24°C test day
- Liners are comfortable and flex with the boot
- A much lighter boot but no compromise on downhill performance or comfort
- Large 24mm pivot enables you to effectively drive larger skis since it provides great lateral stiffness
- Over sized power-strap cinches everything ultra tight
Hucksters and resort rats looking to go beyond the boundaries will rejoice at the dual resort/backcountry capabilities of the Salomon Quest Max BC 120 Boots. Lighter and leaner but still just as mean, they'll tackle what you can throw at them,… and tour as well!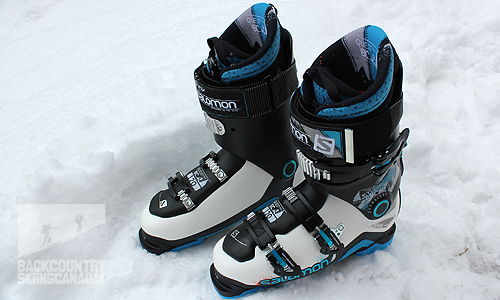 SPECS:
Price: $699 CAN
Weight: 3616 per pair (size 26.5)
Size: 24.5 - 29.5 (in half sizes)
Colour: White, Blue, Black
Flex: 120
Ski Awards: 2014 Powder Magazine Skier's Choice
Warranty: 2 years
PROS:
- Over 900g lighter (per pair) than the regular Quest 120 Max boots we reviewed last year (size 28)
- Vastly improved liner which is also lighter and provides flex zones
- Wrap around sole for ski-mountaineering
- Optional tech soles that you can switch out
- Solid
CONS:
- Top buckle is still hard to latch
- Stock foot beds offer no arch support and sit very flat
- Walk mode flex is very limited without the top buckle undone
- Still at the mid to higher end of the weight scale for a dedicated ski touring boots but the weight savings is welcome
Rating: 8/10
Fit/Comfort 1.5/2
Cuff Rotation 1.5/2
Function 1.5/2
Weight 2/2
Quality / Price 1.5/2

Join the discussion in the forums here, and let us know what you think. People like/dislike gear for different reasons so chime in and we'll get a well-rounded evaluation.
Back to the rest of the reviews.
---