Salomon Quest Max 120 BC Boot - Video Review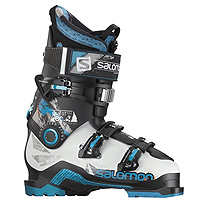 Innovation never stands still and this is surely true of Salomon's never ending improvements to their boot line up. Last season we reviewed the Salomon Quest Max 120 alpine touring boot and new for the 2013/2014 ski season is the Salomon Quest Max BC 120 or 'backcountry boot' which sports many new features and benefits. The biggest benefit of the Quest Max BC 120 over last year's Quest Max 120 is that the new "BC" model is 448 grams lighter per size 28 boot (according to our scales). This is based on the BC version weighing in at 2030g per boot versus 2478g for the original Quest Max 120.
Check out the video review of the Salomon Quest Max 120 BC Boot below and the full review over here.
Here is last years version in comparison to this years…