Buckles:
The four Pegasus buckles are very unique in their design and offer up some true innovation. Not only are they lightweight, they also provide good leverage and holding power when ratcheted down. In Tour mode they are well out of the way on top of the boot and nowhere near the sides of the boots like other buckle designs. This provides a clean lower profile for post holing or ski mountaineering. It also prevents rocks, trees and stumps from catchinfg the buckles and protects them from being damaged. The Pegasus clasp system is a unique cam design that does take some practice to get used to but after a few tries it becomes second nature. My favourite feature of this buckle design has to be the micro-adjustability that's available even when the buckles are engaged. There is no need to unclip the buckles to adjust them. Brilliant. As well, getting in and out of the La Sportiva Spectre is not impeded by the buckles as they flip out of the way to provide easy access for your foot.
(If you are interested in reading about the La sportiva Adjuster Soft Shell Jacket and Prospector Pants, click on over here to those reviews.)
Below you can see the buckle engaged and below that releasesd. Note the micro-adjustment which you can adjust while still buckled into the boot.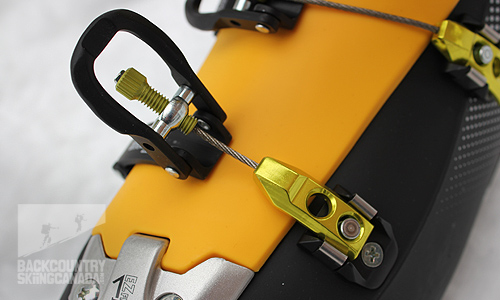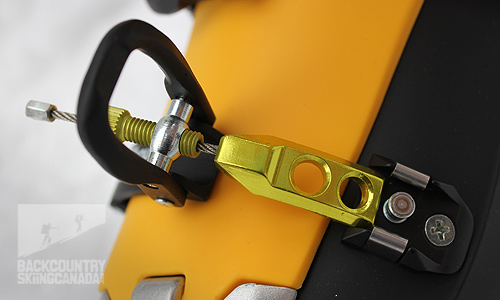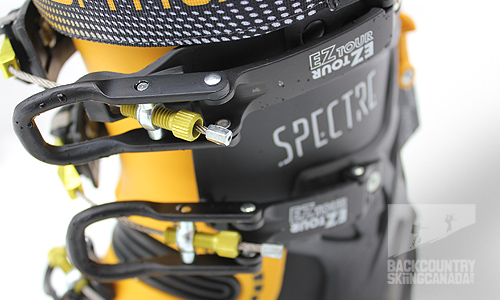 Liners:
While not Intuition liners the La Sportiva Spectre AT boot liners are made from dual density closed cell foam and are thermoform-able so that they can be customized to your feet. There is a flex zone in the liner to accommodate the 60° of cuff rotation that the shell allows for without having the liner bulge or buckle. The optional single handed lacing system is super easy to use and stays out of the way with a velcro fastener. If you like the added security of a lacing system, it's there, and if you don't, thats ok too thanks to the minimal design. The liners are warm and comfy and the toe box has venting to allow your feet to breath.
Quality designed liners top to bottom.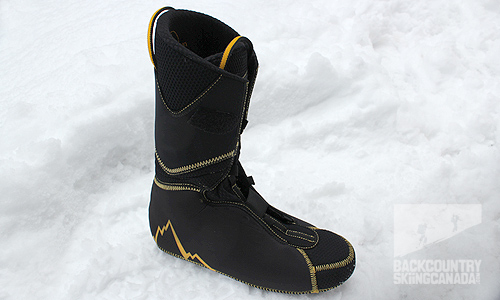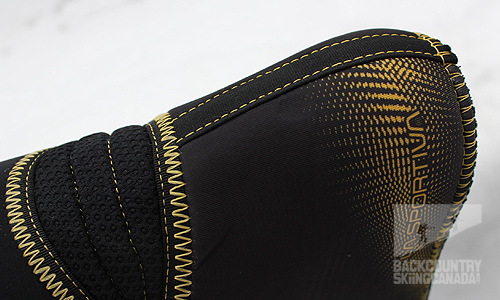 Soles:
Dual density Vibram soles (more rigid materials in high wear areas such as the toe and heel) provide hiking boot grip on rock and slippery ski lodge cafeteria floors alike. Tech fittings in the toe and heel allow for pairing with ultra light tech bindings such as the Plum Guide Tech Bindings while still allowing use with more common frame alpine touring bindings.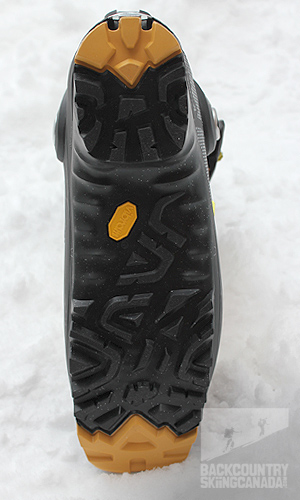 Tech fittings front and back (naturally).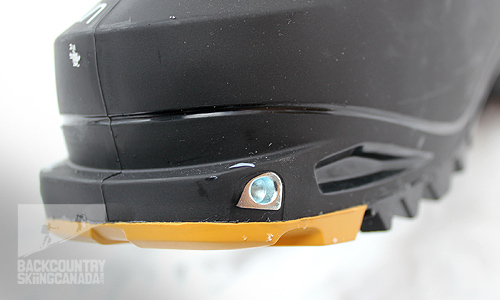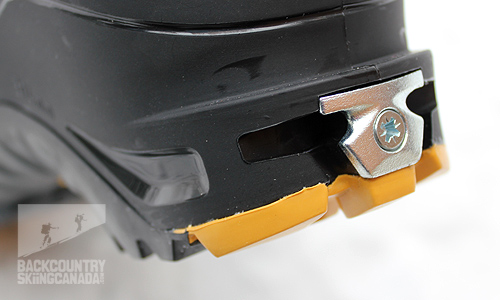 Features:
Buckles: Four Pegasus buckles are micro-adjustable without undoing the buckle
Liner: EZ Thermo Liners are plush and thermo-formable with optional lace system
Tongue: EZ Flex tongue for smooth touring/walking and progressive flex for skiing
Forward Lean: 3 preset forward lean options (10˙, 14˙, 18˙)
Cuff Rotation: 60˙cuff range of motion
Compatibility: Works with all "Tech-Style" and AT bindings, indicators help align boot in tech fittings
Sole: Dual density Vibram sole
Here's the 360° view.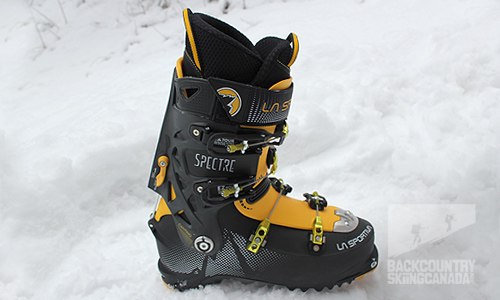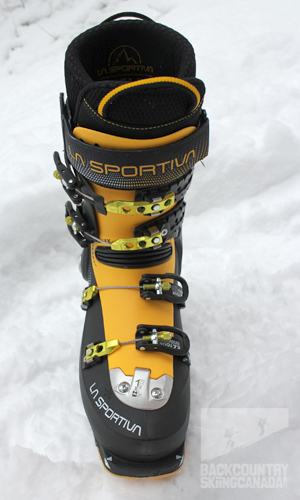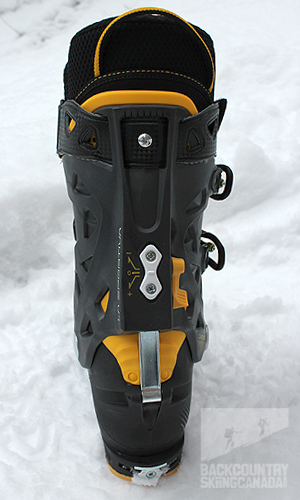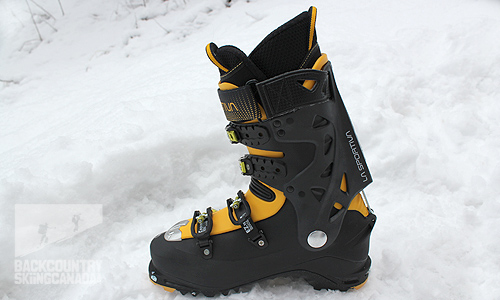 A close up of the walk/ski mode mechanism which provides 60° of cuff rotaion in walk mode!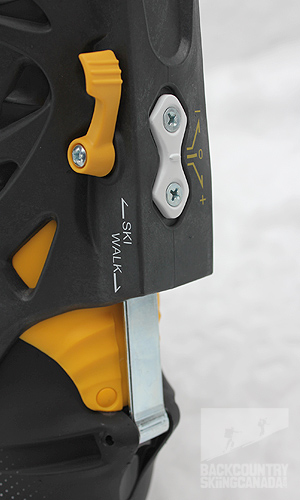 Materials:
Shell: Grilamid
Cuff: Pebax
Spoiler: Marfram
Tongue: Grilamid
Vertaba/Spine: Carbon-reinforced Grilamid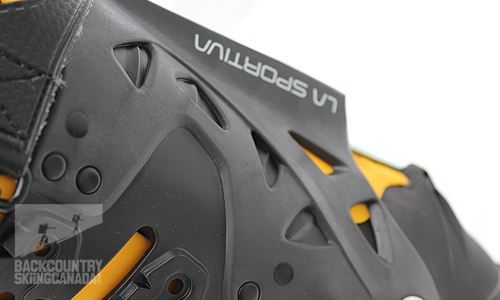 Verdict:
I had not owned a single product from that elusive euro brand La Sportiva, yet had been continually intrigued at trade shows by their shiny new innovations and ski-mo influenced design. Finally getting my hands on a pair of the new La Sportiva Spectre AT boots this fall I was quickly won over and am now a true believer that the Italians really do know how to make foot wear of all shapes and sizes.
The Spectres were easy to slip on and off and once inside my foot was supported and comfortable. I did swap out the stock foot beds in favour of my Sidas Custom Insoles because you just can't have cloth seats in a Porche Boxter. Quickly switching into walk mode in my living room I was eager to see if the 30° range of motion forward and aft was too good to be true. To my delight it was in fact true and I soon realized that if you really had to, you could actually run in the La sportiva Spectre Boots. Most alpine touring boots promise up 20° forward and back cuff rotation but I often find the forward flex is severely lacking. Not so with the Spectre.
Next, I compared weights with my Dynafit One AT Boots and was surprised to see that this 4 buckle boot actually came in at 220 grams per pair lighter—another plus for the the Spectres. I was however initially perplexed by the functionality of the Pegasus buckles as I had never seen anything so simple and yet so frustrating. The love/hate relationship soon turned rosier as I realized that it was my lack of familiarity with the buckles that initially brought out the hostility. After two ski tours I was a pro and quickly appreciated their low-weight simplicity and out of the way design. This appreciation grew to out right love as I discovered that I could micro adjust the buckles with out having to un-clip them. From this point on any further techno-candy would only fuel my admiration for these boots.
Eagerly testing out the features in my living room is all fine and good but do they ski worth a damn? In the past, I have skied in AT boots that flirted with the balance between light weight and high performance and they have failed miserably. The La Sportiva Spectre AT boots were surprisingly stiff given their cuff rotation but once you switched to ski mode things seemed to be locked and loaded. No heel movement, no pressure on the dorsal artery that runs across the top of my foot (so my feet didn't get tingly from over tightening). Plenty of room in the toe box to keep the toes warm, forward lean—check. All systems were go and whether it was skiing the backcountry pow or resort groomers the Spectres were solid with a nice progressive flex so that shin bang was not possible. They proved to be a responsive, solid AT boot that are plenty stiff (110 flex rating if you give these any credibility) and could easily power fat skis in any condition.
With several ski tours and more resort days than I care to admit to there were only a few minor issues that I could see. The arrows on the toe piece that help align tech fittings to the bindings disappeared after one use with frame AT frame bindings, namely the Marker F12. These idicaters could easily be moulded into the toe piece to rectify this minor flaw.
The only other blemish on an otherwise perfect record was that the instep buckle tends to hit the EX flex tongue right in the flex zone and I wonder if this will eventually wear away this softer material. This was due to the adjustable two position buckle receiver as it's held in place with a single screw and no post to keep it aligned with the rest of the buckle so things get mis-aligned as they are tightened.
Overall the La Sportiva Spectre AT boots are a rando race style boot that provide alpine skiing performance without compromise. The price point is a shocking $599 US which makes it affordable when compared to other full featured lightweight AT boots in its class. Well done.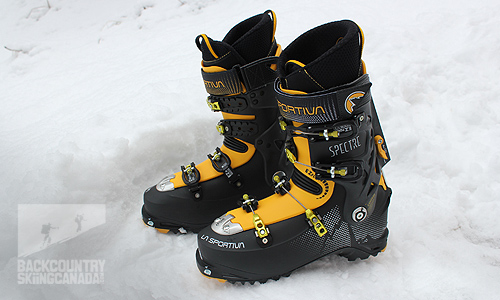 SPECS:
Price: $599US
Weight: 1445 g / 3 lbs 2.97 oz (1/2 pair, size 27.5 - with liner and footbed)
Sizes: 25 - 31.5
Colour: Black/Yellow
Flex rating: 110
Awards: Backcountry Magazine Editors Choice Award 2014
PROS:
- Super comfy
- Lightest 4 buckle boot on the market 1445g (1/2 pair size 27.5)
- A true 60° range of motion in walk mode
- Pegasus buckles are the only on-the-fly micro adjustable buckles
- Buckles are low profile and remain out of the way even in tour mode
- Grilamid shell is super light
- Very reasonable price at $599 US
- Skis the resort just as well as the backcountry
- Tech compatible
- Adjustable forward lean
- Adjustable volume with the EZ Flex tongue
CONS:
- Buckles have a learning curve to them but once you get past that they are bliss
- On very cold days, one of my boots had trouble releasing from walk mode and also switching over to walk mode. This is not a known issue with La Sportiva and a little bit of white grease in the mechanism fixed things up.
- The pivot design can come loose so be sure to keep it tight with an allen key
Rating: 9/10
Fit/Comfort 2/2
Cuff Rotation 2/2
Function 1/2
Weight 2/2
Quality / Price 2/2

Join the discussion in the forums here, and let us know what you think. People like/dislike gear for different reasons so chime in and we'll get a well-rounded evaluation.
Back to the rest of the reviews.
---