La Sportiva Adjuster Jacket and Protector Pants
Having just reviewed the La Sportiva Spectre AT boots and been more than impressed with those, it was with high expectations that I reviewed the La Sportiva Adjuster Soft Shell Jacket and La Sportiva Protector Soft Shell Pants which were both introduced in 2012.
I spent the better part of two months ski touring in all kinds of weather around Whitewater Ski Resort in the Selkirk Mountains and at Powder Creek Lodge in the Purcell Mountains. From -24°C in early December to 0°C in early January the La Sportiva Adjuster Soft Shell Jacket and Protector Soft Shell Pants provided unparalleled protection from the elements no matter what Mother Nature threw at me. While the Adjuster Soft Shell Jacket and Protector Soft Shell Pants don't carry the same name (such as the Outdoor Research Valhalla Jacket and Pants) they are designed of the same philosophy and also complement each other quite well given their similar design and fabrics.
La Sportiva started their clothing line fairly recently, offering a total of 48 items. They range from Lycra rando racing suits to more standard soft shell pieces. All of La Sportiva's clothing has a distinctive euro design (whether you love it or hate it) and their underlying design is based purely on function. Each piece is designed to be layered, from long underwear to insulation. Jonathan Lantz, President of La Sportiva North America states "It's a specific product for a specific end use. We've used top of the line material across the board, giving skiers the features they want and the fabrics they want with an eye to keeping the pricing competitive."
Let's look at the jacket and pants separately so I can illustrate their individual features and attributes and then we can circle the wagons back to my overall thoughts in the verdict at the bottom of this review.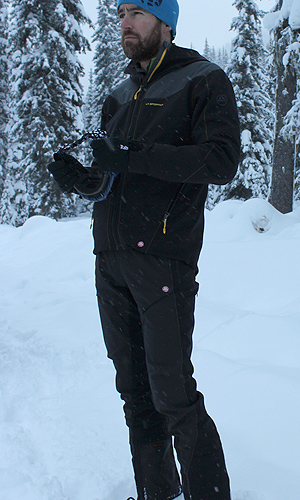 La Sportiva Protector Soft Shell Pant:
Soft shell fabrics are meant to breathe in order to release heat and moisture. This usually keeps you dry, warm and comfortable, so long as the breathability doesn't allow wind to penetrate and freeze you to the core. La Sportiva wisely uses Gore Windstopper in the Protector Soft Shell Pants so that no wind is able to penetrate the fabric. Should your temperature rise due to high aerobic activity there are two rear leg vents to allow you to dump heat quickly. Placing these vents behind your leg is strategic in that they will not be affected by headwinds and driving snow. With two fleece lined hand warmer pockets, a single rear pocket and thigh pocket, there is plenty of storage for on-the-go items. The thigh pocket also has a storm flap and a built in transceiver clip should you wish to carry your transceiver in this fashion.
The Frankenstein combination of fabrics on the Protector Soft Shell Pants is evident by scanning over the Fabrics list below but each serves a purpose and is thoughtfully placed. The fit is trim but there is enough spandex in the fabric mix to allow for plenty of give and motion.
The La Sportiva Protector Soft Shell Pants also offer up plenty of customization depending on how you prefer to keep them on your frame. There are removable suspenders, a zip in/out bib for added warmth and protection from snow and the waist band is adjustable if you prefer to go the basic route.

Features:
- GORE® Windstopper® fabric
- Quick adjust waistband
- Articulated knees
- 1 back zip pocket
- Removable waist gaiters & suspenders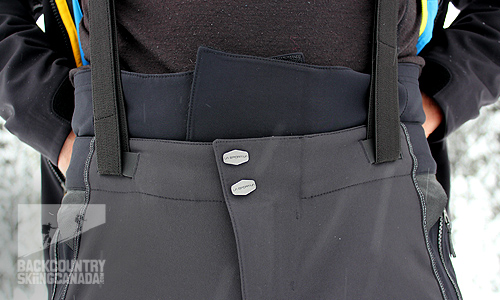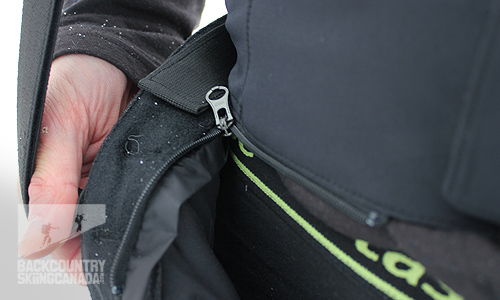 - Side leg zip ventilation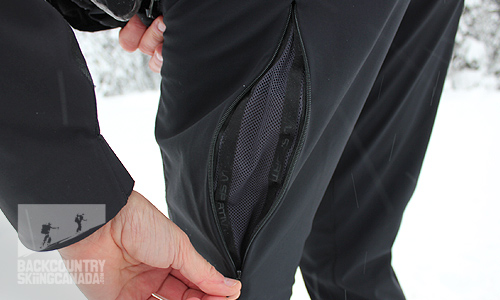 - 1 Thigh zip pocket which doubles as a transceiver pocket

- Integrated leg gaiter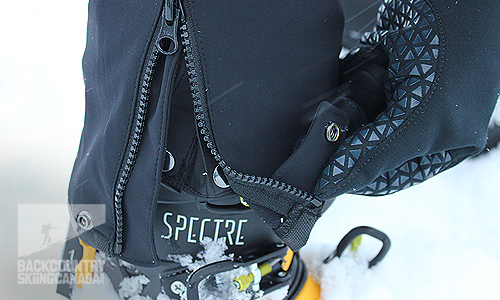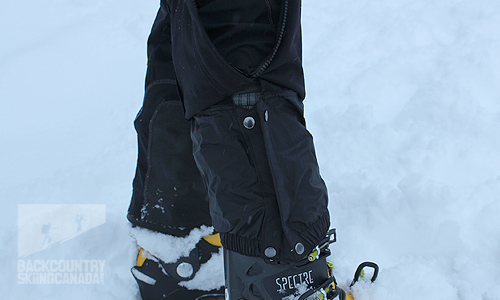 - 2 front zip hand pockets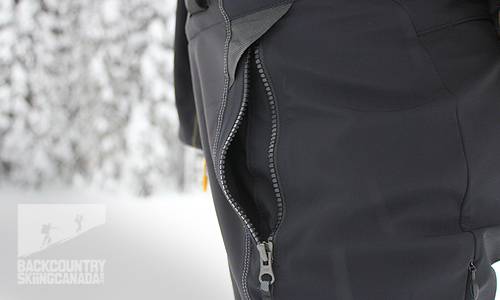 Fabric:
EXO2 S Shell 2L
Shell - 85% Polyester, 15% Spandex, Repeloff Nano Super DWR
Backing - 50D Interlock Brushed, 100% Polyester
Front Leg: GORE® Windstopper® S/Shell 3L
Shell - 94% Nylon, 6% Spandex
Backing - 100% Polyester fleece
Laminate - 27% Polyester, 51% Nylon, 3% Spandex, 19% ePTFE
Scuff Guard: SuperFabric®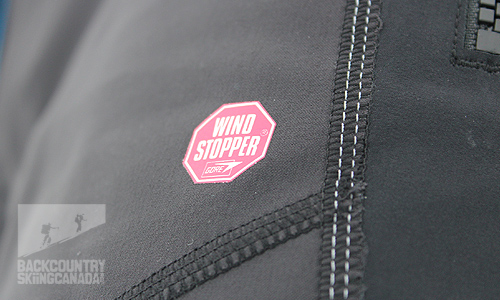 La Sportiva Adjuster Soft Shell Jacket:
Like the La Sportiva Protector Soft Shell Pant the Adjuster Jacket is a Gore Windstopper soft shell piece with multiple fabrics located in just the right areas. It has Windstopper on the front to cut the head-on gusts and highly breathable, moisture wicking fabric on the back where you sweat. Breathable and windproof, the Adjuster Jacket allows you to maintain a comfortable body temperature for both low and high aerobic activity. The built in hood has a slim design but provides protection from wind and snow should conditions change. Similarly, the pit zips provide a way to dump excess heat should the day heat up or your cardio output ramp up.
Other niceties include compression zones on the cuffs so the material does not bunch when you cinch things up, high wear panels on the shoulders provide protection under your pack straps and a thoughtful North American touch of having the zipper on the right instead of the left.

Features:
- GORE® Windstopper®
- 2 front zip hand pockets
- 1 internal security pocket
- Underarm zipper ventilation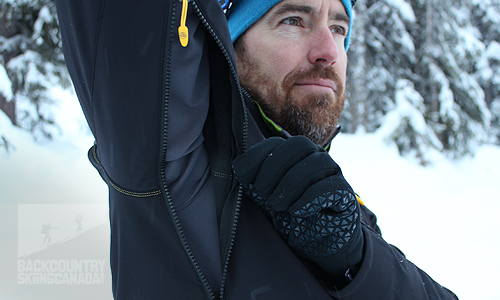 - Internal pocket with headphone access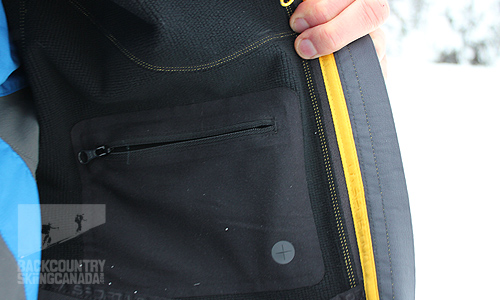 - 2 internal drop pockets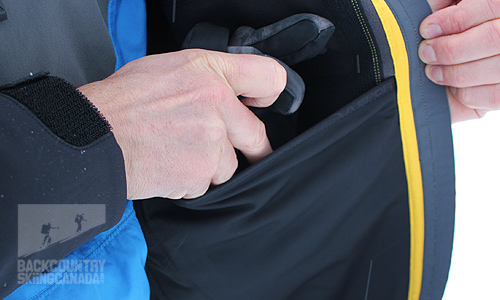 - Adjustable cuffs and hood and hem.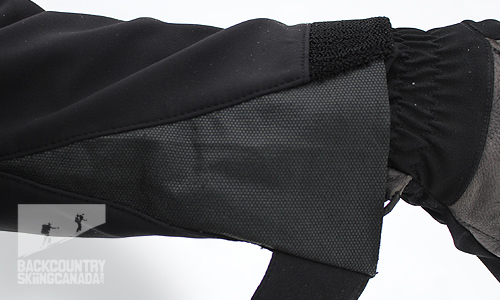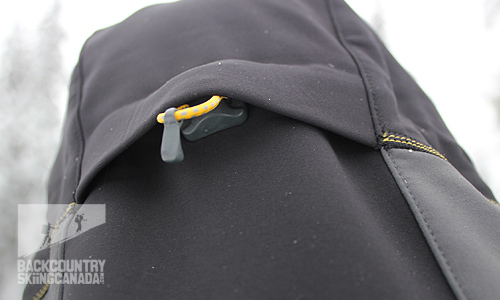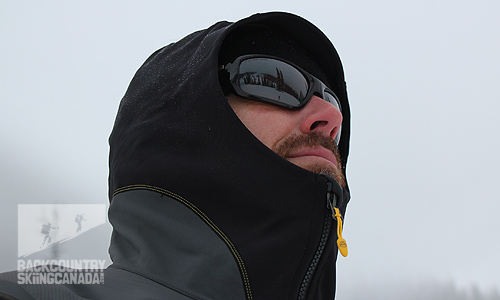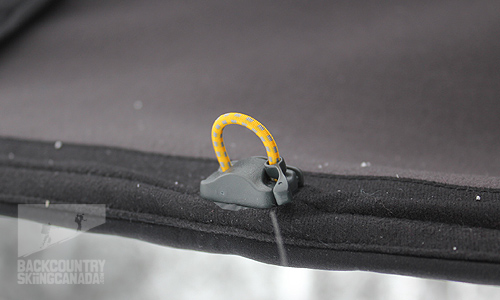 Fabrics:
Windstopper Soft Shell 3L
Shell - 92% Nylon; 8% Spandex
Backing - 100% Polyester fleece
Membrane - 60% Polyester, 34% Nylon, 3% Spandex, 3% ePTFE
Back & Side Inserts: Soft Shell 2L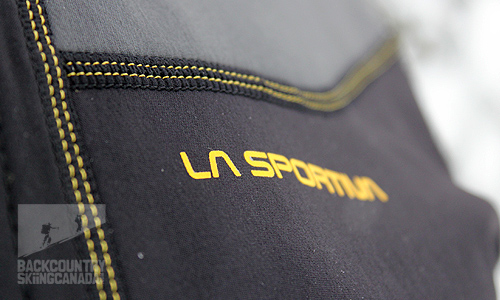 Verdict:
La Sportiva continues to impress with their soft shell touring clothes after an over the top review of the La Sportiva Spectre AT boots. Having been on the hunt for the perfect soft shell ski touring pants for well over two years my quest was finally fulfilled by the La Sportiva Protector Soft Shell Pants. Not to be outdone the La Sportiva Adjuster Soft Shell Jacket offered up similar top shelf design and quality fabrics. Even though the Adjuster Jacket and Prospector Pants are not branded with the same moniker they belong together just like peanut butter and jam.
I found the fit of both items to be trim, and the fabrics provided enough support that they did not feel like they were draping off my body. The spandex content in the fabric mix provides adequate range of motion even given that this is the only pant I have ever worn in a size small given my 32x32 typical pant size. The Gore Windstopper provided incredible warmth and protection from ridge top winds thanks to it's fleece lined backing. Having tested both garments in weather extremes from 0°C to -24°C I found they offered optimal warmth in the 0°C to -10°C range but I opted to wear a thin merino long john from Smartwool (LINK) when the mercury dipped south of the -10°C range. Given the insulation value I was expecting to be overly warm when the weather rose to the freezing mark and the aerobic output was full throttle, but I was surprised how well the soft shell breathed and the added heat dumping features kept me comfortable.
Some additional specifics and opinions on each product are listed below:
La Sportiva Protector Soft Shell Pant
- The transceiver pocket is perfectly placed and the fabric weight easily supports the weight of your transceiver and provides easy access in the event of a search or simply a transceiver check.
- The material weight is supportive with out being too warm, flappy or heavy.
- The Rear leg vents are ideally placed for head winds and snow, just be sure to do them up before you sit in the snow or on a chair lift at the resort. You will also have to remove your gloves before you are able to open the zips as they are almost invisible.
- I have never worn a small pant before but being a 32x32 it fits me perfectly, the fit is very slim but I prefer this to the baggy nature of most ski touring soft shell pants as the tighter fit keeps me warmer.
- The velcro on the internal gaiters sticks to your ski socks as does the securing velcro on the add-on bib which can be frustrating.
La Sportiva Adjuster Soft Shell Jacket
- I have found that the hand warmer pockets are not 100% backpack compatible and could be moved up a further 3-4cm.
- Water beads incredibly well and wind is no match for the Gore Windstopper fabric.
- I felt warmer than in most soft shells I have worn previously thanks to the thin fleece lining on the Gore Windstopper fabric, ditto for the Prospector Pants.
- The compression zone on the cuffs is brilliant as are the built in pit zips which are unique to most soft shell jackets, however the zippers should start at the high end of the arm as they can get confused with the pocket zips.
- Internal skin pockets are ideal for ski touring or other larger items
SPECS:
La Sportiva Protector Soft Shell Pant
Price: $299 US
Weight: 810g / 28.5oz
Sizes: S, M, L, XL
Colour: Black
La Sportiva Adjuster Soft Shell Jacket
Price: $299 US
Weight: 657g / 23.1oz
Sizes: S, M, L, XL
Colour: Black
FIT: Regular
Soft shell weight: Mid weight
PROS:
- Well thought out design with quality fabrics
- All pieces in the La Sportiva line are fairly priced
- Fabric is warm but did not make me sweat while ski touring
- Windproofness is second to none, the Gore Windstopper is incredible stuff
CONS:
- Alternate colour options would be nice
- Some may not like the Euro design influence
- Leg vent zips are far to small to find with a glove on and their invisible nature makes them hard to zip up and down
- Gaiters in the pants are adjustable and the velcro can get stuck to your socks
- Pant legs are very tight around your ski boots but provide a trim look when you have regular boots or shoes on for aprés ski
Rating: 9/10
La Sportiva Protector Soft Shell Pant
Fit / Mobility 1.5/2
Packability 2/2
Warmth / Breathable 2/2
Features 2/2
Quality / Price 1.5/2
La Sportiva Adjuster Soft Shell Jacket
Fit / Mobility 1.5/2
Packability 2/2
Warmth / Breathable 2/2
Features 2/2
Quality / Price 1.5/2

This is only our opinion. Do you disagree? Did we miss something? Are we totally out to lunch? Join the discussion in the forums here, and let us know what you think. People like/dislike gear for different reasons so chime in and we'll get a well-rounded evaluation.
Back to the rest of the reviews.
---