I have personally been looking for the ideal ski touring soft shell pants and jacket for well over two years now and was eager to see if the Men's Valhalla offering could fulfill my requirements and provide the features I was looking for. Let's start at the top and look at what each piece has to offer.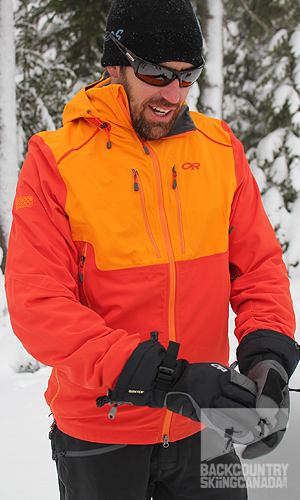 Outdoor Research Valhalla Jacket:
A long list of features makes the Valhalla Jacket ideal for ski touring but rather than touch on each one individually I will speak to the ones that I found to be truly unique and then simply list the rest below. First and foremost, the Gore Windstopper X-Fast Soft Shell fabric is extremely stretchy and thus provides a large range of motion and great fit. The fabric face is soft to the touch and allows excess heat to escape while keeping out wind and moisture. The jacket's mesh lining allows any one of the four external pockets to act as vents: two harness and pack compatible hand warmer pockets and two Napoleon pockets. If additional venting is desired, the pit zips can be opened all the way to the hem in OR's unique Torsoflow design. Snaps located directly beside the hem adjustments keep the jacket cinched to your waist when you have these huge vents maxed out. In addition, two interior zippered pockets provide unique features for both MP3 players and additional venting. On the right is a mesh pocket with access from the exterior Napoleon pocket while on the left is an MP3 pocket complete with ear phone pass through and clear window display.
In addition to great venting options and a plethora of pockets the Valhalla Jacket has a very high collar and a dual adjustable hood with an adjustable wire brim that allows for fine tuning given the weather direction.
Two Napoleon pockets; one has internal access through the inside pocket.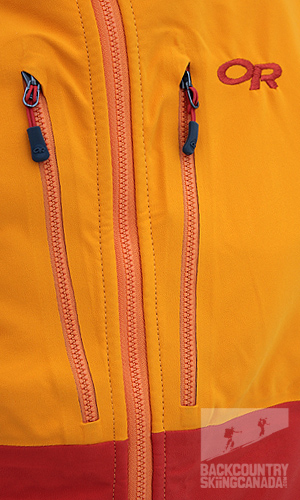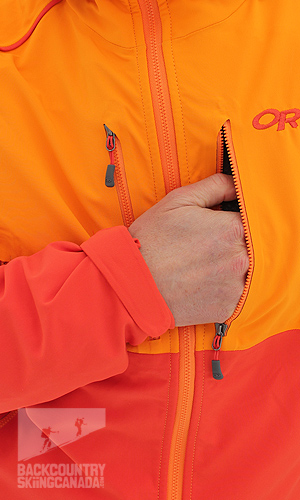 Two hand warmer pockets are mess lined to facilitate venting.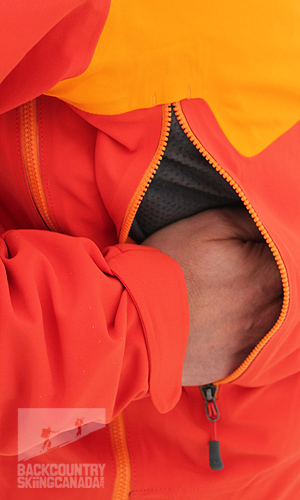 Full side zips double as pit zips while the snap keeps the jacket still technically on you.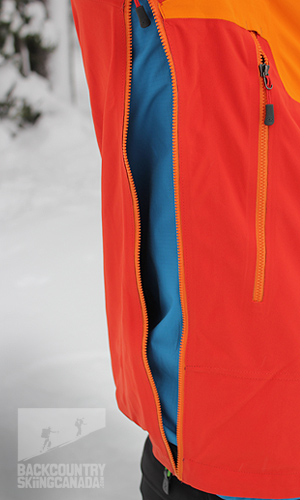 Outdoor Research Valhalla Jacket Features:
- Critically Taped Seams
- Windproof / Water Resistant / Breathable
- Drawcord Hem
- Hand Pockets Set Above Hip Belt or Harness
- One Internal Pocket and One Pass-Thru Pocket
- Dual Zippered Napoleon Pockets
- Internal Front-Zip Stormflap
- Double-Sliding TorsoFlo™ Hem-to-Bicep Zippers
- DWR Coated Zippers
- Hook/Loop Cuff Closures
- Double-Separating Center-Front Zipper
- Cuff adjustments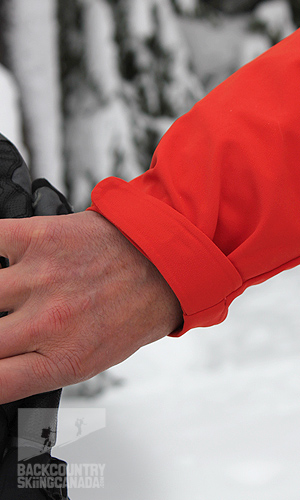 - Internal Mesh Chest Pocket, with an Internal Media Pocket on the opposite side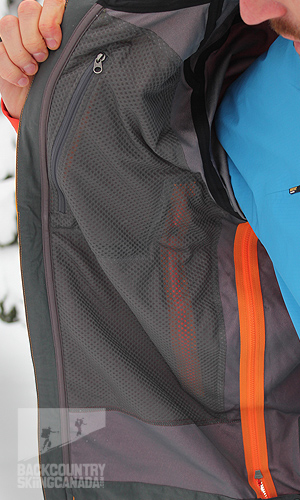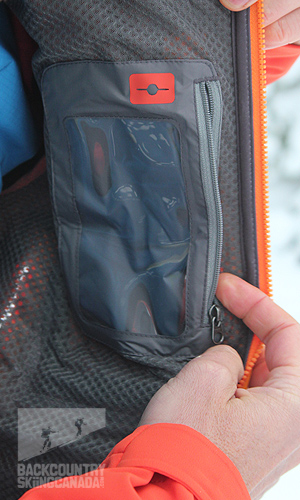 - Adjustable Wire-Brimmed Hood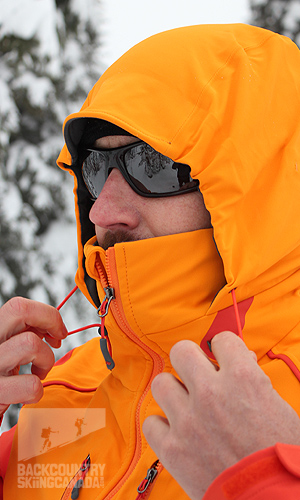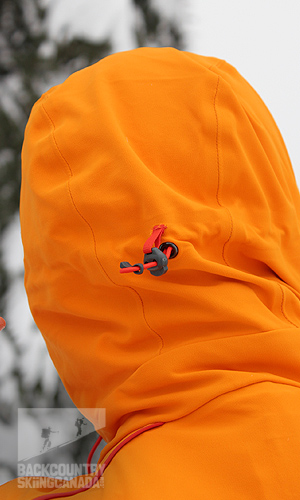 Outdoor Research Valhalla Pants:
Range of motion is the main feature of the OR Valhalla Pants thanks to the generous cut and flexible Gore Windstopper X-Fast Soft Shell material. Whether you are skiing down or skinning up you need the flexibility for deep lunges and long strides and the Valhalla pants offer this in spades. To ensure they stay up on your hips and don't migrate down given the gravity of your pack Outdoor Research has incorporated an adjustable velcro hem. Yup, just like the ones you see on kid's pants. This allows a snug fit without the need for a belt or suspenders, however belt loops are included should you so desire.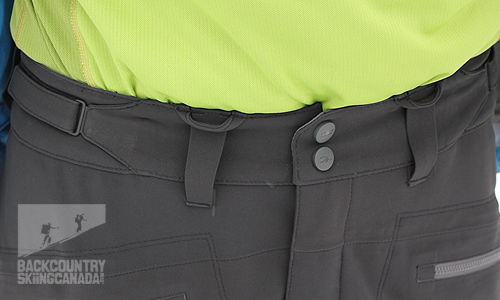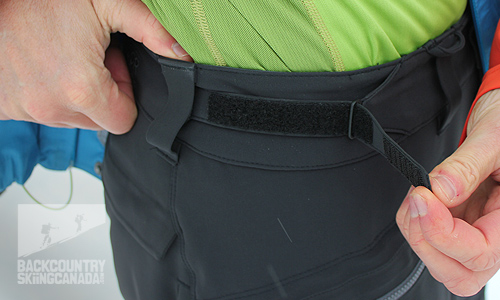 In keeping with the venting options on the Valhalla Jacket the pants offer two massive thigh vents with double action zips. The Gore Windstopper X-Fast Soft Shell fabric is plenty breathable, however, if you have to dump large amounts of heat these thigh vents get the job done lickety-split. There are also five pockets on the Valhalla Pants but unfortunately only the back butt pocket offers a mesh lining for further venting. Two side thigh pockets, two hand warmer pockets and one rear pocket provide ample storage for small items. The right hand warmer pocket has a built in secondary interior pocket with a beefy clip to accommodate your transceiver should you prefer this carrying method over the standard chest harness method.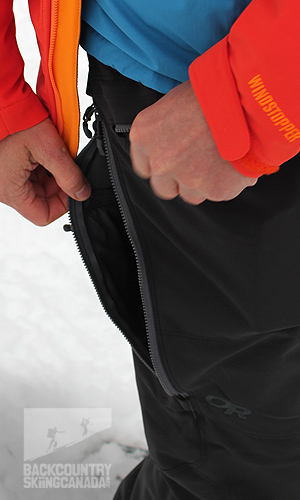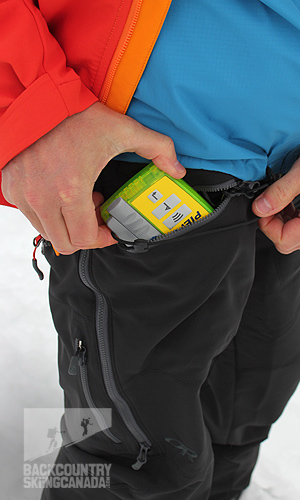 The final stand out point for this reviewer had to be the no-nonsense built in gaiters. With no adjustability and an elastic hem the gaiters offer a solid seal around your boots without having to fiddle with snaps, velcro and elastic adjustments. Keep it simple I say. The gaiter itself is 2/3s mesh so again it allows moisture and heat to escape while still keeping snow and weather out. The exterior instep materials provide a reinforced scuff guard to prevent fabric nicks and tears due to rocks and erratic ski edges.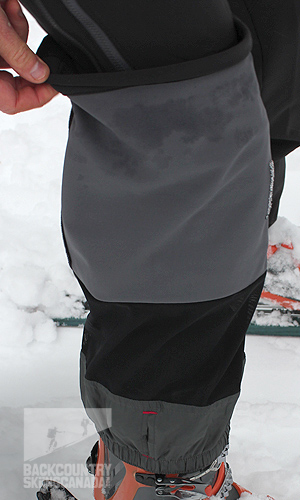 Outdoor Research Valhalla Pants Features:
- Critically Taped Seams
- Internal Stretch Gaiter
- Zippered Thigh Vents
- Secure Avalanche Beacon Pocket with Key Clip Attachment
- Windproof / Water Resistant / Breathable
- Reinforced Scuff Guard
- Adjustable Tabs at Waist
- Accepts Accessory Suspenders
- DWR Coated Zippers
- Articulated Knees
- Zippered Thigh Pocket
- Dual-Snap Zipper Fly
- Belt Loops

Verdict:
The Outdoor Research Valhalla Jacket and Pants are a huge leap forward in soft shell ski touring garment design and they offered up huge venting and pocket storage options and several other great features. As is expected with a newly designed garment there were a few areas ripe for improvement. Let's recap the pluses and minuses shall we?

On the Valhalla Pants the built in gaiters are simple to use, the mesh lining is breathable and the leg vents are massive and work extremely well. I did, however, find the fly a little small to work with and it could be extended to facilitate nature's call. The built in transceiver pocket is a useful feature and the sturdy clip ensures you will never loose your transceiver. Despite this, I do question the pocket's location; positioned on top of the thigh rather than at the side, the transceiver pocket is awkward when you sit and also feels uncomfortable when walking given the light weight nature of the soft shell material. The pocket itself is not baffled so the fabric is tight around the transceiver and tends to jut out. Moving my transceiver to the side thigh pocket could work as there is a small fabric lock for securing it but the light weight nature of the Gore Windstopper X-Fast Soft Shell does not provide enough support and you tend to feel the weight of the transceiver pull on the fabric even more in this location. On a final high note the velcro waist adjustment on the Valhalla Pants means that there is no need for suspenders or a belt to keep the pants north of your equator, however belt loops are provided should you prefer this option.
On the Valhalla Jacket I was a big fan of the fabric's feel, fit and colours. In contrast, the piping detail and two tone design were not my thing. Person preference here though, so you be the judge. The side pit zip "Torsoflow" vents were massive and provided the best venting option I have ever seen on any jacket. Pockets abound in every fashion, location and configuration you could ever want and they were not intrusive and seemed to meld seamlessly into the jacket design. The square cut shoulders on the Valhalla looked great and fit but when you raised your arms they tended to bulk up and looked a little odd, not a show stopper but just something to take note of.
Overall, the Outdoor Research Valhalla Jacket and Pants are a dedicated soft shell combo that will do any backcountry skier proud in the mountains. With a clean design and integration of a long list of features you should do yourself a favour and check them out in person.
So did the Outdoor Research Valhalla Pants answer my eternal quest to find the best backcountry ski touring soft shell pants? Yes,… and no. They had all of the attributes I was looking for but not all of them were exactly as I wanted. I am picky and that's just my opinion. Most will be more than happy with the Valhalla Pants design and performance but you'll just have to try them for yourself.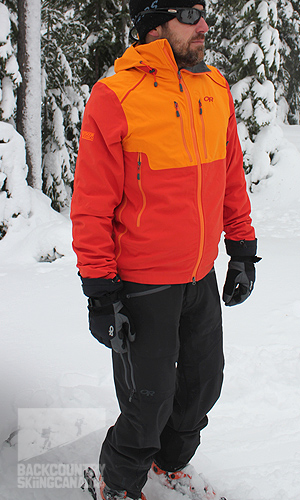 SPECS:
Outdoor Research Valhalla Pants
Price: $299 US
Sizes: S, M, L, XL, XXL
Colour: Black, Hydro, Supernova
Weight: 694g / 24.5oz
Material: Gore Windstopper X-Fast Soft Shell, 3L 85% nylon, 15% spandex face. 92% polyester, 8% spandex back
Guarantee: Infinite
Outdoor Research Valhalla Jacket
Price: $350 US
Sizes: S, M, L, XL, XXL
Colour: Black, Abyss/Hydro, Diablo/Supernova
Weight: 613g / 21.6oz
Material: Gore Windstopper X-Fast Soft Shell, 3L 85% nylon, 15% spandex face. 100% polyester back
Guarantee: Infinite
Awards: Ispo Award Winner 2013
PROS:
- Gore Windstopper X-Fast Soft Shell fabric is light
- Loose fitting which provides good mobility
- Pit zips on jacket are huge
- Wire brim on jacket hood is ideal for keeping out weather
- Media port on jacket is perfect
- Lots of pockets everywhere on the jacket and harness / back pack compatible
- Leg vents on pants are well placed and double zips ideal
- Pant gaiters have mesh and no adjustability which makes them easy to use and not hot
- Adjustable pant waist is ideal and replaces the need for a belt or suspenders
CONS:
- Jacket aesthetics are not my thing
- Jacket shoulders are square cut and fit strangely when arms are raised
- Pants are very, very loose on the legs but perfect at the waist
- Transceiver pocket on thigh is not ideal as it bounces around, side of thigh would be better; however, the soft shell fabric is not that supportive
Rating: 8/10
Outdoor Research Valhalla Jacket
Fit / Mobility 1/2
Packability 2/2
Warmth / Breathable 2/2
Features 1.5/2
Quality / Price 1.5/2
Outdoor Research Valhalla Pants
Fit / Mobility 1.5/2
Packability 2/2
Warmth / Breathable 2/2
Features 1/2
Quality / Price 1.5/2

This is only our opinion. Do you disagree? Did we miss something? Are we totally out to lunch? Join the discussion in the forums here, and let us know what you think. People like/dislike gear for different reasons so chime in and we'll get a well-rounded evaluation.
Back to the rest of the reviews.
---