La Sportiva Spectre AT Boot - Review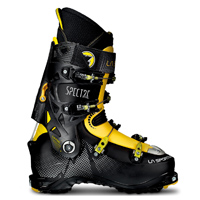 The La Sportiva Spectre AT Boots came to me promising a sixty degree range of motion in walk mode with on-the-fly micro-adjustable buckles that provide a clean low profile shell. Wrap this up in a ski boot which is the lightest 4-buckler on the market and yet can still ski the resort as well as it tours. Impossible, I thought. Well, La sportiva proved me way wrong with the new Spectre alpine touring boot.
Find out all the details in the full review over here and give the following video review a watch.
A 4-buckler that's lighter than most three buckle boots!