Exped SynMat UL 9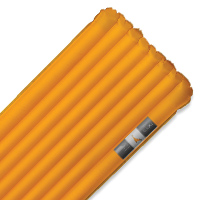 In addition to their down filled sleeping mats, Exped also makes synthetic filled mats as well. These mats are supposed to be lighter, more durable and less expensive than the down mats but offer less warmth due to the synthetic micro fibre filling having less insulating properties than down, the Synmat UL 9 which we will talk about today has 200g/m² of fill and the UL stands for ultra light weight. This mat weighs in just under 800g. The numeric value of 9 equates to 9 centimetres of luxurious mat thickness. This is the most supportive and warmest mat I have ever slept on, with an R value of 6.0 and temperature rating to -25°C. LW refers to long and wide, with dimensions of 197cm x 65cm you can see why. The Synmat UL 9 also comes in small and medium size for those who don't nee quite so much surface area to sleep on. For someone like me who is 5 ft tall, I really didn't need the extra length and width but I toss and turn and roll around at night and thought this might prevent me from constantly sliding off the mat. I did find that I had plenty of room to toss about, and being a side sleeper whose shoulders and hips dig into the ground, I found that the Synmat UL 9 was thick enough to not have this be an issue. However this all came at the expense of taking up the majority of room in our tiny tent, to the chagrin of my tent-partner.
Construction:
The Exped Synmat UL 9 has baffled air chambers that have a micro fibre insulation layer laminated to the bottom and top of each chamber. The lamination process combined with a high performance polyester fabric is supposed to prevent movement of the material and prevent moisture build up in the pad that would break down glue construction which is what is used for many other sleeping pads as well.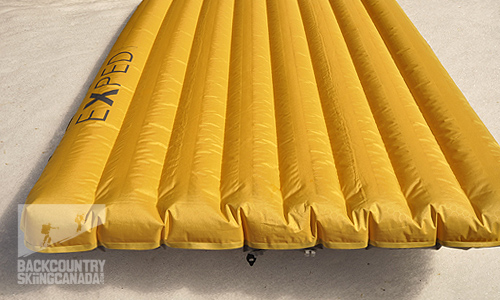 Materials:
A hydrolysis resistant, polyether film laminate is used on both the top and bottom of the Synmat UL 9 mat and the top fabric is a brushed polyester that is supposed to keep you from sliding around on the mat. I personally found that the fabric was not only slippery, but also noisy. I am a light sleeper and I re-woke myself on occasion when I turned over.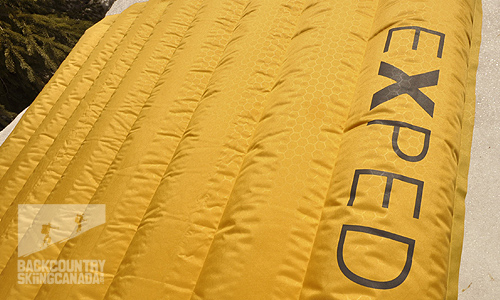 Inflation system:
The Exped Synmat UL 9 is easily inflated by mouth or by using an Exped pump, or the super handy Exped Schnozzel. The SynMat UL 9 does not have an integrated pump like other Exped mats. The integrated pump has a bit of a learning curve in order to be proficient with a movement similar to performing CPR, only on a mat and not a person. There is a separate valve for inflation and deflation which is the same as that on the Exped DownMat 9 which is reviewed over here. I am not sure if this separate valve system is any faster for inflating or deflating the mat than other sleeping mats, and since there is a built in two-way valve deflation can take some time.
One inflate valve and one deflate valve, both located on the bottom of the mat.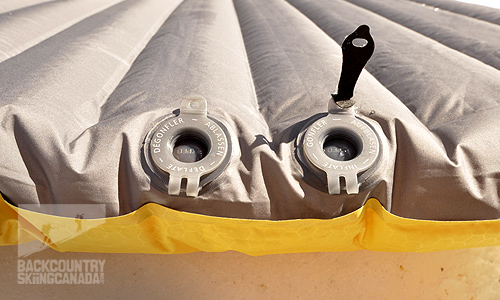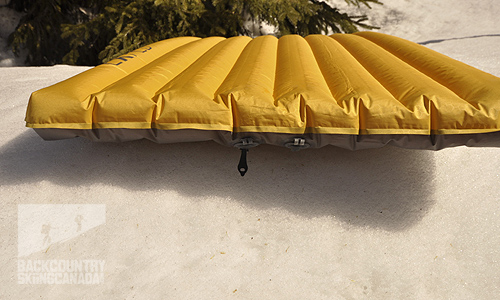 Verdict:
Overall, I found the weight not bad but the packed volume of almost 4 L to be a bit much for backpacking or ski trips, cursing it for skiing and wishing I hadn't sacrificed that extra chocolate bar and bottle of Baileys, but then quickly changing my mind when I was cozied up in bed! Unless you really need the extra length and width, the same mat in a medium is 200 grams less, packs a lot smaller but offers the same warmth and comfort. If I were a bigger person, I might consider this mat if volume wasn't an issue. As it stands however for this reviewer I don't think the Exped SynMat 9 LW is worth the extra weight and pack size for a ski trip, but would be a great winter car camping mattress. Read our review of the Exped DownMat UL 7 LW, the Exped DownMat Lite 5 LW, or the Exped Downmat XP 9 LW review in order to compare and contrast features.
Below is a photo comparison of the Exped DownMat Lite 5 on the top and the Exped SynMat UL 9 on the bottom, notice the difference 4cm can make?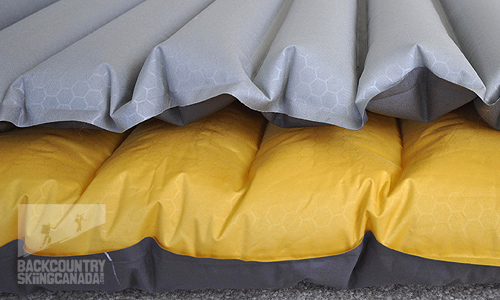 SPECS:
Price: $ 235 CAN
Weight: 795g / 1.75lb
Dimensions: 197× 65cm / 78 × 26"
Packed Size: 27 × 13cm / 10 × 5"
Thickness: 9cm / 3.5"
R-value: 6.0
Colour: Yellow
PROS:
Comfort and warmth! It isn't as good as my bed at home but definitely the most comfortable mat I have ever slept on. Each mat has a 5 year warranty and Exped has a good reputation for customer service. Each mat also comes with a repair kit.
CONS:
I found this mat to be a little on the noisy side, and the material to be a bit slippery while sleeping. Inflation time with the Exped Synmat UL 9 LW took some additional time but this had to do with its larger than normal volume. You can't just open up the inflate valve and walk away and let the Exped SynMat 9 self inflate. Despite the synthetic fill being cheaper than down, these mats are still pricey!
Rating: 8/10
Warmth 2/2
Packed size 1/2
Ease of use 1.5/2
Weight 2/2
Quality / Price 1.5/2

This is only our opinion. Do you disagree? Did we miss something? Are we totally out to lunch? Join the discussion in the forums here, and let us know what you think. People like/dislike gear for different reasons so chime in and we'll get a well-rounded evaluation.
Back to the rest of the reviews.
---