Exped SynMat UL 9 - Review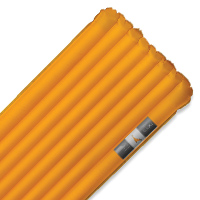 In addition to their down filled sleeping mats, Exped also makes synthetic filled mats as well. These mats are supposed to be lighter, more durable and less expensive than the down mats but offer less warmth due to the synthetic micro fibre filling having less insulating properties than down, the Synmat UL 9 which we will talk about today has 200g/m² of fill and the UL stands for ultra light weight.
This mat weighs in just under 800g and the numeric value of 9 equates to 9 cms of luxurious mat thickness. This is the most supportive and warmest mat I have ever slept on, with an R value of 6.0 and temperature rating to -25°C. LW refers to long and wide, with dimensions of 197cm x 65cm you can see why. The Synmat UL 9 also comes in small and medium size for those who don't nee quite so much surface area to sleep on. For someone like me who is 5 ft tall, I really didn't need the extra length and width but I toss and turn and roll around at night and thought this might prevent me from constantly sliding off the mat.
Read the full review of the Exped SynMat UL 9 here.