Exped DownMat Lite 5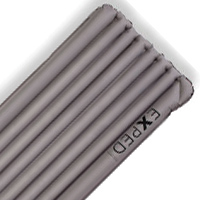 Age matters! Last fall I went on a 3 week climbing trip. The weather was chilly and frosty in the mornings and after 2 weeks of hard climbing, and sleeping on the ground on my lightweight MEC sleeping pad, I would wake up every morning sore and stiff. This never used to happen when I was younger! This was also mentioned in Brad's review of the Exped DownMat UL 7. Just after this Robin reviewed the Exped DownMat XP 9 LW, so I decided to try the Exped DownMat Lite 5 LW, a thinner 3 season version mat in the Exped line up. I was going for slightly luxurious but not completely deluxe mat!
Construction:
The Exped DownMat Lite 5 is made of 75 denier polyester and 650 fill power duck down that is water resistant. Since we have already detailed the construction of these mats in a previous review of the Exped DownMat UL 7 LW and Robin details the fabric in his review of the Exped DownMat XP 9 UL, I won't get into the minutia of construction and materials. However I must mention that the fabric seems to be a bit heavier and therefore more durable than some of the other mats on the market. Time will tell how durable on this one turns out to be. The Exped DownMat Lite 5 LW has 5 cm of thickness and an R value of 4.1, making this more of a 3 season mat with a temperature rating up to -12 c. It weighs 830 grams and takes up almost 5 litres of space, which is fairly significant if you are going on a multi day trip and already carrying a lot of gear. The DownMat Lite 5 has welded baffles, which are quite pronounced and help you stay centred on the mat. It also has a foam barrier at the head of the mat to prevent down from migrating between air cells.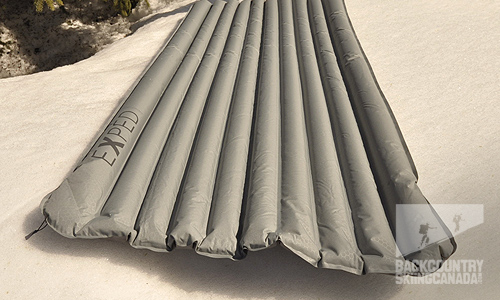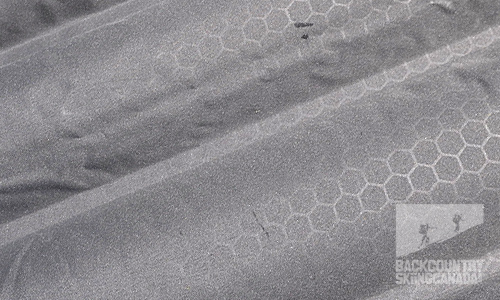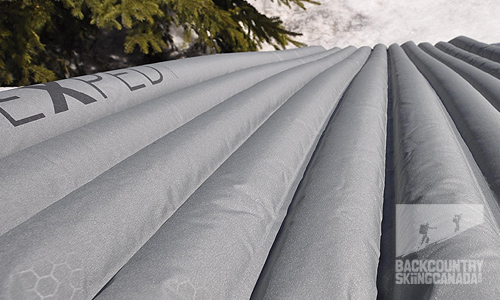 Inflation:
The DownMat 5 has a single, dual purpose flat valve. To inflate it, you use the mini pump, which comes as a separate mechanism. I suppose the bonus of it being separate is that it could double as a pillow, however I have already misplaced mine. I ended up inflating my mat by mouth (the down is supposed to be waterproof, but I am sure I am risking getting moisture inside and this process is not recommended). I was pleasantly surprised by how quick it was to do so, taking less than 30 seconds. This may in part be attributed to the welded baffles. For deflation you use the attached pin, however deflating all the air so that the mat fit back into its stuff sack took more time than I would have liked.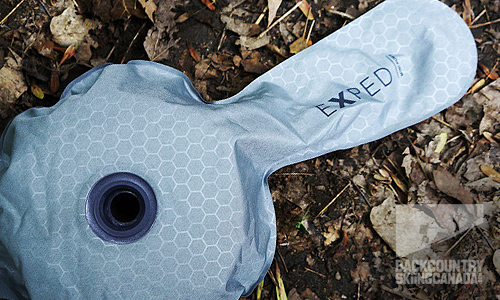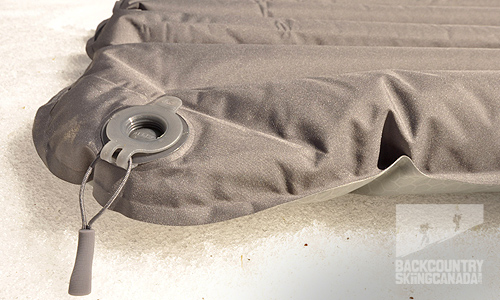 Verdict:
The DownMat Lite 5 is less noisy and slippery than Expeds' synthetic mats such as the Exped Synmat UL 9, but I wouldn't say that they are the quietest sleeping pads on the market. This particular mat also takes up quite a bit of space in your pack and is fairly hefty considering it isn't even a 4 season winter mat. Overall I think some of Exped's other mats offer a better compromise between warmth and weight such as the.
Below is a photo comparison of the Exped DownMat Lite 5 on the right and the Exped SynMat UL 9 on the left.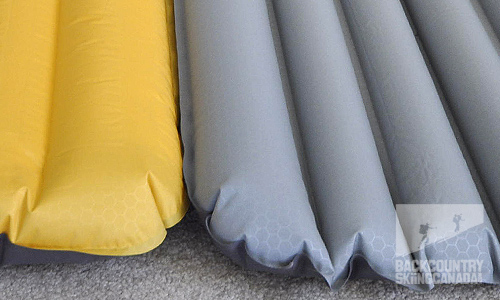 SPECS:
Price: $180 CAN
Weight: 830g / 1.82lb
Dimensions: 197 × 65cm / 78 × 26"
Packed Size: 30 × 16cm / 12 × 6"
Thickness: 5cm / 2"
R-value: 4.10
Colour: Grey/black
PROS:
Extremely comfortable. I may have had one of my best sleeps in a tent ever on this mat. Super quick to inflate. Oversized baffles really help you stay on the mat and not roll off, important if you are a mover and a shaker at night!
CONS:
Heavy and bulky for a 3 season mat. If you are backpacking, I would consider a lighter weight, smaller pad. The separate pump mechanism is also easy lost. Exped mats ain't cheap, but quality is pricey!
Rating: 8/10
Warmth 1.5/2
Packed size 1/2
Ease of use 2/2
Weight 2/2
Quality / Price 1.5/2

This is only our opinion. Do you disagree? Did we miss something? Are we totally out to lunch? Join the discussion in the forums here, and let us know what you think. People like/dislike gear for different reasons so chime in and we'll get a well-rounded evaluation.
Back to the rest of the reviews.
---