Exped Downmat XP 9 LW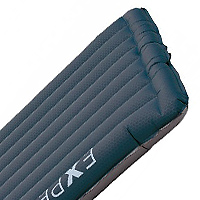 After reading Brad's review of the Exped DownMat UL 7 LW, I decided that I would approach this review of the Exped DownMat XP 9 LW from a slightly different angle. Accept that a sleep mat is a must have component of any back country sleep system. The fact is that conductive heat loss to the the ground without a proper sleep mat is an unavoidable phenomenon. I feel like a sleep mat is a necessary piece of gear that everyone who plays in the outdoors should own. The question now is, how far do you go with warmth and comfort when everything has to fit into a backpack and each gram counts?
For anyone that is new to the Exped DownMat concept the idea is to take a light weight air mattress and fill it with high quality down thus super charging the whole system's R value. The down prevents the movement of air that occurs inside a typical air mattress, which leads to the mat trapping much more body heat. R value's are an important detail that one should consider when buying a sleep mat. This number will tell you how warm the mat is relative to other mats that you are choosing from. To give you an idea of just how warm the Exped Down Mat XP 9 LW is you can compare its R value to other mats on the market. This mat has an R Value of 8. I did some research and as comparison a Thermarest Prolite Plus has an R value of 3.8. I found other mats that have R values around 8 but nothing that I would ever consider taking back country skiing.
The Exped DownMat XP 9 LW, is the longest, widest and warmest back country sleep mat that I have personally ever encountered.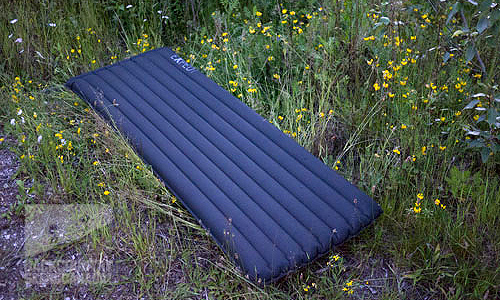 At 9cm thick, this mat puts a lot of warm air between you and the ground. For the XP series of mats Exped is using their most durable fabric, the new light weight valve system and the Snozzle Pumpbag inflation method that they developed for the UL mat line. This combination gives you ultimate warmth, durability and packability.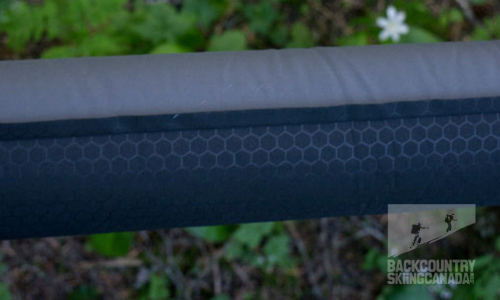 Exped's Down mats have been available in Canada for a while and I have owned one for about 5 years and it's a tried and true technology. They offer an amazing amount of comfort because they are thick and very warm. They have the comfort of a car camping mat while still having great packability.
I figured since I have experience with the first Down Mat, I would mention things that have changed. First thing I noticed was the new valve system. The Flat Valve system has separate valves for inflating and deflating that sit flush with the mat when closed. These valves are lighter and are more user friendly than the old valves. It's really easy to slowly release a bit of air using the Inflate valve while lying on the mat in order to fine tune air pressure.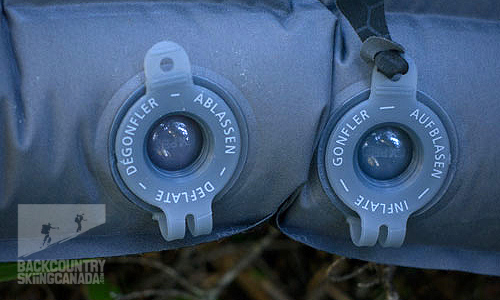 LW meaning long and wide, fully describes this massive mat. The outside baffles of the mat being slightly raised, coupled with the non slip fabric work together to keep you from rolling or sliding off the mat while sleeping.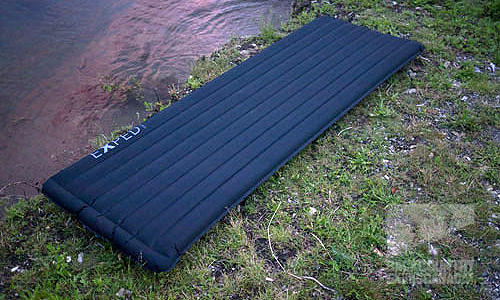 The thing that separates the Downmat XP 9 LW from the rest of Exped's line and from the competition that exists on the market is this mats sheer size, warmth and thickness. This mat will give full coverage for pretty much any sized person being that it is 197cm long and 65cm wide. You might have issues using this mat in a lot of smaller 2 person tents if in fact you are sharing the tent with another person.
Unpacking the DownMat XP 9 LW you will find a stuff sack, a repair kit and the Snozzle Pump Bag inflation device. This roll top bag has a connector to allow you to fill the down mat without using your mouth. Inhaling breath into the mat would cause problems with moisture build up inside the mat. Down tends to lose its warmth when wet because of clumping. Using this bag to inflate the mat took about 2 minutes and with practice I'm sure it would be much quicker. Don't use your breath to inflate these mats as you could end up losing a lot of warmth if you get the down inside wet!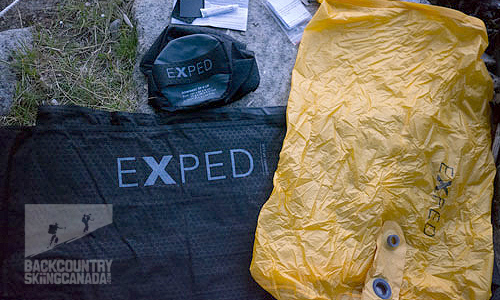 The Schnozzel pump bag in action, took about 4 clumsy bag fulls to fill this big mat.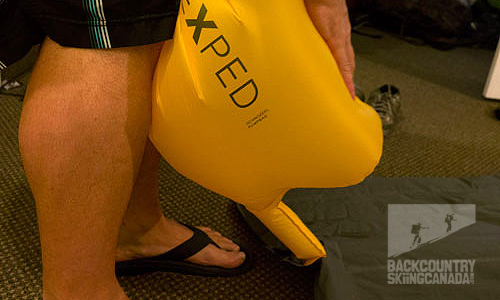 Once full, the mat is about the thickness of a classic Nalgene bottle or 9cm if you prefer.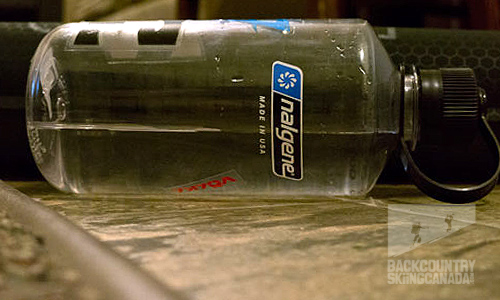 Hopefully the repair kit is just a precaution, no one likes waking up on the ground. Instructions are thorough and in many languages, also a video is online if you go to the website posted on the packaging.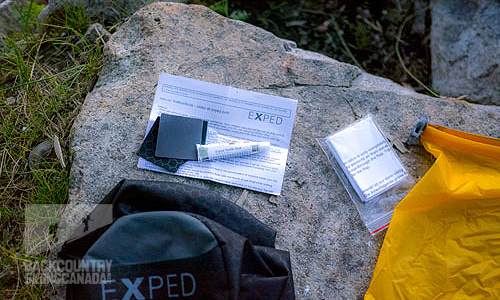 I had a hard time rolling up the mat evenly to get it to fit into the bag properly. As shown in this photo, it's a little long for the stuff sack and ends up taking a lot of real estate in my back pack. Packed away like this, it could be a candidate for being strapped on the outside of my back pack. I found deflating and packing up the mat to be pretty slow and finicky. When done right this should pack down to 27cm x 16cm.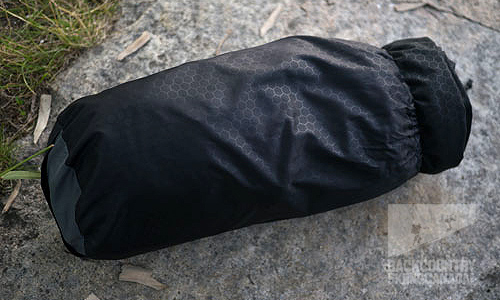 After some practice I was able to get the mat into the bag by folding it into thirds and rolling but it still isn't something I can do really quickly.
We decided that it was good to show people the construction of this mat. Each baffle is laminated to the outside face fabric and provides structure for the mat. If it was just an open volume of air you would feel the pressure shift much more as you move around. These I-beam baffles stabilize the mat and are also designed to prevent cold spots. As you can see, there is foam placed along the edges to provide additional structure and warmth. You can also see the 700 fill Goose Down that Exped uses to trap body heat. Recently they have started to use water repellent treatments to make the down water resistant. The back of the mat fabric is fully sealed from both water and air, these mats couldn't have existed without the fabric welding technology that has become a mainstay in the outdoor gear world.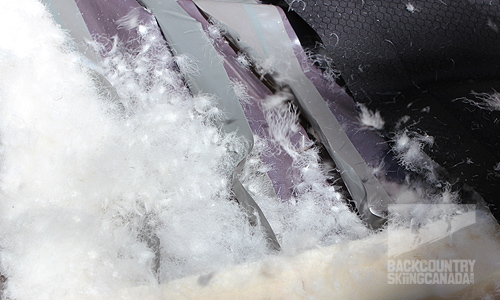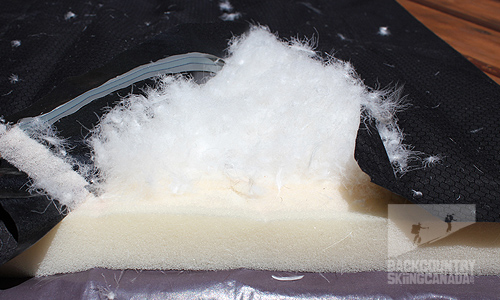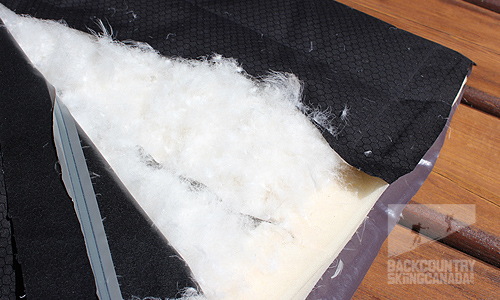 Verdict:
After spending a number of nights on this mat in various situations I have come to the following conclusion. This mat really brings luxurious comfort to the outdoors. When lying on the ground as the sun went down the other night I could feel my body heat radiating back towards my body in a serious way. It really feels like an extra sleeping bag underneath my body. If you are wanting the warmest mat that I have seen that will still be reasonable to hike with I would strongly suggest it. For people concerned with bulk, I would suggest other options for most of the season and keep this one for cold winter nights.
If you are looking for less insulation value but want something with a whole lote less weight then you may want to consider the Exped DownMat UL 7 which we reviewed over here. You can also read our review of the Exped SynMat UL 9 and the Exped DownMat Lite 5 if you are looking for more sleeping pad options.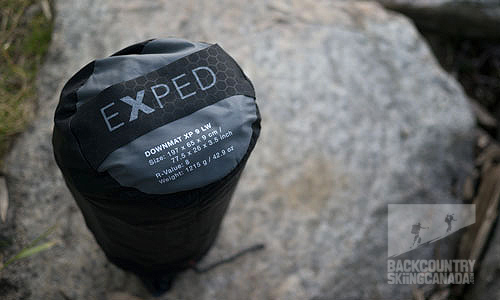 SPECS:
Price: $299 CAN
Weight: 42.9oz / 1215g
Dimensions: 77.5" × 26" / 197cm × 65cm
Packed Size: 11" × 6" / 27 × 16cm
Thickness: 3.5"/ 9cm
R-value: 8
Colour: Black
PROS:
Warm massive real estate for the big tall and wide sleepers. Cool new pump bag that is much easier to use than the original. Improved valve system for inflating and deflating. Durable fabric and a 5 year warranty should mean this mat will last a long while.
CONS:
Expensive, there's no way around it, at $299 you are paying a premium for the extra warmth and size. As you shift around in your sleep you can really feel the change in pressure as the air moves around inside the mat. As a restless sleeper this bothered me. Also, the pack size of this mat is much larger than the one Brad reviewed and also much larger than the competition. I would only choose this mat for winter use where the warmth is really a needed benefit. Also, I found it difficult to deflate and pack away quickly. Making it hard to get the mat to fit into the stuff sack properly.
Look forward to an update this winter when I get to really test mat out in its prime environment. I liked it so much I decided to keep it for ski touring and hammock camping.
Rating: 8/10
Warmth 2/2
Pakced size 1.5/2
Ease of Use 1.5/2
Weight 1.5/2
Quality / Price 1.5/2

This is only our opinion. Do you disagree? Did we miss something? Are we totally out to lunch? Join the discussion in the forums here, and let us know what you think. People like/dislike gear for different reasons so chime in and we'll get a well-rounded evaluation.
Back to the rest of the reviews.
---