What's new?
Cosmetically, you'd be hard pressed to tell the difference between the Ambit2 and Ambit3 apart from the slightly wider font used on the display, brighter button text which improves readability and the more comfortable watch band with two retention straps and larger pin.
The Suunto Ambit3 displaying time, date and barometric overview.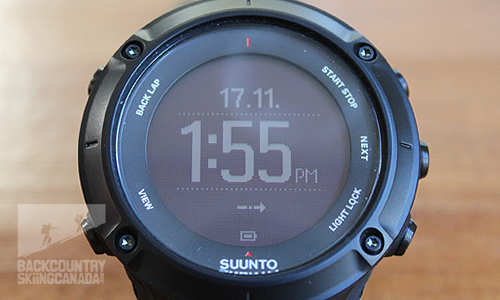 Altimeter with graphical display.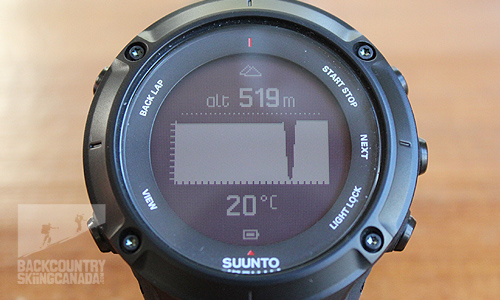 Compass.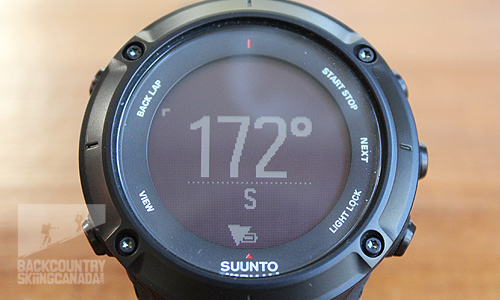 Stopwatch.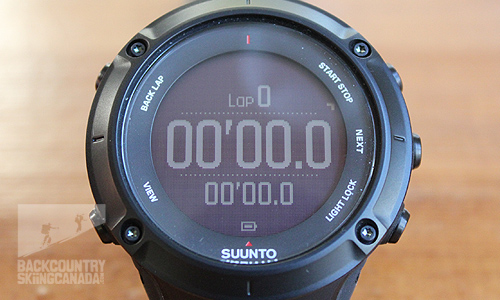 Countdown timer.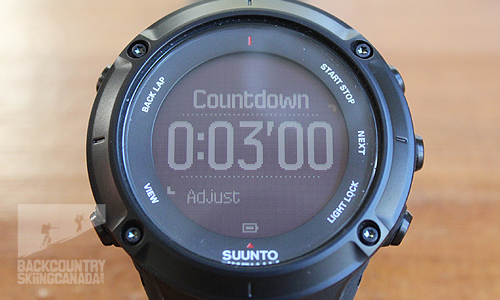 Activity Tracker:
The Activity tracker is a new main menu option which uses an internal accelerometer and your wrist movement to record your daily and weekly activity. While it does not track the actual steps, precise calories burnt or distance travelled is does track how active you are without the need to initiate the GPS function and provides an estimate of calories expended. This information is displayed as daily and weekly totals along with a more accurate recovery time than what was initially tested in the Suunto Quest Watch.
The following photos show the days and weekly activity with a graphical display followed by the recovery time had I actually done enough activity to require a rest for my age, weight and fitness level.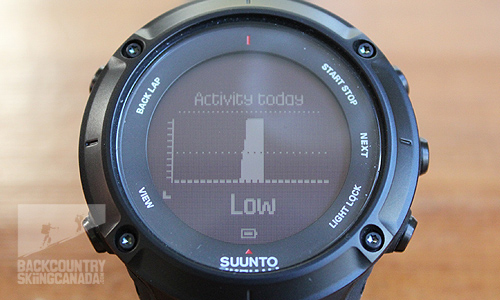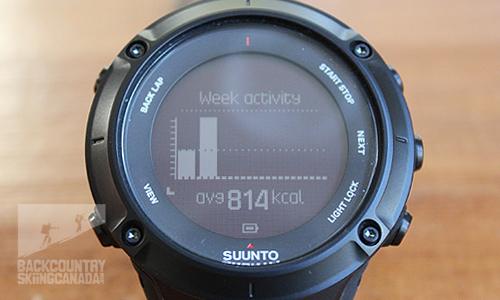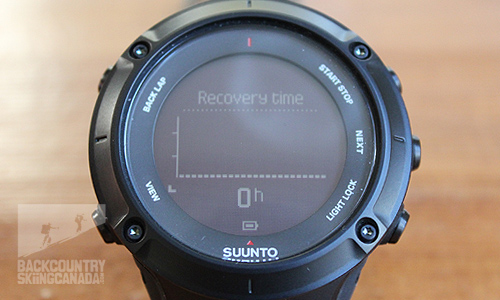 iPhone App:
The new iPhone app enables users to create videos of their route by integrating data from the Ambit3 with photos taken with their iPhone. An Android version is in the works but at the time of writing is not available. Have a look at a sample video from Kilian Jornet in Alaska.
Blue tooth connectivity:
Connect your Ambit3 with your smart phone or tablet to movescount.com (Suunto's online community for all of your adventures) without the need for cables. Yup, its Bluetooth enabled so syncing data is a snap. Having said that, you won't be able to charge your Ambit3 this way so the cable is still a must have.
Notifications:
Once your smart phone and watch are paired you are able to receive notifications on your Ambit3. A watch beep notification indicates that you have received a SMS, an incoming call, a Facebook alert or a similar message when your phone is within range of your Ambit3.
Heart Rate Monitor:
The Ambit3 is no longer compatible with Ant+ devices but instead is Bluetooth enabled so the new smart heart rate monitor is not only smaller but also works under water while you swim. The heart rate monitor collects and stores data while you're swimming and then sends the data to your Ambit3 in packets when it's within range.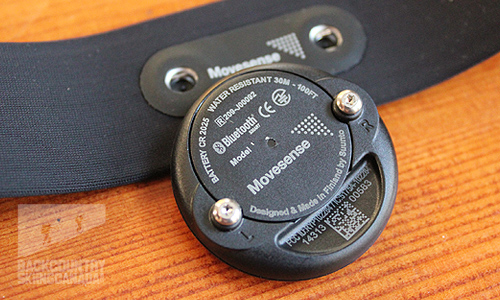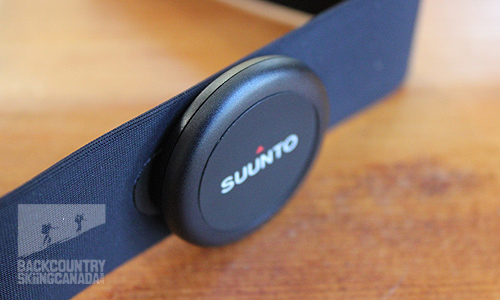 GPS module:
The Ambit3 uses a Sirfstar V. chip where the Ambit2 uses a Sirfstar IV chip. Both chips are said to provide the same GPS accuracy; however the SirfstarV chips are capable of tracking NAVSTAR, GLONASS, Galileo, Compass, SBAS, and future GNSS signals, which means they are more compatible now and into the future. While Suunto hasn't documented any differences in the watches' abilities to acquire GPS signals, I found that the Ambit3 connected quicker and more reliably than the Ambit2.
Verdict:
There is no doubt that the continued quality and ever growing feature set of the new Ambit3 make it a must have product for the serious backcountry skier, mountaineer or climber. The big question, however, is whether or not the Ambit 3 is worth the price of admission for current Ambit2 owners. The short answer is yes for specific users. Yes, if you are a runner as the heart rate monitor is so much smaller and lighter you hardly notice you are wearing it. Yes, if you are a smart phone junky as the notifications, data transfer options and ability to make movies are pretty cool. And yes, if you are a serious swimmer as the new heart rate monitor is water compatible and can capture/ store your data and then automatically synch to the Ambit3 when back in range.
For myself, my primary use of the Ambit3 is ski touring, climbing, cycling and mountaineering. While the bluetooth connectivity, notifications and movie making capabilities are pretty cool features they are not a deciding factor for me as I am not much of a cell phone user. I would say I use the GPS functionality, barometer/altimeter and compass features most; however I am becoming more addicted to the sunrise/sunset feature as well as the activity tracker and the recovery time calculation.
Other less publicized perks of the new Ambit3 include:
- The ability to use the iPhone app as a large display for your data output while exercising. Handy for cyclists if you mount your iPhone on your handle bars.
- For divers, the depth to which the Ambit3 will stay waterproof compared to the Ambit2 has now doubled from 50m to 100m.
- The internal storage capacity of the Ambit3 has roughly doubled compared to the Ambit2
- You can now customize the main displays of the Ambit3 to include a countdown timer, a stop watch or the activity tracker feature with recovery time
Overall Suunto continues their tradition of building (in this reviewer's opinion) the best altimeter and GPS watches on the market. With innovative new features and smart phone integration Suunto is not sitting still and it's nice to see them always striving to improve an already great product.
(One final note of interest that I have been curious for some time, the name 'Ambit' is short for 'ambition' (so I am told). There's your useless fact for this review.)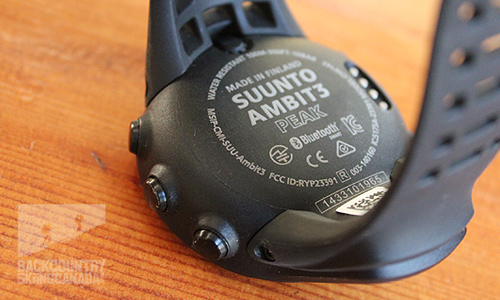 SPECS:
Suunto Ambit Peak HR
Price: $550 CAN
Weight: 89g / 3.14oz
Dimensions: 50mm diameter, 18mm thickness / 1.97" diameter, 0.71" thickness
Colour: Black / Sapphire
Water resistant: 100m (according to ISO 6425)
Battery Life: 16 - 50 hrs depending on GPS setting and use
PROS:
- Same great user interface that's easy to use.
- Increased functionality for the same price as the Ambit2.
- Bluetooth heart rate monitor.
- Better GPS connectivity.
- Activity tracker.
- Smart phone and tablet app connectivity and features.
CONS:
- Bluetooth does not connect to your computer.
- No decrease in overall size or weight.
Rating: 9/10
Ease of use 2/2
Features 1.5/2
Quality 2/2
Size / Weight 2/2
Price 1.5/2

This is only our opinion. Do you disagree? Did we miss something? Are we totally out to lunch? Join the discussion in the forums here, and let us know what you think. People like/dislike gear for different reasons so chime in and we'll get a well-rounded evaluation.
Back to the rest of the reviews.
---