Suunto Quest Watch + GPS POD + Heart Rate Monitor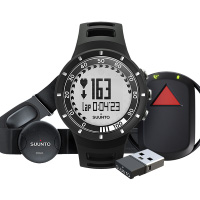 They say good things come in small packages and if you are in the market for a GPS compatible watch, this statement rings true. When compared to the Suunto Ambit2 (which we have already reviewed over here) the Suunto Quest is half the weight at only 40 grams. It's also 7mm less across the face and 5mm less thick so it's pretty unobtrusive - you can hardly feel it on your wrist. If you are a daily watch wearer then the Suunto Quest is one to consider as you don't have to lug around the GPS technology and additional battery that's required to power it. The GPS is a separate Tracking POD that syncs up with the Quest so you can leave it at home and only use it when you are training or on an adventure that you want to track. Similarly the heart rate functionality is provided by the stand alone ANT heart rate monitor which is pretty much identical to the one included with the Suunto Ambit and Ambit2. Both of these devices feed digital coded data wirelessly to the Quest to provide you with heart rate data, speed and distance information on the fly. The GPS data can be downloaded to the Movescount.com website via the GPS track POD itself as you need to hook it up to your computer via USB in order to charge the internal battery. The heart rate data however is stored in the Quest Watch and is downloaded via the Movestick Mini device which is mini indeed.
Suunto Quest watch with the optional GPS POD and heart rate monitor.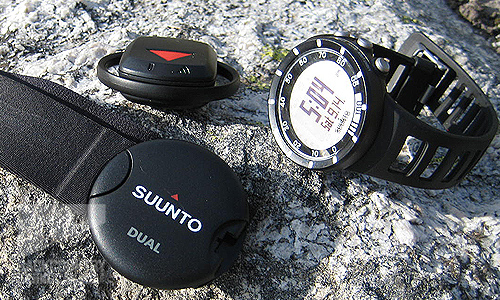 Glamour shot.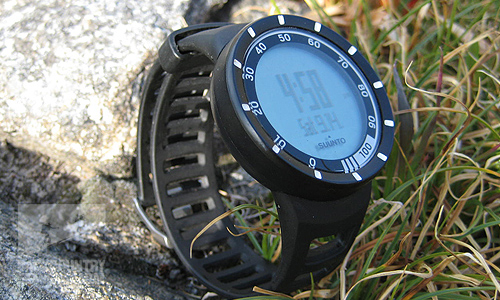 Side and button detail.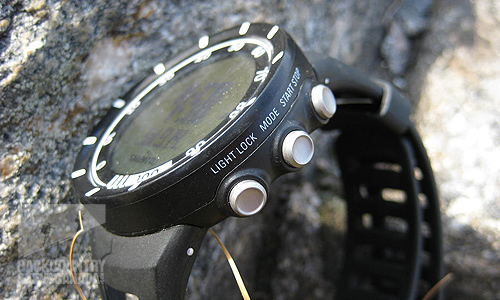 Two of the most unique features (from a long list of features as you will see below) are the ability to tap-a-lap and the recovery time functionality. The tap-a-lap feature as I have dubbed it is the ability to tap the Quest Watch anywhere on the main face in order to set a lap. This cool feature is very handy when you are unable to look directly at the watch to find the correct button sequence to set a lap. An auditory beep confirms that you have just set a lap and if you are not a fan of this feature it can easily be turned off in the settings menu. Second to this feature for cool-factor is the recovery time that the Suunto Quest calculates when you train with the heart rate monitor activated. Based on your heart rate levels that you enter in the settings menu, the Quest will inform you of the number of hours of rest you require in order for you body to recuperate. This is displayed in real time along the inside rim of the watch face as a series of arrows and can display up to 120 hours.
Since the Suunto Quest Watch records GPS data with the help of the Suunto GPS Tracking POD this information needs to be downloaded to the Movescount.com website as does the heart rate monitor information. The heart rate data however is stored directly in the Quest Watch itself and therefore the Suunto Movestick Mini needs to be used to wirelessly sync the Quest data to Moveslink.com. This is a very small USB device so be sure not to loose it in the excitement of unpacking your Suunto Quest Watch.
Suunto Quest Watch Features:
- Time, date and alarm
- Real-time heart rate and HR zones
- Recovery time displayed in real time and once the exercise is complete
- Dual times
- Daily Alarm
- 12/24 hour clock
- Stopwatch with laps
- Interval timer
- Button lock
- Stop watch
- Manual and auto lap
- User replaceable battery
- Electro-luminescent backlight display
- Water resistant to 30m / 100ft
- Duration and intensity or speed guidance in real-time
- Speed and distance with optional Suunto PODs
- Create and download training programs on Movescount.com
- In-depth training analysis with EPOC, PTE and speed profiles on Movescount.com
- Ability to personalize screen layout
This is what you will see when the Quest watch is just being a watch.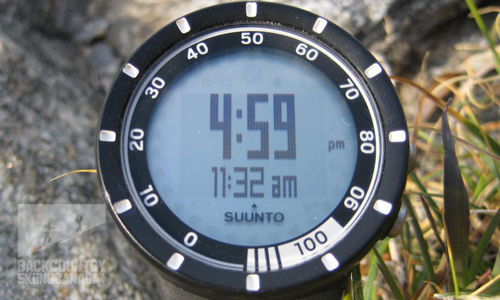 Press the start/stop button at the start of your run, bike, swin, hike, ski or adventure and you can start to track your progress.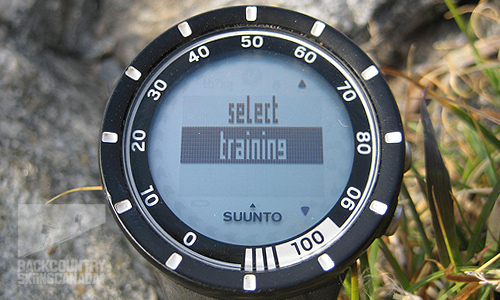 If you have the heart rate momnitor or GPS POD then the Quest will synch with these and you are ready to go.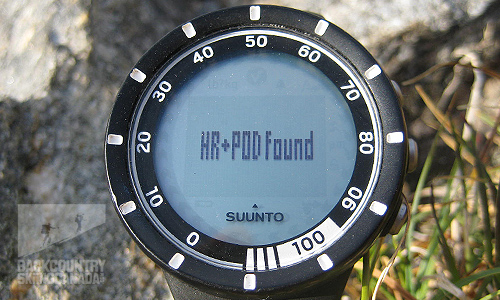 Once you have completed your exercise then you have the option to save your move or not.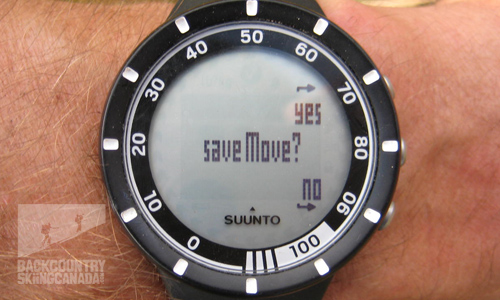 Upon completion you can see how long of a recovery is required based on your stated fitness level, in this case it is the maximum of 120 hours.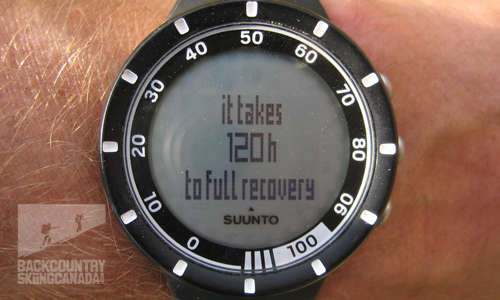 Total calories burned are also calculated off of the data that you enter for your fitness level.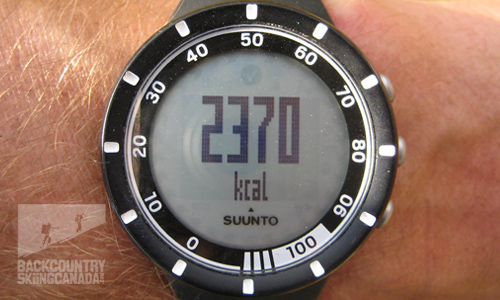 Suunto Dual Comfort Heart Rate Monitor Belt:
The stand alone heart rate monitor is an ANT device so it can be used with other ANT compatible watches. It provides heart rate data in real time and records at ten second intervals with the ability to store one log in the device and up to 30 logs in the watch memory. Basic metrics are provided on the Quest Watch with more thorough analysis being provided on the Movescount.com web site, similar to the Suunto Ambit and Ambit2.
- Heart rate in real time
- Average heart rate in real time
- Heart rate zones
- Heart rate limits
- Calories in real time
- EPOC and VO2 max data provided on Movescount.com
- Disturbance-free ANT transmission
- Analog (inductive) signal for cardio equipment compatibility
- Seamless strap adjustment
- Comfortable Suunto textile strap
- User-replaceable battery
- Water resistant up to 20 m / 66 ft
The heart rate monitor stays in place and connects easily with the Suunto Quest.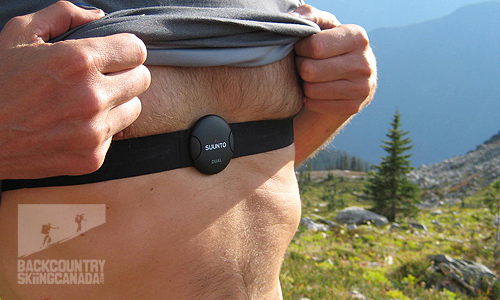 The Suunto Quest shows your heart rate data in real time.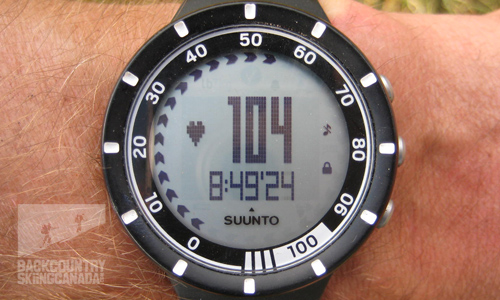 Once you complete your exercise you can view your average heart rate...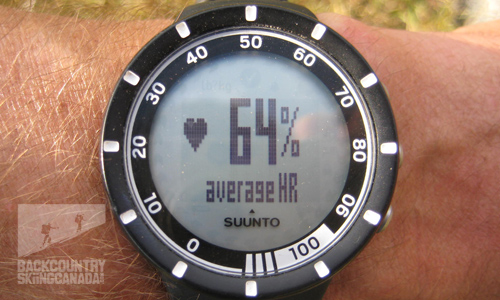 your peak heart rate...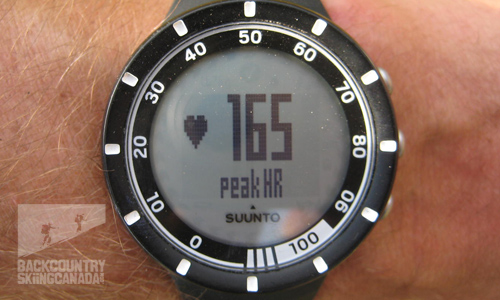 and your percentage of peak heart rate.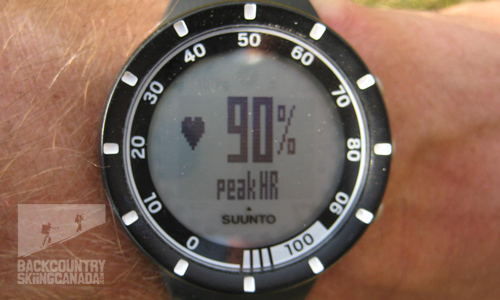 Suunto GPS Tracking POD:
The GPS Tracking POD measures 55.5 x 55.5 x 18mm and weighs in at 35g so it does add considerable bulk to the size and weight of the Quest watch however the beauty of the GPS tracking POD is that you can stash it in your pack or pocket and forget about it. Your data is transmitted wirelessly to the Quest watch so you can monitor your progress. It then logs all of your data until you decide to download it to your computer for further analysis on the Movescount.com website. Data collected includes track, distance, GPS altitude and speed which uses Suunto's FusedSpeed technology. Real time data displayed on the Suunto Quest includes speed and distance.
You have the option to track your activity with a 1 second or 1 minute interval. This feature could be improved to match the functionality of the Ambit2 which gives the user more versatility in their data collection and also improves the battery drain rate by offering 1 second, 5 second and 60 second intervals. The stated duration of the lithium-ion battery is 15 hours at 1 second intervals and 50 hours at 1 minute intervals and this was pretty much in line with my experience. On average, after 12 hours of training the battery in the Suunto GPS Tracking POD was drained 25% — bang on to Suunto's calculations. One additional feature I'd welcome would be the ability to pause GPS tracking while on breaks so that the data is more accurate.
Other features:
- Rechargeable, lithium-ion battery (battery life: 15h / 1s GPS fix, 50h / 60s GPS fix)
- Water resistant to 30 m/100 ft (ISO 22810)
- Versatile attachment options
- Detailed analysis of recordings on Movescount.com with track visualization and altitude profile
- Customizable fix and recording rate intervals in Movescount.com
- Interference-free Suunto ANT Transmission Technology
Speed and distance are displayed at any time via the Quest watch.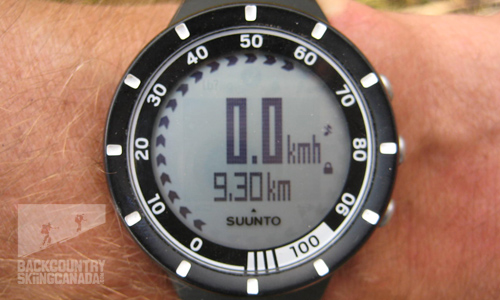 The Suunto Quest give a summary of your distance travelled and your average speed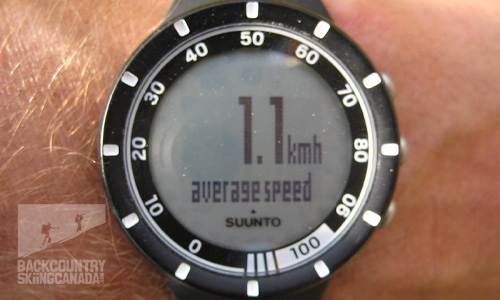 Once you download all your data you get a graphical representation at Movescount.com with plenty of display options.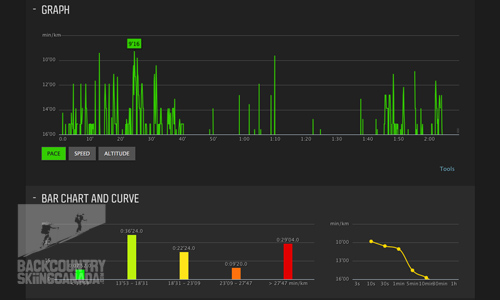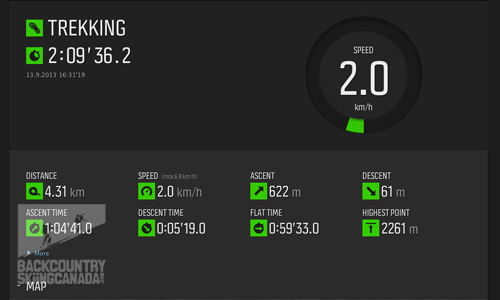 The GPS data is overlaid on a contoured or satellite map.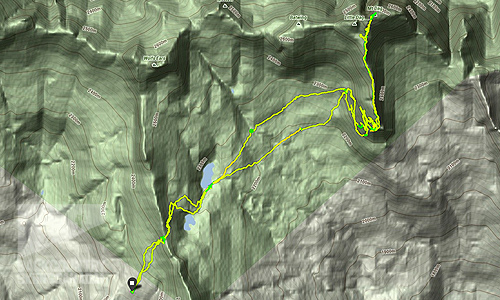 Verdict:
So how does the Suunto Quest differ from the Suunto Ambit and Ambit2? Simple, the Quest is designed for runners, cyclists and adventure racers who want to train with the ability to see speed, distance and heart rate information in real time as well as track and log each event. The Ambit and Ambit2 are more geared towards mountaineers, adventurers and backcountry skiers. That's not to say that the Quest could not be used for backcountry skiing, it can, it just isn't as proficient at providing the data that's required. That is, unless you are a serious skimo (ski mountaineer) racer who needs to maintain targeted training goals.
Without a digital compass and barometer the Suunto Quest provides limited ski touring features for this reviewer but it still provided enough information to adequately track an adventure. Have a look at a few trips logged on our Movescount.com page here and here.
The GPS tracking POD did a great job of tracking distance over time and even elevation gain and descent, however it would be nice to be able to see real time elevation data provided to the Quest from the GPS POD. You unfortunately have to wait until you download all your data to Movescount.com in order to view the altitude info which is of no use in the field when you need to know what elevation you are at. The Quest Watch syncs up with the GPS unit relatively fast and consistently; same with the Heart rate monitor (once you figure out how to sync the various units as the instructions are not great).
If you're not sure you need the GPS Tracking POD the Suunto Quest Watch still has you covered as it can be purchased on its own or in a running pack that includes the Quest watch, a foot POD and the heart rate monitor, or the GPS pack which includes the Quest watch, heart rate monitor and GPS unit.
Not being a huge adventure racer or runner and instead focussing primarily on backcountry skiing and ski mountaineering I could not rate the Suunto Quest as high as it should likely be rated if those are your sports of choice. This is just something to keep in mind if you are not a backcountry skier as the Quest is still a great product but the Suunto Ambit and Ambit2 are more my kind of watch.
If you are interested in a review of the Suunto Core or the original Suunto Ambit you can find them on our technology review page.
SPECS:
Price: $199US for the Quest watch and $299US for the Quest GPS pack
Weight: 40g / 1.41oz
Colour: Black
Dimensions: 42.7 x 42.7 x 13.2mm / 1.68 x 1.68 x 0.52"
PROS:
- Very light and unobtrusive
- Separate GPS unit keeps the watch small and light, you only need to bring the GPS when you want that data tracked.
- Incredible amount of heart rate feedback in real time and via Movescount.com
- Few buttons so its easy to use
- Recovery time feature is very useful.
- Tap the Quest Watch to set a lap, kind of cool.
CONS:
- user replaceable battery would be better as a rechargeable batter as the cable is already provided with the GPS unit.
- Instructions for the GPS unit are very limited and no mention of it at all in the Quest user guide.
- There is no GPS data provided via the Quest Watch.
- No barometer or digital compass
- Not a fan of the Quest Watch design, I like something a little more rugged looking, but thats just me.
- User interface is not as intuitive as that found on the Suunto Ambit or Ambit2.
Rating: 7.5/10
Ease of use 1/2
Features 1/2
Quality 1.5/2
Size / Weight 2/2
Price 2/2

This is only our opinion. Do you disagree? Did we miss something? Are we totally out to lunch? Join the discussion in the forums here, and let us know what you think. People like/dislike gear for different reasons so chime in and we'll get a well-rounded evaluation.
Back to the rest of the reviews.
---