Suunto Ambit 3 - Review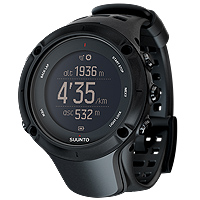 Suunto has been on a tear lately, releasing a new version of their popular Ambit GPS watch almost once per year. We're now up to the Ambit3 in as many years and the innovation doesn't seem to be slowing. The big question for most is not if the new Ambit3 is worth the price tag but rather if the original Suunto Ambit or Ambit2 owners need to upgrade to this newest release. Suunto's Ambit3 is a comprehensive upgrade from the previous version rather than a totally overhauled product. The basic operation of the Ambit3 is fundamentally identical to its predecessor and offers up all the goodies you've likely come to love in the Ambit2 (and then some). The Ambit3 is a quality built multisport / GPS watch that comes in a few flavours: the Ambit3 Sport and the Ambit3 Peak.
For an in depth look at all the features and the differences between the Suunto Ambit3 Peak and Ambit3 Sport read the full review here and watch the video below.