Utility Rocker:
Salomon's "Utility Rocker" is the combination of an early rise tip, camber under foot and a subtle tail rise. The tip rise is fairly generous and keeps the tip floating in powder and chop while the traditional camber underfoot allows the ski to carve on groomers and hard pack. The tail rise is minimal so it finishes the turn nicely and provides more control than a twin-rocker ski. This more traditional shape provides a solid platform with the early rise giving you the flotation you need for powder days in the backcountry.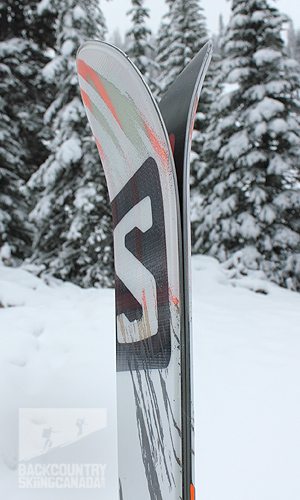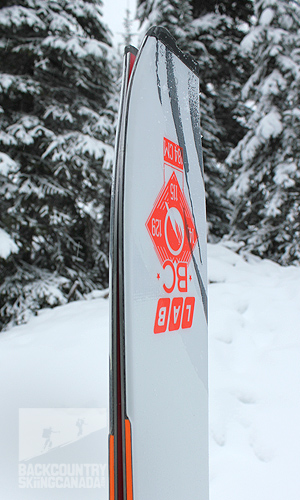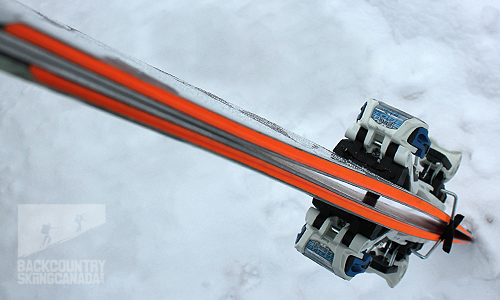 5 point side cut:
Salomon's 5 point sidecut is used not only on the entire Q line of skis but also the Rocker 2 line up. It is named for the 5 points along the ski's shape: narrow at the tip, wide towards the middle, narrow under foot, wide again towards the back and then finally narrow at the tail. Count them all up and you get the five points. The real magic with the 5 point side cut happens because the widest point of the ski is pulled back from the tip and tail more than other skis of similar shape. This design eliminates any chance of "hooking" the ski in chop and on groomers, which we have experienced with other skis of similar design.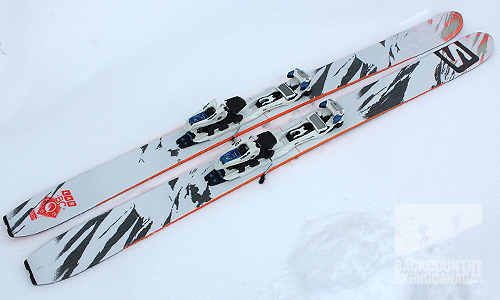 Honeycomb & ABS tip and tails:
Any time you have an early rise tip or tail you inevitably get ski chatter. When you lift the ski extremities off the snow and vibrations take over, you get chatter - makes sense, right? Chatter reduces control and vibrations can be amplified. To reduce vibrations and chatter, Salomon uses a honeycomb structure (called Koroyd) and ABS in the tip and tail of the ski. This design also reduces the weight and, therefore the inertia, making the Salomon Q-98s more maneuverable and giving the skier more control than skis without this technology. The Solomon Koroyd structure is touted as being superior to traditional honeycomb structures. Rather than being glued together, the Koroyd cores (think thousands of small extruded tubes or cylinders) are thermally welded. This eliminates weak points found in traditional hexagon core structures. Koroyd is very lightweight and provides dampening to the tip and tail of the Q-98 skis which you will notice on groomers and hard pack snow conditions.
In addition to the features mentioned above there is a full feature set listed below, but let's talk about the specific design of the Q BC Lab Skis first. The Salomon Q BC Lab Skis have dimensions of 140mm in the tip, 114mm under foot and 128mm at the tail, so this is a big ski. Given all this, the Q BC Lab is surprisingly light at just 3600g per pair at 184cm. CFX Laminates, a poplar woodcore, and honeycomb in the tip and tail are what enable Salomon to keep the Q BC Lab even lighter than the much thinner Q105 skis. This lightweight construction allows the Q BC Lab Ski to perform well in the backcountry; it's fat for powder turns but light for the uptrack.
A 114mm waist with tapered tip and tail, Salomon's utility rocker, and a longer 24m turning radius enable the Q BC Lab to be quite stable. The honeycomb in the tip and tail eliminate tip chatter better than most other early rise skis on the market. While the width underfoot may not allow the Q BC Lab Skis to be as nimble as others in the trees or bumps, the stable, stiff platform provides smooth flowy turns in deep powder and the ability to plow through diverse snow conditions at the resort.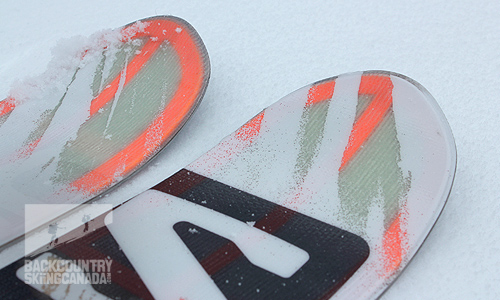 Features:
- Utility Rocker: Designed for maximum versatility, directional stability, and float in powder
- Full Sandwich Sidewalls: Full Length ABS sidewall with laminate construction creates extraordinarily smooth ski to snow contact with great terrain adaptation.
- Full poplar Wood core: Full-length wood core from tip to tail offers stability and powerful rebound
- CFX Superfibre: Ultra light, ultra strong, carbon/flax laminate with increased dampening
- 114mm underfoot width
- Hook Free Taper: 5 Point sidecut shape with taper at the tip and tail for easier turning in deep and variable snow
- Tech Transfer Pad: Titanal plate in mount zone improves performance, power, and edge grip of the ski
- G-Spot: Engineered sidecut and rocker shape focusing maximum edge grip directly underfoot. Designed for climbing
- Honeycomb tip: Provides more float, less chatter, and a reduced swing weight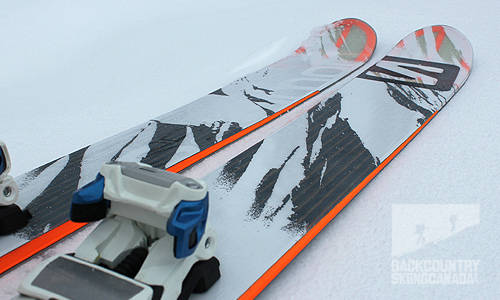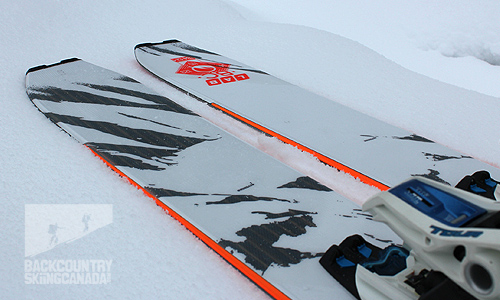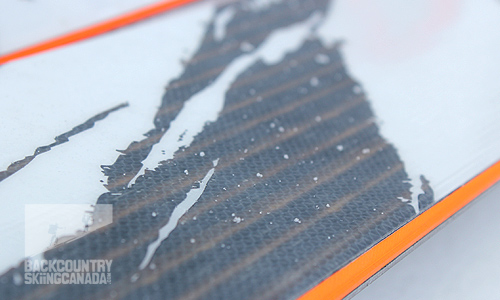 Verdict:
If you are looking for a quiver-of-one ski, then the Salomon Q BC Lab Skis are not for you. If you want a powder ski that can take on deep days with plenty of float while not weighing you down on the skin track then this is the ski for you. We haven't reviewed a ski this fat that is this lightweight except for perhaps the Voile V8 Skis from last season.
The advantage of the Q BC Lab skis is that they're a rockered ski which have zero tip chatter, something other ski brands have not yet figured out. It's true that on groomers it will take some additional effort to get them on edge and given their 24m turn radius these sticks will not turn on a dime, but maybe a toonie for you Canucks? At 114mm underfoot they definitely ski like a big ski but this is a good thing if you like to rip fast and be super stable doing so. Just be careful to not let your guard down as you need to drive these skis otherwise you'll find that they end up driving you. Having skied the Q BC Lab skis at the resort and in the backcountry I can say I much prefer their performance out of bounds but they were still plenty fun in bounds as well. Touring conditions over the past two months have been less than ideal and I can say that the Q BC Lab skis were a dream to ride. They tackled days that ranged from deep pow to elephant snot and everything in between but most importantly they're light on the up and super fat on the down—an ideal combination!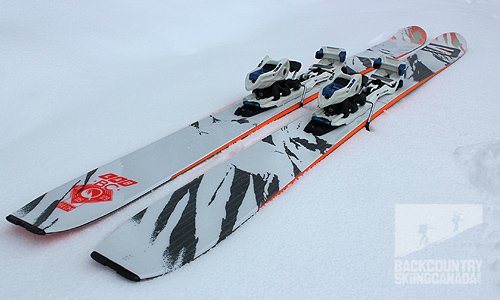 SPECS:
Price: $899 CAN
Lengths: 176, 184cm
Dimensions: 140 / 114 / 128mm
Weight: 3600g (size 184 pair)
Radius:24m
PROS:
- A light ski given it's dimensions
- Floats like a dream in deep pow (and wet pow given this season's warmer temps out west)
- Zero tip chatter
- Contoured tail still finishes turns with conviction
CONS:
- A fat powder ski that could be more responsive on groomers and more forgiving in chunder
- You have to stay on top of them and really drive them or else they will drive you
- A stiffer ski than you probably would like if you prefer to ski bumps
- Given their dimensions it does take a bit of effort to get them on edge but once you do they rail
Rating: 8.5/10
Powder Performance     2/2
Groomer Performance   1/2
Stability                        2/2
Weight                          2/2
Value                            1.5/2

This is only our opinion. Do you disagree? Did we miss something? Are we totally out to lunch? Join the discussion in the forums here, and let us know what you think. People like/dislike gear for different reasons so chime in and we'll get a well-rounded evaluation.
Back to the rest of the reviews.
---