Oboz Traverse Low BDry Shoes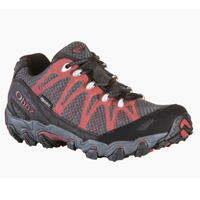 The Traverse Series by Oboz is a go to shoe for summiting peaks or hiking trails, available in a Low and Mid style, this waterproof and lightweight shoe has something to offer anyone looking to get into the mountains.
Since 2007 the Oboz HQ has been nestled among a network of hiking trails in Bozeman, Montana, so you could say they know their stuff. Staying "true to the trail" this once small startup company is known for making a quality product and being environmentally friendly; planting one tree for every shoe sale. Goodbye buyers' remorse!
The Traverse Low BDry (featured in all photos) has everything one would want in a day hiker.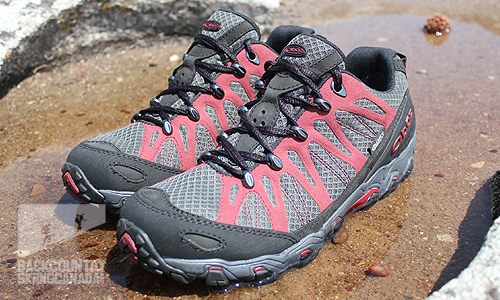 BDry models include a wicking layer that will remove moisture from your foot and ventilate the shoe & hydrophobic materials to keep the wetness out.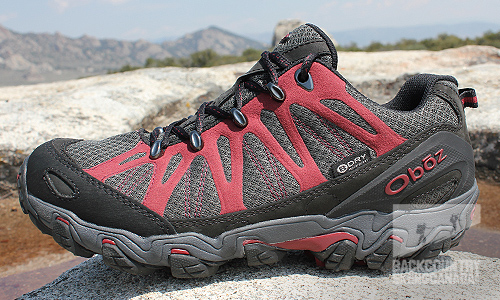 Aside from the colour scheme, the obvious difference between the Traverse Low and the Traverse Low BDry is the cost of waterproofing. The added BDry technologies include a tape-sealed, polyurethane bootie dip. The bootie & textile wicking liner pulls moisture from your feet and sends it packing. The outside of the shoe is made of hydrophobic materials that bead water away. If you are planning shoulder season trips anywhere it has rained before, the slightly heavier Traverse Low BDry is your best weapon.
The 4mm sole gives you proper lift for climbing obstacles and staying comfortable on the trail. The stitch free, micro suede cage tightens over your foot as you pull the laces tight for a snug fit.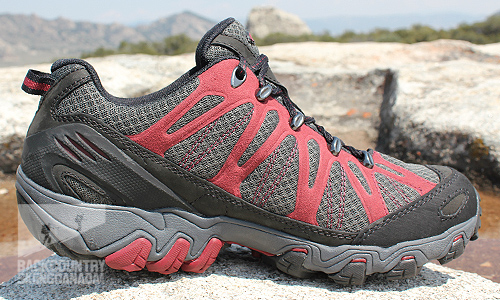 Included in all Oboz hiking, backpacking and lifestyle shoes are the BFit Deluxe Insole; designed to support arch's, cushion heels and protect the ball using urethane and a duel density EVA (Polyethylene-Vinyl Acetate) layer for added durability. Wrap it up in a stitchless, synthetic, micro-suede cage, that works with the metal lace hardware, and you will have a fit better than Cinderella.
A nylon shank, multi-directional grip, and the TPU Chassis will have you sure stepping yourself threw obstacles and hazards in no time.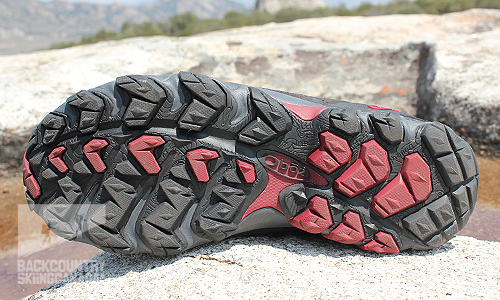 The 4mm "Granite Peak" outsole makes direct contact with the elements underfoot. The nylon shank activates stable torsion mechanics on contact with jagged rocks or undetected stones. With help from the TPU (ThermoPlastic polyUrethane) Chassis there is enough protection, support & durability with limited rubber so the Traverse series is surprisingly lightweight at just over one pound per shoe.
Supporting the back of the foot is the synthetic leather heel counter, pre-molded for continuous stability throughout its lifetime.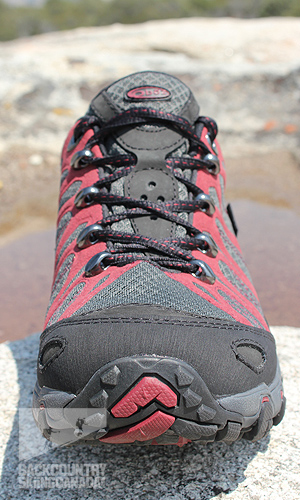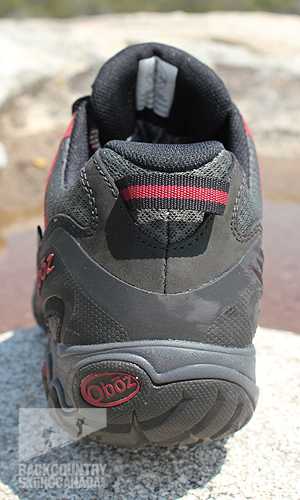 If the low cut Traverse shoe just won't cut it for your style of outings, the Traverse is also offered in a mid boot with all the same technologies plus the most comfortable BFit lacing system for your ankle. It is only an ounce and one half heavier and less then $20 more.
Features:
- BDry Waterproofing Membrane (BDry models only)
- BFit Deluxe Insole
- TPU Chassis
- Moded Heel Counter
- BFit Lacing (Mid models only)
- Heel tab
Materials:
Nylon, Thermoplastic Polyurethane, Polyethylene Vinyl Acetate, Synthetic Leather & Suede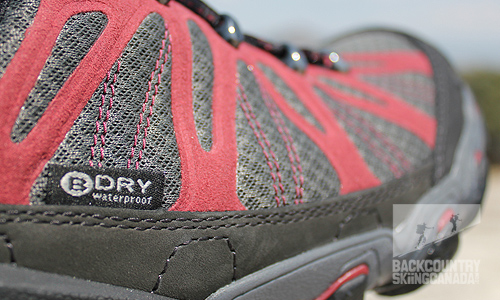 Verdict:
Men only: this shoe might not be what you want on a multi-week travel across broken terrain with a 100L pack full of your life essentials, but for a day hikes, alpine summits or trail jogging, the Traverse will do the trick. Be sure to check weather conditions on your proposed hiking adventures to decide if the BDry model is needed, and for a more stable fit on rugged terrain look at the Mid over the Low model. Oboz makes a quality product and I feel good about supporting a company that supports mankind and planet earth, so naturally I recommend these shoes.
Check out our other reviews of Oboz shoes and boots such as the Oboz Sundog Shoes, Oboz Beartooth Boots, Oboz Firebrand II Shoes and the Oboze Helium Shoes.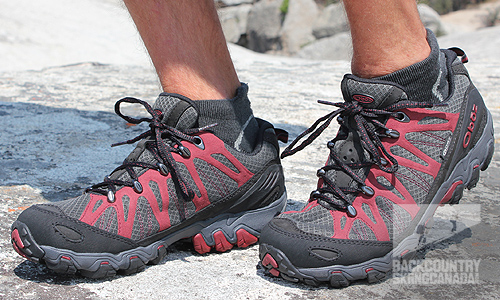 SPECS:
Traverse Low
Price: $125US
Weight: 470g / 16.6oz
Size: 8-14
Color: Dark Shadow (Grey)
Traverse Low BDry
Price: $145US
Weight: 482g / 17oz
Sizes: 8-14
Color: Russet (Red)
Traverse Mid BDry
Price: $160US
Weight: 524g / 18.5oz
Sizes: 8-14
Color: Dark Shadow (Grey)


PROS:
- Variety of Traverse models for desired use.
- Non-marking, supportive, lightweight, breathable & durable.
- Multi-directional gripping outsole.
- One Tree Planted for every shoe sold.
- Unsellable shoes donated to feet in need.
CONS:
- No Women's sizing available.
Rating: 9/10
Innovation 1.5/2
Function 2/2
Aesthetics/Fit 2/2
Features 2/2
Quality/Price 1.5/2

This is only our opinion. Do you disagree? Did we miss something? Are we totally out to lunch? Join the discussion in the forums here, and let us know what you think. People like/dislike gear for different reasons so chime in and we'll get a well-rounded evaluation.
Back to the rest of the reviews.
---