Oboz Sundog Shoes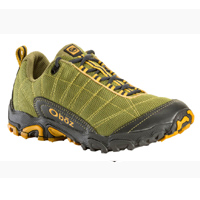 The Sundog Shoes by Oboz are a lightweight trail runner for low altitude, under the canopy exercise. For the ladies out their the Sundog's female counterpart are the Emerald Peak Shoes.
Oboz (aka Outside Bozeman) is named for the city from which they hail just outside of. Bozeman is a small city named after John Bozeman, a gentleman who helped establish a hiking trail that people would then hike for thousands of years. Many decades later Oboz developed a trail sport series of shoe specifically for the avid and active outdoor enthusiast. If you have already been to Bozeman Montana, then you know how great the hiking trails are there. If you haven't, I suggest you grab a pair of Oboz's Sundog (for men) or Emerald Peak (for women) and enjoy your adventure.
Oboz Men's TrailSport Sundog shoes in Woodbine colour is pictured throughout this review.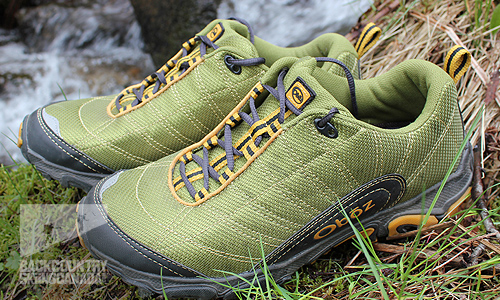 The lightweight Sundog shoes are great for light hikes, trail running or just heading to the gym for a workout.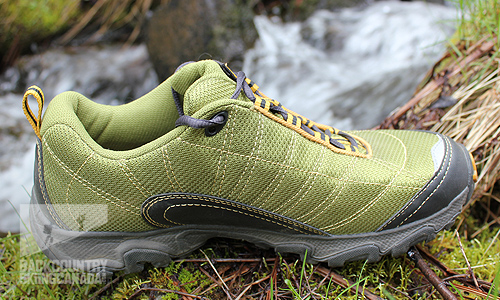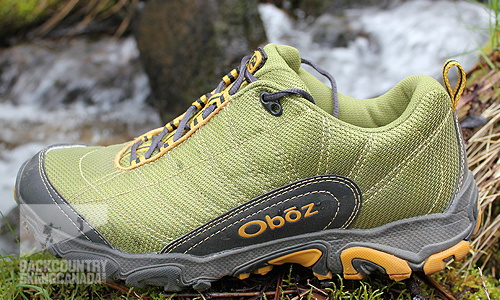 Trail sports include any physical activities on a trail, naturally. Whether your running, hiking, biking or just walking around town, these shoes are both lightweight and durable. The "Trailsport" series is one of Oboz's more affordable shoes. Aside from the colours, the major construction difference between the men's Sundog and the women's Emerald Peak lies in the overlay. The women's Emerald Peak has a stitchless, TPU (Thermoplastic Polyurethane) overlay while the men's Sundog has stitched in synthetic leather, supporting the mid-foot and protecting the heel and toe. Lightweight EVA resin also reinforces the heel in addition to the arch of the foot. With a price tag $10 less then it's female counterpart, the Sundogs comes in at only $110 (CAD).
Both the Sundog and the Emerald Peak use the BFit Essential insole which are designed with less structural support and weight, but with increased flex and breathability. Their lightweight TPU Chassis works with Oboz's Hyalite outsole, shedding weight but still providing adequate protection from hazards. Watch your step, but if you snag a rock you're less likely to end up limping home. The upper portion of the shoes are connected to their midlayers via the "last". Both the Sundog & Emerald Peak use mesh to line the heel for increased breathability and, of course, decreased weight.
The Oboz Sundog shoe's outsole is more lightweight than other Oboz models, so you may consider this shoe for trail running over more rugged hikers.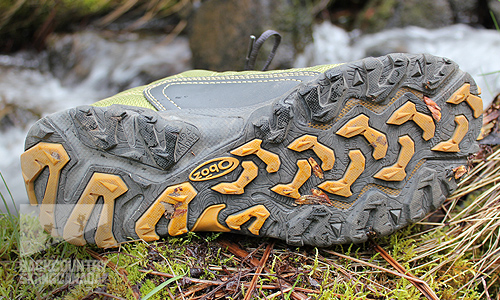 Features:
- BFit Essential
- Hyalite Outsole
- Super Skin ESS Armoring
- Duel Density EVA
- Nylon Shanks
- Removable Insoles
- TPU (ThermoPlastic polyUrethane) Chassis
Materials:
Hyalite Rubber, Nylon, Thermoplastic Polyurethane, Polyethylene Vinyl Acetate (EVA), Synthetic Leather, Mesh
Synthetic Leather covers the heel and toe offering some protection and support. Lightweight EVA resin is located at the heel (and arch) for added protection and support.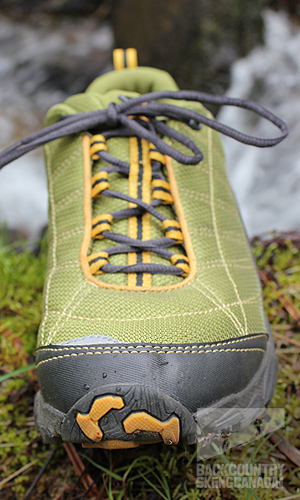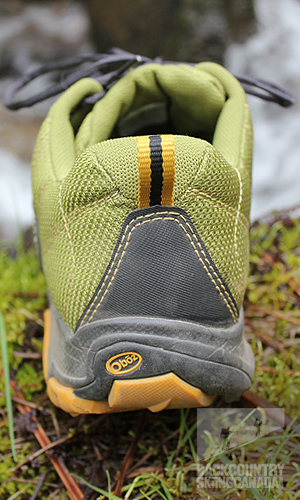 Verdict:
This shoe is not designed for rugged travel in uncharted backcountry. It's very lightweight and therefore less stable than other Oboz models. Without a mid-cage, the Sundog sacrifices stability when lacing up for a technical trail, but the mesh construction makes it breathable for workouts or running. I would recommend these shoes to anyone for light hiking, biking, and trail running or simply heading to the gym for a workout.
Check out our other reviews of Oboz shoes and boots such as the Oboz Traverse Low BDry Shoes, Oboz Beartooth Boots, Oboz Firebrand II Shoes and the Oboze Helium Shoes.
The Sundog has a removable insole and breathable mesh construction, so they will dry out easily if you miss a step into some water.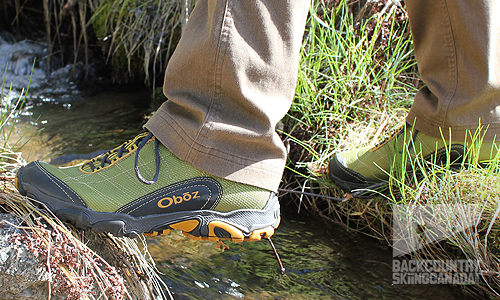 SPECS:
Sundog (Men's)
Price: $110CAD / $100US
Weight: 312g / 11oz (mens size 9)
Sizes: 8 - 14
Colour: Graphite (Black) with green trim / Woodbine (Green) with yellow trim. Black Outsoles
Emerald Peak (Women's)
Price: $120CAD / $110US
Weight: 255g / 9oz (women's size 7)
Sizes: 6-11
Colour: Glacier (Blue) with yellow trim / Leaf (Green) with grey trim. Black Outsoles
PROS:
- Non-marking, lightweight, breathable & durable.
- Large Toebox.
- One Tree Planted for every shoe sold.
- Unsellable shoes donated to feet in need.
- Price.
CONS:
- Not Waterproof.
Rating: 9/10
Innovation 1.5/2
Function 2/2
Aesthetics/Fit 2/2
Features 1.5/2
Quality/Price 2/2

This is only our opinion. Do you disagree? Did we miss something? Are we totally out to lunch? Join the discussion in the forums here, and let us know what you think. People like/dislike gear for different reasons so chime in and we'll get a well-rounded evaluation.
Back to the rest of the reviews.
---