Oboz Traverse Low Bdry Shoe - Review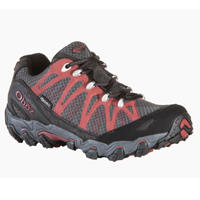 The Traverse Series by Oboz is a go to shoe for summiting peaks or hiking trails, available in a Low and Mid style, this waterproof and lightweight shoe has something to offer anyone looking to get into the mountains.
Since 2007 the Oboz HQ has been nestled among a network of hiking trails in Bozeman, Montana, so you could say they know their stuff. Staying "true to the trail" this once small startup company is known for making a quality product and being environmentally friendly; planting one tree for every shoe sale. Goodbye buyers' remorse!
Check out our other reviews of Oboz shoes and boots such as the Oboz Sundog Shoes, Oboz Beartooth Boots, Oboz Firebrand II Shoes and the Oboze Helium Shoes.
Read the full review of the Oboz Traverse Low Bdry Shoes here.