If you want more info on backcountry skiing in the Tetons, Jackson Hole or Exum Mountain Guides have a look at a few of the posts we prepared while on location in Jackson Hole this winter. You can find them here, here, and here.

Features:
- 100% seam taped
- Water-resistant CF zipper
- Two hand warmer pockets
- Asymmetric cuffs with velcro adjustment
- The Hood cinches down to protect you from the elements but still fits over a helmet if need be. Three points of adjustability and a laminated brim round things out.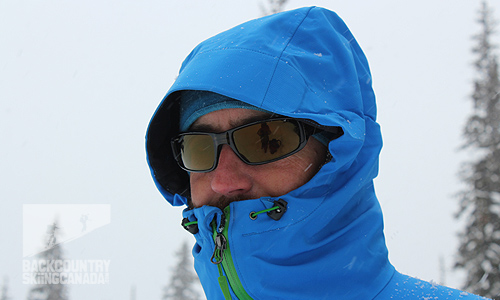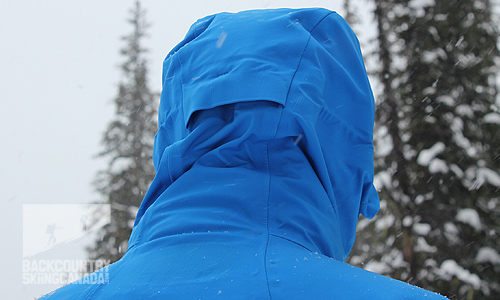 - You can see the zipper garage at the top of the water resistant zip and the hood adjustability in the first photo. The second shot shows how the hood adjustments disappear inside the jacket to provide a nice clean exterior.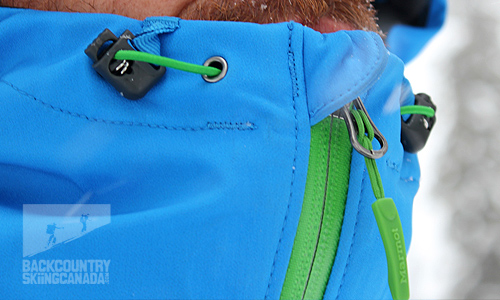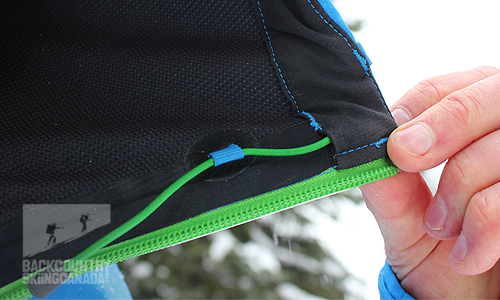 - The chest pocket has a pass through media port to allow access to your tunes.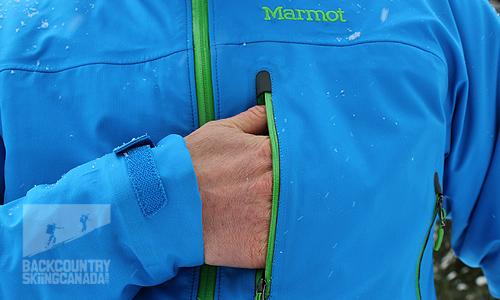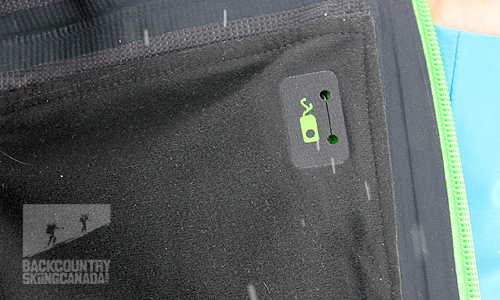 - Opposite the media port on the inside right side of the Nabu there is an internal zip pocket for valuables.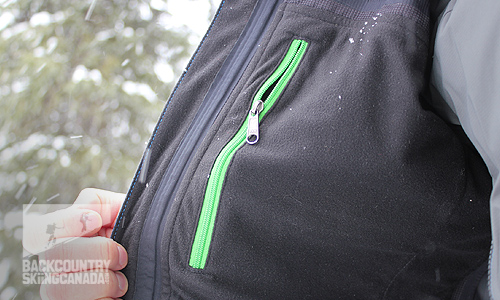 - Dual elastic draw cord hem to keep snow out should you encounter a powder snake.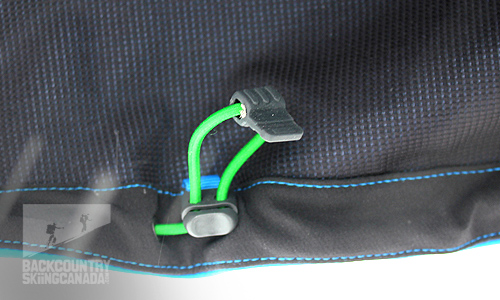 Polartech Neoshell Fabric:
Neoshell is a waterproof yet highly breathable and flexible membrane which has a grid textured wicking backer to transport sweat and help keep you warm. This grid leaves more room for air, adding extra insulation value while still being breathable. An abrasion resistant face fabric uses lightweight fibres to keep weight down and packability up. So how exactly does Neoshell perform better than those other brands? First off those other brands require enough moisture and heat inside the jacket to increase the pressure to effectively push the moisture vapour through the fabric. Polartec Neoshell on the other hand is just naturally more breathable and uses convection to pull moisture vapour out of the Nabu jacket even at low levels of internal pressure. This gives it more than twice the air flow of other waterproof/breathable fabrics.
While nothing will keep you bone dry while going full-tilt on the skin track, if you keep a moderate pace the Nabu will keep you warm but not hot and sweaty. This is especially true when compared to Gore-Tex. eVent does a better job than Gore-Tex but when you bring Neoshell into the arena there is no contest. I have worn all brands of jackets with all brands of waterproof/breathable membranes and nothing works as well as Polartec Neoshell, period.
Taped seams ensure that the weather stays outside of the jacket while still providing incredible amounts of stretch. Notice the light grid-mesh interior fabric on the right and the thicker fleece material on the left which provides more warmth around the chest and the ability to have interior pockets.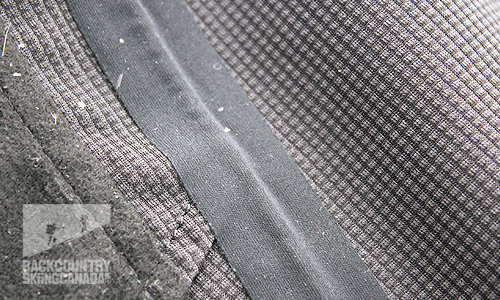 For a rundown on the benefits of Polartec Alpha and Neoshell have a watch of this video overview we created while ski touring in the Tetons with Jordan Campbell, the PR pro for Marmot:

Verdict:
With more mobility and breathability than Gore-Tex Pro shell and eVent (by far) it's easy to see why Polartec Neoshell is a no brainer for those who take their backcountry skiing seriously. It's an aerobic activity and therefore you need a jacket that moves with you.
Neoshell breaths so well you will need to experiment with your layering system in order to fine tune it just right for you. The jacket does not provide complete wind protection, but I like this feature for ski touring as I run a little hot and on windy days a bit of reverse air permeability is a good thing in my books. Different story if you are sitting on a chair lift all day and the wind picks up. If you own other Marmot softshells then you can compare their M ratings as the Nabu is rated as an M1. This means that it offers the highest level of water resistance and warmth which is best suited to intermittent aerobic activity in cold wet conditions i.e. ski touring. M3 being the other end of the scale and suited for drier, milder conditions.
The Marmot Nabu also has a fleece liner in the front torso region which allows for two hand warmer pockets as well as the chest pocket and internal zip pocket. It also provides a little more warmth and insulation in the core area on blustery days. I guess you could call this 'functional' zonal construction.
One thing to note is that if you wear fleece as a mid layer then putting on and taking off the Nabu will be more difficult as the light grid-mesh liner will act like velcro when paired with fleece but really why would you ever wear a fleece base layer? This light grid-mesh liner's function is to help wick moisture away should it build up on the inside of the garment. It also helps keep you warm and feels soft against bare skin. You can't say the same thing about your favourite hardshell now can you… cold plastic-y Gore-Tex anyone?
On the sizing front I am typically a large in most jackets given my 6'1" 170 frame but the Nabu is an athletic cut so I went for a medium, it still fits over other insulation pieces but is trim enough I can also wear it under another jacket but why would I want to? Don't take my word for any of this, go and give the Marmot Nabu a look-see at your local gear shop. Its the only way you'll truly understand what all this praise is about and why I can say that this is the my one jacket quiver.
If you are interested in other Polartech Neoshell jackets then have a look over the following reviews of the Westcomb Apoc Jacket, the Mountain Equipment Arclight jacket, the First Ascent Neoteric jakcet and the Westcomb Shift LT Jacket
SPECS:
Price: $350 US
Sizes: S, M, L, XL, XXL
Colours: Black, Team Red, Green Lichen
Weight: 592.5g / 1lbs 4.9oz
Fit: Athletic
Fabrics: Polartec Neo Shell 88% Nylon, 12% Elastane 6.5 oz/yd
Guarantee: For life
PROS:
- Unparalleled stretch compared to that of any other hard or soft shell out there.
- Asymmetrical cuffs and articulated arms.
- Warmer than a hardshell jacket but breathes way better.
- Massive hand warmer pockets that don't get in the way of a harness or hip belt of a pack.
- Soft interior fabric against bare skin
- Nice simple design with only the features you need and no more so weight is kept reasonable.
- Looks, feels and breathes like a softshell but performs better than most hardshell.
CONS:
- Hood adjustments are inside the jacket so you need to unzip to adjust things
- Not ideal for ice climbing as the hem is a traditional cut and pulls up on your torso when your arms are above your head.
- No pit zips but you won't need them with the Polartec Neoshell fabric, so this is really a pro but I was having a hard time finding anything bad to say about this jacket.
Rating: 9.5/10
Fit / Mobility 2/2
Packability 1.5/2
Warmth / Breathable 2/2
Features 2/2
Quality / Price 2/2

This is only our opinion. Do you disagree? Did we miss something? Are we totally out to lunch? Join the discussion in the forums here, and let us know what you think. People like/dislike gear for different reasons so chime in and we'll get a well-rounded evaluation.
Back to the rest of the reviews.
---