Westcomb Shift LT Hoody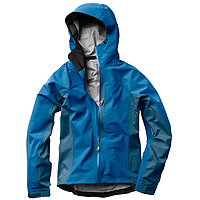 In today's society everyone seems to want more. Bigger car, bigger house (two houses perhaps), 60" TV, 175 channels, three sets of skis, two dogs… It all gets to be a bit much. I believe that quality rules over quantity and that less is more. No where else does this mantra rule supreme than with backcountry gear, be it skiing, hiking, climbing or whatever. Get rid of the clutter and take things down to the bare essentials; you'll save on weight and space and therefore be able to move faster and further with less energy. Efficiency is the name of the game after all. This is essentially the blue print for the Westcomb Shift LT hoody.
In keeping with this minimalist philosophy Westcomb has used Polartec® NeoShell® fabric in their new Shift LT hoody. In fact Westcomb was one of the first companies to create a jacket with Polartec NeoShell; it was in their very popular Apoc Jacket that was released way back in early 2010. The Westcomb Apoc jacket also happened to win one of our first Gear Of The Year Awards thanks in part to the Polartec NeoShell fabric. Unlike the Apoc Jacket the Westcomb Shift LT hoody is more minimal and saves over 130 grams or almost 30% of the weight of the Apoc jacket. In fact the Westcomb Shift LT hoody is currently the lightest Polartec NeoShell Jacket on the market. How did they do that? It's a combination of using narrower, 2-ply seam tape instead of 3-ply which saves 60% of the seam weight right there. Increasing the stitch count to 20 stitches per inch also saves on weight and provides stronger seams since they are needed on only one side, and of course eliminating features which are not a necessity such as hand pockets - gone! Pit zips - gone! Powder skirt - never needed it. Internal pockets - gone!
While the Westcomb Shift LT hoody is a minimalist jacket it still provides waterproof / breathable weather protection and an incredible amount of stretch. This is the feature I find to be of most value. After all, the best accolade for a jacket is when you don't even notice you're wearing it. With the amount of stretch and range of motion that the Westcomb Shift LT hoody offers I'd say they should get a standing ovation.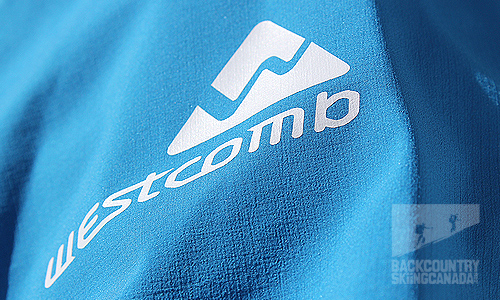 Fabric:
The Westcomb Shift LT hoody uses two versions of the new Polartec NeoShell fabric: a 340 NRS and a 360 NP Polartec NeoShell fabric (I have to be honest I have no idea what either of those mean). I can tell you that one is a light weight ripstop nylon that provides breathability and waterproof performance (the light blue areas) and the other is slightly more durable fabric (the darker blue areas).
One thing that is unique to the Shift LT hoody is that it uses 20 stitches per inch (or 20 SPI) which exceeds the industry standards by two times. This higher SPI provides a lighter and stronger fabric seam. All of these seams are then covered on the inside with micro seam taping. This seam taping is again about half the size of conventional taping which provides a very thin waterproof seam that is still flexible without the added unnecessary weight.
Fabric: Tightly woven 3-layer Polartec® NeoShell® ripstop nylon provides weather protection, breathability and a soft fabric with 2-way stretch.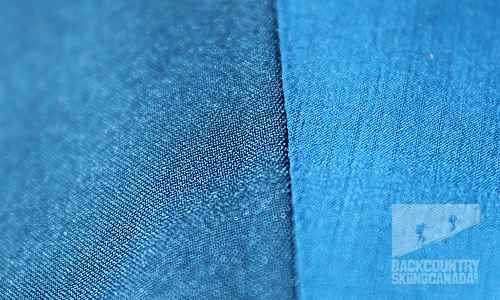 Features:
Cuff: Velcro cuff Closure keeps snow, wind, and rain out.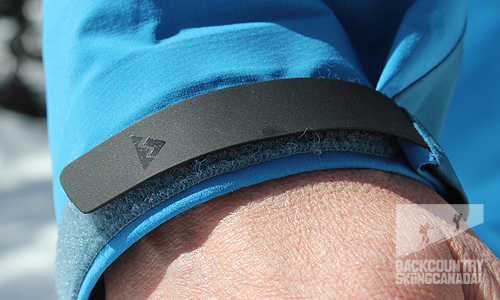 Hood: Attached helmet compatible hood with stiff brim cinches down for a close fit and still provides good peripheral vision.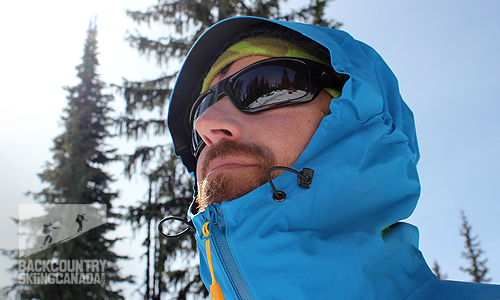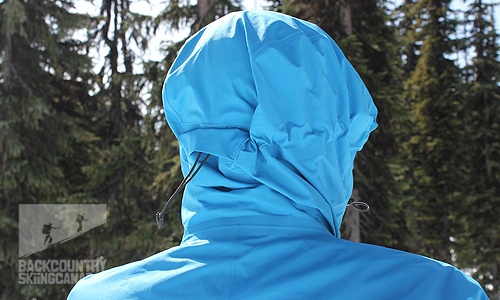 Seams: Micro seam taping to keep you dry and the jacket lightweight and flexible.

Pockets: One recessed Napoleon pocket with waterproof zipper.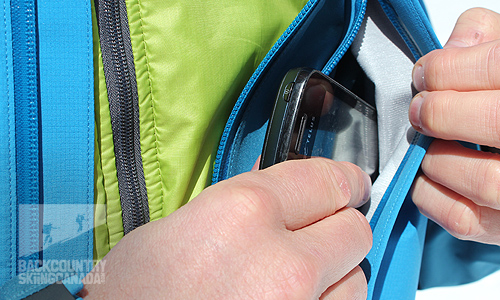 Hem: Adjustable waist system with one handed cinch drawcord.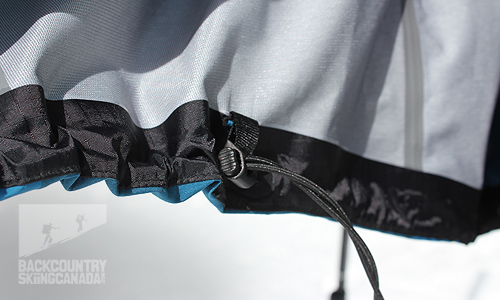 Fit: Articulated sleeves for better unrestricted movement.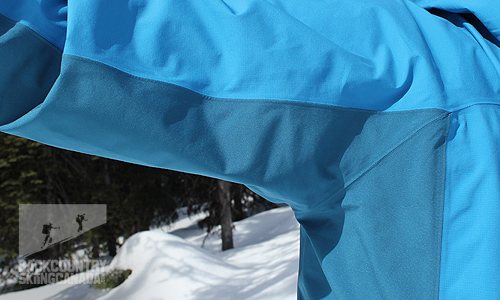 Collar: High collar with velour lining chin-guard provides soft fabric in front of your face and neck.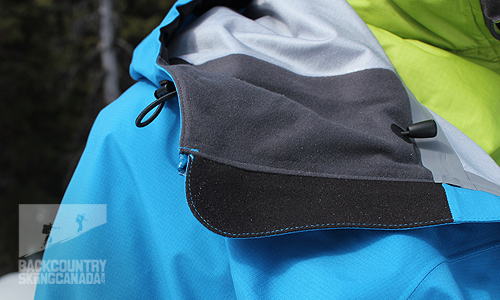 Zipper: Watertight front YKK PU zipper with interior storm flap prevents weather penetration.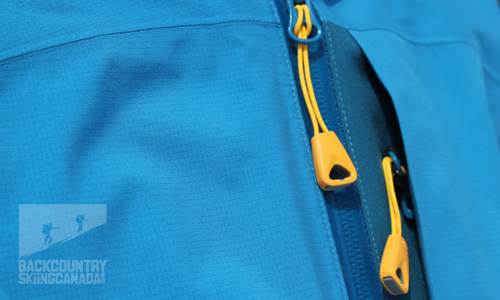 Verdict:
The Westcomb Shift LT hoody is a backcountry skiers' dream jacket, or even a backpackers' for that matter. It's super light weight at only 341g so it won't weigh you down while it still provides complete waterproof protection from the elements. Westcomb got rid of anything that wasn't needed like hand pockets, internal pockets and other gizmos and features. It still has a fully adjustable helmet compatible hood which is a must have. The Polartec NeoShell provides really good breathability when compared to traditional Gore-Tex fabrics. The bonus with the NeoShell is that it has an incredible amount of stretch and a soft texture so it feels good wearing it even against your bare skin. The fabric stretch provides a great range of movement for climbing and ski touring when your arms are often out in front or even up over your head. The design is ultra clean, un-cluttered and has a really pleasing aesthetic that Westcomb brings to all of their products. There is really not much in the way of negative attributes to this jacket unless you want something that is big and burly and has every bell and whistle known to man. The only feature that I am not a fan of is the recessed Napoleon chest pocket. Because Westcomb placed the pocket on the outside flap of the recessed area it creates a second edge to catch things on when placing them in the pocket. The recessed design is a place for snow and dirt to accumulate as well. In true Westcomb minimalism it would be nice to see this pocket just flush on the chest of the jacket.
The last thing that makes this jacket a winner in my books is how small it packs down. The Polartec NeoShell in combination with the minimal seam tape and 20 stitches per inch allow you to crunch and fold the Shift LT Hoody any way you need to get it as small as possible in your pack. This is ideal for those of us who prefer to not lug around a 40 litre pack while ski touring. Less is truly more in this case.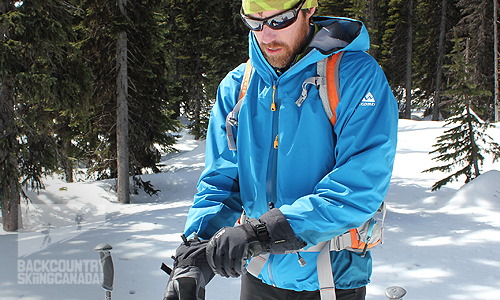 SPECS:
Price: $400 CAN
Sizes: S, M, L, XL, XXL
Colours: Electric, Alpine Red, Avatar Blue, Black
Weight: 341g / 11.94oz
PROS:
- Made in Canada, eh?
- Great range of motion
- Super compact and light, ideal for ski touring and back packing
CONS:
- Westcomb's sizing fits a little big so be sure to double check yours before you order one
- Not many features, but that is the point with this jacket
- The recessed Napoleon pocket collects snow and dirt and the extra flap makes it more cumbersome to get things in and out ofperformance
Rating: 8.5/10
Fit / Mobility 1.5/2
Packability 2/2
Waterproof / Breathable 2/2
Features 1/2
Quality / Price 2/2
For additional reviews of Westcomb products have a look at our reviews of the mens Westcomb Cayoosh LT Down Sweater, Westcomb Revenant Jacket, Westcomb Focus Hoody, Westcomb Apoc Jacket, Westcomb Boreal Fleece, Westcomb Tango Hoody and the Westcomb Orb Sweater. On the womens side check out the Westcomb Drift Hoody.

This is only our opinion. Do you disagree? Did we miss something? Are we totally out to lunch? Join the discussion in the forums here, and let us know what you think. People like/dislike gear for different reasons so chime in and we'll get a well-rounded evaluation.
Back to the rest of the reviews.
---