Mountain Equipment Arclight jacket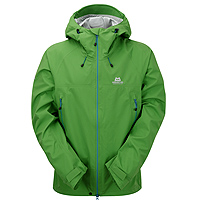 The Mountain Equipment Arclight jacket is a lightweight hardshell designed for fast moving adventures in the mountains. Instead of utilizing the popular Gore-Tex membrane, the Arclight uses Polartec's NeoShell offering. NeoShell is waterproof, breathable, and, unlike Gore-Tex, slightly stretchy.
Mountain Equipment, not to be confused with Mountain Equipment Co-Op (or MEC as it is often called), is a British company that was founded in 1961. Mountain Equipment has vast amounts of experience and technical expertise behind their products. The company has been a part of more than 175 Everest summit bids and has been worn on expeditions to both poles. The brand is not sold in Canadian stores due to the legal issues associated with their brand name, and Mountain Equipment Co-Op. If you are looking to purchase Mountain Equipment products and live in Canada fear not, we have some e-tailer links at the bottom of this review to help you out.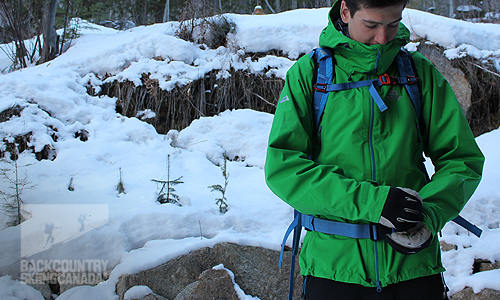 Despite the Arclight being a very clean, simplistic jacket, there are many technologies and features packed into the piece. Here are few key design features:
NeoShell
NeoShell is a unique fabric that offers the stretch of a Soft Shell with the waterproof and breathable performance of a Hardshell. Its unique construction allows moisture to easily escape, while remaining waterproof. This makes it ideal for highly aerobic activities such as mountaineering, ski mountaineering and backcountry skiing.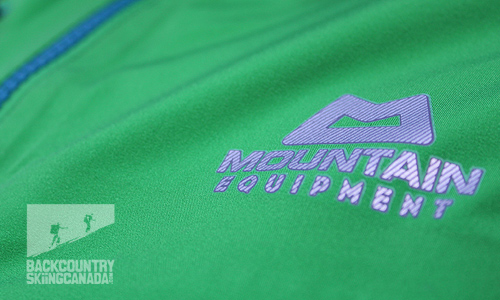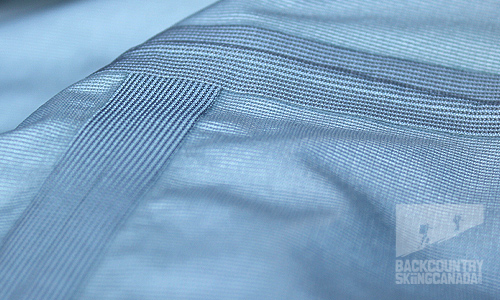 Mountain Hood
The Mountain Hood is a hood design for those who do not expect to be wearing a climbing helmet. It offers a smaller over-crown measurement when compared with the Mountain Helmet Compatible hood and also a smaller cranium volume to ensure a precise and secure overhead fit.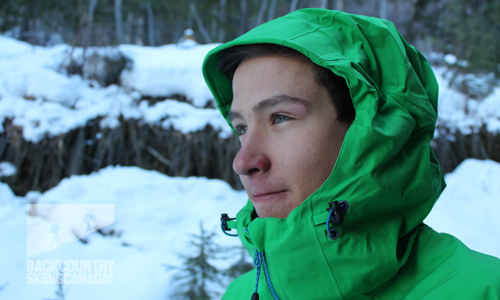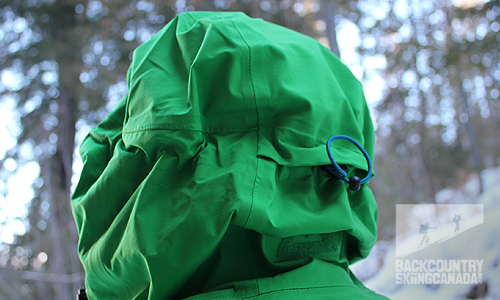 Dual Tether Drawcords
Dual Tether drawcords split the front and rear hem adjustment. This not only allows for greater front and rear fit adjustment, but prevents unnecessary snagging on ice-axe heads and crampon points.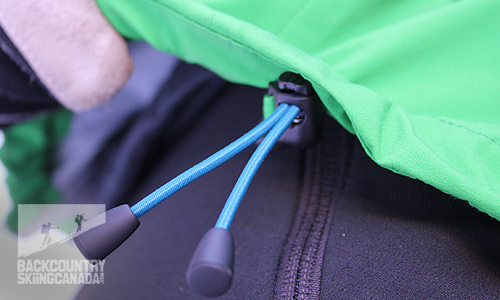 YKK Aquagard Zips
Providing substantial protection from the elements, this water resistant zipper features Polyurethane laminated tape and plastic moulded teeth to reduce weight and afford smooth and hassle-free operation.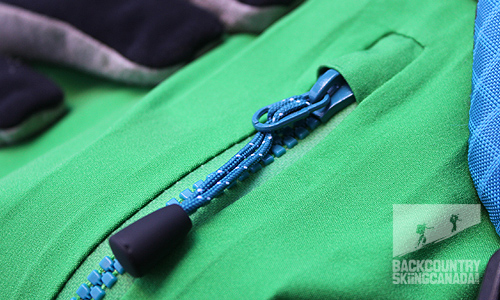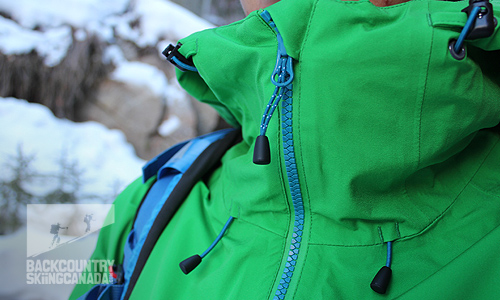 Features:
- POLARTEC NeoShell fabric
- Mountain Hood Fit
- Alpine Body Fit
- Storm Construction
- 2-way YKK Aquaguard front zip
- 2 large pockets with YKK moulded Aquaguard Zips
- Dual hem drawcords
- Adjustable laminated cuffs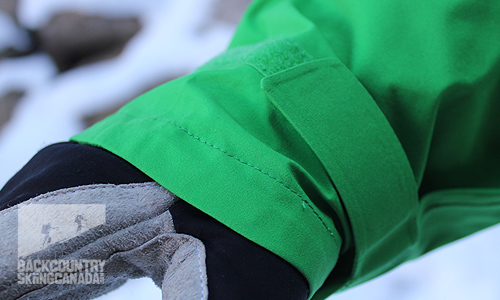 - Soft fleece internal chin lining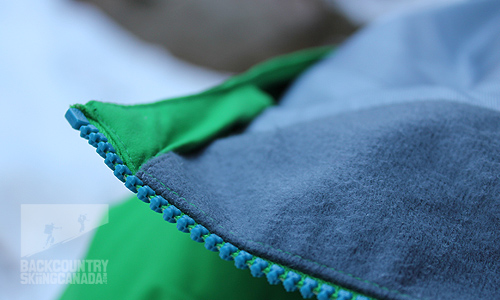 - 2-Way YKK WR underarm pit zips with laminated and bonded entry and an internal mesh pocket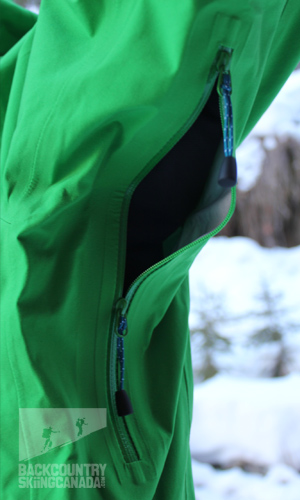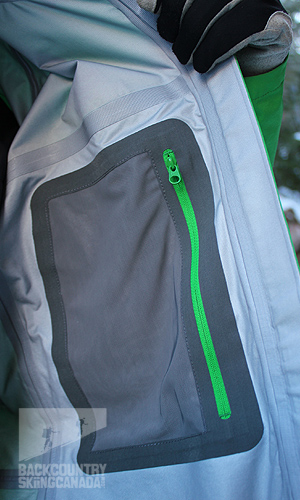 Verdict:
Simply put, the Arclight jacket is very close to the holy grail of a ski touring hard-shell. It ticks all the boxes of a meticulously designed and executed jacket, and creates boxes to tick that we would never have thought of.
The popular Gore-Tex membrane is undisputedly amazing, but that doesn't mean there aren't other options. The NeoShell membrane used in the Arclight is a superb example of this. Compared to a Gore-Tex ProShell jacket like the North Face Free Thinker (review here), the Arclight allows for a much larger range of motion, is equally breathable, packs down smaller and is significantly lighter.
Granted the thicker, heavier material of a Gore-Tex ProShell jacket might be more durable and offer slightly more protection in the harshest of environments, but is this really necessary in a standard backcountry application? Unless you are rubbing up against trees like a bear with a back itch, or routinely venturing into remote areas of Alaska the NeoShell membrane and face fabric provides ample durability and protection when aiming to move through the mountains in a fast and light manner.
The Arclight's seam construction is superb, and while this has not been a long-term review they look to be robust and able to stand the test of time. The split hem adjustment is a slick feature that makes heaps of practical sense. By splitting the front and rear adjustment, the jacket gains no extra material or weight, but gains amazing adjustability and less chance of snagging ice tools or tree branches on otherwise snag-prone loops.
The Arclight jacket is standout ski touring jacket with a phenomenal mix of meticulous design, breathability, range of motion, and packability.
SPECS:
MSRP: $500 CAN
Sizes: S-XXL
Weight: 490g / 17.3oz
Fabric: 50D / 125g
Content: 100% Polyamide outer/ 100% Polyseter inner, PU membrane
Colours: Cayenne/ Navy Zips, Gecko/ Neptune Zips, Raven/ Aubergine Zips
PROS:
The NeoShell membrane is exceptionally breathable. The fabric seems to be very durable, yet extremely light and packable. Much easier to pack down than a comparable Gore-Tex pro shell jacket. The small amount of stretch in the fabric is excellent for touring. It allows for a greater range of movement and increased comfort. It is very waterproof and breathable.
CONS:
The only faults I could find in this jacket is the light colour of the fabric led to it being more easily marked and scuffed (less of an issue with darker colours), and the plastic teeth of the zipper did not slide as smoothly as other zipper designs.
Rating: 9.5/10
Fit / Mobility 2/2
Packability 2/2
Waterproof / Breathable 2/2
Features 2/2
Quality / Price 1.5/2

This is only our opinion. Do you disagree? Did we miss something? Are we totally out to lunch? Join the discussion in the forums here, and let us know what you think. People like/dislike gear for different reasons so chime in and we'll get a well-rounded evaluation.
Back to the rest of the reviews.
---